Biodata Resume Templates
Free Editable and Customizable All-Purpose Biodata Format Templates
Biodata
is an abbreviation for the term
biographical data
. As a document format, it is typically 1-3 pages long and is used to apply for employment. Certain countries also use a
marriage biodata
as a personal profile to present to a prospective marriage partner. The
biodata format
includes relevant factual information about an individual, such as:
personal information (e.g., date of birth, gender, marital status, religion, height, complexion, father's name, etc.)
educational background
occupational history
skills
interests and hobbies
Biodata format documents are not to be confused with biodata instruments, or
biographical information blanks
(BIBs). The former is a document typically prepared by the individual, and, in some settings, can serve as a replacement for, or a supplement to, a resume or curriculum vitae. The latter is a criterion-related validity assessment that includes detailed questions about past work and personal experiences, and it is often used by employers to predict the future job performance of prospective employees. Depending on the context and setting, a biodata could be any of the following:
a criterion-related validity assessment used by employers for personnel selection
an antiquated term that means resume
a supplement to a resume or C.V.
a resume replacement in some South Asian regions
for applying for government jobs in India
to apply for temporary and/or skilled labor jobs in some countries
as a marriage resume in India or Pakistan
Biodata vs. Resume vs. Curriculum Vitae (CV)
While biodatas, resumes, and CVs are all used in certain settings to apply for employment,
there are some distinct differences between these formats
.
Resume
is a French word meaning "extract" or "summary". The focus of a resume is on education, previous employment, skills, hobbies, and interests that are
relevant to the specific job you are applying for
. Though some biographical information is included, a resume does not list all the details you would typically find in a profile biography.
Curriculum Vitae
is a Latin word meaning "course of life." A CV is more detailed than a resume, and it lists, in chronological order, jobs, positions held, degrees obtained (e.g., bachelor degree, master degree, PHD), skills acquired, professional affiliations, achievements, published works, and awards. CVs are widely used in academia. In a corporate setting, they can be useful in showing a prospective employer your career path in detail. A
Biodata
focuses on personal particulars in addition to educational and professional experience. It typically includes detailed personal information such as date of birth, gender, religion, race, nationality, marital status, residence, parents' names, names of your children and siblings, languages spoken, etc. Some formats even call for a photo, as well as information about your physical characteristics, such as height, weight, hair and eye color, and complexion. In various regions of South Asian countries such as Pakistan, Sri Lanka, Bangladesh, and India, a biodata is used instead of a resume. In other settings, a biodata may be used as a supplement to a resume or a C.V. when the employer is seeking more detailed personal information about the applicant.
Biodata Resume Format
If you are creating a biodata to apply for employment, you may want to include the following sections:
Objective: Let the recipient know your overall career/life objective, and why you should be considered for the position.
Personal Details: General information such as your name, postal address, date of birth, gender, parents' names, religion, etc. Also list your hobbies, interests, passions, strengths, characteristics, and anything else that helps the recipient understand who you are and what you want to accomplish in life.
Educational Background: List, in chronological order, your academic profile and achievements, particularly those that are relevant to what you are applying for.
Experience: List, in chronological order, your occupational history, as well as skills obtained, awards received, and other professional achievements.
For an employer, the biodata format serves as a personal and professional profile summary. It is a window into the life of the individual that gives the reader a better idea of who they are. From the information included in the biodata, the recipient will be looking to answer questions like:
Is this candidate a good fit for the position?
Does this candidate have the personal and psychological characteristics to work well with other team members?
Does this candidate have the personal qualities to be successful?
Do they have the potential to grow and enhance their skillset?
Some companies have very specific guidelines for how the biodata format is structured. In some cases, they will even provide their own pre-printed form for you to fill out during the application process. If you are not given a set format guideline, you can use any of our free general-purpose biodata templates provided below.
Marriage Biodata
Biodata format is used for more than just a resume or CV replacement/enhancement. Marriage biodatas, also known as matrimonial biodatas or marriage resumes, are often used in countries where arranged marriages are still common, such as in India and Pakistan. A matrimonial biodata includes extensive information about the individual, and is designed to help the recipient determine whether or not the individual would be an appropriate marriage partner. The marriage biodata should highlight the personal traits a potential marriage partner might find attractive. A typical marriage resume format may include the following:
General Information: Name, parents' names, date of birth, family details, caste, educational background, and profession.
Appearance: Height, weight, build, hair and eye color, facial appearance, and complexion. Also be sure to insert your best photograph into this section.
Contact Information: Postal address, email address, landline and mobile phone numbers, social media information.
Lifestyle: Hobbies, interests, values, beliefs, opinions, favorite foods and drinks, likes/dislikes, smoker/non-smoker, religious/non-religious, etc.
Ambition/Life Goals: Your desires and the things you want to achieve in life.
Partner Expectation: Qualities you hope to find in a partner; such as age, family type, educational background, looks, facial appearance, and many others.
Though our biodata templates are designed for individuals applying for employment, they can be tailored to fit the requirements of those looking to create a good marriage biodata. For further details on how to write a marriage resume,
go here
.
Free Biodata Format Templates
Below you will find several free editable and printable biodata templates that can be customized to fit your specifications. These format templates can be opened in either Microsoft Word or OpenOffice.





Biodata Template #1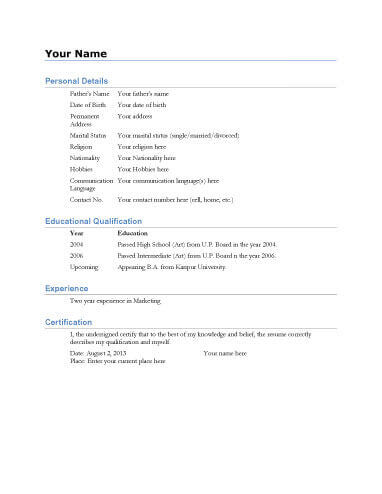 Size: 183 B
Downloads:

77677

Filename: biodata-template-1.doc
Uploaded: 2014-02-06 13:14:00 / 4541
Download
Biodata Template #2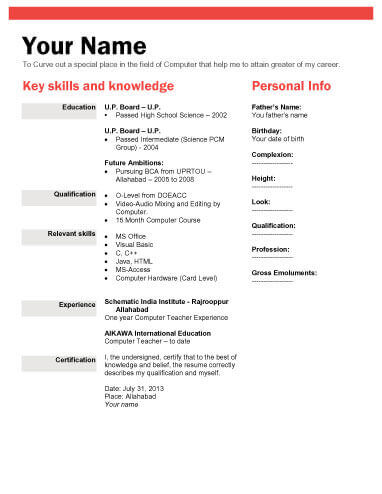 Size: 183 B
Downloads:

24781

Filename: biodata-template-2.doc
Uploaded: 2014-02-06 13:26:00 / 4547
Download
Biodata Template #3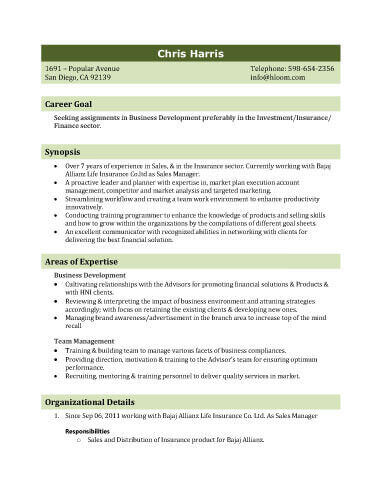 Size: 183 B
Downloads:

10699

Filename: biodata-template-3.doc
Uploaded: 2014-02-06 13:29:00 / 4549
Download
Biodata Template #4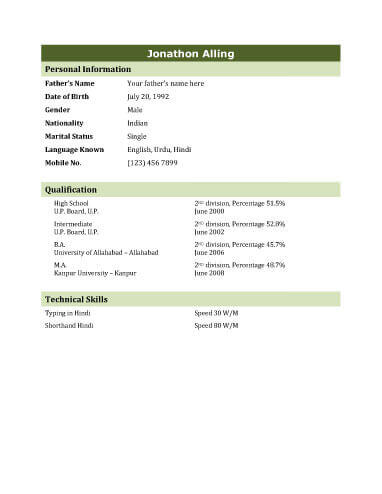 Size: 183 B
Downloads:

11607

Filename: biodata-template-4.doc
Uploaded: 2014-02-06 13:36:00 / 4553
Download
Biodata Template #5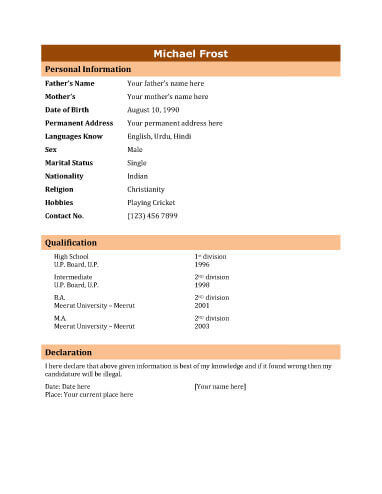 Size: 183 B
Downloads:

16618

Filename: biodata-template-5.doc
Uploaded: 2014-02-06 13:41:00 / 4559
Download
Biodata Template #6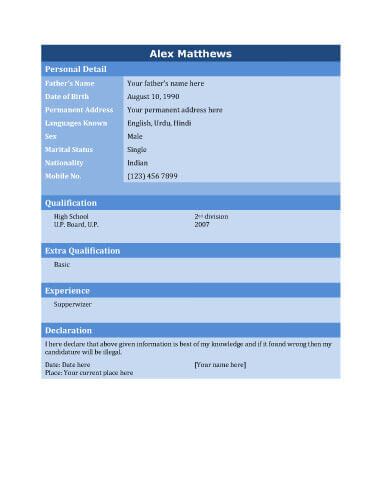 Size: 183 B
Downloads:

11100

Filename: biodata-template-6.doc
Uploaded: 2014-02-06 13:44:00 / 4561
Download