Babysitter Resume
Get tips and templates for writing a professional babysitting resume
Whether you are applying to work in a daycare, private home, or a child care center, it is important to present yourself in the best way possible with a resume that demonstrates expertise, trust, and professionalism. To achieve this, you'll need to craft an error-free, properly formatted babysitter resume that creatively markets your skills to potential clients and/or employers. Our free
babysitting resume templates
can be used to apply for jobs ranging from child care provider to full-time nanny. In addition, we've got some helpful tips on how you can make your babysitting resume a winner.
Choosing the Right Babysitter Resume Format
When writing your babysitting resume, there are three
resume formats
to choose from: chronological, functional, or combination.
ChronologicalChronological resumes are the most commonly used resume format. A chronological resume lists your most relevant work experience from your newest job to the oldest, in reverse chronological order. Use this format if you have experience working as a babysitter, daycare/child care employee, or a closely related position.
FunctionalA functional resume format allows you to highlight your relevant skills and experience instead of when and where you worked. Use this format if you feel you are particularly qualified for the babysitting position you are applying for, but have limited to no work history as a babysitter, gaps in your employment history, or have frequently changed jobs.
CombinationA combination resume includes formatting features of both chronological and functional formats. It lists your skills and experience, followed by your work experience in reverse-chronological order. Use this format if you are a high school or college student seeking babysitting jobs, are seeking an entry-level babysitting or daycare worker position, or have consistent work history or experience as a babysitter.
Learn more about
chronological
,
functional
, or
combination
resumes.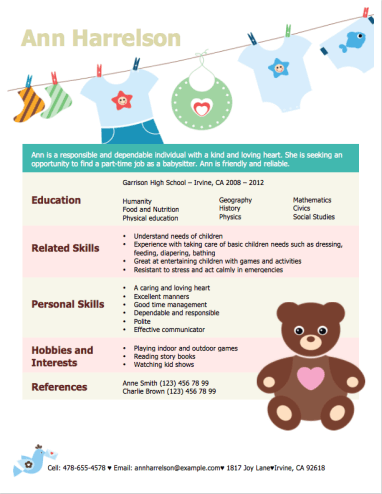 Size: 183 B
Downloads:

10062

Download: zip and docx
Uploaded: 2013-07-04 06:21:00 / 3136
Download
FEATURED TEMPLATE
Babysitter Resume Template
Creative babysitter resume sample with a summary, education, related and personal skills, hobbies, and references examples.
Key Components of a Babysitter Resume
Depending on which resume format you select, your babysitter resume should include some or all of the following sections:
Header
List your name and contact information, including your address, email address, phone number, website, and social media accounts (e.g. LinkedIn, Facebook page). If social media accounts are included, remember to make sure they are professional and include relevant information or photos that reflect your skills and professional experience. If you are a minor, use your parents' contact information in this section instead.
Objective or Summary
In one to two sentences, explain the experience and skills you have that make you an ideal candidate for the babysitting position you are applying for. Remember to include relevant skills, knowledge, or abilities you have that make you a strong applicant. Including descriptive words (
e.g. motivated, dependable, trustworthy, timely, loving, nurturing, mature, etc.
) that accurately convey your capabilities can help you capitalize on the limited space offered in this section, and capture the attention of the employer or parent doing the hiring. If you don't have previous experience working as a babysitter — or working at all — you can briefly reference your work ethic, education, or volunteer experience instead. It is important to remember that information included in your objective or summary should be supported, where possible, throughout your resume.
Experience
List your previous work experience in this section of your babysitter resume. This includes the names of your former babysitting and other relevant employers, dates of employment, your title, and job responsibilities or duties. If you're a student or an individual with little to no previous work experience as a babysitter, you should focus on your academic, extracurricular, or volunteer work in this section. Strong academic performance and participation in sports, clubs, and charitable activities can highlight your personality and character and demonstrate valuable transferable babysitting skills such as focus, patience, and flexibility. It is important to note that even if you don't have previous experience working as a daycare worker or babysitter, you'll still want to list your previous employers to avoid the perception of employment gaps (unless you are using a functional resume format).
Education
Use this area of your babysitter resume to list information regarding any colleges, universities or training programs you have attended. You should include:
The name of the school or organization
Location
Type of degree or certificate earned and date awarded
Honors and achievements earned
GPA
If you are a student seeking a babysitter position, placing your education at the top of your resume is strongly suggested. Doing so can help parents and employers see your academic achievements and skills quickly and address possible concerns regarding a lack of babysitting job experience.
Skills
Use this section of your babysitter resume to highlight your skills and training that are relevant to the babysitting position you are applying for, as well as transferable or portable skills from non-babysitting jobs. If possible, highlight your most relevant skills first. Keep this section organized and easy to read by using bullet points and categorizing similar skills (e.g. CPR certification, First Aid, and infant care), including transferable or portable skills from non-babysitting jobs.
References
While some employers may not ask you to list or include references directly on your babysitter resume, they may ask for them separately, or later if you are asked for an interview. Therefore, you'll want to have at least two or three references on hand so that potential clients or employers can not only verify your experience as a babysitter (or other work history), but your relevant interpersonal and professional skills (e.g. timeliness, dependability, flexibility, etc.), too. Remember to ask for your references' permission and contact information beforehand, and to use both professional and personal references for a more balanced perspective of your character and skills.
Things to Remember
Focus on Their Needs, Not Yours: Focus on the needs outlined in the babysitter job description and tailor your babysitter resume objectives, skills, and previous job duties to show how you can meet them.
Keep It Short and Simple: Keep your babysitting resume to one page, if possible, and avoid duplicate and non-relevant information.
Follow Directions: Some employers may ask you to include references, salary requirements, and other information on or along with your babysitting resume. Make sure you don't omit this or any other required information, or you may be disqualified.
Including a Cover Letter Can Be a Plus: Unless otherwise instructed, including a cover letter with your babysitter resume can be beneficial in helping you stand out from your competition, further explain a lack of work or gaps in your employment history, and highlight your childcare training and achievements, helping you to earn more.
Babysitter Resume Examples
Try one of our free babysitter resume sample templates today! Each template is Microsoft Word-compatible, features sample content to give you some ideas, and is available as a Zip or doc download. Don't see the sample resume or resume template you need? Visit
this page
with over 200 free resume samples. Need a cover letter to go with your professional babysitter resume? Check out our
cover letter guide and templates
, too!
Babysitter Resume Template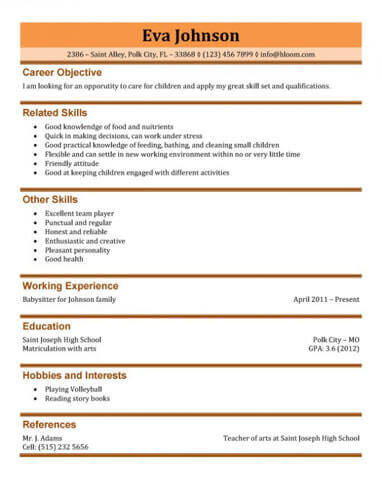 Sample babysitter resume that can also be used as a nanny resume or another part-time job. This resume uses functional format and it's appropriate for someone who has a lot of skills important for working with kids but does not have a lot of professional experience working as a babysitter or a part-time nanny.
Size: 183 B
Downloads:

3014

Filename: babysitter-resume-template.docx
Uploaded: 2014-02-03 13:40:00 / 4458
Download
Child care resume sample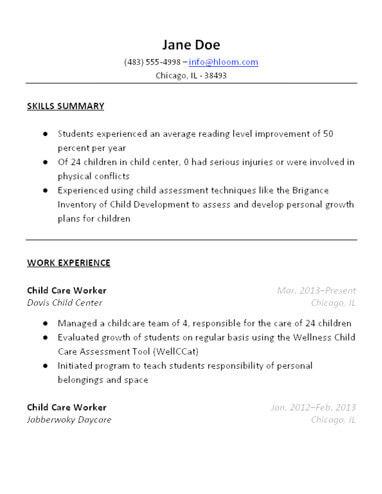 Child care resume sample relevant experience (child care worker), benefit-driven skills summary section, and education.
Size: 183 B
Downloads:

1982

Filename: child-care-resume-sample.docx
Uploaded: 2015-04-12 19:03:00 / 7968
Download