Functional Resume
Definition, Format, Advantages, Layout, Outline, and 60 Examples
Traditional chronological resume is the most commonly used resume format but it does not work well for everyone. If you have work history gaps, very little professional experience, transitioning into a new career, or frequently changed jobs, a functional resume can increase your chances of getting an interview. In this article, you will learn
how to write a highly effective functional resume
step-by-step. We also have
free samples
and
templates
to give you a head start.
What Is a Functional Resume?
A
functional resume
is a resume format where skills and achievements are the focal points. It prioritizes what you are good at and what you have accomplished – this is why it is also known as a skills-based resume. Work history is included, but only as a list of job titles and employers.
Main Advantages
A functional resume can increase the chances of getting an interview, even if you don't have the exact work experience required for the position.
This type of resume is perfect for transitioning into a new career. Relevant skills are highlighted and lack of experience is less noticeable.
Functional resumes do not show detailed employment history. This hides work gaps in cases where candidates are re-entering the workforce.
A functional resume is suitable for someone who has frequently changed jobs.
Main Disadvantages
A functional resume can play against you with recruiters who assume you are excluding details of your employment history because there is something to hide.
Functional resumes do not clearly showcase career growth or development in past responsibilities.
This format doesn't work well in traditional fields or with conventional firms that look for specific information in the resumes they receive.
Functional Resume vs. Other Formats
In order to understand which resume format is the best fit for you, we will look at the three main types:
Functional or Skills-based
Each serves a different purpose. Which one is more appropriate will depend on your professional profile and the requirements of the position you are seeking. Keep reading to find out how these formats differ and which one will be better for you.
Functional vs. Chronological

A
functional resume
emphasizes your skills and accomplishments. In contrast, a
chronological resume
concentrates mainly on your work history and the details of the jobs you've had. Think about whether your skills or your previous positions strengthen your resume. What will the recruiters find most interesting about you? If you are in any of the following situations, read carefully to decide which of these formats is best for you:
POSITION REQUIREMENTS: If you have the work experience recruiters are looking for, a chronological resume can make that clear. However, if you believe you have the required skills, but they were acquired from training or secondary activities rather than job duties and experience, then a functional resume is better.
CHANGING CAREERS: A chronological resume is a better way to display progress in your work responsibilities. Conversely, it is hard to identify a timeline of professional growth in a functional resume. If you want a job that will keep you in the same career path, a chronological resume will do it. If you want a position in a different field, a functional resume might be the better choice.
STARTING A CAREER: Lack of experience is in plain sight in a chronological resume. If you are a student or have recently graduated, your skills are probably more appealing than your work history. If that is the case, a functional resume will suit you better.
WORK GAPS: Since functional resumes don't focus on employment dates and positions held, the effects of a gap in your work history can be minimized. An experienced recruiter may still notice this information is missing, so be prepared to address it at your interview.
Functional vs. Combination

The combination format, as the name suggests, uses information from the functional and chronological resume formats. The following points will further help you determine which format will be best for you.
FOCUS: A combination resume, just like a chronological resume, shows your job positions and their related duties, and the length of time you held each position. However, it highlights skills developed in each of those positions. Ask yourself how similar your work history is to the job you want. If your skills are more relevant and you have outstanding achievements, a functional resume can emphasize that.
REPETITION: In contrast to functional resumes, the combination format can be repetitive when skills are listed in more than one section. This is not a problem with functional resumes because they don't include a detailed work history.
HIERARCHY OF POSITION: Recruiters are usually more rigorous when they search for a senior managerial candidate. In this case, a functional resume could work against you since it is not as detailed as a combination resume.
Weigh the benefits and challenges your personal circumstances present to select the most suitable format.
Comparison Table
| | Functional | Chronological | Combination |
| --- | --- | --- | --- |
| Focal point | Skills | Work experience | Both |
| Work experience | Not detailed | Detailed | Detailed |
| Time on each position | Not present | Present | Present |
| Skills | Present | Not present | Present |
| Use for changing career | Convenient | Not convenient | Not convenient |
| Layout | Creative / Non-conventional | Professional / Traditional | Midpoint between professional and creative |
| Main Benefit | Shows relevant skills for the new position | Has detailed information about job positions and activities | Includes the best features of both formats: work history, skills, and achievements |
| Main Downside | Recruiters may not favor it, as it isn't straightforward about previous jobs | The lack of experience is more obvious than in other formats | May be redundant |
Functional Resume Examples
Seeing real examples of functional resumes can help you understand how they work. You will find different functional resume samples here. Compare them with your own skills and experience, and picture what your
resume
could look like. Below are some great free examples.
Sales-focused Resume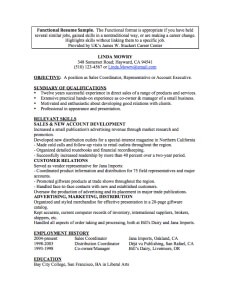 This
sample functional resume from the University of Kentucky
puts the focus on the summary of qualifications and other relevant skills before listing work experience and education. This strategy is effective for people who know the job well enough to understand the kinds of skills employers are looking for, and can afford to focus on that while sublimating their education and work history. In this example, the applicant has years of relevant experience both as an entrepreneur and as a coordinator for large companies. Functional resumes are also the right strategy for anyone with employment history gaps or whose qualifications aren't derived in a traditional way.
Graphic Design Resume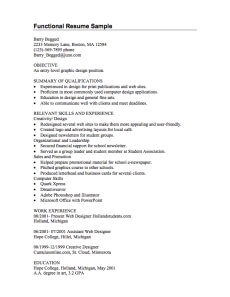 This skill-based resume
, created by Ohlone College, focuses on qualifications, skills, and experiences. Work history is listed plainly so as not to draw attention to a two-year work history gap, and education is listed last and in a way that will not bring attention to the lack of a bachelor's degree. This template is for people with more experience and knowledge in a field than a typical entry-level job seeker, but whose work history and education are questionable. In this example, the applicant's list of qualifications, skills, and experiences showcase his knowledge with graphic design, while the downplayed presentation of work experience and education neither hide nor call attention to weak areas. This template shows how well functional resumes highlight qualifications without hiding problems.
Mid-level Retail Resume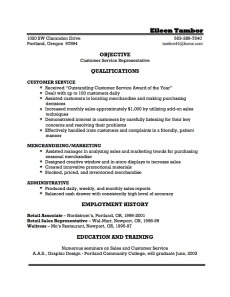 This retail-focused resume
from Portland Community College targets the job she's applying for by listing important, relevant experiences she's had in customer service. By listing experiences had with merchandising techniques, the applicant shows that she understands part of increasing sales means working on a sales floor. This also allows her to show both her familiarity with the business, as well as the responsibilities she's been given in previous positions. This example shows an applicant for a position as a customer service representative who has a limited education and a work history that includes a relatively large gap. The functional resume format allows her to highlight strengths and downplay weaknesses.
Functional Resume for Young Teacher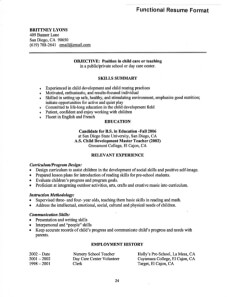 This professional resume
from Palomar College uses a straightforward format to accomplish the goal of leading potential employer through the most important qualifications. Skills are listed first both because in a position such as child care they are important, but also because education and employment history aren't stellar. The listed relevant experiences are important for a nursery school teacher to have, but again don't go beyond basic expectations. In this example, the applicant is expecting to earn a bachelor's degree soon, and is looking to advance her career. Without getting bogged down in timeline and work history gaps, this resume will help job seekers focus on the positives they can bring to a new employer.
Functional Resume for Job Transitioning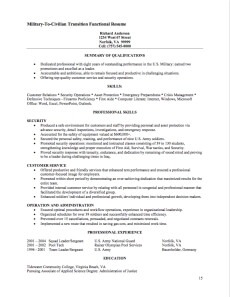 This functional resume template
, created by Tidewater Community College, highlights the advantage of using a functional format to move from one field to another. This type of resume is good to use when applying to many different companies in a variety of fields. By listing personal attributes and skills first, followed by a summary of professional skills, the applicant is able to show the variety of their abilities. In this military-to-civilian example, a former Sergeant with the National Guard is attempting the sometimes tough transition from the military to the private sector. This template can work equally well for anyone hoping to make a career change, or who has a varied, but valuable, skill set.
Free Functional Resume Templates
If you decide to go with this format, you will probably need
resume templates
to guide your creation. It can be overwhelming to start from scratch, but don't worry, we've got you covered! Here you can find several effective and customizable templates to help you easily write your own functional resume. Choose between traditional and more creative templates, depending on your career field and the kind of firm you are applying to. You can download them here:
Basic and Simple
Clean
ATS Optimized
Creative
Modern
Simple
Newsletter
Portfolio
Infographic
Functional Resume Builder
The templates and samples above will help you build your functional resume. If you want to take your resume to the next level, a resume builder is an ideal tool. Use our
free resume comparison tool
and choose the features you want. Our selection of free resume builders offers a variety of elements to include in your resume. Look for what adapts best to your functional resume. Remember that a functional resume aims to highlight your skills and achievements, while work experience is de-emphasized. Choose a template that gives more space for skills than employment history. You can also use the prebuilt phrases to help boost your resume's appeal. Adapt the text by using relevant keywords that describe your outstanding achievements and abilities and that reflect the competencies you have acquired in your previous jobs or through training.
Functional Resume Layout
There are some crucial aspects shared by functional resumes that attract a recruiter's attention. Learn how to include them in your resume to make it more appealing:
A functional resume should focus on your skills. Therefore, make sure your achievements and abilities are explained in detail and form the largest section of the document.
Organization is key. The layout should present different categories of assets. Determine which of your skills are most relevant to the position and are your strongest selling points. List information from the most relevant to the least. Later, we will learn how to categorize this information.
If you are in a creative career field or applying to non-traditional firms, you can get a little more resourceful with the presentation of your functional resume. You can play with colors, or arrange information differently. Use our templates in this article for better guidance.
Regardless of how you arrange the information, make sure it is easy to navigate through by using short sentences and paragraphs. The usual rules of resume writing still apply, only the information is presented differently.
How to Create a Functional Resume
The following sections will show you how to write a compelling functional resume.
Functional Resume Outline
A functional resume should always contain the following components:
Personal Information
Professional Profile or Summary
Relevant Skills
Professional Experience / Work History
Education
In this format, place the relevant skills section before work history. This is what differentiates a functional resume format from a chronological format. At the end of the resume, you can add a brief section of extra skills or projects that, while not completely relevant to the position, may improve your chances of getting chosen. For example, you can include languages, professional affiliations, IT skills (for a non-IT position), etc. Do not include hobbies, as that is an outdated practice and doesn't complement your professional image. Let's explore the sections of a functional format and the exact actions for building an
effective resume
.
Before Starting
Brainstorm all the skills and accomplishments you can bring to the table. It doesn't matter if some of them are not relevant. At this stage, just focus on writing them down and you can edit later. Do include education background, training provided by former employers, technical skills, awards, and professional affiliations. To help you recall these items, ask yourself the following questions:
Did I train my subordinates or teammates on new skills?
Have I changed a procedure and made it more efficient?
Did I help the company save money?
Did I receive awards or prizes for my productivity?
Have I brought in new clients or projects for my firm?
Have I been promoted, or have my responsibilities increased?
Did I detect any problem and prevent it from escalating?
List every skill you possess that is mentioned in the job ad. Scratch out the elements in the list that you brainstormed that have nothing to do with the job position. Your relevant skills and achievements are what will remain. Once you are done, adapt the information you have by using the exact keywords that are in the job ad. For example, if you wrote '
communication with the clients
,' but the job ad says 'customer service,' use the latter. You don't know whether your resume is going to be filtered by a recruiter or an Applicant Tracking System (ATS) at first. Using the same keywords that are in the job ad will help prevent you from getting rejected at this stage.
Personal Information
This section is simple and straightforward. It is not even necessary to include a subheading. Just list your complete name, address, email, and phone number. Your name should stand out. This can be achieved by using a larger font size and/or different alignment. You can include a general location, such as the city name, instead of a complete address. Write 'Willing to relocate' if the position is in another city, because sometimes a recruiter will discard your resume if they feel you live too far away to commute. Preferably, provide a mobile number. It will be easier for recruiters to contact you. Your email address should have a professional style to it, and should include your first and last names, but no nicknames. You can list the addresses of your professional website, your portfolio, and your LinkedIn account if you have them.
Professional Profile
In a functional resume, your professional profile or summary will provide a quick view of your academic background, skills, and relevant achievements. It should effectively summarize your professional outline in around fifty words. Its main purpose is to present a good impression that keeps the reader's attention so they will continue reading. Start with your degree or job title, and the number of years you've been in the workforce. Continue listing your most relevant skills, and back them up with tangible results. You can mention awards, recognitions, or accomplishments with quantified information. Let's compare two professional profiles. Here is a poor example of an Executive Secretary's profile. This profile doesn't give the recruiters the information they need. This person might have the skills they are looking for, but the profile is vague. Now, let's look at the second professional profile. Both profiles are about the same person, but the second one will be much more effective in grabbing the recruiter's attention. The biggest difference is the presence of objective facts and quantifiable information in the second example. When you write down your accomplishments in this way, the recruiter can picture you doing the same for their company. A technique for writing your profile is to first complete the rest of your
resume
. Once you have all those sections outlined, it will be easier to process and condense the information in a few lines.
Relevant Skills
Remember the skills and accomplishments you listed before starting the first segment of your resume? You will classify them in this section. Skills fall into one of three categories:
Job-related Skills: Mention technical skills acquired academically or on the job. For example, a digital marketing executive's skills might include fluency in Google Analytics, knowledge of social media management, and knowledge of best practices for sales funnels.
Transferable Skills: These are commonly noted for a career transition. Transferable skills are abilities you learned in one field or job that can apply to a different type of job. For example, as a sales manager you could have learned how to develop standards for conducting hiring interviews.
Adaptive or Personal Skills: Personality traits that make your work better. These are harder to prove on a resume, so an achievement should back them up. For example, 'Worked with high professional ethics, getting outstanding results in the annual legal audit.'
Keep these categories in mind to help you group your skills. Separate the groups into four or five subsections. List them in order of relevance to the position you are applying for, from the most important to the least. Use past tense action-oriented verbs to describe the achievements you have gained and the projects you have worked on. Only include those that are relevant to the position you are applying for, and quantify them. An efficient way to express your achievements using compelling words is to use one of these formulas: Your action + Measured result, or, Result + Why it was needed + Action. For example, '
Implemented 10 training programs of soft skills on customer service staff, which resulted in a 30% improvement on customer satisfaction survey.
' List your skills, and support them with an achievement in bullet points. Use up to three for each category. This will keep it brief and easy to read.
Professional Experience
Functional resumes are concise about your work history. You only need to include a list of company names and job titles in chronological order. Dates for each position are optional. The idea is that, in a functional resume, the recruiters will want to know more about you by the time they reach this part of the document. However, don't think you won't get into details about your work history during an interview. The resume may help you get your foot in the door and hopefully land you an interview, but a recruiter will probably ask you more details about your work experience. So be prepared for that. If you have limited work experience, you can add internships, volunteer work, and personal projects.
Education
Your educational background should also be brief and relevant. Provide the name and location of your university, your major, and the type of degree obtained. You can include your GPA if you recently graduated and it is 3.0 or above. Mention important seminars, courses, or other training if you feel the need to boost your resume or validate a skill. It is common practice to include the year of graduation, but it is not mandatory. You can minimize the risks of encountering ageism if you leave out the year.
Conclusion
Even without details about your work history, a functional resume still tells your story through your abilities and accomplishments. A compelling functional resume will show exactly what you can do for your new employer. Here again are the key points for achieving this:
Download our free samples and templates to guide you in creating an effective functional resume
Use our free resume builder to make the task significantly easier
List your skills and achievements
Analyze the job offer and search out the keywords so you can adapt your list to them.
Give measured information about your accomplishments and Include that in your professional profile and in the Relevant Skills section
Categorize your skills and organize everything by order of relevance
Follow these recommendations to help your
resume
stand out from your competitors', and prepare to get your dream job!