Infographic Resume Templates
17 Infographic Resume Designs to Help You Stand Out
It's hard to stand out with a traditional resume in a crowded pool of job seekers. Creating an infographic resume is an effective way to get more employers engaged and intrigued by what you have to offer. Although a more creative resume is a unique marketing tool to highlight your work experience, it's also easy to get it wrong. Keep reading to learn why you should consider an infographic resume, when it's appropriate to use a creative resume over a traditional one, and how to create a compelling infographic resume for yourself. We're also giving you 17 free infographic resume templates to help you create your own unique job search tool.
What is an Infographic Resume?
Infographic resumes
are an attention-grabbing marketing tool that tell a career path by using images. Timelines, color schemes, and even profile photos are among the many types of visuals incorporated to convey a message. Infographics work well in any kind of marketing – yes, job searching counts as marketing – because the human brain is designed to respond to color schemes and visual storytelling. Visual storytelling can even work for a resume. As you use a
traditional resume
as a marketing document to sell your skills and highlight relevant work experience, adding an infographic can help you stand out even more. An infographic resume is a creative resume that is meant to engage the hiring manager, and ultimately get you an interview.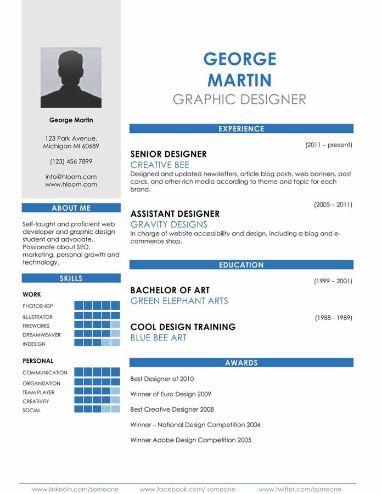 An infographic helps viewers engage with the content and understand the message better. As a job seeker, your resume has to be able to do the same thing in order to land you more interviews. Infographic resumes are not for everyone, however, and sometimes a traditional resume will be more appropriate, depending on the situation. Creative resumes are an excellent tool for job seekers to use in addition to a traditional resume, and in some cases, when done correctly, an exceptional infographic resume can replace a traditional resume. Keep reading to learn why you might want to team up an infographic resume with your traditional one.
Why Use an Infographic Resume?
A more visual resume helps ensure that an employer will remember you. Not only do you stand out with a creative resume, but you can use creative infographic to highlight the most important aspects that you want employers to see. Straying from the traditional resume format allows you to show your creativity, personality, and design sensibility. If an employer is looking for a creative individual to fit their job description, an infographic resume is a great idea because it acts as a sample of your work, whereas a traditional resume may limit you from showing your unique talent. Think of your infographic resume design as a portfolio piece.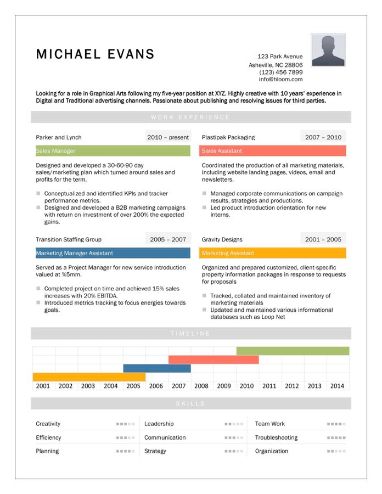 In addition to design, an infographic resume allows you to showcase your skills in marketing, branding, writing, presentation, and social media. When you're not constricted by the generic format of a traditional resume, you have the freedom and flexibility to represent your skills in a way that comes naturally to you with your infographic resume design. Even if you're not in a creative field, these skills are impressive to an employer who knows that everything in business is lending itself to the more digital, visual world.
When to Use an Infographic Resume
While infographic resumes are effective among the right employer, they're not meant for every professional field. Some professions – like law or healthcare – will always want to see a more traditional resume. Stick to the black-and-white formatted professional resume designs for the more conservative professions. Infographic resumes are great for job seekers in a creative industry or profession. If you're a developer, web designer, or writer, a creative resume format is right up your alley. Even job seekers in the marketing industry can benefit from a more visual resume, because they are showing creativity in how to market themselves to the employer.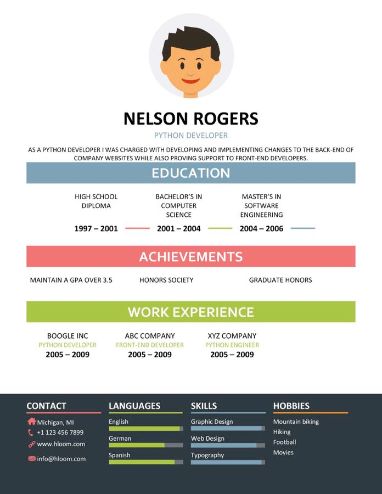 In many cases, it may be appropriate to send an infographic resume along with a traditional resume. If you're not sure of whether to use one over the other, sending both can be a good choice. The employer gets the information they need as well as the bonus of seeing your creativity at work. Infographic resumes also come in handy at in-person networking events. Job seekers can hand their infographic resume to a potential employer and immediately capture their attention. The employer is able to digest the visual information much quicker in that moment than a paragraph-form resume. Though an infographic resume is a great way to stand out, you want to be sure you stand out in a positive way. It's important to get the design right, so as not to overwhelm the viewer. Keep reading to learn what components and color schemes make for a great infographic design.
Infographic Design
Whether you do your own resume design from scratch, hire a graphic designer, or use an infographic resume builder, you always have the final say as to how your resume looks. The elements you include will be similar to a traditional resume format, but will be displayed more visually.
When structuring your
resume design
, start by making a draft of how you want it to look. Think about the main sections your resume must have. Start with the following:
Header – This includes your name, contact information and maybe a profile photo.
Skills and strengths – List your areas of expertise.
Work experience – List your relevant work history.
Achievements – Brainstorm a few things you've helped your previous employers to accomplish.
With a structure and outline of the essential information, you can begin putting your creativity to work. The infographic resume design should include more images than text to tell a job seeker's story. You can make your points visual with several features, including:
A timeline
A headshot
Logo
Icons
Tag Cloud
Headline
Tagline
Statistics
Quotes / References / Testimonials / Mentions
Displaying your information in a more creative way with these features can be more effective to a potential employer. These features capture your work experience more creatively than a traditional resume format would. A well-designed infographic resume should have a clear purpose, making it easy for viewers to understand the story being told. Here are a few elements to include in your infographic resume design:
Clear to follow.
The potential employer should be able to find your name, contact information, work experience, education background, and skills without confusion or distraction. These details should stand out immediately without having to follow the traditional resume format. Remember that a viewer's eye will go from left to right, so the infographic resume design should allow that to happen naturally.
Makes a quick impression.
If the employer can't understand your resume within 15 seconds, they'll likely toss it. The display should be neat and straight-forward, catching the viewer's eye in a positive way. While an infographic resume allows for more creativity, professionalism should never be compromised.
Tells a story.
While a traditional resume will have similar information, the goal of an infographic resume should be to visually tell the story of your career and career objective in a way that shows an employer why you're the ideal candidate for the position. The story should easily convey who you are and what you do.
Appears simple.
Less is more when it comes to graphics. The appearance of your resume is crucial and should look professional by all accounts. Every image included should make a point, highlighting your relevant work experience and best qualities as a job candidate.
Uses color wisely.
It's easy to get carried away with the color scheme in a creative resume, but doing so will undoubtedly overwhelm or distract the viewer. While too much color on a resume is not recommended, using the right colors can work to your advantage. There's a whole psychology behind color scheme and the human brain, showing that certain color schemes align with specific traits. Blue, for example, is commonly used on resumes, because this color scheme is associated with trust, dependability, and strength, qualities that every hiring manager looks for.
Infographic Resume Templates
You don't have to be a graphic designer to create a quality infographic resume. Our free templates take the guesswork out of design. Free and easy to use, these templates use effective icons, graphics, and color schemes that will help you landing an interview for your dream job..
Boast
Presentation Slide
Sequences
Orange STEM Skills
Bright Dots
On a Scale
Deep Blue Technology
Practical Bold
Strong Headlines
Skilful Flat
Sales Report
Two-Tone Colour
Bar Chart
Tabbed
Pink Timeline
Scale