How to Write a Resume on Pages
Follow this easy step-by-step guide on building a resume in Pages, whether you're using a native Pages template or one of Hloom's premium or downloadable templates.
1. Open Pages on Mac and click Create New Document.
You will find a table of contents on the left side of the window with different templates for letters, flyers, etc. Click Resumes and choose your preferred template. If using one of Hloom's templates instead, once the template is downloaded to your Mac, go to Finder, double click the file, choose the "Open with" tab and click the Pages option.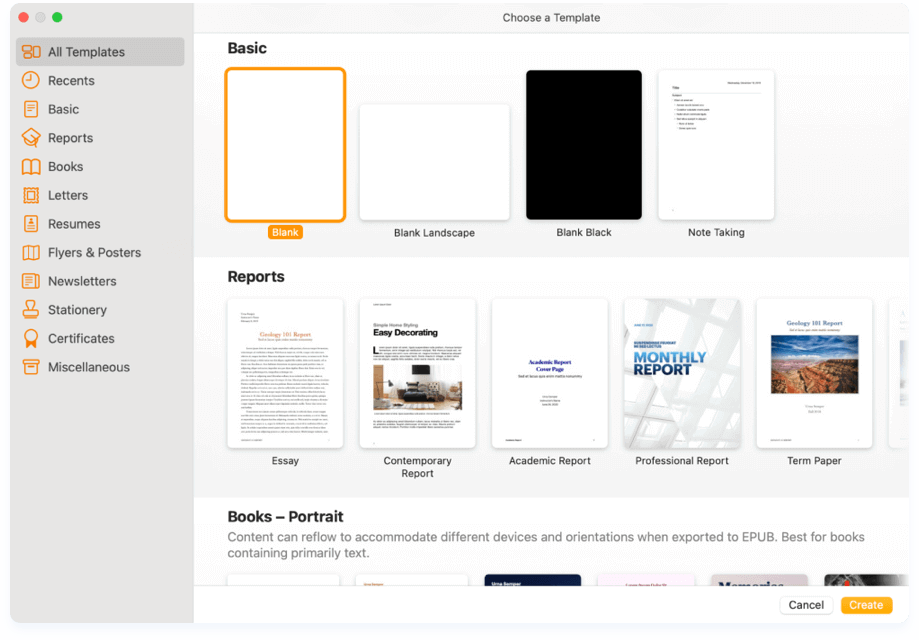 2. Replace the template's content with your personal information.
With Pages templates, you'll have to write over the dummy text from scratch. If using one of Hloom's downloadable templates, use the instructional content on the template to better understand the type of information you need to include in each section.
3. Format your Pages template.
Uploading external files to Pages or any other word processor can make the visuals shift, making your resume look wonky or even disorganized. Revise your doc to make sure no text has shifted and tweak anything that's out of place.
4. Add links to your work and portfolio.
You can include hyperlinks that will direct hiring managers to your portfolio or examples of your work.
5. Change the color and font of your resume.
Whether using one of Pages templates or a downloaded template, give it a personal touch by changing the color scheme and fonts. Remember to use color combinations that aren't harsh on the eyes and legible fonts.
6. Share your resume via iCloud by clicking the Collaborate button on your toolbar.
On your Pages document, you will see the options to send via email, messages, share as a link, or through AirDrop. You can also restrict access to your document by modifying if someone needs a personal invitation to view your doc, as well as determine if they can make changes to it or view it only. This is a great sharing tool if you want to send your resume to a copy editor friend for review. If sending it to a potential employer, make sure to choose "View only" so they don't accidentally make changes to your content.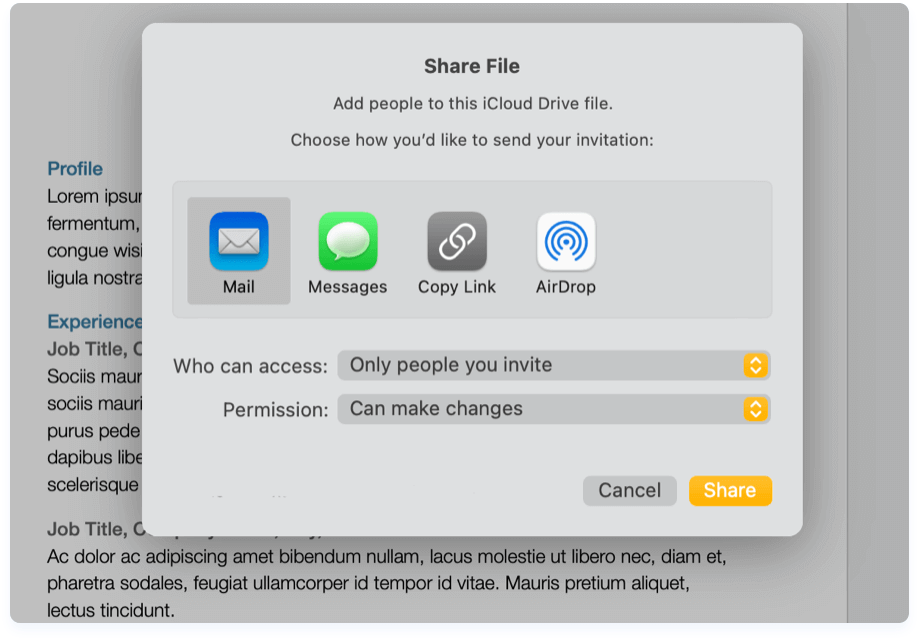 7. Pair it with a cover letter and maximize your chances of getting hired!
Our Cover Letter Builder is equipped to facilitate the process of writing this important business letter. Share even more of your professional achievements with a cover letter and maximize your chances of getting hired.
How our Resume Builder Stands Up to Pages?
A superior alternative to Pages is Hloom's Resume Builder. Packed with features like automated, job-specific suggested content to plug into your resume sections, this builder does more than offer pretty templates. The builder is your resume-writing assistant and offers an even more extensive selection of templates, more intuitive customization and formatting tools, and an integrated spell-checker.
See how our Resume Builder compares to Pages:
Pages
Hloom Resume Builder
Online and offline access to your documents
Saves your content as you type, so you don't lose any information if you close the webpage
Large selection of templates
Spell-checks your text
Suggests content specific to your job to populate your resume sections
Automatically formats your resume so your information fits perfectly on one page
FAQ
How do you get Pages on a Mac?
Pages is Apple's own word processor and is usually pre-downloaded to your Mac when you first buy it. If, for some reason, you can't find it on your applications, you can download it for free from the Apple App Store.
Is Pages compatible with Word?
Not exactly. Each word processor has its own particulars that might make it difficult for you to seamlessly transfer files between Pages and Word, for example. However, the best file format to upload to Pages besides ".pages" is docx or doc. If you're looking for templates compatible with Word, you can browse our Microsoft Resume Templates.
Can I open my Pages file in Google Docs?
You won't be able to upload a Pages file to Google Docs. You can, however, export your file to a Word document and open it on Google Docs with no problem. We also have a collection of Google Docs Resume Templates you can use instead.