Easy Resume Templates To Land the Job
Easy Resume Styles Ideal for Your Career
If you want to get a new job, you have to build a resume designed to catch the eye of hiring managers. So,
what do recruiters want to see
? Mostly, they want to see that you're right for the job.
This means you need to craft a document that shows you have the skills, experiences, and accomplishments necessary to succeed at the job you want. Not only do you have to include the right information, but you also need to make sure the document is easy to read.
If your file uses multiple fonts and erratic formatting, employers will never see you as a competitive applicant because they won't be able to pick out your proficiencies. You can learn
how to create an easy-to-read resume
by looking through our easy resume templates and writing tips.
Why Use Easy Resume Templates?
Figuring out how to impress hiring managers takes a lot of work. Why make the process even harder by trying to create a design on your own? Picking out an eye-pleasing font, complementary color scheme, and order for your content can take some trial and error.

Instead of doing the entire process yourself, make it simpler with our easy resume templates! We designed these files with readability and clarity in mind. That's why many of our templates include some key design elements:

Easy-to-read type styles

Set-apart headers

Bulleted lists

Short paragraphs

White space
Basic and Simple Easy Resume Templates
Many employers like to see traditional resumes come across their desks because they're easy to read. Just because a layout is
basic and simple
doesn't mean it has to be boring. You can still use simple embellishments, small pops of color, and bulleted lists to make your document more appealing to the eye. Clean, easy resume templates work well for people in conservative jobs, including lawyers, accountants, and retail managers.
Modern Easy Resume Templates
Freelance workers, fashion designers, and others in creative industries may find
modern formats
show off inventiveness better than a traditional layout. Modern designs may include interesting fonts, dark colors, columns, and lists to increase the readability of your document. These easy resume templates also focus on other modern elements, like applicant tracking systems. Employers use ATS to find applicants who are right for the job. A contemporary file should remain ATS-friendly.
Chronological Easy Resume Templates
A chronological format
emphasizes your work history. It uses a reverse-chronological order to ensure your most recent experience is at the top of your document. Many recruiters prefer this layout, especially for senior-level executives or those who have worked for well-known companies. Most chronological easy resume templates fall into the professional and traditional categories.
Functional Easy Resume Templates
If you have a gap in your work history, you may want to steer clear of the chronological layouts. Instead, use
functional easy resume templates
. This creative format focuses on your skills more than your experiences, which makes it perfect for anyone who changes jobs frequently or is just returning to the workforce.
Combination Easy Resume Templates
If you would rather show off both your skills and experiences, you may want to try
a combination format
. This type of template includes a detailed look at your work experience as well as a succinct list of your skills. It can work well for people in either creative or conservative industries.
What To Say in Your Resume
What needs to go into a resume? You have to answer this question before you can really pick out the template that will work for you. Think about your skills, experiences, and accomplishments and how they match up to the job you're applying for.

Hiring managers often want to see a few base elements in a resume no matter who it's from. Take a look at this checklist to see what content you may want to put into the easy resume templates.
Contact Information

Make your full name stand out. Readers should know who the resume is about without having to do any digging.

Include a professional email address. If you use your address from your old college server, recruiters may think you are a recent graduate or out of date.

Supply multiple points of contact. Include a cell or home phone number to make sure employers can easily get in touch with you to set up an interview.

Write out your mailing address. Typically, you only have to include the city and state you live in, but there may be certain times when the entire address is beneficial.
Summary

Figure out what type of opening statement to use. Experienced workers tend to use summary statements, while career-changers or entry-level employees use objective statements.

Tell employers what you can do for them. A summary statement points out your most relevant work experience, accomplishments, and skills as a sort of sales pitch of your fit for the job.

Show recruiters how eager you are. An objective statement points out what you hope to gain from the experience.
Skills

Pander to your audience. Find out what the hiring manager wants to see by reading through the job description.

Use keywords directly from the posting. Applying key phrases to your own skills makes your fit for the job clear.

Keep the section concise. Use short phrases and up to seven bullet points.
Work Experience

Emphasize the most important details of each job. Be sure to include the title position, name of the company, and employment dates.

Discuss your responsibilities and accomplishments. Using active language to discuss what you did at past jobs makes it easy for readers to understand what you might be able to do for their company.
Education

Make your training clear. Discuss your college education and relevant certifications in reverse-chronological order.

Include necessary info about each degree. Try to point out the name of the degree, area of study, name of the university, and date of graduation.
Why You Should Use a Resume Builder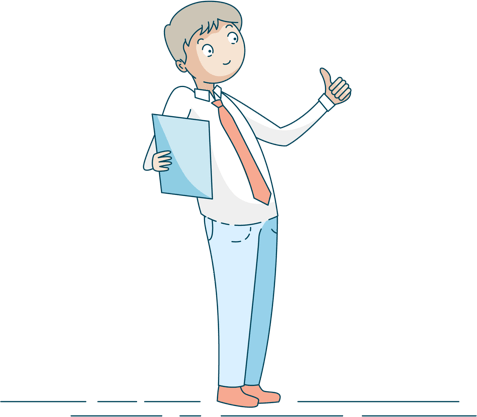 Your resume plays a big role in your ability to land a job. If it's not easy to read, you'll never get an interview. Recruiters give each document a
read-through that lasts approximately six seconds
before they decide whether to follow up with a candidate. Because you have so little time to make an impression, you should use a
a resume builder
.
This professional document writing tool provides a fantastic base for your resume. You answer a few questions about yourself, and the builder help you pick out the layout that best suits your experience. You can see a variety of other benefits as well:
• Compare your document to resumes from your career field
• Use our cover letter builder to prepare you for interviews
• Get career-specific advice on phrasing
• Gain access to multiple formats, including online copies and printable versions
• See successful uses of formatting in action
Whether you want to use easy
resume templates
or a resume builder, we have what you need to craft an outstanding document.