Engineering Resume Templates: How To Write a Standout Resume
Your Go-To Guide for Crafting a Solid Engineering Resume
Today's job market is competitive. A polished resume is crucial for landing an interview. It takes effort and time to craft an impressive resume, but it's well worth it when you're hunting for your dream job.
The good news is you don't have to do it alone. Our
selection of templates
simplifies the process of formatting your document so it's clear and engaging to read. You have a unique story to tell as an applicant, and you should tell it with pride. Choose from a wide variety of engineering resume templates, and fill in your information step by step to craft a compelling portrait of your work history.
Why Use Engineering Resume Templates?
What distinguishes a poor resume from a great one? You must know if you want to make your resume the best it can be. According to The Muse, there are
key characteristics
that managers in the tech industry keep an eye out for when sifting through resumes. These include:

Showcasing your career progression

Customizing it to the position you want

Using keywords

Having no typos


Our engineering resume templates make completing these components easy. You won't have to worry about spacing, font, or color. Rather, you can concentrate on filling in your information with the help of our online guide and a plethora of tips that will get your brain juices flowing. Better yet, it's free!
One-Page Engineering Resume Templates
Hiring managers in a hurry don't have time to peruse a lengthy document. Packing your information into one page is easy with the right tools. Our one-page resume templates have intuitive and organized layouts so your most important accomplishments can stand out.
For more guidance on how to make your writing concise and relevant, take a look at our
writing tips
.
With Cover Letter Engineering Resume Templates
Crafting a resume on your own is tricky enough; add a cover letter requirement and many jobseekers start to pull their hair out in frustration. Get the best of both worlds by perusing our engineering resume templates with a cover letter component. You can learn how to expand on your work accomplishments and express your love for your field.
Entry Level Engineering Resume Templates
Little or no experience is no problem with the right approach. Our entry level engineering resume templates show you how to cut white space and fill it with impressive details. You have skills you can apply as a fresh-faced recruit in a new industry, even if you don't realize them yet. We'll help you target your strengths and frame them in an appealing way.
Basic and Simple Engineering Resume Templates
Psychologists agree that
stellar resumes have great content.
So, keeping it classy with a layout that lets your work experience shine through is always a good idea. Managers in traditional fields like engineering often appreciate resumes that are impeccably streamlined. Many of our templates even have a touch of color and different fonts for some pizzazz.
Popular Engineering Resume Templates
If you can't decide which of our hundreds of engineering resume templates suits your needs, rely on the experts. Our editors have picked a few that work for all career levels as suggestions to help amp up your resume game. Or, browse our hall of fame of 10 best templates that are most popular with our site visitors.
What To Say in Your Resume
A good resume is all about the details. Each section of the document should be free of fluff and spelling errors. Always remember to double-check your resume before printing it out or submitting it. For your convenience, we have compiled the following checklist of tips to follow while you're crafting your resume.
Contact Information

Since you're making a formal introduction, use your full name. Nicknames come later during the interview or as you're introducing yourself in the office.

Avoid silly email addresses. You can use [email protected] separate from work. Create a professional-sounding email account with your full name.

Include both your home and cell phone number if you wish. List the one you prefer first.
Summary

The summary statement is a short three or four sentence paragraph that expresses your most attractive qualities as an employee. Focus on your strongest skills, best accomplishments, and prior experience.

An objective statement is ideal for entry-level employees or those looking to change careers. It describes why you're applying to the position and the skills you hope to gain.

Our engineering resume templates have a component reserved for either a summary or objective statement, whichever is more appropriate. Both should contain assertive language with plenty of action verbs (Managed, Sold, Completed, for example.)
Skills

Read the job description closely to identify the skills your potential employer desires. Be honest about your abilities and compile a list of six to eight skills.

Use bullet points to list your skills. You can pull the language directly from the job description, but also add a few of your own creation for good measure.

Sprinkle in a few adverbs such as excellent, outstanding, and strong.
Work Experience

This is often considered the most important part of a resume. It should contain at least two, but preferably three, prior positions you've held in the industry. If you're an entry-level candidate, concentrate on internships or jobs outside the field.

Include the official titles of your positions, the names of your past employers, the city and state you worked in, and the dates of your employment.

List between three and five brief bullet points for each position. Remember, unless you're applying for a top-tier position requiring many years of experience, your resume should be no more than one page.
Education

Include the name of any universities or community colleges you attended, as well as the degree you earned and the dates of your enrollment.

If you earned supplementary certificates or participated in extracurricular clubs, add them too.
Why You Should Use a Resume Builder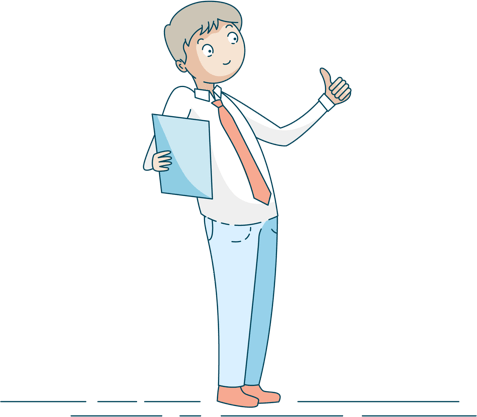 Using our
resume building platform
can make crafting an ace resume easier and less time consuming. Almost anyone can benefit from the intuitive features.
• No technical knowledge required
• Engineering resume templates are customizable so you can apply to several positions quickly
• Great confidence booster
• Unlimited resume access
Furthermore, you receive industry-tailored keywords and writing advice from the pros. Once you sign up, you get matched with a resume automatically. Our method eliminates much of the guesswork so you turn in a polished document sure to impress and hopefully land you an interview. And, if your job application requires a cover letter, we can help with that too using a similar cover letter builder.