Free Creative Resume Templates To Land the Job
Appealing Resume Styles Ideal for Your Career
Why Use Free Creative Resume Templates
You're ready to take that next step in finding a job. Congratulations! Now what?

We've all been there: in front of the computer, somewhat stumped by how to craft the most impactful resume that will help us get a job. Maybe you ask a friend to see her resume for inspiration, but it's not quite what you had in mind. It's precisely in this situation that free creative resume templates are so useful. When you view many templates all in one place, you gain the following benefits:

Inspiration

Time savings

No writer's block

No need to scour the internet for tips

Guidance and insight
With all these advantages and more, you'll soon have a beautifully crafted document.
Internship Free Creative Resume Templates
If you're looking to secure your first internship, it's an exciting time! Most companies searching for interns look forward to the enthusiasm, fresh ideas, and effort you will bring. Internships are particularly competitive, though, with many looking for an "in" that will set them up for future success. Referencing
samples specific to internships
and using free creative resume templates to get started can help you rise above the competition.
One-Page Free Creative Resume Templates
With a creative design, a single page has impact. Hiring managers can immediately take in the full document, and if they're printing it to share, they won't need to worry about staples or pages getting separated.
If you have an impressive amount of information to pack into your resume, you may have trouble determining how to best lay it all out. Use a
one-page template
as a starting point.
Entry-Level Free Creative Resume Templates
If you're relatively new to the job market, or you're embarking on a brand-new career path, you may wonder how to best emphasize your professional skills and qualifications without much working experience in the field. Our
entry-level free creative resume templates
will provide you with excellent ways for adding knowledge, skills, and interests in an appealing format that fills the page while staying focused and relevant.
Changing Careers Free Creative Resume Templates
Choosing a new career path but feel that an entry-level resume doesn't quite fit your needs? This may be particularly true if you have experience that you can transfer. Perusing
sample resumes
can provide ideas for how to incorporate your work history, transferable skills, and accomplishments into a document that catches recruiters' eyes. Remember that although you may be new to the field, quantifiable achievements in your former career will set you apart.
Professional Free Creative Resume Templates
Wondering if "professional creative" is an oxymoron? As more creative industries look to fill job openings, it's becoming increasingly important to present yourself as someone who is both innovative and able to meet the demands of a position with professionalism. If you're applying for jobs in graphic design, advertising, publishing, or similar fields,
professional free creative resume templates
are a superior launch pad for crafting the perfect document that communicates both skills.
What To Say in Your Resume
It's critical to make a notable first impression when applying for a job. You may typically win people over with your smile or personality, and those things are also essential during the interview process. However, before you can get an interview, you need to make a good first impression through your resume. Recruiters only spend an average of about
six seconds
on each resume, so you'll need to communicate all the necessary information quickly.
All great resumes have several key components in common, regardless of industry. You'll find that our free creative resume templates integrate innovative design into a solid document that includes all of these components:
Contact Information

Use your full name (no nicknames!) and provide a reliable phone number (with area code) and email address.

Feature this information at the very top of your document.

You can add any relevant web links, such as a link to your online portfolio or LinkedIn account, if you have them. This should be below your primary information.
Summary statement:

Keep in mind that a recruiter will likely look to this statement to get a concise summary of who you are and what you bring to the table.

Avoid needless filler. Use powerful descriptive words that capture your best professional features.

It's fine to use sentence fragments. Aim for three, and use periods at the end of each.
Skills:

Aim for no more than eight bullet points in this section.

Avoid complete sentences or even long phrases. Each bullet point should contain a unique skill in concise wording. It's also appropriate to use single words like "collaborative."

If possible, include skills you saw in the job posting.
Work Experience

List your work history in reverse chronological order. It's best to limit yourself to the last 10 years or so of experience.

For each job, name the company, give the dates you worked there, and provide your position title.

Aim for around four bullet points describing your responsibilities at each workplace.

Include metrics, or specific numerical data, if possible. "Produced graphics for 50 published articles a month" has more impact than "produced graphics as requested."
Education

For each entry, give the name of the educational institution, the degree title, and the year you earned the degree.

List your education in reverse chronological order, but only go back to an associate degree or bachelor's degree. Don't include information about your high school or GPA.

Remember to list any credentials or certifications that are an asset to the position.
Why You Should Use a Resume Builder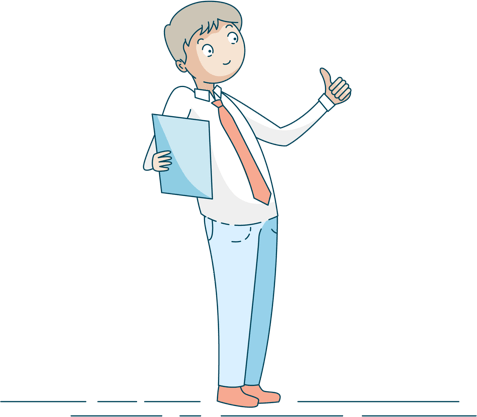 You have the skills and knowledge to produce a strong resume. You know what it should contain, and you have your text written and ready. If you still find yourself worried about the process or overwhelmed by formatting decisions or choosing one of our free creative resume templates, then a
resume builder
may be a good option for you.
When you use a resume builder, the document you generate is still your own. That's because you provide content unique to you. The tool simply takes the guesswork out of the following:
• Formatting decisions, such as font choice, font size, and margin width
• Figuring out how to save your document in a file format recruiters can easily receive, view, and print
• Adding a cover letter or finding sample cover letters to reference
• Finding resume writing tips all over the internet (we provide them all in one place!)
• Determining how often people download your resume
One thing a resume builder cannot do for you is check your text for accuracy. That's up to you. You'll have more time to spend reviewing your document when using this tool, and ultimately, saved time means you'll get your resume into the job market sooner.