Free Job Resume Templates To Land the Job
Free Job Resume Styles Ideal for Your Career
Experts have suggested
how to improve your resume
for a while, but how can you be absolutely certain your document includes all the crucial markers? One way is to use our
innovative resume builder
to construct a winning document.
Entry-level seekers and seasoned professionals can both find a format specially catered to their industry. Perks include:
* A plethora of fonts, color, and spacing styles that are easily customizable
* Both traditional and creative options
* Writing advice and samples to sharpen your language
* Spelling and grammar check
* Easy downloading for fast access
Our platform can quickly become your go-to resource for resume creation because it encourages you to include all the components hiring managers want to see, no matter how subtle.
Why Use Free Job Resume Templates?
The job market moves fast. An online posting can quickly be flooded by hundreds of resumes. For yours to get noticed, you can't make a single error. Exaggerating your writing or making your document too long are some
common mistakes
that cause recruiters to throw your application in the trash can.
Our free job resume templates can help you succeed by educating you on the tiniest details and turns of phrase. We recommend everything from style to keywords. The result is a streamlined document that contains all the crucial sections: contact information, summary statement, skills, work history, and education. Our templates can help you begin to move toward your dream career faster.
Popular Free Job Resume Templates
We know that using a classy and cool template works, because we've kept track of the results. Here are our
10 best templates
with formats ranging from traditional to modern compiled by our editors. They've helped hundreds of jobseekers like you, and now you can join in on the fun.
One-Page Free Job Resume Templates
Unless you're a mid- or high-career professional, chances are, you're going to have to trim your details to one page. Our
one-page free job resume templates
designate just the right amount of room for your contact information, summary statement, skills, work history, and education to create a well-balanced and visually appealing document. Recruiters will be able to scan and pick out the qualities that make you shine.
Entry-Level Free Job Resume Templates
Simplify the intimidating act of writing your first resume with our
entry-level free job resume templates.
The key is in eliminating fluff that doesn't relate to the job. It's easier than you think; we'll show you how to make your internships, volunteer experience, and interests capture the attention of finicky recruiters.
Classic Free Job Resume Templates
Traditional fields like business, finance, and engineering usually require a resume with a clean layout and stellar organization. With no distracting colors, graphs, and imagery, our classic free job resume templates focus on what employers want to see most: your qualifications. To impressively showcase your work history on a single page, one of our
chronological templates
is a great fit.
Creative Free Job Resume Templates
Scream your love for innovation and design loud and proud with one of our
creative free job resume templates
. In the past, it took substantial tech skills to add columns, imagery, and graphs to a resume. No longer are such skills required to create a forward-thinking document. Perfect for a graphic design, architectural, or fine art profession, your information pops off the page.
What To Say in Your Resume
To craft a dynamic resume, you must identify the language appropriate for your purpose. Our free job resume templates are available for
curriculum vitaes
and almost every possible
profession under the sun
. To guide you through the writing process, we've compiled a useful checklist to reference:
Contact Information

You can't get a job if an employer doesn't know how to reach you. Display your contact information at the top of your document. Include everything a recruiter needs to know, such as:

Full name

Phone number

Email address

URLs to online portfolios or websites

Social media links
Summary

Most hiring managers prefer a summary statement that illuminates your best qualifications. A summary statement should be short and enticing to tempt the reader to examine your work history. Candidates new to the workforce, however, might have limited experience, in which case they might opt for an objective statement instead that describes why you're interested in a position.

Both types of statements should contain the following:

Three or four sentences or bullet points

Concise and strong language – complete sentences aren't necessary

Specific numbers, statistics, and accomplishments
Skills

To create a list of six to eight skills, think carefully about the nature of the work you'll be doing if hired. You want to include skills that are as relevant to the job as possible. Be honest about your capabilities. The strongest skills lists have these characteristics:

Adjectives such as "excellent," "outstanding," and "effective" that echo the job description

Easily scannable

A mixture of hard and soft skills

Names of specific programs and languages, if you know any
Work History

Your work history is often considered the most important by recruiters. It should take up the majority of your document. You should also format it with bullet points rather than clunky paragraphs. The most attention-grabbing employment entries begin with a compelling action verb. For example, "launched a seasonal holiday sale" sounds better than "took part in a sales project."

Make sure that your work history section is complete with the following:

Names of the companies or organizations you worked for

Location of companies (city and state)

Your official title

The duration of your employment
Education

Candidates new to the workforce should pay close attention to their education section. While often featured on the bottom of the page, it is certainly not superfluous information. Express your academic merits with the following information:

Name of institutions you attended

Location of institutions (city and state)

Full name of your degree or certifications

Graduation year (optional)
Why You Should Use a Resume Builder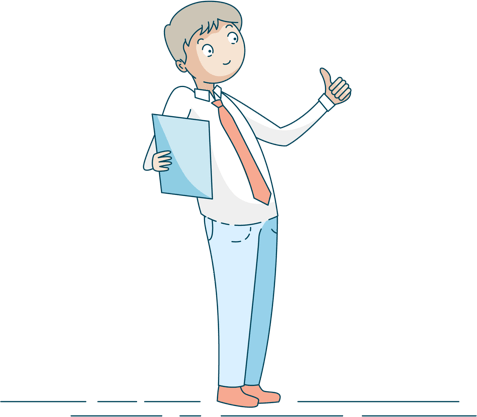 A resume builder can be immensely helpful in boosting your confidence and making you a more competitive applicant. Our free job resume templates assist you in polishing a rough draft into a finished document that frames your unique qualifications in a professional way. In addition, you can enjoy the following cutting-edge features:
* Industry-tailored keyword and phrase suggestions
* Abundant resume examples to reference
* Unlimited access so you can create as many resumes as you need
* Instant downloading so you can print and submit your document fast
* Spelling and grammar assistance for zero typos
After signing up and answering a few questions, you'll be matched with a template suitable for your needs. Filling in your details step-by-step and mastering a natural tone of voice can be fun and even enriching. In fact, our
resume builder
can teach you skills to carry throughout your professional career. Get started today at no cost!