Graphic Resume Templates To Land the Job
Eye-Catching Resume Styles Ideal for Your Career
A graphic layout can be a great way to make your resume stand out when applying for creative positions. Employers hiring for jobs involving visual communication or design may look for applicants who present their qualifications in a stylized format. This approach to resume design is not
always recommended
, especially if you are applying for a more conventional job. In the right professional context,
graphic resume templates
can make a memorable first impression.
If the position you are applying for emphasizes an ability to use design to get ideas across, a graphical resume can demonstrate your methods. You may want to
think twice
if you are seeking a job that emphasizes hard skills other than design. We provide some guidelines on how to determine the level of creativity or formality an employer expects and ways to align your resume design with their expectations while still standing out.
Why Use Graphic Resume Templates?
There are several major reasons you might consider using a graphic resume template. If you want to show off your eye for style but don't have time to completely design a resume from scratch, our high-quality graphical layouts can help you produce a distinctive document without investing a great deal of time. Looking over several graphic resume templates can also show you a range of ways to combine your information and qualifications with eye-catching visual media. Several types of resume templates incorporate these or other visual elements:

Unique layouts

Striking color schemes

Stylish presentations of your name

Indications of your aesthetic or style principles

Visual representations of skills or experience
Entry-Level Graphic Resume Templates
An entry level resume for an art or design position might benefit from some well-chosen graphics. Entry-level candidates in other fields should consider whether graphics could contribute toward or detract from their professional presentation. Browse our selection of
entry-level resume templates
to see what resumes on this level typically look like. Once you have a sense of content and structure, you can start thinking about style.
Professional Graphic Resume Templates
Creative professionals should be aware of attitudes toward graphic resumes in their industry. Applicants may want to consider showcasing their accomplishments and experience using
creative
graphic resume templates or
infographic
templates. Depending on your field, you might also want to present design work by using a
portfolio
resume template.
Creative Graphic Resume Templates
Some of the most
creative resume templates
have graphical elements. You can find templates with visual touches all the way up to
infographic-style resumes
. As most resumes do not have illustrations, graphic resume templates tend to be more creative than other styles. Depending on the position you are seeking, creative templates may draw the right kind of attention to your resume.
Popular Graphic Resume Templates
Even though most resumes primarily consist of formatted text, some of the most popular styles do feature images or illustrations. Browse our
popular resume templates
to find a style suitable for presenting your qualifications. Comparing these templates may also help you determine the role of graphics on your resume and where you would like to add visual elements.
Modern Graphic Resume Templates
You may want to achieve a coherent look rather than adding graphical features to your resume at random. Our
modern graphic resume templates
demonstrate several ways to make visual elements contribute to an up-to-date style. These tested eye-catching layouts can either serve as the basis for your resume or inspiration for creating a more graphical design.
What To Say in Your Resume
Most resume content is fairly standardized, regardless of the resume template you choose or the graphics you plan to use. Here is an overview of the information that typically goes in each major resume section.
Contact Information

Full name: Provide your full name so that employers can generate accurate applicant records

Phone number: Give a phone number where employers can reliably reach you, ideally either a personal cell or home number

Mailing address: At the very least, include your current city and state where you reside

Email address: Use an email address that is safe for work and that you check regularly

Social Media: You may add links or usernames for professional social media profiles
Summary

Summary Statement: Emphasize your best qualifications for a position by starting your resume off with a summary statement. This series of phrases should correspond to the job description of the position for which you are applying and indicate that you might be the right fit.

Objective Statement: If you are early in your career or changing fields, your resume might benefit from an objective statement. This declaration of your purpose or intent in seeking employment can give an employer a sense of your reason for applying and your professional goals.
Skills

Identify: Come up with a list of skills relevant to the position you are seeking

Select: Choose keywords from the job description that you can use to describe your abilities in the same way as the employer

Prioritize: Make sure to organize the skills you list in a way that reflects the employer's perception of the priorities of the advertised position
Work Experience

Structure: The first entry in this section should be your current job or most recent employment. Then, go backward through time to describe previous positions.

Role: Start each entry with your job title, the name and location of your employer, and the dates of your employment.

Details: List a few responsibilities, accomplishments, or compelling metrics that support your ability to succeed in each entry.
Education

Academics: Provide details on all of your degrees, starting with your most recent or highest level of education. If a position requires a degree beyond a high school diploma, you do not need to provide details about your high school.

Training: The education section of your resume is also a perfect place to bring up professional credentials and include training, certifications, licenses, or professional memberships.
Why You Should Use a Resume Builder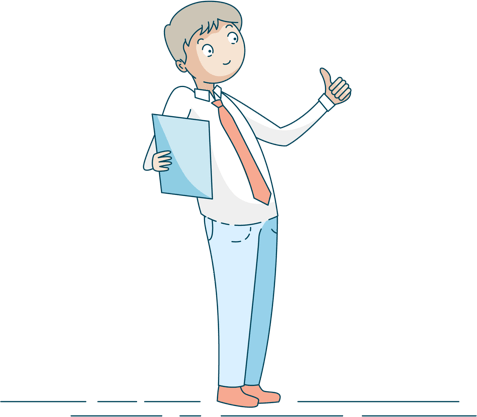 Assembling a visually compelling resume can be a challenge even with our library of graphic resume templates. If you would like to simply enter information directly into the template of your choice and have a polished resume generated automatically, you should consider using a
resume builder
. This tool allows you to follow several simple steps to go from an idea about the kind of resume you would like to have to having a complete document that is ready to send out.
1. Choose from a collection of 20 customizable designs made to work with the resume builder
2. Provide the information needed to complete the major sections
3. Customize the template based on your industry
4. Add in industry-specific keywords to clear an ATS or catch the eye of a hiring manager or recruiter
5. Download your finished resume in the file format of your choice
When using the builder tool, you also get to enjoy these benefits:
• Guidance in choosing an effective resume for your field and level of experience
• Advice tailored to your career path
• A cover letter generation tool