Free High School Student Resume Templates for Teens
Creating Your First Job Resume for Part-Time Positions
If you've never made a resume before, it can seem more difficult than the job search itself. Fortunately, making a resume is as simple as following a format. With some key information in the right order, anyone can create one.
Your First Job Resume: What It Is and Why You Need It
A resume is a one-page document that summarizes your experience, skills, and other information. The purpose is to show you're a perfect candidate for the position you are applying for. It should be formal, professional, and relevant.
Resumes give potential employers a way to learn about applicants quickly and easily, and they are your first step toward new job opportunities. An interview might also be needed to land the job, but a resume is necessary to start the process.
Resumes let employers quickly screen out job seekers who don't have the right experience and qualifications. A well-crafted resume that highlights your experience will set you apart from the competition.
Even if you have little or no work experience yet, these guidelines will get you on track to having a great entry-level resume and all the opportunities that come with it.
Best Resume Format for Teens





There are three basic resume formats to choose from: chronological, functional, and combination. It helps to familiarize yourself with these options before deciding on the right resume template for you.
Chronological Resume Format
This is one of the most common resume formats. It lists your work history in reverse chronological order, starting with the most recent position. It is often headed with a "Career Objective" section. We will talk about these sections in more detail later in this post.
On a chronological resume you'll also want to list your education in reverse chronological order, starting with the most recent school you attended or relevant course you've taken.
Pros and Cons
This is a common resume format. It's easy for employers to scan a chronological resume quickly and get an idea of your experience. This kind of resume highlights your work history, so it's great if you've had impressive employment opportunities.
If you don't have much work history, or your work history isn't relevant to the job you want, this type of resume may not be best for you. Prospective employers will throw your resume in the "No" pile if all they see is work that's not related to the job they are looking to fill, or if your resume looks empty because you didn't have much experience to list.
Examples
Functional Resume Format
A functional resume format highlights other sections, like skills and activities, over work experience. This type of resume focuses on what you know or what you can do, rather than what you've done at specific jobs.
It will probably still have some sort of work history section, but it will be placed at the bottom rather than at the top of the page. Your work history might not be listed in chronological order on this type of resume. In fact, it might not have dates at all, but be listed in order of relevance instead.
Pros and Cons
This type of resume can be great if you have little or no conventional work experience. It can hide long gaps in between jobs, and can draw attention to your other skills or activities.
Most employers will be accustomed to the chronological resume format. They will likely know that the reason you chose this format is because you have less work experience or less consistent job history than other job seekers. But that doesn't necessarily mean you're a less desirable candidate.
Example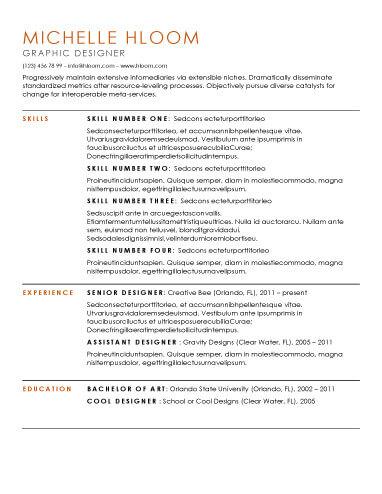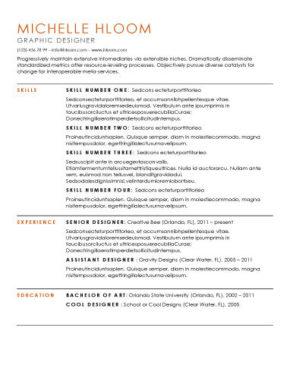 Combination Resume Format
Like a functional resume, a combination resume puts your skills and activities first and foremost. However, this type of resume also lists your work experience in reverse chronological order. It just doesn't put it near the top like a chronological resume does.
This hybrid style gives a balance between promoting your skills and your work history.
Pros and Cons
For teens with work experience that's impressive but short, this kind of resume is ideal. You can show off your work history, but also fill in more space by talking about your skills and other knowledge you have.
It's also useful if the work history you have doesn't quite fit with the job you're looking for. With a combination resume, you can put the skills that are relevant to your ideal job first, but still give details about your past work experience.
Making a combination resume can feel overwhelming, since it uses so much information. Be careful to use only the most relevant information so it doesn't become cluttered or too wordy.
Example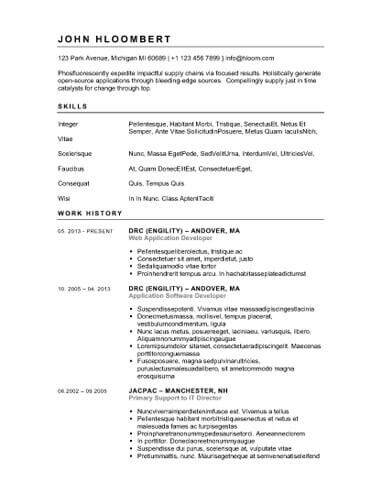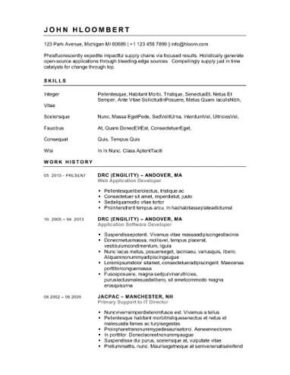 How to Create a Good High School Student Resume
Your resume always needs to include your name and contact information. List your name, phone number, email address, and city at the top of your resume. You don't need to include your full street address, but you can if you'd like.
Everything else can be adjusted to fit your unique experience. For example, your resume could include any of the following:
Work Experience or Work History
Education
Career Objective or Summary
Professional Skills or Other Skills
Activities
Hobbies and Interests
Achievements, Awards, and Honors
References
Each of these sections will consist of a heading in bold or slightly larger font, followed by details about that section. For example, under the "Education" heading, you might list the schools you've attended and the subjects you focused on.
Remember, you probably won't use all of these headings. Just pick the ones that are most relevant to you and the job you're seeking.
Every section requires a slightly different approach. Let's break it down and see how it works.
Work experience
This can be a difficult section to tackle on a teen resume, since you might not have any work experience yet. Don't worry though. Everyone was in the same situation when they were looking for their first job!
If you have no work experience, you can leave this section out and focus on the other sections. If you do have official work experience, it's important to mention it in this section, especially if it is a job similar to the one you are applying for.
Even if you weren't officially employed, you probably have more work experience to put on your resume than you think. Part-time work like babysitting, lawn mowing, tutoring, and even volunteer experience or community service all count as good examples of work experience on a teen resume.
Under the "Work Experience" heading, list the name of the company you worked for, your job title, and dates of employment. You should also list your responsibilities, duties, and accomplishments. That way, it's clear what kind of experience you gained. Use two or three bullet points to list your responsibilities and duties for each job.
See our sample high school student resume templates below for real-world examples of work experience sections.
Education
In the "Education" section, state the high school you attended or presently attend and the years you were there or the date you expect to graduate. For example:
If there are classes you've taken that are relevant to the job you want, you can list that relevant coursework here. You can mention your future education plans too. For example:
Career Objective or Summary
The "Career Objective" section shows what kind of job you're looking for. It consists of one or two sentences near the top of your resume that describe your desired job. For example:
You can also extend your objective statement into a summary. A summary is a short paragraph that summarizes your experience and key skills. For example:
This section might seem unnecessary, but it can actually be very helpful to potential employers. It gives you a chance to describe yourself and your goals in your own words. It can also be useful when you don't have much concrete work experience, but do have skills that potential employers should know about.
Make sure the objective or summary is short, clear, and professional.
Professional Skills or Other Skills
You likely have skills that could be relevant to a particular position you are applying for. These can be listed under "Professional Skills."
Make sure the skills are relevant to the job you want. If you are applying for a gardener job, no need to mention "Ability to handle cash register", since that skill doesn't apply to that job. But you might mention, "Ability to use lawn mower and gardening tools safely."
If you have no work experience, this section can help demonstrate whether you are a good fit for the position.
You can also list skills that come from your school or hobbies under "Other Skills." Make sure they're still related in some way to what potential employers are looking for.
What are some key skills you might list?
Creativity
Leadership
Adaptability
Flexibility
Positivity
Problem-solving
Communication
Independence
Self-motivation
Ability to work under pressure
Activities
This section gives an employer insight into your character and interests. It might even tie into the "Skills" section.
Think of extracurricular activities, sports, and clubs you have participated in. Taking a lead role in a school play? You are probably creative. Playing football? You might be a good team player. These are qualities that employers are looking for. Some examples of school activities that could look good on a resume include:
Sports: playing sports in a association or for fun, outdoor activities, fitness training, taking sport lessons, coaching.
Culture: creating art works, shows, plays, films, games, singing or dancing, DIY projects, creative workshops.
Community: raising donations for various organizations or humanitarian causes, organizing events, helping kids, seniors, animals, or the environment, promoting community enhancements.
Just like with skills, only list relevant activities here.
Write down the activity, dates, and your role/position. For example:
If your resume is short on work experience, you can list more details about your activities to show what you gained from them. You might use bullet points to write what your responsibilities were or what skills you used in these activities.
Hobbies and Interests
This section is similar to activities, as it tells an employer more about your character. Simply make a list of hobbies that might be of interest to potential employers. For example:
Achievements, Awards, and Honors
It's great to mention major achievements and awards you've earned at school or in your activities. Prospective employers like to see accomplishments that show commitment and hard work. For example:
References
A reference should be someone who can vouch for your knowledge and skills, or who can confirm your work experience.
Your teachers, coaches, or former employers can be good references. Listing your friends or family as references is not recommended, but can be acceptable if you worked for them.
Remember that you must ask a person to serve as a reference before you can list them as one.
Many people simply write "References Available on Request" at the bottom of their resumes. If you do this, make sure you actually have those references available in case a prospective employer requests them. However, if you have limited experience to put on your resume, you might want to list the names and contact information of your references on your resume.
Free High School Student Resume Examples





These teen resume samples will make getting started easy. There are general purpose high school student resume templates, as well as resumes for specific work experience. These samples will guide you with a professional resume format and a basic idea of what to write. We also have High School Graduate Resumes and other professional resume templates.
Babysitter Resume Template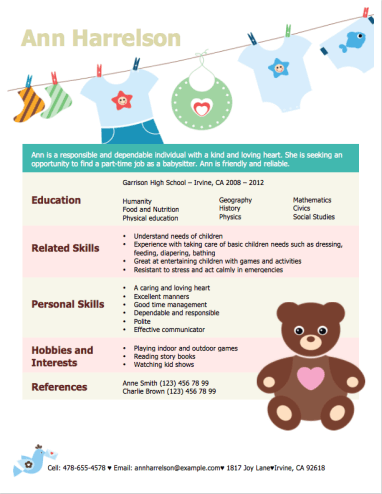 Creative babysitter resume sample with a summary, education, related and personal skills, hobbies, and references examples.
Size: 183 B
Downloads:

7875

Filename: babysitter-cv-template-sample.docx
Uploaded: 2013-07-04 06:21:00 / 3136
Download
Fast Food Employee Resume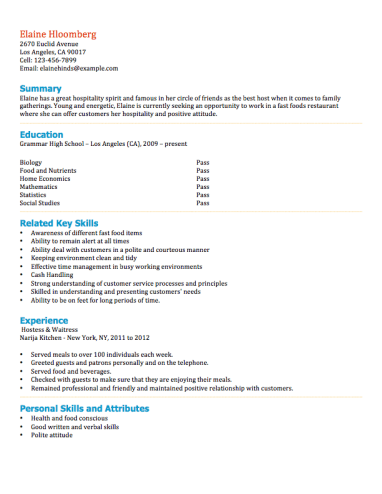 Generic design with sample content (skills, knowledge) for a position in a fast food industry.
Size: 183 B
Downloads:

10329

Filename: fast-food-employee-cv.docx
Uploaded: 2013-07-04 06:34:00 / 3138
Download
General Purpose Teen Resume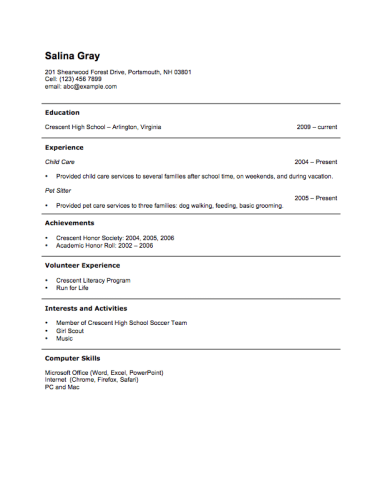 Basic design and common content for any type of position.
Size: 183 B
Downloads:

34057

Filename: geneal-purpose-high-school-resume.docx
Uploaded: 2013-07-04 06:36:00 / 3140
Download
Multi-Purpose Teen Resume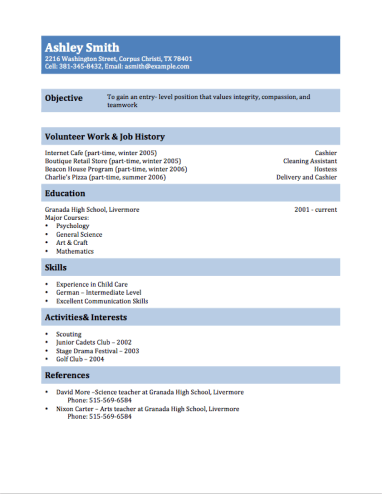 Another multi-purpose sample, with blue header theme. Includes customer work and volunteer experience.
Size: 183 B
Downloads:

23181

Filename: teenager-cv-sample.docx
Uploaded: 2013-07-04 06:38:00 / 3142
Download
Lawn Care/Gardening Resume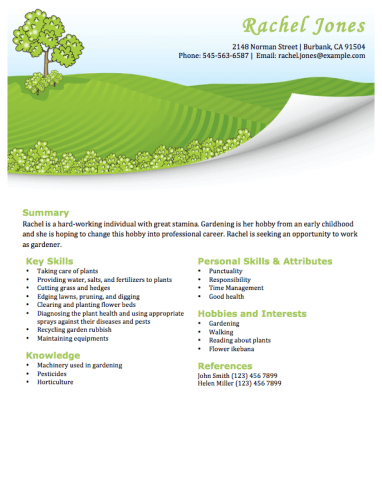 Sample for position in gardening or landscape. Creative design theme to attract attention.
Size: 183 B
Downloads:

3763

Filename: lawn-care-gardening-job-application.docx
Uploaded: 2013-07-04 06:39:00 / 3144
Download
Student Tutor Example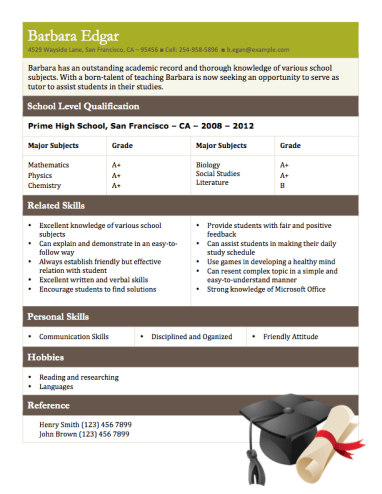 Resume sample for students who would like to promote tutoring services to other students or student's parents.
Size: 183 B
Downloads:

5230

Filename: student-tutor-cv-sample.docx
Uploaded: 2013-07-04 06:41:00 / 3146
Download
Part-Time Grocery Store Resume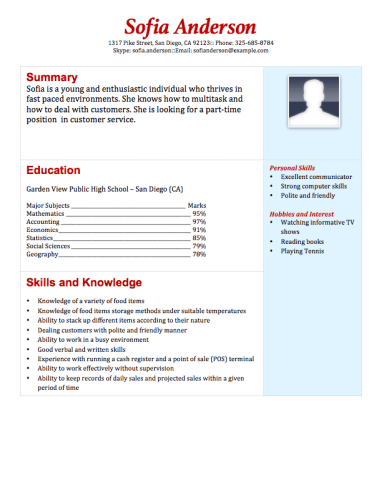 Generic resume sample for part-time grocery store job. Can be easily modified for similar positions in different stores.
Size: 183 B
Downloads:

8258

Filename: grocery-store-application.docx
Uploaded: 2013-07-04 06:42:00 / 3148
Download
Restaurant Resume Example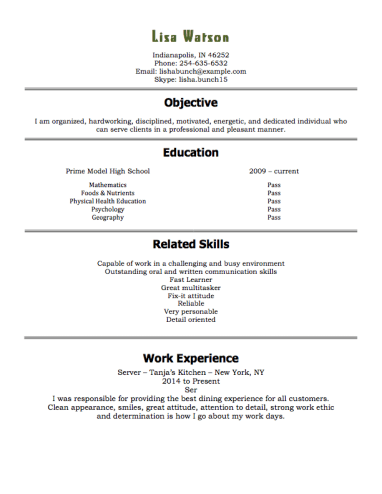 Elegant resume for server or host position in a restaurant. Can also be used for kitchen help, cook help, busser, etc.
Size: 183 B
Downloads:

5755

Filename: waitress-or-hostess-job.docx
Uploaded: 2013-07-04 06:44:00 / 3150
Download
Volunteer Resume Example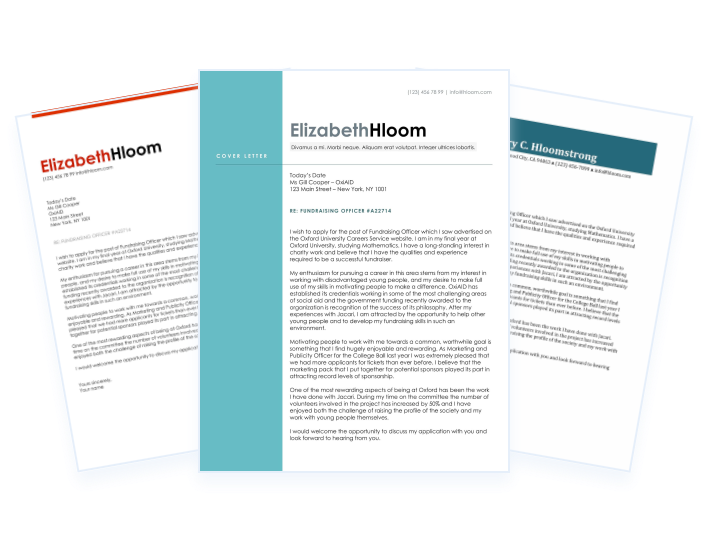 Sample teen resume for full-time or part-time volunteer job for a candidate with previous volunteer work.
Size: 183 B
Downloads:

5844

Filename: volunteer-position-application.docx
Uploaded: 2013-07-04 06:45:00 / 3152
Download
Warehouse Employee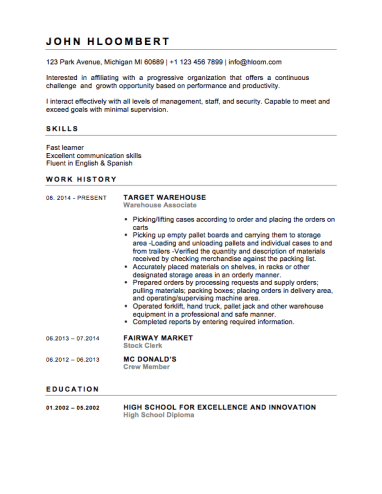 Sample resume for part-time position in warehouse.
Size: 183 B
Downloads:

6067

Filename: warehouse-position.docx
Uploaded: 2013-07-04 06:47:00 / 3154
Download
Welder Helper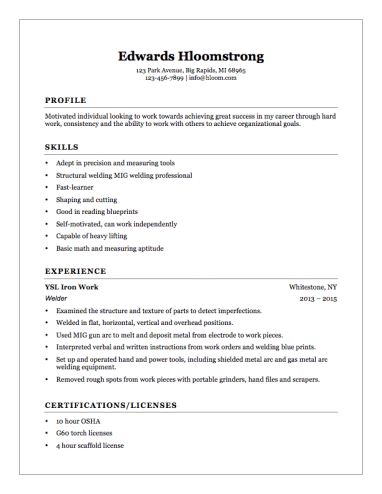 Sample resume for an apprentice welder and assisting in different welding projects.
Size: 183 B
Downloads:

4550

Filename: welder-helper-job.docx
Uploaded: 2013-07-04 06:48:00 / 3156
Download
Food Delivery Teen Resume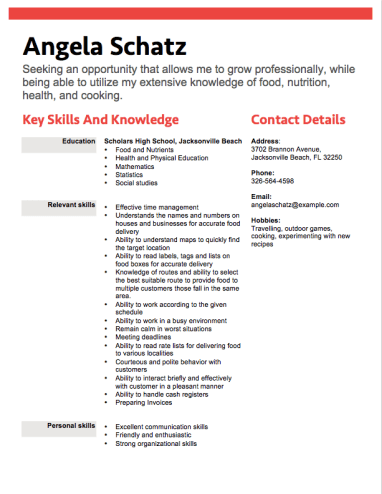 Professional sample for a food delivery position. Can be easily modified for a different position in the food industry.
Size: 183 B
Downloads:

27491

Filename: food-industry-position.docx
Uploaded: 2013-07-04 06:17:00 / 3134
Download