Manager Resume Templates: How To Write a Standout Resume
Your Go-To Guide for Crafting a Solid Manager Resume
The current job market for managers is competitive, and it is important to stand out over other jobseekers to have a chance at the job you want. A resume is usually your only opportunity to make a good first impression, so take the time to write a strong and compelling professional document.
If you are stumped as to how to format your resume or it has been awhile since you have applied for a job, our
effective manager resume templates
can help guide you through the process. Not only can your resume look professional, but it should be easy to read and contain all the essential information to impress the hiring manager.
Why Use Manager Resume Templates?
You may think using manager resume templates is unnecessary, but research shows they can be extremely useful. Your focus needs to be on grabbing recruiters' attention right away because they typically scan each resume
for only six seconds
. In this time, you want them to be able to easily read the information, and a template does this work for you.
Other benefits of using a resume template include

Streamlined process

Alignments

Fonts

Bullets

Inspiration
A resume template helps you organize your achievements, professional history, education, skills, awards, and other relevant data. With a well-formatted document, your best attributes are on display and quickly absorbed.
Contemporary Manager Resume Templates
Another innovative way to demonstrate your abilities is with contemporary manager resume templates. These layouts may look like eye-catching flyers, newsletters, or advertisements. With the formatting taken care of for you, you can focus on the important aspects such as work experience, professional skills, and education. This format typically works well with marketing, sales, interior design, journalism, and architecture industries.
One Page Manager Resume Templates
Recruiters typically like to see all relevant information on a single page, which makes one page manager resume templates popular. If you have a lot of experience that it is important for the hiring manager to see, a two-page document may be appropriate. However, in most cases it is possible to get everything laid out on one page. Focus on the most applicable skills and experience to keep the reader engaged.
Simple and Clean Manager Resume Templates
Because hiring managers spend such little time looking at each resume, it is smart to choose a template that is
easy to read
. A simple and clean format gives the employer a clear picture of your skills and work history. This type of resume works well for traditional jobs, but it can also impress recruiters in creative fields.
Classic Manager Resume Templates
When searching for manager resume templates, a classic format is a good choice. Since managers should give an appearance of organization and order, this template works great. Universally appealing, they are easy to create as well as read, which helps when trying to catch the eye of hiring managers. If you are applying to multiple jobs, this template is also easy to quickly customize for each job posting.
Modern Manager Resume Templates
If you are applying for a management position in a creative field, a
modern resume template
may fit the bill. Some of the highlights of this format include color, font, and skimmability. This is a good choice for employment in a company with younger employees and one in which social media is a part of the daily environment.
What To Say in Your Resume
Take the time to make sure your resume includes all the pertinent information. Although our manager resume templates should all feature the important sections, use the following guidelines to ensure your document is professional and complete. Along with following these tips, experts recommend
tailoring your document
to the position and industry you are applying to.
Contact Information

Full name: Write out your first and last name, avoiding silly nicknames

Address: Mention only your city and state

Email address: Give a professional email

Phone number: List the best number at which to contact you, making sure your voicemail sounds professional
Summary Statement

This important section is a brief overview of why employers should consider you for the position

Mention a work experience overview, two to three professional skills, and one or two personality traits

When stating your years of experience, use the phrase "years' experience" or "years of experience"

Using sentence fragments, keep this section to four to six lines
Skills

List five to eight abilities related to the job you are applying to

Use industry-related key phrases and words, often found in the job description

Write in short, bullet-pointed phrases and leave off periods

Include any relevant technological skills
Work Experience

In most cases, include employment from the last 15 to 20 years

Start with the most recent position and list the rest in reverse chronological order

Use bullet points to help focus the reader

Rather than just listing tasks, include specifics on leadership, project outcomes, management style, and results

Use numbers to demonstrate abilities and positive outcomes to show how you can add value
Education

Put the most recent entry first

Include the degree, name and location of school, and date of graduation

Do not mention a high school diploma or GED unless there is no other education

List additional courses, seminars, or professional training if they relate to the job you are applying to

Include professional certifications if relevant
Why You Should Use a Resume Builder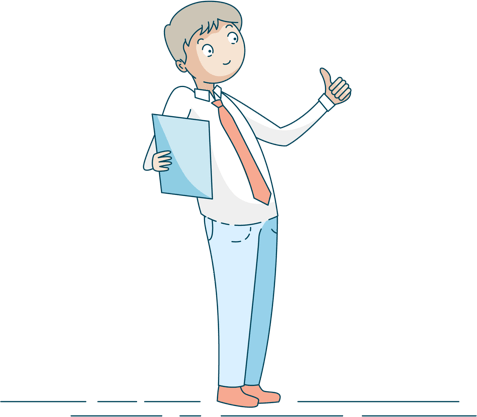 Using manager resume templates to craft your professional document helps ensure you are including all relevant content in an easy-to-read format. Our effective
resume builder
helps make the job even easier. This tool offers benefits such as
• Ease of customization for each job
• Grammar, formatting, and spelling checks for a typo-free document
• Writing tips for numerous industries
• Various designs to match your personality and style
• Assistance with cover letter creation
If you are ready to make a good first impression and land an interview, using a resume template can save you time. With the formatting all done for you, focus on including information that shows the recruiter you are the right person for the job.