16 Free Medical Assistant Resume Templates
Editable and printable MS Word Medical Assistant Resumes with unique design and content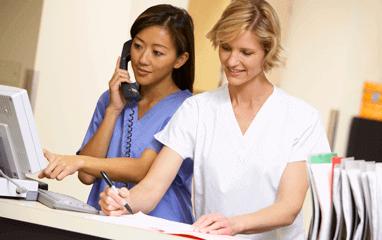 There is an increasing demand for medical assistants in the coming years due to aging of the population and advances in medical technology. According to the U.S. Bureau of Labor Statistics (BLS), the medial assisting field is expected to grow by over 30% between the years 2010 and 2020.
What do Medical Assistants do?
Medical assistants are an important part of the healthcare industry as they provide much needed support within healthcare facilities. A medical assistant's main responsibility is to provide patients with clinical and administrative assistance. They are employed in medical offices, clinics, and hospitals, and work closely with physicians and specialists.
Their job duties often vary depending upon where they are employed. In some offices, the medical assistant is in charge of the management and administration of the office, which allows the physician's time to be spent on providing better patient care. Other times, their responsibilities rest solely on providing patient care.
Medical Assistant Career
Individuals who choose medical assisting as a career have a lot of responsibility and can expect to earn an average salary of between $23,000 and $31,000 per year. Although there is NO requirement for MA to have formal training, all employers will have different educational requirements and you might be expected to have at least 1-2 years of formal training at a technical or vocational school or hold an associate's degree.
There are several different types of medical assistants. The first type is the clinical medical assistant. A clinical medical assistant's primary responsibility is patient care, carrying out assessments, and performing other medical tasks. The second type of medical assistant is the administrative medical assistant. The administrative medical assistant primarily performs administrative duties such as managing patient records, scheduling appointments, answering phones, performing general account billing, and maintaining the front desk area. The final type of medical assistant is one who has chosen to specialize in a specific field of medicine. Specialty areas could be family medicine, geriatrics, internal medicine, OB/GYN, pediatrics, oncology, transplantation surgery, cardiology, urology, women's health, endocrinology, or another field.
Writing a Resume
For the most part, writing a Medical Assistant Resume is the same as writing resume for any other job. Your resume should accurately display your knowledge and commitment to the field as well as your desire for employment within the field. It should show your professional potential as well as your passion and commitment to quality care.
Experience
Include any relevant clinical experience you have as well as experience in specialized areas, if applicable. Maintaining a generalized approach is appropriate if you don't have any specialty experience.
Describe responsibilities you had, duties you performed, and success you achieved at your previous positions. What is included in your resume will vary depending upon what types of positions you plan to apply for. Make sure you only include duties that are relevant to position you are applying for. Some duties typically found on Medical Assistant resumes:
Answer office phones and schedule appointments
Greet patients and prepare them for examinations
Obtain patient medical history and vital signs
Assist physician during patient examinations
Perform routine laboratory tests and administer injections
Explain treatment procedures, medications, special diets, or doctor's instructions
Perform electrocardiograms or other diagnostic tests
Authorize drug refills and provide prescription information to pharmacies
Assist with insurance, coding, and billing paperwork
Skills
Good communications skills, empathy, and people skills. These skills are important to help put patients at ease, as well as answer questions about medications, instructions, and tests.
Analytical skills. It is essential to understand information on medical charts such as diagnoses, as well as being able to code patients' medical records for billing purposes, if required.
Detail oriented and technical skills. Medical assistants use basic clinical instruments and need to be accurate when taking and recording patients' vital signs.
Qualifications
If you hold any certifications, licenses, etc., they should be incorporated into your resume to show your dedication to furthering your vocational skills.
Sample Resume
Here is just one sample Medical Assistant Resume with objective, summary of skills, work experience, and education.
Free Resume Samples
As previously noted, the type of resume required for medical assisting will depend upon what type of skills you've acquired as well as what type of environment you plan to pursue employment in. A professional resume should be tailored to portray who you are, what skills you possess, and be geared towards the type of job you're looking for.
Here we've helped to create examples of just how to achieve the perfect resume to fit your needs. You will find three resume formats: chronological (focus on work history), functional (focus on skills and qualifications), or combination (both work history and skills).
Whether you are a recent graduate, or someone who has experience as a medical assistant, you will be able to find one that will highlight your positive attributes and get you started on searching for the career you've been looking for.
Free Templates and Samples
Experienced Medical Assistant
Chronological Medical Assistant Resume
Experienced Pediatric Medical Assistant
Entry Level Medical Assistant
Basic Medical Assistant Sample
Clinical Orthopedic Assistant
Entry-level Medical Assistant Resume
Functional Resume For Medical Assisting Field
Generic Combination Medical Assistant
Generic Medical Assistant Sample
Student Medical Assistant
Medical Assistant Intern
Medical Assisting Extern
Pediatric Medical Assistant
Certified Medical Assistant