Microsoft Word Resume Templates To Land the Job
Microsoft Word Resume Styles Ideal for Your Career
The technology age has changed the way recruiters read resumes. According to the experts,
formatting is as important as the writing.
It might seem overwhelming to learn font, spacing, and margin tools of the trade along with language requirements. Our Microsoft Word resume templates can drastically simplify the process.
We offer over
400 pre-made templates
that are visually cutting-edge so you don't have to struggle while fine-tuning the details of your document. We've creating style categories so you can find one perfect for your needs. As you fill in your information step by step, you can reference abundant writing advice formulated by the experts.
The result: a unique and professional document that showcases your best professional qualities that was completed it in no time at all!
Why Use Microsoft Word Resume Templates?
Resume services are a dime a dozen, so you might wonder what makes our different. We offer no one-size-fits-all strategies to help you formulate a winning document. Rather, we provide a variety of tools and resources to meet your specific requirements, whether you're an entry-level employee seeking your first job or a seasoned professional with an esteemed work history.

Benefits include:

Resume examples tailored to your profession

Automatic technical formatting for a clean and consistent look

Video tutorials to guide you through customization

Fast downloading compatible with Microsoft Office 2010 and newer programs
Our Microsoft Word resume templates are an excellent way to get past the
common hurdles of a job search.
We'll teach you the skills necessary for a long and fruitful career.
Tried and True Microsoft Word Resume Templates
Certain trends never get old. These Microsoft Word resume templates have been helping jobhunters create a classic and sophisticated document, and show no signs of going out of style. They are suitable for most professions and career stages.
Also, make sure to check out our
Hall of Fame
featuring our most innovative templates in every type of format, from buttoned-up traditional to boldly creative.
One-Page Microsoft Word Resume Templates
Unless you're a top-tier executive, chances are hiring managers would like to see a resume that's one-page long. Our
Microsoft Word resume templates
prevent your information from becoming cluttered so your qualities pop off the page.
Entry-Level Microsoft Word Resume Templates
Entry-level applicants often leave too much white space on their resume in an attempt to hide a lack of job experience. Our
entry-level Microsoft Word resume templates
help you create a meaty resume filled with relevant details. If you don't think the cashier job you worked while in school applies to an office position, think again!
Basic and Simple Microsoft Word Resume Templates
Conservative resumes tell a story of their own. For finance, law, and tech positions, a serious and professional-looking resume shows you're ready to bring your A game. Our designers created
30 basic Microsoft Word resume templates
that make a black-and-white color scheme look elegant and streamlined. They have universal appeal so you can use one resume to apply for several positions after making a few edits.
Contemporary Microsoft Word Resume Templates
According to the experts,
digital creative and advertising agencies are beginning to accept out-of-the-box resumes. Stay ahead of the curb with
contemporary Microsoft Word resume templates
that are flashy and colorful, yet not overly distracting.
Framing your information in an expressive way is a great way to show-off your brand and aesthetic. Along with impressive credentials, it's a dynamic approach to put your best foot forward.
What To Say In Your Resume
Ultimately, hiring managers value the content of your resume the most. They want to know you have the skills necessary for a job and can complete tasks with a positive attitude. Thus, chose every word on your resume carefully to make the right impression. Using one of our Microsoft Word resume templates allows you to carefully consider each section and tailor it with appropriate keywords and phrases.

Since our templates are compatible with most Microsoft Word programs, you can easily download and save a resume on your computer. Before doing so, however, take a look at this checklist to make sure you included every vital detail.
Contact Information

Name: Put your full name in the header. For extra pizzazz, consider using a different font (nothing too fancy, however), or underlining it.

Phone Number: List a cell or home number you can be easily reached at. Hiring managers often don't have time to leave several voicemails.

Email Address: Use a professional sounding email address with your full name. Goofy email addresses detract from your professional reputation.
Summary

Summary: This is an enticing three or four sentence paragraph or bullet point outline detailing your strongest qualities. Think carefully about what you can offer by reading the job description and researching the company.

Objective: Most hiring managers think an objective statement is unnecessary and a waste of space. However, it might be acceptable for some entry-level candidates. Similar in format to a summary statement, it's a short description of why you desire a position.
Skills

Bullet Points: Choose between six and eight of your strongest skills. Don't use complete sentences; rather, outline them in bullet points to make them easily scannable.

Adjectives: Use wording that echoes the job description exactly. This shows you're a good fit and makes your resume more likely to get past applicant tracking systems.

Hard and Soft Skills: Include a mixture of both to show you're well-rounded. Even for positions that veer toward one type, such as programming positions requiring knowledge of coding languages, you want to show you have both people and technical skills.
Work History

Name: Show you have a legitimate employment history by stating the name of three to five companies.

Official Title: Clearly state the title of your past jobs.

Duration of Employment: Include the month and year you started and ended each job. It's not uncommon for employers to conduct background checks to verify your information.

Bullet Points: Outline your responsibilities in concise bullet points. Use compelling language to sell yourself as a desirable candidate.
Education

Universities or Community Colleges: Put the name of the post-secondary institutions you attended.

Degrees: Include the official title of your degree or certificate.
Why You Should Use a Resume Builder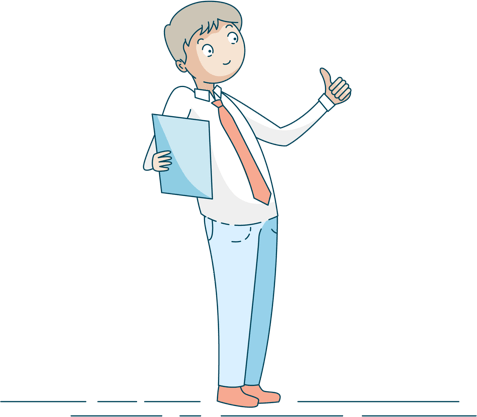 In today's competitive job market, there's little room for mistakes. One awkward phrase or design feature can put you at a disadvantage to the applicant who went the extra mile to polish his or her resume. Our
resume builder
makes it easy to craft a document that's impeccably formatted and includes all the crucial bits of information hiring managers want to see.
We achieve this by giving you access to a variety of Microsoft Word resume templates. Work within a predetermined amount of space for each section to create a well-balanced and visually pleasing resume. You won't have to struggle with font, spacing, margins, color, or other complexities. In addition, you can reference a wealth of writing advice compiled by industry experts to make your language more attention-grabbing.
Jobseekers of all kinds find that our resume templates are:
* Convenient
* Easy to use
* A great learning tool
* Confidence boosting
* An effective way to get an interview offer
Signing up is fast and free. All you have to do is fill out some basic information and you're instantly matched with a template that you can begin working on right away. Get started today!