Military Resume Templates: How To Write a Standout Resume
Your Go-To Guide for Crafting a Solid Military Resume
Military men and women gain a lot of useful skills that make them competitive job candidates. However, even with these impressive skills, it can be hard for them to land a job. Muddled, hard-to-read professional documents can leave anyone stranded in the job search. If you find yourself in this situation, you need to focus your time and effort on
marketing yourself for the job market
and creating a legible resume.
Our military resume templates give you the foundation you need to create a resume that looks good and has the information you need to succeed. A strong resume gives you a good footing by catching the eye of recruiters and introducing your professional history. Check out the templates available and read through the guidelines to start crafting your outstanding document today.
Why Use Military Resume Templates?
As someone with a military background, you are likely used to being straightforward. Your merits and skills should be enough to help you land a job, right? The truth is, you need to find a way to show off your skills, accomplishments, and experiences if you want to make it past an
employer's initial six-second look
at your resume.
You may enjoy these four perks when using our templates and samples:

Find inspiration based on your experience

Get convenient, accurate help

Learn what design elements work
Military resume templates give you the design foundation you need to make it off the reject pile.
One-Page Military Resume Templates
Most hiring managers want to see
a one-page document
because it shows you have the ability to be concise and organized. Single-page military resume templates work great for someone who has limited experience or is applying to an entry-level job. If you can't get your important information to fit on a single page, a two-page layout may work better.
Creative Military Resume Templates
Creative resumes
don't work for everyone. In fact, more often than not you should stick with a basic layout. However, if you want to break your way into marketing, visual arts or another creative industry, you may need to use military resume templates that employ colors, graphics, and photos. Remember, most creative formats don't work well with applicant tracking systems, so keep this in mind if the employer uses an ATS.
Popular Military Resume Templates
Are you struggling to find military resume templates? Take a look at some of our
most popular templates
. This side-by-side look helps determine what will work for your document. For example, if you want to stay in a similar role, you may want to use a chronological format. However, a functional layout can help you show off your skills if you don't want to stay in the same field.
Clean Military Resume Templates
Basic military resume templates should err on the side of simple and clean. While these documents won't use a lot of color or graphics, you may still see a few embellishments.
Clean resumes
focus on being easy to read to ensure hiring managers can easily spot what makes you a great candidate. This uncomplicated layout works well for those hoping to go into a serious, conservative job.
Contemporary Military Resume Templates
Does the job you're applying to require creativity and an adventurous attitude?
A contemporary resume
, which often looks like a newspaper or newsletter, uses color, graphics, and text boxes to create an eye-catching document. Choose from one of these military resume templates if you want to add a photo or match the contemporary culture of a company.
What To Say in Your Resume
As you set out to build a resume, you not only need to know how to format the document, but you also have to know what to write in it. Turning to
helpful writing tips
and military resume templates may help you figure out what to say in your file. Don't forget to use this checklist to make sure you've covered the important parts of your professional experience.
Contact Information

Make your name stand out. Using a larger font, color, or a border embellishment guarantees the reader knows who the document is about.

Ensure hiring managers know how to get in touch with you. Including a phone number and email address makes it easy for an employer to schedule an interview.

Show off your location. Putting down your entire mailing address is a bit outdated, but you should still include the city and state you live in.
Summary

Craft an opening statement. Choosing between a summary and objective statement is as easy as looking at your level of experience.

Summarize your work experience in a summary statement. Pointing out your biggest accomplishments, experiences, and skills shows recruiters what you'll be able to do for their company.

Tell the employer why you want the job. Explaining how quickly you'll learn in a position may encourage someone to take a chance on you even though you have little experience.
Skills

Tie your skills into what the job requires. Reading through the job description makes it easy for you to see exactly what the employer expects from a qualified candidate.

Point out your ability to do the job. Using only relevant skills makes it clear you'll be able to do the job well.
Work Experience

Tell the hiring manager about your past jobs. Writing out the title of your position, the name of the company, and your dates of employment paints a clear picture of your experience.

Showcase what you did. Dedicating three to five bullet points on the responsibilities you had and achievements you made at each job tells the employer how you spent your time as a professional.
Education

Emphasize the education you have that makes you right for the job. Spelling out the degree name, area of study, school attended, and graduation date is important.

Point out certifications and training. Going to school isn't the only way you can become qualified for a job; make sure the employer realizes you have a lot of training from the military.
Why You Should Use a Resume Builder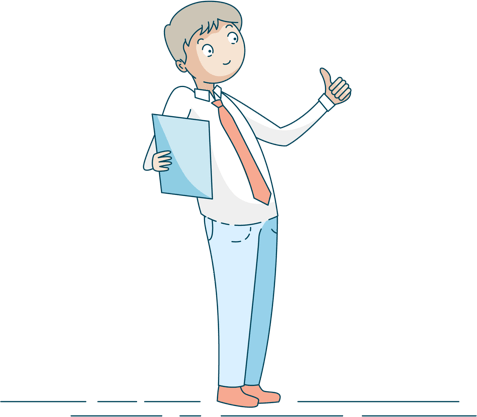 Are you tired of searching through hundreds of military resume templates on your own? If so, you may want to
use a resume builder
instead. This great starting tool helps you find templates that fit your needs and figure out what type of info to include in the layout. Using this builder gives you access to a lot of perks:
• See cover letter templates
• Find career-specific tips
• Use industry-oriented keywords
• Get access to multiple file formats
• Pick designs you know work
If you do decide to use a resume builder, remember it works well as the foundation for resume writing. To hone your document, you need to read through the file to ensure all of the details show off your personality.