Online Resume Templates To Land the Job
Captivating Resume Styles Ideal for Your Career
Your resume is one of the most crucial tools at your disposal as you enter the job market. When reading your document, employers look at your content to not only see your qualifications, but also to determine how well you communicate. On top of that, they look at your formatting and layout to gauge your level of organization and attention to detail. If you construct it properly, your resume can be powerful enough to earn you multiple interviews and even job offers.
How do you create such a standout document? Use one of our online resume templates to craft a resume that is easily readable both on the computer and on paper. Our
selection of templates
features many different styles and
examples
so you can determine which option best matches your industry.
Why Use Online Resume Templates?
In competitive job markets, hiring managers often receive a flood of applications and resumes for a single open position, giving them little time to dedicate to each document. Additionally, many companies now use
applicant tracking systems
to initially screen resumes. This means it is challenging just to get your resume into hiring managers' hands, let alone receive an invitation for an interview.
Our online resume templates help ensure your document is ready to impress. We offer templates specifically designed for optimum machine readability as well as creative and contemporary options so you can find a suitable style no matter what industry you pursue. These templates provide you with the following:

Convenience

Guidance

Motivation

Ideas for content
Basic and Simple Online Resume Templates
If you work in a traditional industry, stick to a safe but still visually appealing option. Our
basic and simple
online resume templates utilize timeless layouts with plenty of white space so hiring managers can easily read your document without any distracting content. Additionally, many of these templates have specific styles to help you beat applicant tracking systems.
Popular Online Resume Templates
Still unsure which of our templates to choose? Look at our
proven and popular
resume templates to learn which option is best for your industry, career purposes, and experience level. All of them utilize inventive formats and designs that appeal to employers across many industries so you can create your own unique and remarkable document.
Modern Online Resume Templates
Ensure machine readability while appealing to human readers with one of our
modern
templates. These online resume templates use fonts that display well on computer screens as well as simple but eye-catching color palettes that dress up your resume into a memorable text. Additionally, their formats allow hiring managers to easily skim through your document.
Contemporary Online Resume Templates
Because so many hiring managers expect online resume submissions, you no longer have to worry about whether intricate formats and designs will transfer well onto paper. That's why our
contemporary
online resume templates are so popular. Innovative colors, columns, and fonts make your resume resemble a newsletter or advertisement to stand out in hiring managers' minds.
Infographic Online Resume Templates
If you work in a creative field or face a lot of competition for employment, check out our
infographic
online resume templates. They use graphs, charts, and images so your resume tells a compelling story of your career. Creative layouts and colors help you stand out in a congested hiring pool as a worthy candidate for an open position.
What To Say in Your Resume
A visually appealing style and layout will draw hiring managers in and convince them to read your resume, but it is your document's content that determines whether you receive the opportunity to interview for the open position. To make your resume as strong as possible, use one of our online resume templates, follow these
resume writing rules,
and include the following sections:
Contact Information

Name: Make sure your full official name holds a prominent position at the top of your document.

Email Address: Include a professional email that uses a current server.

Phone Number: List your home or mobile telephone number, not a work number.

Mailing Address: While it is no longer necessary to include this information, feel free to list your current city and state of residence.

Additional Websites: If relevant to the position, include URLs to your LinkedIn profile, social media contacts, or other websites.
Summary

Beneath your contact information, include either a summary statement or objective statement. While both consist of a few concise sentences with industry keywords, they serve very different purposes.

Summary Statement: This paragraph showcases your top professional attributes to convey to employers how they will profit from hiring you.

Objective Statement: This paragraph reveals your professional ambitions and what you hope to gain from the position.
Skills

List: Allow hiring managers to easily scan this part of your document by using short phrases and bullet points.

Incorporate Keywords: Identify important skills in the job description and include them in this section.

Tailor: In addition to using relevant keywords, tailor your content to the company's brand voice and language.
Work Experience

Job Title and General Information: Before you describe your job responsibilities, list your official job title, the company's name and location, and the timeframe of your employment.

Duties and Responsibilities: Detail specific duties and responsibilities of prior positions to illustrate to employers your professional capabilities. Make your descriptions more memorable by using action words and metrics, such as numbers and percentages, to quantify special achievements.
Education

Degree: List the official title of your degree as well as your graduation year and the name and location of your school.

Training: Include certifications, seminars, and other relevant training programs.
Why You Should Use a Resume Builder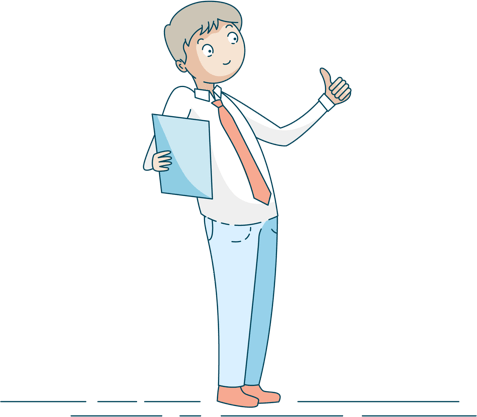 We understand that searching for new employment is often stressful and overwhelming. That is why we offer so many unique templates and resume writing tips. With our assistance, you can equip yourself with a remarkable document that boosts your confidence as you begin your job hunt and helps you stand out in the hiring pool. Take a look at our dependable
resume builder
to tailor one of our online resume templates into your own impressive document.
Our resume builder is easy to use; simply select your favorite design, tell us about yourself, and download a customized text you can immediately send to hiring managers. Use this helpful tool to gain access to a number of advantages, including:
* Examples of keywords related to your industry and advice about how to incorporate them into your resume
* A cover letter builder
* Industry-specific examples against which to compare your own document