Professional Accounting Resume Templates: How To Write a Standout Resume
Your Go-To Guide for Crafting a Solid Professional Accounting Resume
It's no secret that the accounting field can be quite competitive, usually with many applicants vying for each valuable open position. To make the most of your professional achievements, your resume needs to set you apart from the crowd. Every jobseeker wants his or her document to make the callback list to land the interview.
High-quality, professional accounting resume templates can make all the difference on your path to a fulfilling new career in accounting. Not only can a
thoughtfully crafted template
remind you of any information gaps to fill, it unites your unique accomplishments with stylistic coherence, and adds visual appeal.
Why Use Professional Accounting Resume Templates?
Why should a jobseeker choose to use professional accounting resume templates when generic bullet points can easily list recent work history? Recruiters must process so many resumes from so many applicants, they usually spend as little as
six seconds scanning
each one before deciding whether or not the applicant is a good fit for the open position.
A few additional perks of using a template created specifically for your career field include:

Optimum visual appeal and impact

No visual distractions

Consistent use of design elements

Correction of common formatting mistakes

Vital information is easy to find

Critical keywords are easily scannable
Popular Professional Accounting Resume Templates
We've gathered all of our
most popular templates
in one convenient place, so you can easily see what is working best for others at any time. This is a great place to browse if you want to see an entire collection of different styles that all work well for a wide variety jobseekers and career fields.
Two-Page Professional Accounting Resume Templates
A two-page resume is usually required to list even the basics if you are experienced in your field. For jobseekers with at least 10 years of accounting work history, it can be difficult to find professional accounting resume templates that meet your needs. Choose this longer form, so you can do justice to your professional achievements without sacrificing white space or visual appeal.
Classic Professional Accounting Resume Templates
Classics are classic because they work well in almost any scenario. These professional accounting resume templates have been sensibly fashioned from the most universally appealing elements that work in a jobseeker's favor with no fillers or distractions. Classic layouts are best if you are applying to many postings with the same resume in a time-honored role, such as business, medicine, or accounting. For other basic templates that apply to your field, see more
basic resume templates here
.
Modern Professional Accounting Resume Templates
For a new twist on the basic resume, check out our modern professional accounting resume templates. Modern layouts are perfect for recent graduates applying to newer companies or anyone who wants to breathe new life into an existing resume. They offer an innovative take on professional documents through pops of color and creative fonts as well as unique layouts.
Professional Accounting Resume Templates With Cover Letter
A cover letter is not just a good idea; for some employers, it is a requirement. A thoughtful and well-written cover letter demonstrates your communication skills long before your interview. By using a template paired with a cover letter, you can ensure both documents share the same style with consistent tone and stylistic elements.
What To Say in Your Resume
Your resume is a tangible personal representative that must advocate for you long before you meet your hiring manager in person. Always consult
a good source of resume writing advice
to ensure that you follow accepted protocol and include all the pertinent information. The following subsections are part of well-rounded professional accounting resume templates.
Contact Information

Full name: Display your full legal name prominently while leaving plenty of white space and offering no visual distraction

Mailing address: Your correctly formatted mailing address follows your name

Email address: Use a professional, simple email address. Create a new one for the purpose if your personal email address would be unprofessional or distracting. Remember to check it often.

Phone number: List a working phone number, and see that your greeting is friendly and professional
Summary Statement

Your summary statement is often the first thing your future employer reads, so make it count

Condense your most compelling achievements into a three-sentence paragraph or three to five bullet points

Consult the job posting for specific requirements that you can showcase here
Skills

Research: Spend time doing a search for the most pertinent and desirable keywords for the position you are seeking before you begin to draft your skills section

Customize: Honestly consider which of the keywords in your field apply the most to your work history, and focus on them

List: Organize your relevant skills into four to six concise bullet points that show your qualifications to their greatest advantage
Work Experience

Basics first: Organize your prior employers beginning with the current or most recent employer, going backward chronologically

Dates: Most hiring managers want to easily assess how long you worked for previous employers, so list the official start and end date for each employer

Details: Specify your main responsibilities in three to five bullet points per employer

Verbs: It is important to begin each bullet point with an action verb that best describes what you did
Education

Concise: List only five items for each educational institution: the name of the institution, its city and state, your graduation date, the degree you earned, and your major area of study

Order: Like the work history section, the education section is in reverse chronological order

Extras: Do not include your grade point average unless it is 3.0 (on a four point scale) or higher, and you are a recent graduate with little experience who is relying on your GPA to compensate for your lack of experience
Why You Should Use a Resume Builder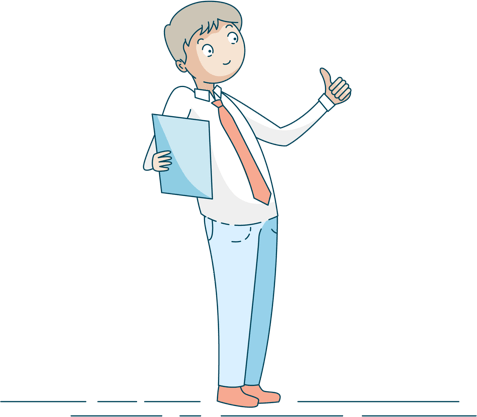 If you struggle to put together a resume from the professional accounting resume templates, you can try a resume builder. In
three easy steps
, you can create an individualized resume with all of your details formatted perfectly. It may also be difficult to decide on the best template for your career path and professional history, but using a resume builder can help match you to the best template for your specific situation.
Some of the other benefits of a resume builder include:
• Your choice of 20 appealing layouts
• Correct formatting
• Tailored to your own requirements and achievements
• Top keyword for your field
• Examples and tips customized for your career field
• Cover letter builder
• Downloadable documents in several formats
In addition to using the builder, you should peruse these
basic resume writing rules
to help you put that finishing touch on your resume.