Space-Saving Resume Templates To Land the Job
Attractive Resume Styles Ideal for Your Career
The job market is booming. While this means there are many great opportunities out there, there's also an increase in the quality of applicants looking to seize these positions. Your qualifications, skills, and experience deserve attention, so how can you ensure that happens, given the fact that most recruiters spend an average of
six seconds
looking at a single resume?
The answer is straightforward: you need a clear, organized resume that presents needed information quickly and doesn't bog down the recruiter, even if you have a lot to say. Our space-saving resume templates allow you to create such a document without added hassle and stress. This means you can devote more time to preparing for the interview, and you'll be on your way to day one of your new job sooner.
Why Use Space-Saving Resume Templates?
Having an impressive amount of relevant experience and skill should be an asset, not an inconvenience. Why spend valuable time trying to determine how to lay out all your information in an appealing one or two-page document when your time would be much better spent on the content itself?

Our space-saving resume templates allow you to focus on the words themselves, not how to place them on the page. Using one of our templates as a starting point takes the guesswork out of the following:

Fitting an impressive work history in a small amount of space

Laying out margins and white space in a way that ensures maximum readability

Avoiding repetition in order to maximize the space you have
Professional Space-Saving Resume Templates
When you have a lot of text, it's sometimes challenging to balance white space, font choice, and indent formatting to give it a professional look. However, if you have several years' experience, it's likely more important than ever to present yourself as the professional that you are. Our
10 best resume templates
are all professional and time saving to help you put your best foot forward.
Creative Space-Saving Resume Templates
Having a lot to say doesn't mean your resume needs to be boring. With these
creative space-saving resume templates
, your document is sure to catch the eye of recruiters and hiring managers looking to bring a stand-out candidate in for an interview. If you're applying for jobs in the creative industry, this format may be particularly helpful to you.
Clean Space-Saving Resume Templates
Especially if you have a lot of text to include in your resume, you may feel like it's very difficult to create a clean, easy-to-scan document. At the same time, recruiters sometimes need to peruse dozens or even hundreds of resumes quickly, so it's important that your resume not be overly complicated.
Our
simple and clean resume templates
can help you achieve an appealing minimalist look—while displaying your maximum skills—with ease.
One-Page Space-Saving Resume Templates
With the single-page format, hiring managers are able to print your document and share with a team without worrying about staples, two-sided printing, or pages getting separated.
Although the one-page rule no longer needs to be strictly followed in our digital age of electronic sharing, you may find yourself applying for a more traditional position, or you may just prefer concision. Either way, our
one-page space-saving resume templates
are a great springboard.
Two-Page Space-Saving Resume Templates
The single-page resume format is no longer required. While you don't want to include distracting filler, sometimes it's impossible to fit all your relevant qualifications on one page. If that's the case, it's better to use one of our space-saving resume templates that spans two or more pages. Peruse our extensive collection of
resume templates and examples
, and you'll find formats that will look great as multiple-page documents.
What To Say in Your Resume
When using one of these space-saving resume templates, you have more time to carefully consider what to include in your document and what to leave out. Certain information, such as how to reach you, is critical for all resumes. Other details, such as professional certifications, are only necessary for certain industries. You'll want to make sure your document contains the following sections:

• Contact information
• Summary
• Skills
• Relevant work experience
• Education

Other sections, such as interests and references, are typically optional. Use the following guidelines to help you fill out the mandatory sections.
Contact Information

This section should be at the top of your document. It isn't necessary to include a full mailing address; your city and state can suffice. Use a phone number that you have personal access to at all times, and record a new voicemail greeting if yours is too casual or doesn't alert the caller to whom he or she has reached. Your email address should be professional. If you're still using a silly-sounding username, you can easily sign up for a new account with Gmail or other services.
Summary

The summary statement has generally replaced the objective statement, since your objective is implicit: you want the position you're applying for! A summary statement should be short—no more than three sentences—and it's fine to write it in fragments. Include your most important assets and talents.
Skills

This section works best as a bulleted list, no more than eight items in length. Go back and review the job listing and see if the recruiter gave any desired skills. If you see ones that you have, include them verbatim. This both personalizes your resume to the job and immediately informs hiring managers that you have what they're looking for. You should aim for a good mix of technical and "soft" skills.
Relevant Work Experience

Make it easy for recruiters by placing your current or most recent position at the top of this section, and then move down in reverse chronological order. Include position titles, dates, and metrics when possible. Metrics refer to quantifiable accomplishments, such as "secured 12 new accounts for the firm." Along those lines, start each bullet point with a strong verb.
Education

This section will include your highest level of education attained. In most cases, this will be your most recent degree. Again, work in reverse chronological order, and if you have professional certifications, list those as well.
Why You Should Use a Resume Builder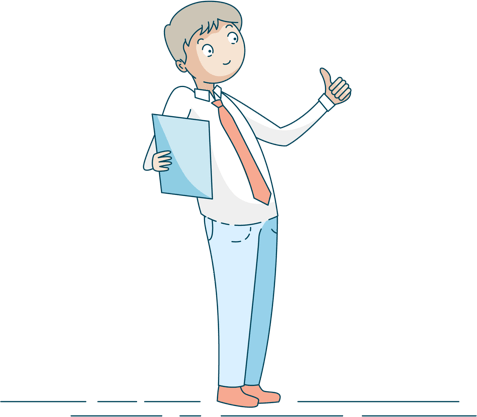 This is a prime time to get the job you've been hoping for. Competition is stiff, and creating an excellent resume is sometimes daunting.
A
resume builder
can give you both a leg up and an excellent resume without all the time and frustration that goes into formatting a document on your own. Accomplish the following tasks:
• Create a document in a format that you can easily email or share online
• Take advantage of writing tips as you fill in content
• Spend the majority of your time communicating your skills effectively, not worrying about how it looks
• Compare your document to exemplary resumes in a variety of categories
• Learn more about how effective your resume is in reaching the people it needs to
All of these features, along with our space-saving resume templates, are assets that work in your favor. You'll still want to carefully
review your resume draft
before giving it a final seal of approval. By using a resume builder on top of your own discerning eye, you'll be well on your way to an interview in the near future.