rlly wish I had a better job and more friends or even just a piece of pizza

— gabriella (@gabdollazz) February 23, 2016
Following a recent data scrape of the social media platform – scouring the site for phrases ranging from "I hate my job" and "My job sucks" to "I love my job" – one thing is for sure: Employees can't stop talking about their jobs, for better or for worse. The main takeaways of our study were pretty surprising:
Overall, more people tweet about loving their jobs than hating them.
When it comes to states, people in Ohio tweet most about job hate.
On a city level, Houston and Los Angeles residents take to Twitter most to share their job hate.
Of every state, Nevada residents send the most tweets about job love.
Which city loves work? Los Angeles tweeters also share the most job love posts.
Retail jobs are common in places that tweet most about job hate.
Tweets about job hate tend to peak in July. So much for summer fun!
Want to get all the details? Keep reading to learn more.
Tweets About Job Hate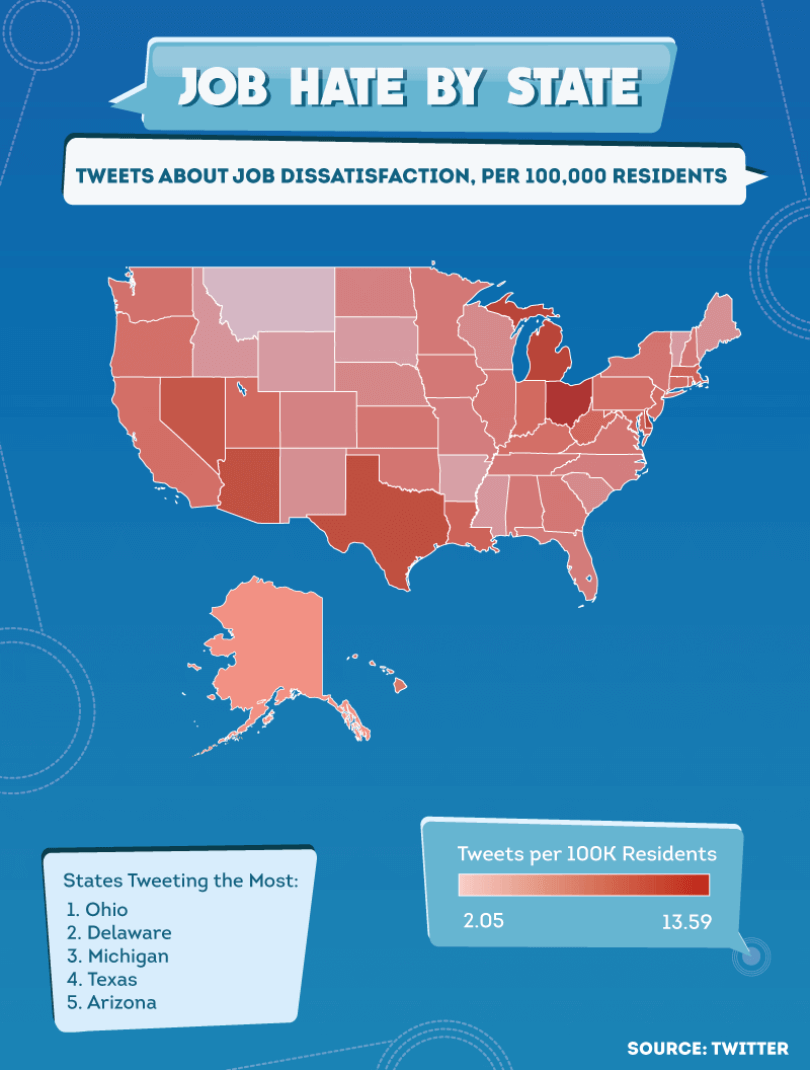 Overall, job hate is an equal opportunist, not bound by either coast or the Midwest. It spreads across the map but not equally.
Sometimes I hate my job, but then I think about it... And I REALLY HATE MY JOB

— Ariel (@ArielAstor) February 29, 2016
According to Twitter, people detest their jobs the most in Ohio – nearly 14 angry tweets per 100,000 residents. Coming in second is Delaware, also in the double-digit spectrum, followed by Michigan, Texas, and Arizona, which each hover around 10 furious tweets per 100,000 residents. Except Delaware, where the most common profession is general office clerk, the remaining states have the highest number of jobs in retail, which may factor into the high levels of frustration.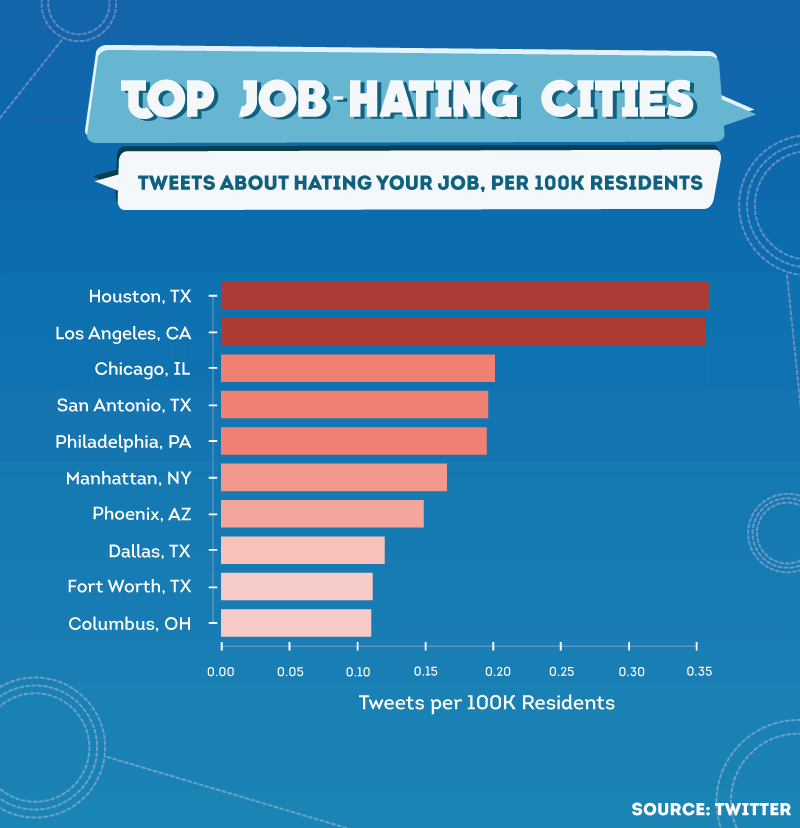 Despite Ohio snagging top honors in Job Hate by State, it is Texas that truly takes the cake. Houston,San Antonio, Dallas, and Fort Worth are among 4 of the top 10 job-hating cities in the nation.
Houston and Los Angeles, California, were neck and neck – .35 and .34 hate-filled tweets per 100,000 residents respectively. The most common jobs in both Texas and California are in retail.
i hate my boss with a fiery passion but today's his birthday and i love cake so happy birthday dave

— samantha ? (@delightfulalot) March 3, 2016
Columbus, Ohio, ranked last among the top 10 job-hating cities, though it came in high among statewide job dissatisfaction. What's the most common job there? You guessed it: retail. Retail is the main culprit in the remaining job-hating cities – Chicago, Illinois; Philadelphia, Pennsylvania; and Manhattan, New York – though the Big Apple also crops up on the places where jobs are most loved.
Tweets About Job Love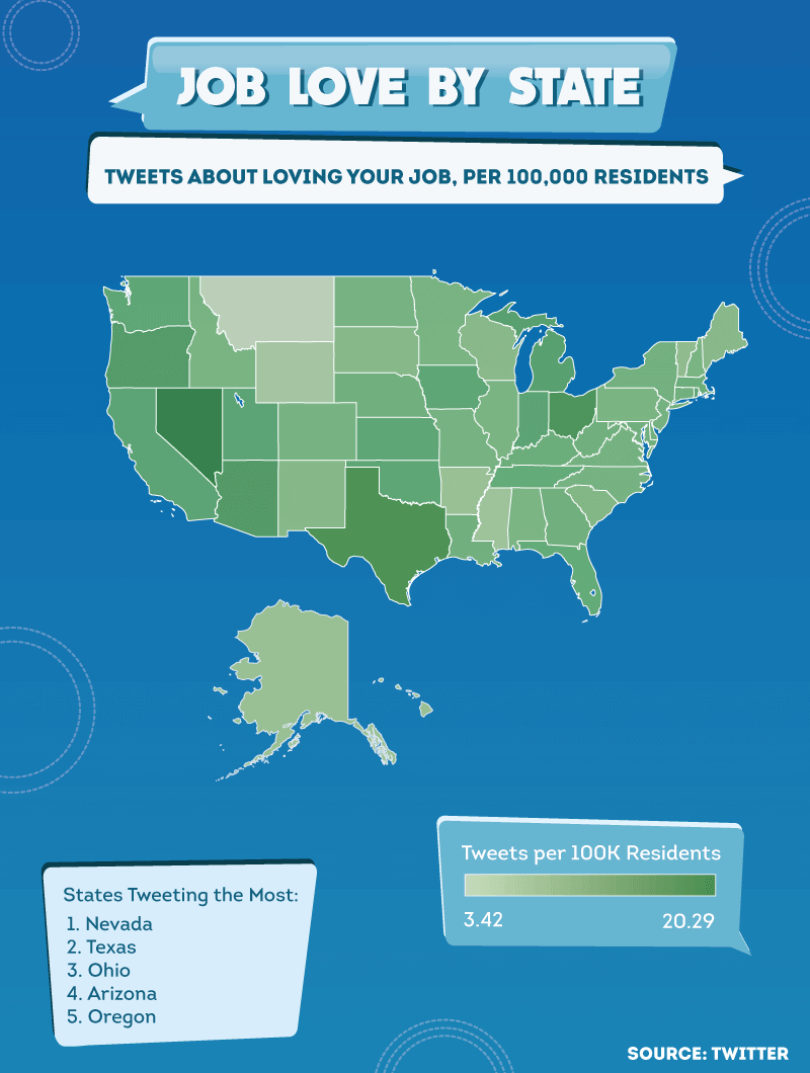 I love my job, my family, my friends and just my life in general. I know it won't always be this way but I appreciate the moments that are.
— Jose Banuelos (@ElBambino27)
Looking for happy workers? Head to Nevada, where job-loving tweets flutter in at more than 20 per 100,000 residents. Surprisingly, not far behind is Texas – a state that truly outdid itself in the job-hate category – at roughly 17 tweets per 100,000, followed by Ohio, Arizona, and Oregon, all still in the double digits of job-infatuated tweets.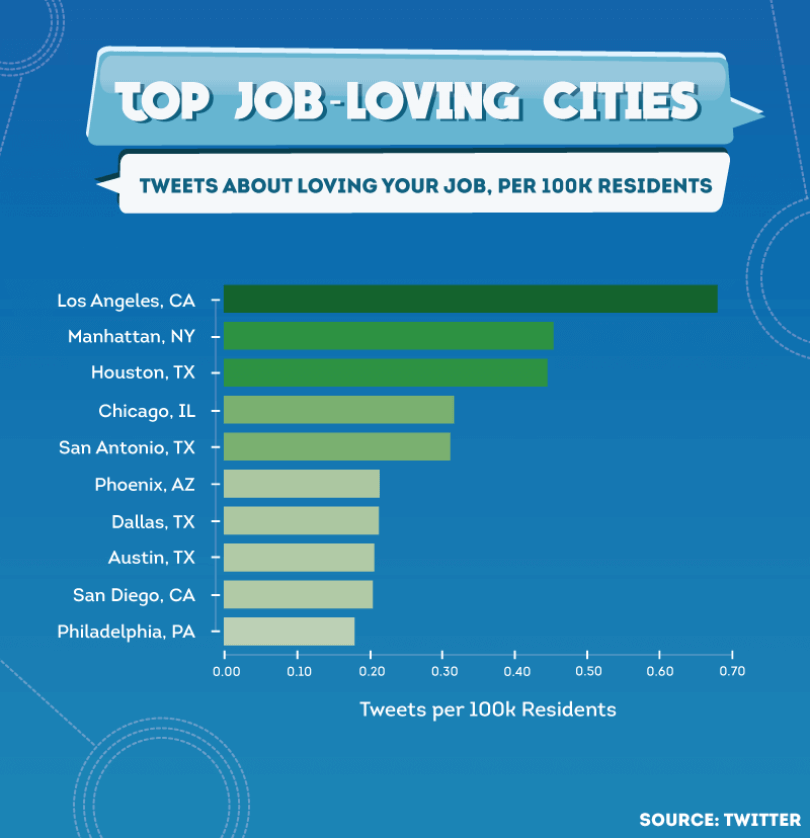 Los Angeles, Manhattan, and Houston may rank among the Top 10 Job-Hating Cities in the United States, but they are also the top two cities where people absolutely love their jobs, at least according to Twitter. How about that? More people are tweeting positively about their jobs than negatively in all three cities – .70, .46, and .45 joy-filled tweets per 100,000 residents respectively, as opposed to .34, .17, and .35 angry tweets per 100,000 residents.
I still can't wrap my head around the fact that I'm getting paid to do what I LOVE

— Justice (@greerjustice) March 6, 2016
The same can be said of Chicago (.34 love to .21 hate), San Antonio (.33 love to .20 hate), Phoenix (.21 love to .15 hate), and Dallas (.21 love to .13 hate). The outlier is Philadelphia, where .18 happy tweets just fall short of .20 angry tweets per 100,000 residents. It may be safest to head for Austin, Texas, or San Diego, California – locations that did not appear on the Top Job-Hating Cities, though their top job options also fall into retail.
Time to Talk About Tweeting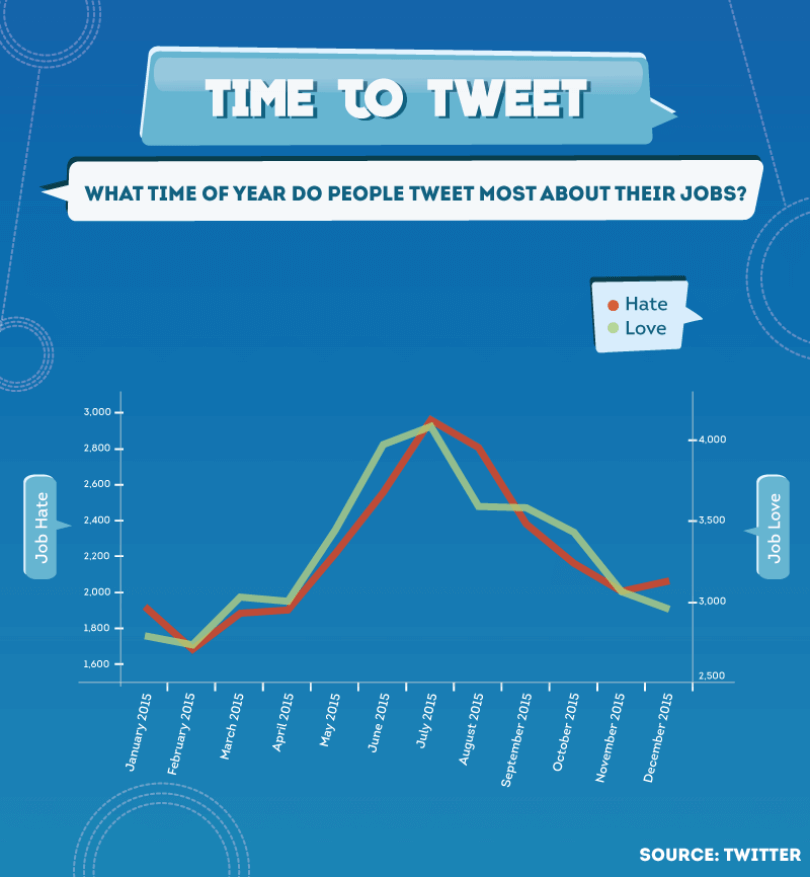 As the weather heats up, the number of job-related tweets – both good and bad – steadily increases. Come mid-July, 3,000 tweets are floating through the Twittersphere from job-haters, though 1,000 more tweets are exhibiting job love at any given time. Why? One reason may be an influx of students and other seasonal workers securing summer jobs, as well as college students landing positions after graduation.
When the weather cools, summer jobs draw to an end and hiring slows. Consequently, the number of tweets drops off to around 3,000 tweets for happy workers as opposed to about 2,000 for Twitter users who desperately want to get out of dodge. Seasonal retail hiring may be the reason behind the small jump in job hate tweets during November/December.
Conclusion
Whether you love your job or hate it, there's no denying that reading tweets on the subject is revealing – and a lot of fun. As a state, Ohio tops the list for tweets about job dissatisfaction, while Houston takes the cake when it comes to cities.
A surprising number of cities made the top 10 for job love and job hate tweets: The good news for those disgruntled employees living in Los Angeles, Manhattan, Houston, Chicago, San Antonio,Phoenix, and Dallas? All they need is a change of venue, not scenery. Whether happy or unhappy, job-related tweets peak in the summer and decline in the cooler months.
A new study shows that Twitter has more job openings than other social media site – and more job seekers than LinkedIn. With competition so high, one tweeting misstep could be your downfall. So perhaps you should stick to water-cooler complaints after all? Your next career move could be one tweet away, and your future employer might be reading it.
Methodology
We scraped Twitter for tweets in the United States from 2015 that contained at least one of several job-related key phrases. We then grouped certain terms as they related to loving or hating a job. The search terms used for each category in our analysis were as follows:
Job Hate Terms:
I'm quitting my job
Hate my coworkers
My job is boring
Hate my job
Wish I had a new job
Wish I had a better job
Like my job but hate my boss
Don't get paid enough
Job Love Terms:
Getting paid to do what I love
I love my boss
Love my job
Love being my own boss
Have my dream job
Sources
http://www.seniorjobbank.org/database/Delaware/Delaware.html
Fair Use Statement
Feel free to share the images found on this page freely. When doing so, please attribute the authors by providing a link back to this page, so your readers can learn more about this project and the related research.