What is a CV
A CV (curriculum vitae) is an employment document that outlines your work, academic experience, and skills in greater detail than a standard resume.
We mentioned that the resume and CV share similar sections, but that the CV is far more expansive and detailed. Here are the crucial differences you'll need to know before you start using this format.
A CV covers far more of your professional and academic history.
It will be longer that one page, depending on the amount of schooling and work experience you have.
The CV is better suited for graduate degree applications, government jobs, entertainment or international work if you're a U.S. job seeker.
The CV is a more commonly used job-seeking tool than the resume outside of the U.S.
If you plan on seeking international work and pursuing those CV-friendly career tracts, we've gathered some useful writing guides and tools into these helpful pages to help you get started.
You'll find links on how to write a CV, downloadable templates, and an online Resume Builder that lets you add and customize CV-friendly sections.
Complete CV Guide + Tips
A curriculum vitae, casually known as the CV, is a highly detailed document that delves into your professional, academic and personal achievements. This document shouldn't be confused with it's simpler but common cousin, the resume.
Although these two job-seeking tools do cover some of the same topics (skills, work experience and education), the CV expands on this information and covers far more of your professional experience. We'll give you a helpful overview and share some of our favorite tools to help you write and perfect your CV.
Resume Versus CV
Normally used for

Average length

Best for

Avoid if

Curriculum Vitae (CV)

Normally used for

Generally used in specific career fields, including college academics, research, entertainment and government work.

Average length

Significantly longer and more detailed than a resume, but length varies depending on experience and number of sections.

Best for

Applicants for the above industries, Ph.D. degrees, or those interested in working abroad.

Avoid if

You have less than 10 years of experience or are seeking work outside of academia.

Resume

Normally used for

Highly recognized and favored by most hiring managers in the U.S. job market.

Average length

Generally one page for every 10 years of work experience.

Best for

Entry-level job seekers, career changers, and people with 10+ years of experience.

Avoid if

The job requires teaching, lecturing or controlled research experience.
Prepare to Write Your CV
Writing a CV doesn't need to be a daunting task if you prepare your information beforehand. Gathering the necessary materials to complete your CV will save you time to write and make the large amounts of information seem much less overwhelming. Complete the following tips to achieve a more organized writing experience for your curriculum vitae.
Compile a list of skills: Make a thorough list of all the skills you possess. It's always wise to include various skills types: hard, soft and technical skills.
Gather your quantifiable achievements: Think back to your previous experiences and select professional accomplishments that demonstrate you can excel in this new role. Make an effort to single out achievements that can be quantified, such as productivity increases, number of sales, effectivity rates, etc.
Take note of all your past roles: Make sure you have your dates of employment, job title, company names, location and any details needed to fill in your work history information correctly.
Organize a list of your degrees: Your academic information is a crucial part of your CV. Keep a list of your undergraduate and postgraduate degrees, relevant courses, awards, honors, extracurricular activities, and other academic experiences. These should all go into your curriculum vitae.
Review CV examples: The best way to get an idea of how to create your best CV is by checking out real-world examples of other people's CVs. On our CV samples library, you will find the curriculum vitae of hypothetical candidates in multiple industries you can use as guides.
How to Write a CV
Sections of a CV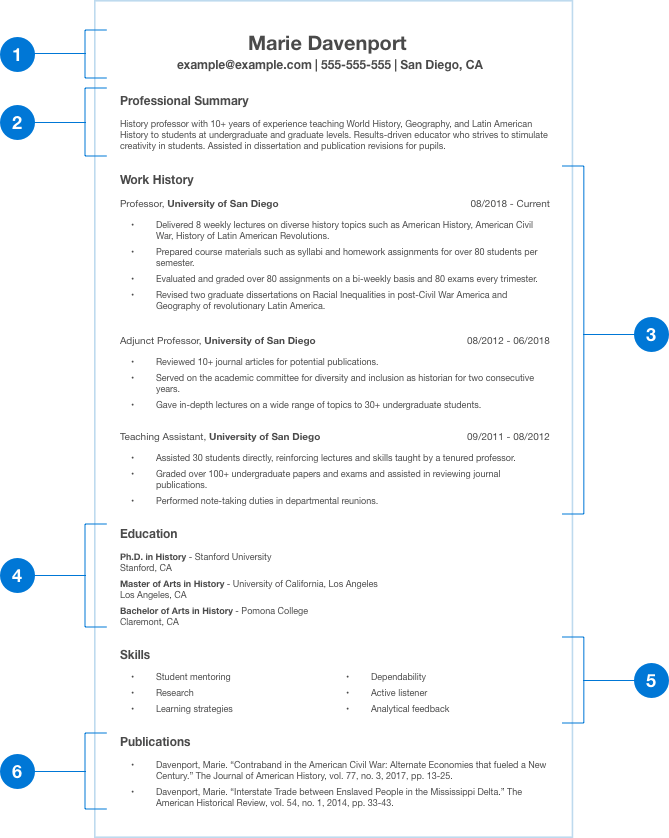 1.

Contact Information

2.

Professional Summary

3.

Work History
4.

Education

5.

Skills

6.

Samples of Work or Publications
A well-written professional CV is a comprehensive overview of your work history and abilities, along with your academic and published achievements. It follows a strict structure and is composed of many sections.
Although CVs will look very different depending on the applicant's industry and their potential employers' requirements, all CVs should include the following main sections: contact information, professional summary, work history, education, skills and samples of work or publications. Below, you will find a guide detailing how to execute each of these sections and how to personalize them, so your curriculum vitae stands out from the pile.
1. Craft a convincing objective or summary statement.
Although this section was once considered optional, a professional summary or objective statement on your CV is now standard in the U.S. and international job markets. This section should sit immediately below your contact information and include a description of what you hope to accomplish in the role. List your years of experience in the field and the top skills and key accomplishments that reflect your ability to perform the job.
Check out this physics professors' example of a summary statement for his CV:

2. List your professional skills.
Depending on the amount of education and professional experience, your skills can live under one general skills section or multiple skills sections. We'll give you instructions on how to write those additional languages, digital, and research skills sections below –– for now, we'll dive into how to write a general skills section.
These skills are the abilities and knowledge needed to perform specific tasks and are defined by two categories; your soft skills and hard skills.
Soft skills are interpersonal skills that allow you to be a collaborative member or leader of a team. These can include communication, multitasking, organization and task delegation.
Hard skills are learned, practical qualifications such as understanding computer software like Microsoft Office or Adobe, language fluency for bilingual or polylingual employees, or typing speed. These types of skills can live in two places: this general skills section, or if this section gets too long, in your optional Language and Digital Skills sections. We'll have advice on how to make those secondary sections further down the page.
Before we can break into those secondary skills sections, though, we advise that you list your job-relevant skills, including your research, language and digital skills, into this first General Skills section. If you have more than six- to eight skills listed, you can break your sections into those optional, dedicated skills sections that offer a more detailed and well-rounded summary of your abilities. We pulled together a list of the most requested skills in the job market to help you get started!

3. Outline your work experience.
This section is formatted similarly to a traditional chronological resume:
Start by listing the job title and company.
List the dates of employment.
Write a bulleted list of your core responsibilities. Include quantifiable metrics to highlight your accomplishments, if possible.
The primary difference that a CV holds against a resume is the amount of information included. A traditional resume only includes formal work experience, prefers long-term and steady employment, and tends to cut off work history after 10 years.
The CV allows you to showcase traditional employment, research projects and teaching engagements, stgardless of the length of time you worked on each. The CV format also allows you to showcase information from the past 10 years, especially relevant to the open job requirements.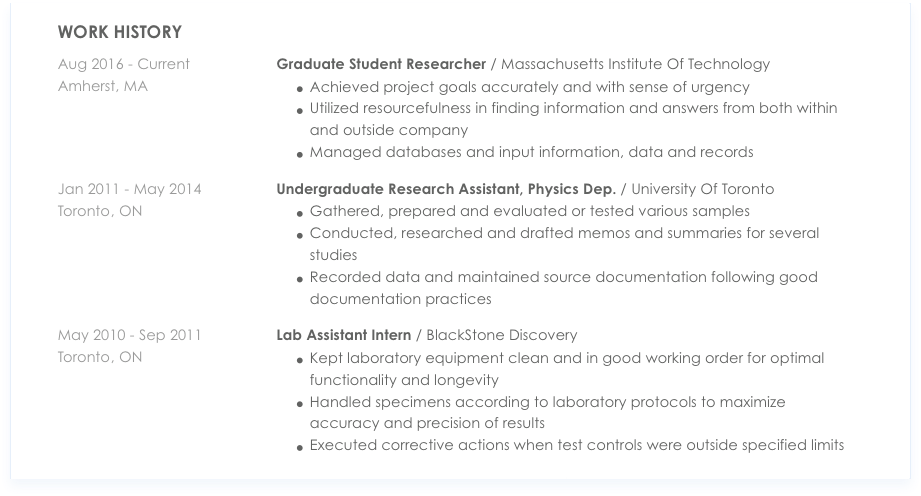 4. Showcase your education.
This section follows the same reverse-chronological format as the work experience section.
List your current degrees in progress, or the most recently completed degree first, followed by your completed degrees and relevant professional certifications. For example, applicants can include a National Board Certification under the Education section if they apply for a professorship.

5. Catalog examples of your work.
A big chunk of your CV will most likely be your work samples or publications section. If you're applying for a professor position or other academic role, you'll want to include a complete list of your publications. Your Publications sections should list all of your scholarly articles from most recent to oldest and follow formal citation rules, although the style varies according to your field of interest. For example, if you're applying for a psychology position, use the APA citation style. If you're pursuing a degree in literary criticism, use the MLA citation style.
Candidates applying for non-academic roles can share professional initiatives, department-wide projects they've organized, or industry conferences they have participated in, for example.
When sharing a list of publications, your CV section can look like this:

6. Share your contact information.
Write your full name as it shows up on your legal ID documents. We also recommend adding a special font treatment to your name to make it stand out. You can double the font size (size 24 to the rest of your documents' size 12) or make it bold.
Follow up with your full professional mailing address and phone number on your CV, a key difference from a standard resume, which omits your specific location. Your email address should consist of some version of your first and last name and not be from an outdated email system such as AOL.
Students may submit the email address of their current university. Professionals may list their current company address along with the department phone number; however, you can provide your private address and phone number if including your current employment contact information would jeopardize your job.
Additional Sections to Personalize Your CV
After writing and perfecting your main CV sections, it's time to look at how you can strengthen the rest of your document with these supplemental sections. We say supplemental because, although they're considered optional, these CV additions can help create a fuller idea of your strengths and abilities because they focus on your extracurricular activities.
Attending and participating in conferences can demonstrate how you actively pursue and participate in spreading updated ideologies related to your field of study or work. Hobbies demonstrate your interests and capabilities outside the workplace or classroom. Grants and awards show recognition for your abilities. These topics can help strengthen your argument as the best candidate, especially if they relate to the job.
Read on to learn how to write each of these sections. Remember, these are optional. You do not, and should not, add all of them to your CV.
Additional sections of a CV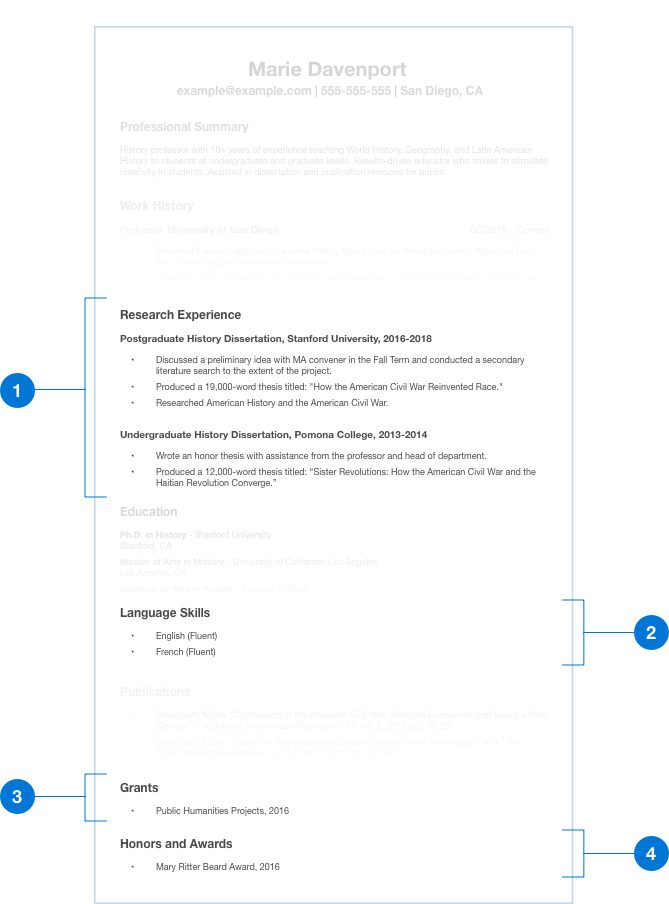 1.

Research Experience

2.

Language Skills
3.

Grants

4.

Honors and Award
Research Experience
Earlier, we showed you how to write a Work Experience section and mentioned that you could include your research, academic and extracurricular experiences in addition to your formal work experience. If you noticed that the section grew too long, you can easily break it up and create dedicated Research and Teaching Experience sections. We highly recommend that approach, especially if you're pursuing an academic teaching role, a research position or applying to a Ph.D. program.
This section will follow the same format as your Work Experience section.
Write the position title and place of research employment.
Specify the dates of employment or active research.
Write a bulleted list of your responsibilities and accomplishments.
As with your previous Work Experience section, you'll want to start with your most recent research roles and work your way back. Remember to only include projects with relevant or similar duties to the new position requirements you're applying for.
For example, writing that you helped maintain astronomical equipment during a pre-grad internship when you're going for a Ph.D. in mathematics won't look as impressive as it would for a physics or astronomy degree. Although the experience is impressive and valuable, it does not involve any of the exact requirements needed in the mathematical program. You're better off focusing on memberships to math associations or competitions.
Teaching Experience
Your teaching history must include the following:
Job title and company location.
Start and end dates.
A brief description of your accomplishments or responsibilities. Avoid including a laundry list of duties and focus on your critical successes.
Tailor your teaching history to the open job posting. If you are applying to an academic institution, focus on teaching experience (including editing or providing feedback to others), management and administration experience as these are valued skills in academia. In this section, you can also discuss your laboratory and field experiences.
Describe any volunteer work or leadership positions, as these skills indicate initiative and responsibility.
Language Skills
Create a section dedicated to your polylingual skills, especially if you're pursuing a job or academic program where your ability to speak multiple languages serves as an advantage. You'll want to dedicate bullet points for each language and specify how fluent you are in said language. For example, you could have strong speaking, reading and writing skills in English and Mandarin but only speak conversational French or understand German without speaking it. So, list the language spoken and level of frequency.
Digital Skills
Employers look for practical and relevant skills in the mechanical, IT, mathematical or scientific fields. Add these to this section if you have learned how to use a complex piece of laboratory equipment, know the ins and outs of particular software, or have mastered a new programming language.
Create a bulleted list of these technical skills, especially if you pursue a tech-field career or an academic program in robotics, engineering or tech development.
Conference Presentations
If you only have one to three professional presentations under your belt, these can live under either your Teaching Experience, Research Experience or Publication sections. However, if you hosted more than three presentations at conferences, universities or association lectures, consider creating a separate section for this valuable experience.
Whether you decide to create this dedicated Conference Presentation section or list this experience under the other three sections, be sure to include the following information:
Identify your role and name of the conference.
Specify the date and location.
Write a bulleted list of your role and topics addressed.
Conference Attendance
Although different from hosting or presenting in a conference, being a conference attendee shows you are interested in expanding your education and networking with colleagues—and employers love to see that initiative.
Conference attendance can live under the Education section if you've only attended a few conferences, as this still relates to a learning experience that helped you develop your knowledge of specific topics and industries.
However, suppose you stgularly attend conferences to expand your technical knowledge and stay updated on recent industry trends and developments. In that case, you'll want to create this dedicated section.
It should include the following information:
Name of conference
Dates attended
Bulleted list of seminars or panels attended, along with a brief description of said panels
Honors and Awards
Although we list this as an optional section, you should include this information on your CV if you received any honors, awards or accolades. These forms of recognition indicate to hiring managers or admissions counselors that your knowledge or performance of a subject is noticeably high. This level of recognition makes you a stronger candidate, so it's important to scrub through your employment history, scheduling documents, journals and meeting notes to find these awards.
Add these honors and awards to your CV, and keep track of additional recognition in a dedicated file to add to your document as you acquire them. Be sure to include the following information:
Name of the honor or award
Date awarded and name of the award committee
Grants or Funding
If you have two or more academic honors or grants, create this section. Otherwise, fold these accomplishments into your Education section.
If you've never written an academic CV before, give yourself plenty of time to populate this section. Chances are that you've been recognized multiple times over your collegiate and professional career.
List your honors or grants like this:
Name of the grant or fund
Date awarded and name of the committee
A brief description that summarizes the honor or grant proposal, goal and result
Professional Affiliations and Memberships
Here's another section where you may want to give yourself a while to consider what to include. Many people join professional associations in academia and use those resources to meet potential employers or participate in group discussions before moving on to another area of intellectual interest.
For example, if you're a medical researcher studying a particular illness, you may join an epidemiological society to gather information; but, if your interest next turns to the immunological aspects of the disease, you may not participate as much in the forums and professional societies you joined previously.
Going through your publication and presentation history may help you recall professional societies to which you belonged or forums in which you've been active. Consider placing this information in your employment section if you held office or another position in a scholarly or professional organization. Just as in the different optional sections, consider excluding it if what is here does not add anything significant to your CV.
Community Outreach
Your community outreach efforts or volunteer work can live under your Work Experience section unless you happen to do an extraordinary amount of this work. Suppose you have quite a bit of community service under your belt. In that case, it can be beneficial to write this standalone section, especially if you're pursuing work in nonprofits or social work.
This dedicated work can demonstrate your interest in contributing to your community's welfare. You'll write this section in the same structural format as your work experience and include:
Name of the volunteer role and community organization
Dates of service
A bulleted list detailing the work and responsibilities you handled
References
Here, you'll list people who'll support and testify to your work ethic. You should have three default references, although HR and recruitment offices may request more or less.
Suppose you're applying for a collegiate position or a doctoral candidacy. In that case, it's standard to obtain two academic references to attest to your professional and intellectual capacities and one personal or professional reference to vouch for your character.
Your References section should include the following information:
Name of individual
Current job title of individual
Institution or company where the individual works
Address of the institution
Email and telephone number of individual
Key Takeaways for Completing Your CV
Once you've finished working on your CV sections, you should complete the following finishing details.
CV Formatting Tips
Although having the right content is an essential aspect of your CV, you should also pay attention to the aesthetics and formatting of your document. For a clean and easily understandable CV, follow these formatting suggestions.
Save space by adjusting margins: Playing around with the measurements of your margins allows you to pack more text into your CV. However, remember to be mindful of how the text looks on the page; keep your margins under 1 inch to prevent it from looking cramped.
Consider two- or three-column templates: You can check out this style of template and more in our CV samples library.
Clean up page transitions: Multiple pages in your CV can result in sections and paragraphs getting cut off from one page to the next, making your curriculum vitae look untidy. Once you've finished your CV, go over to ensure no section or paragraph is divided between two different pages.
Font: A readable font for your CV should range between sizes 10 to 11. Serif or sans serif fonts are acceptable as long as the font isn't distracting or overly elaborate. It's always best to stick to classic fonts like Arial, Times New Roman or Calibri.
Colors and design features: A CV reflects who you are, so you can feel free to choose templates that show some personality. However, the amount of flourish or design elements you can add will depend on the industry and job you're applying to, so always keep that in mind. A pop of color in your heading or sidebar is appropriate for most job applications, but if you'd rather keep it safe, a sober black and white template is completely fine.
Do's and Don'ts When Writing your CV
The amount of information found on your CV can be intimidating to the reader. There are a few copy editing tips that you can use to make your CV attractive:
Short phrases: Write incomplete sentences, or phrases, to increase impact and omit extraneous words.
"Primary Instructor, Organic Chemistry (2001–2008). Taught more than 300 students. Planned curriculum. Graded papers daily. Created engaging online tutorials."
"I taught a full lecture hall of approximately 300 students at the University of Colorado twice weekly. I also graded papers, planned curriculum with a team and engaged in tutorial sessions online."
Consistent tense: Keep the tense (present or past) consistent. Use parallelism, or similar phrasing, so that the reader can quickly understand your meaning.
Supervised two undergraduate projects in econometric models for conservation.
Planned and delivered seminars in "Conservation Theory" and "Environment Modeling" to groups of 10-20 undergraduate students.
Mentored two Ph.D. students in the department.
Led three field trips with enthusiasm.
Supervision support for two undergraduate projects in econometric models for conservation.
Deliver seminars in "Conservation Theory" and "Environment Modeling" to groups of 10-20 undergraduate students — planning teaching methods.
Mentor two new Ph.D. students in the department.
Group leader on three field trips — requiring leadership, problem-solving under pressure and enthusiasm.
The example on the left is easier to read because parallelism makes each line grammatically and stylistically similar. This section is now far stronger by streamlining the verbiage and creating similarities among bullet points.
The example on the right features leading verbs with different endings (superviSION, delivER, mentOR). This lack of parallelism takes longer for the brain to process.
Bullet points: Using bullet points in CVs is becoming popular — bullet points make short and declarative statements that take up less than a line each, lending to your CV a parallel structure. Shorter verb-noun pairs belong on the same line.
Postgraduate Demonstrator, University of Leicester (2004–present)
Led several seminars for undergraduates.
Supervised five undergraduates on their dissertations.
Demonstrated experiments and supervised practicals for undergraduate students.
Postgraduate Demonstrator, University of Leicester (2004–present)
I led several seminars for undergraduates. I have experience supervising five undergraduates on their dissertations. Demonstrated experiments and supervised practicals for undergraduate students.
Choose a CV Template
Now that you can write your CV from scratch, let your document shine with a professionally designed template. Our subscription builder enables you to pick from customizable templates to input your CV information quickly. Its auto-saving feature, personalized content suggestions and user-friendly editing tools make our builder the best choice for crafting your curriculum vitae.
Build a CV
Pair Your CV With a Cover Letter
A great way to maximize your chances of impressing employers with your job application is by including a cover letter alongside your curriculum vitae. With our Cover Letter Builder, you can get a personalized full-page cover letter in minutes — just by answering a few questions about your professional background and desired role.
FAQ
What is a CV example?
A CV example is a hypothetical curriculum vitae that shows you what a CV looks like with practical examples in the different CV sections. CV examples are a great resource when writing your CV as it helps you visualize the end product.
Which software is used for making a CV?
We understand that writing a CV can seem daunting. There's quite a bit of information to track down and structure. Thankfully, several software programs offer easy formatting solutions, templates, and additional tools to help you make your CV.
Microsoft Word: You can write a simple but elegant CV from scratch using this powerful word processor. The program includes a few resume template and CV templates and access to a more extensive library of free CV templates on the Microsoft site.
Hloom Resume Builder: Our online tool includes free writing tips and customization options that help you create a personalized CV. Our subscription upgrade also gives you access to exclusive templates and multiple download formats.
Europass: An online tool that aims to standardize the CV-writing process across all international markets, especially in Europe. This document marries the best aspects of CV and resume formats to create a detailed document.
What should I avoid in a CV?
Your photograph: A photo of you on your curriculum vitae may make you appear more personable and engaging, but it could invoke bias from the reader. Research the acceptable norm by country and position.

For example, a photograph is considered standard in Japan, China and some parts of Europe. This is not the case in the U.S., U.K., Ireland, Sweden or the Netherlands.
Unprofessional email address: Your email address should include some version of your first and last name and not be from an outdated email system like AOL. The recommended email address is first-name-last-name@gmail.com or first-name-last-name@school name.edu (e.g., F.McClure@cambridge.edu).
How do I write a CV for my first job?
Before you can write a CV for your first job, you have to make sure that this document is the correct format for you. Use a CV if you're:
Applying to work abroad or relocating internationally
Applying to a graduate degree
Pursuing a federal job
Applying for work in the entertainment industry
Applying for a research-focused career
Applying for academic or teaching positions.
If you're applying to any of the previously mentioned jobs, a CV will help you because it highlights all of your highly-specialized skills and experience, regardless of whether you gained it in a formal or informal setting like volunteering.
Since your CV highlights all of your experience, your CV will follow the same advice as a senior level resume, but you'll need to fold a few of your sections into one section. For example:
Have one skill section instead of dedicated general, digital and language skills sections.
Have one work experience section instead of dedicated work, academic and research sections.
Combine your conference attendance sections.
Combine your Honors and Awards with your Funding and Grants section, if applicable.
Since a CV is so highly detailed, you're best template option should be simple or minimal. There is so much information on your CV that a heavily designed document can make it difficult for the hiring manager to scan or read your document.
We gathered a few of our favorite designs into one template library to help you find the perfect CV for your job search.