Recommended Cover Letter Templates
You'll find our entire collection of free cover letter templates below, but we strongly recommend you consider these premium templates. Our certified resume writers partnered with designers and recruiters to make these professional and ATS-friendly designs.
Why You Need a Cover Letter
Even if an employer doesn't formally request a cover letter in the job posting, it's always a good idea to include one.

First of all, it's just expected. Cover letters are the business norm in most countries.

Better yet, a cover letter is a chance to show your personality and include more information about yourself than you have room to include in a resume alone.

A resume and cover letter work together as complementary documents to provide a more well-rounded account of who you are as a job candidate.

Why You Need a Cover Letter
While your resume provides essential information such as your work history dates and your primary skills, a cover letter provides a chance to tell a story about your skills and work experience.
So if you want to stand above the competition for a job, a cover letter is an effective tool to do so.
Our Best Free Cover Letter Templates
These elegant and classic templates for a cover letter can help elevate your cover letter, regardless of your level of experience or career path. These templates are especially appealing if you're interested in a conventional job in banking, accounting, teaching or law.
Traditional Elegance

Button Down

Goldfish Bowl

Plain Linear

Plain Divider

Economic

Performance

Keep It Simple

Ready For More

Traditional

Clean Columns

Seasoned

Ivy League

Essence

Proficient

Time Honored

Legal

Big And Bold

Centered Traditional

Font Appeal

Classic Plain

Bare Bones Minimalistic

Sprouting

Headliners List

Skills Highlight

Star Showing

Spotlight On Achievements

Credited
Free Modern Cover Letter Templates
These modernized templates for cover letters provide streamlined designs with brightly colored margins and minimal font choices. These cover letter designs are well-suited for progressive candidates applying for jobs in the tech or creative industries.
Blue Side

Career Pitch

Steely

Glimmer

Black and Orange

Corporate Lines

Creative Formal

Hire Me

Personal Brand

Vibrant

Streamlined

Organized

Designers Touch

Show and Tell

Cavalier

Advertise

Split Page

Professional Orange

No Fuss Duo

Skillful

Formative Traditional

Schema

Bold Contrast

Marketed

What the People Say

Foundation

Call Out

Bold Typography

Open Entry

Lists of Expertise

Page One

All Business

Refined

Tied Together

Check Box

Positive Showing

Spirited Professional

Grindstone

Lively Step

Rosy Outlook

Block Step

Casual Blue

VIP

Colour Bricks

Framed

Springing

Fades of Green

Prelude

Qualified

Front and Center

List It

Block Colour

Blocks

Column Mix

Open

Traditional Table

Salmon

Fast Food Sections

Testimonials

Logos

Colour Contrast
Free Contemporary Cover Letter Templates
These cover letter layouts rely on two- or three-column formats to help you prioritize your personal and professional accomplishments. These designs are ideal for recent graduates or job seekers with work gaps who would like to dedicate sections to explaining those academic and professional breaks.
Fine Points

Artistic Flyer

Slated for the Job

Bulletin

Sidebar

Full House

Multitasking

Majestic

Splash Page

Net Profile

Marquee

Leaflet

Full Page

Big Bold Header

Little Spaces

Icons and Bullets

Transatlantic America New York

Texture

Newsletter

Nascent

Power Elite

Blogging
Free Creative Cover Letter Templates
These visually stunning and nontraditional cover letter layouts are fancy and bursting with creativity. When selecting from this category, make sure your choice will be considered appropriate in your industry.
Info Pop

Creative Bricks

Ardent

Profile Picture

Sky is the Limit

Blue Pop

Shades of Blue

Social Media

Career Diagram

Banner Day

Out Front

Ribbon

Tablet

Refined

Personal Touch

Graphic

Orange Chevron

Expressive

Bubbly

Orange Blossom

Icon Fun

Front Page

Hi! I Am

Great Blue Divide

Starry

Headshot

Promote Yourself

Urban Development

Circle Timeline

Confident

Pasture

Timeline

Bold Chevrons

Transatlantic America New York

Skills Highlight

Wrap Around

Bright Blue

Portrait

About Me

Headlines

Concrete

Award-Winning

Grid

Great Experience

Background Shadow

Shadows

Black Tie
Free Clean Cover Letter Templates
These downloads elevate basic templates for cover letters with bold pops of color. Lively designs can help brighten a standard cover letter and visually impress hiring managers.
Score Card

Substantial

Plain Divider

In a Nutshell

Subtle Creativity

Upfront

Out of the Box

Creative Bricks

Discreetly Modern

Important Message

Broad Appeal

Executive Elegant

Indent Line

Fresh Take

Elegant Traditional

Raise the Bar

Bulletin

Accomplished

Shades of Blue

My Name Is

Commencing

No Point Left Out

Top Level

Mono Shading

Career Starter

Present Yourself

Neat

Classy

Self Assessment

Bold Red Shading

Space it Out

Stately

Classic Elegance

Award Winner

Overture

Cosmopolitan

Traditional Plus

Pretty in Pink

Exemplar

Aristocratic

Simple Red

Polished

Bold Simplicity

Firm

Academia

Airy Traditional

Breezy

Creative Conventions

Section Lines

New Agenda

Blue Pop

Bold Red

No Nonsense

Bright Contrast

Packed Classic

Hard Worker

Skilled

Checkmark Timeline

Offset

Professional Block

Striking

Solid Segments

Simple Central

Beaming

Burgeoning

Functional Space

Caption It

Shades Of Gray

Next Level

Non-Traditional Traditional

Inverse

Industry Lifer

Plus It
Free ATS-Optimized Cover Letter Templates
Before your cover letter makes it to a hiring manager, the format will be scanned by an applicant tracking system (ATS). These downloadable templates have purposely designed ATS-optimized layouts with standardized margins and fonts.
Talented

Senior Management

Technical Special

Attention to Detail

All The Information

Business Minded

Rising Career

Vocational

Technical Specialist

Highly Proficient

Fundamental

Leading Edge

Core Skills

IT Contractor

Corporate Candidate

On Point

Achiever

Strong Showing

High Tech Special

Splash of Blue

Bold Career

Cascade

Format Mix

Feature Presentation

In Depth

Network
How to Use Our Cover Letter Templates
Our cover letter templates are simple to use. Simply hover over the image of a template you admire and click the download button. A Microsoft word file is saved to your device –– allowing you to open and tailor it to your specific needs.
Whether you use one of our templates or a similar cover letter template online, keep an eye out for these important features. A well-designed and well-written template of a cover letter needs to:
A good cover letter template helps to streamline the writing process by including pre-written paragraph templates that you can further personalize to include all of these aforementioned details. This attention to detail can help impress hiring managers by demonstrating your clear understanding of the position's requirements.
Your contact information
Your contact info should visually match the information on your resume. Most templates include the following information –– just be sure to tailor it to match your resume:
Hiring manager's contact information
The hiring manager's contact info follows a very standard business letter format and should include the following information in this order:
Add credibility to your resume by adding additional information to one or two major accomplishments listed on your resume. Your cover letter addresses this by adding examples of said accomplishments or advancements and directly tying them to the need of your desired job opportunity.
Create a personal connection between your professional motives and the company's mission statement or business goals by introducing your professional passion.
Incorporate strategic keyword phrases and terms from the job description to pass initial applicant tracking software, or ATS, scans as well as demonstrate your attention to detail and understanding of the job requirements.
Summary statement or objective summary
Your introduction paragraph plays a similar role to your resume's summary statement or objective summary. It is your opening pitch to explain how and why you are qualified to fill the needs of an open position and should mention:
Professional full name
Current job title
Phone number
Professional email
Body paragraphs
Your cover letter's body paragraphs will build on your opening pitch by referring to specific accomplishments mentioned on your resume. You need to use this space to explain your thought and work process to achieve results and how you plan to replicate these accomplishments in this new potential work environment.
A strong cover letter template will include pre-written text with dedicated fill-in spaces when you can add the following info:
Professional full name
Job title
Optional mailing address associated to the workplace
Phone number
Professional email
Concluding statement
Your concluding statement quickly summarizes your professional marketing pitch and invites the hiring manager to connect with you for further consideration. An effectively designed cover letter template includes fill-in-the-gap sections to add the following information:
Job title/related experience
Reason for applying
Personal/professional connection
Signature
Professional example 1
Responsibilities/success metrics related to the open position
Draw connection and comparison to the open position
Professional example 2
Responsibilities/success metrics related to the open position
Draw connection and comparison to the open position
Upgrade Your Cover Letter and Resume
Although we have hundreds of free templates for your cover letter, we know that writing a cover letter can be nerve-wracking. If you find yourself struggling, try our Cover Letter Builder. Our builder comes with pre-written cover letters, job-specific paragraph templates and writing tips while a subscription unlocks exclusive templates, unlimited online storage, and our Resume Builder.
Cover Letter Resources
We hand-picked our most popular cover letter templates because of their sleek designs, easy customization and versatility for any role or industry.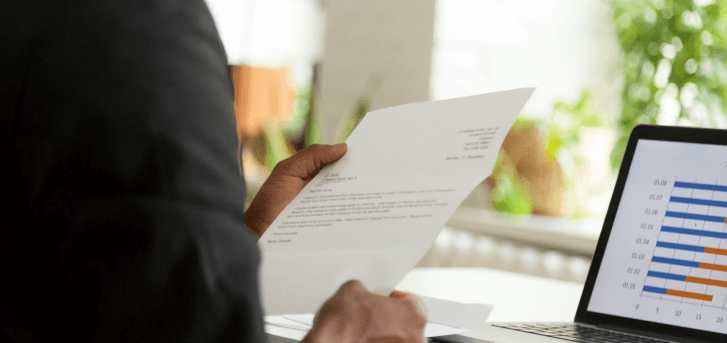 FAQ: Cover Letter Templates
Updated: February 22, 2023
You do need a unique cover letter for every job application. That doesn't mean that you have to create a new cover letter from scratch. Your introduction and conclusion can be templated paragraphs that you tweak to meet each job opening's unique requirements.
Unless the job application asks for a specific file format, you should upload your cover letter in a PDF or Word docx file format. These file formats are the most frequently used and are familiar to applicant tracking systems, making it easier for these programs to accurately rate your application.
The PDF format is the ideal format choice because it retains your cover letter's font, size and margins regardless of the operating system or word processing program that the hiring manager uses. For example, your copy of Microsoft Word may support the font Helvetica, but your recipients might not recognize the font and convert your letter to a standard font that changes your file's formatting and layout.
If you'd like to find additional cover letter templates, Microsoft Word offers additional free and paid downloads on their site.
Visit the Microsoft Office templates website at https://templates.office.com/.
Click Resume and Cover Letter Templates under Popular Templates.
Browse either their Free or Premium Templates.
Yes, you should use a cover letter template. A template for a cover letter uses screen-friendly techniques, including the following design to help frame your professional message:
Screen-friendly font types
Pre-set font size
Standardized margin widths
Paragraph breaks
Borders
Using a template helps simplify those decisions so you can focus on a tailored appeal to hiring managers.