How Our Resume Builder Works

1.
Tell us how long you've been working.

2.
Pick a recommended template.

3.
Fill in a few forms regarding your experience and education.

4.
We autoformat your info — you customize it to your liking!

5.
Review and download your finalized resume.
Create a Job-Winning Resume
Why use an online resume builder?
We suggest professionally written resume examples based on your past jobs and responsibilities.
All of our pre-written suggestions are fully customizable.
Our builder autoformats every addition to meet ATS and recruiter requirements.
We offer unlimited color and design customization.
Why Do Job Seekers Love Hloom?

Julia K.

Easy to use. I could do multiple resumes. Had good tips for writing resumes.

Margaret C.

Easy-to-navigate the site. Excellent live customer service with almost no wait time. Great price and easy-to-use templates.

Bashi F.

I know Hloom as a professional website page and supportive portal that helps professionals get the service they want.
Nice work, Hloom staff, and all you do is exceptional.
Thank you for supporting me during my job hunt.
Compare Hloom to our Main Competitors
Site
Resume Import
Design Templates
Pre-Written Text
Writing Tips
Text Formatting
Online Storage and Access
Unlimited Downloads
Premium Features
Cover Letter Builder
How Hloom Can Help You
Hloom is one of the most-visited sites when it comes to job-hunting resources. Our free downloadable templates and resume advice have helped millions of job seekers create winning resumes and cover letters.
Partner with professionals
Our certified professional resume writers constantly look for new resume trends and requirements to help job seekers perfect their applications.
Our expert designers collaborate with hiring professionals to ensure each resume template prioritizes your essential information.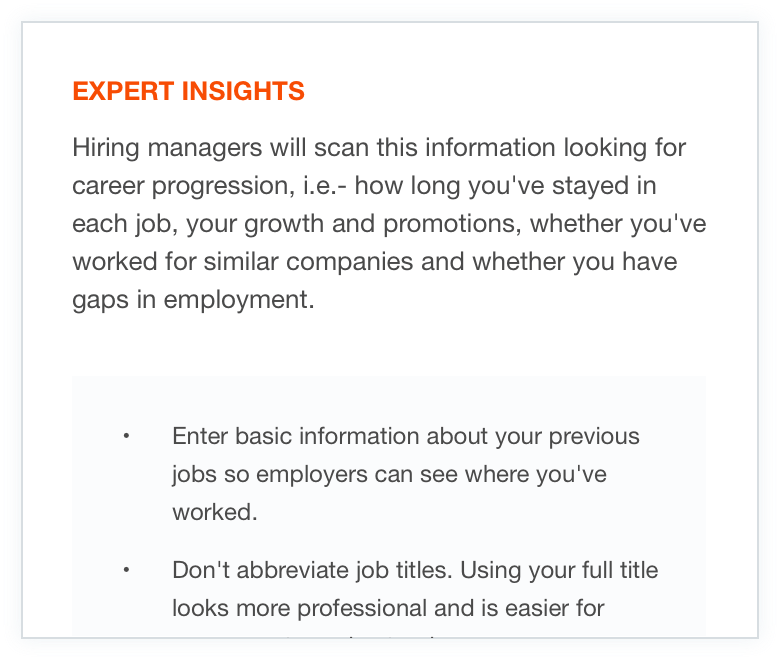 It's fast
Quick section-by-section form.
Job-related autofill suggestions.
Instant color and font updates.
Print and you're done!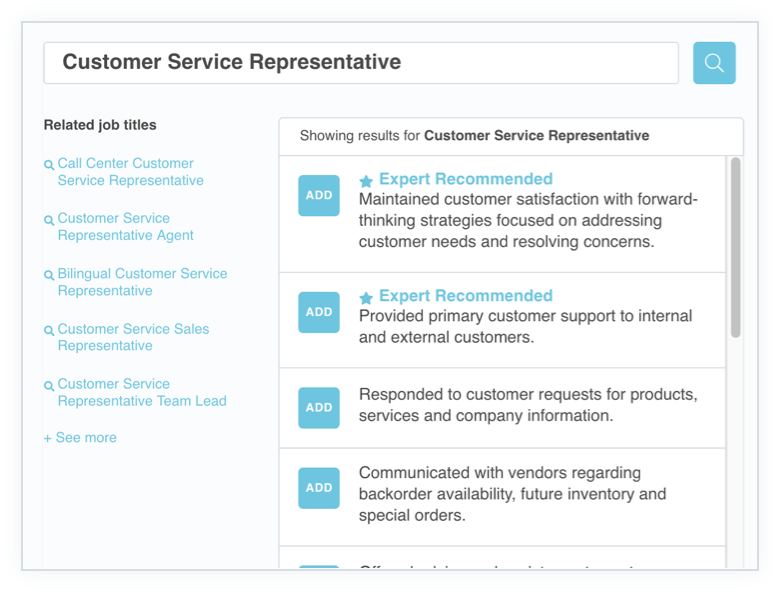 It's easy
Unlimited storage so you can create and save multiple personalized resumes.
Drag and drop resume sections for limitless resume layouts and combinations.
Cloud storage so you can download and send resumes on the go.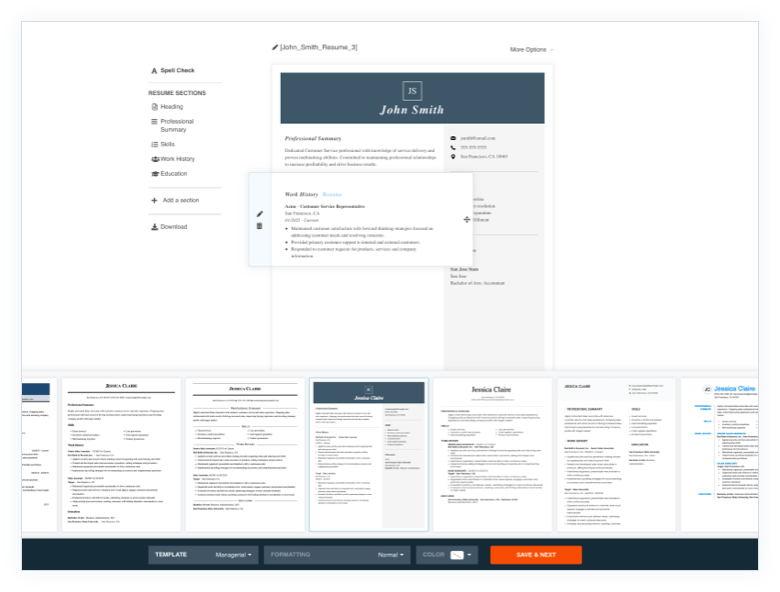 Access to our Cover Letter Builder
Signing up gives you unlimited access to our Cover Letter Builder as well!
Similar job-based suggestions mean you can quickly write and customize your letter.
Create a resume and cover letter in one easy place!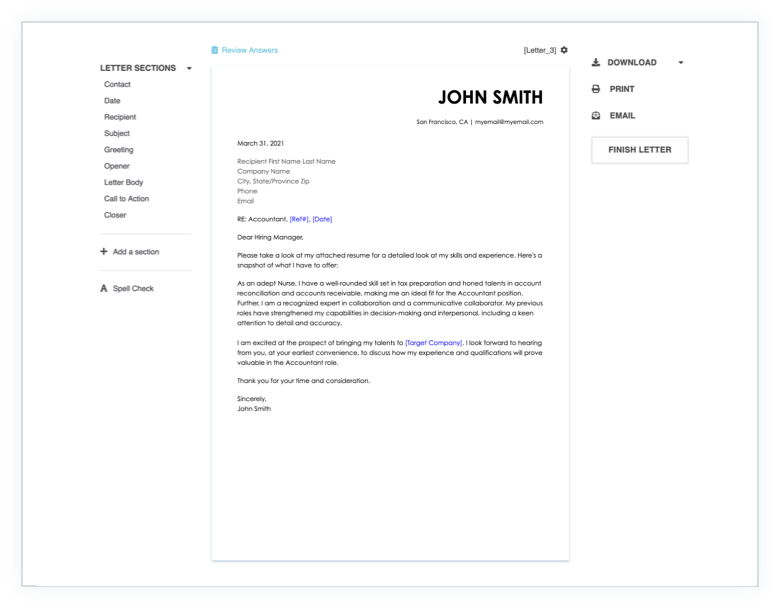 Resume Builder FAQ
What is the best resume builder?
We're proud parents –– we think Hloom is one of the best resume builders on the market because we're free to try and download a simple text resume.
Signing up for membership also unlocks our best features like:
A library of templates.
Unlimited storage.
Pre-written content based on your job history.
Section-by-section writing tips and advice.
Pre-built resume sections that free up your time.
Additional writing guides to help you outside of the builder
But we understand if you want to try different options. If you'd like to use a different resume builder, the best services offer the following features:
A variety of resume templates.
Step-by-step instructions.
Additional resume writing guides.
Real-world examples.
Are these resumes ATS-friendly?
Each builder-exclusive resume template is ATS-friendly. Although you can shift some resume sections around, we strongly advise that you follow one of the following layouts to maintain ATS legibility:
Contact information
Summary statement
Skills
Work history
Education
OR
Contact information
Summary statement
Work history
Skills
Education
If you're looking for a budget-friendly approach, here's a library of our most popular ATS-friendly downloadable templates.
Do I need to install anything on my computer?
Nope! Our Resume Builder is powered entirely online –– you don't have to download or install any software on your computer. Simply log into your Hloom account on any browser, using any computer or mobile device, and start typing away.
What do employers look for on a resume?
Employers are interested in two things –– are you qualified for the job, and are you a good fit?
Employers turn to your resume to answer that first question –– are you qualified for the job? They'll look for the following information on your resume:
Do you have experience? For example, if you're applying for a sales job, an employer will scan your resume for proof of people skills and customer service experience.
Are you reliable? Finding a qualified candidate can take months. Most hiring managers will check your resume for long-term commitments to your previous jobs before considering you.
Is your resume organized? None of the previous information matters if your resume is disorganized and difficult to understand. Our Resume Builder auto-formats every section of your resume so you can focus on the needs of a potential employer.
What if I have additional questions about resume builders?
Visit our Contact Us page to see the most commonly asked questions regarding your Hloom account or Resume Builder.
For any questions regarding our site, free downloadable templates, or general resume, cover letter and curriculum vitae advice, visit our helpful FAQ page.