Make a Resume in Minutes

STEP 1: Pick a style
Tell us about your experience level.
Browse through the templates we'll recommend to highlight your accomplishments.
Choose from our popular design types: traditional, modern or creative.

STEP 2: Tell us about yourself
Fill each resume section using a simple form that walks you through the process.
Use the prewritten phrases, responsibilities and accomplishments we'll suggest based on your past job titles.
Personalize each suggestion to meet your unique experience.

STEP 3: Download a PDF resume and share
Watch as we auto-build your resume with the information you provided.
Finalize your resume by moving sections around or trying a different design.
Double-check your resume for typos and a clean layout.
Download as a PDF, Word document or simple text file.
Create a Resume
Why Our Readers Pick Hloom

We are professional resume writers who help simplify your job search. See what our fellow job seekers say when we help them build resumes.
Very easy to fill in the blanks and excellent template!
Easy to use. I could do multiple resumes. Had good tips for writing resumes.
They were absolutely amazing! The software is so easy to use and guides you through making your resume every step of the way. When I did have an issue and I called customer service they were available right away and got to the end of my issue and solved it very quickly. I highly recommend them!
Easy-to-navigate the site. Excellent live customer service with almost no wait time. Great price and easy-to-use templates.
I know Hloom as a professional website page and supportive portal that helps professionals get the service they want.
Nice work, Hloom staff, and all you do is exceptional.
Thank you for supporting me during my job hunt.
By professionals, for professionals
Our expert resume writers constantly track changing job trends to give you the latest resume suggestions.
Our talented designers partner with hiring experts to optimize each resume template.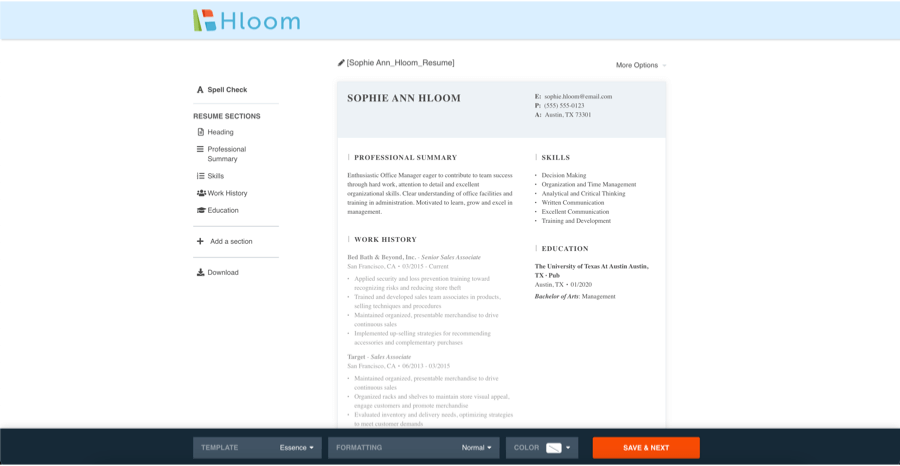 Fast and easy
Our simple fill-in forms and step-by-step process builds a resume in a fraction of the time.
Our built-in writing advice helps you personalize your resume to each unique job.
Save your resume to multiple file formats.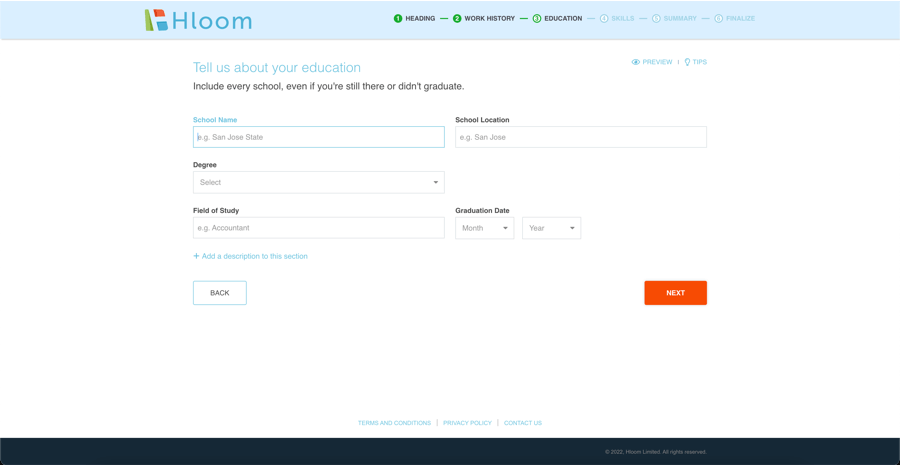 Budget-friendly templates
Our builder comes with wallet-friendly monthly and annual plans!
Sign up for an Hloom account and unlock our exclusive ATS-designed templates.
Bonus perk! Download one of our free resume templates if you want to take the DIY approach!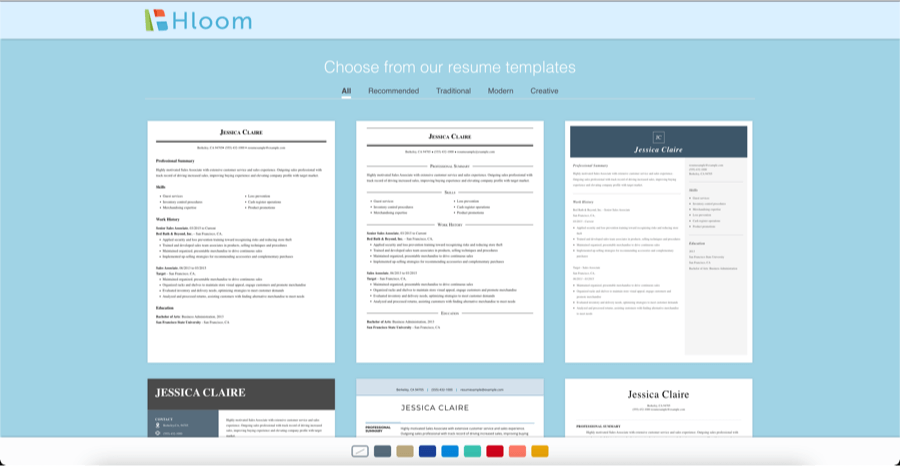 Built-in Cover Letter Builder
Your Hloom account unlocks our Cover Letter Builder too!
Our data-powered tool creates a persuasive letter template based on your past jobs and skills.
Finish your resume and cover letter in one sitting.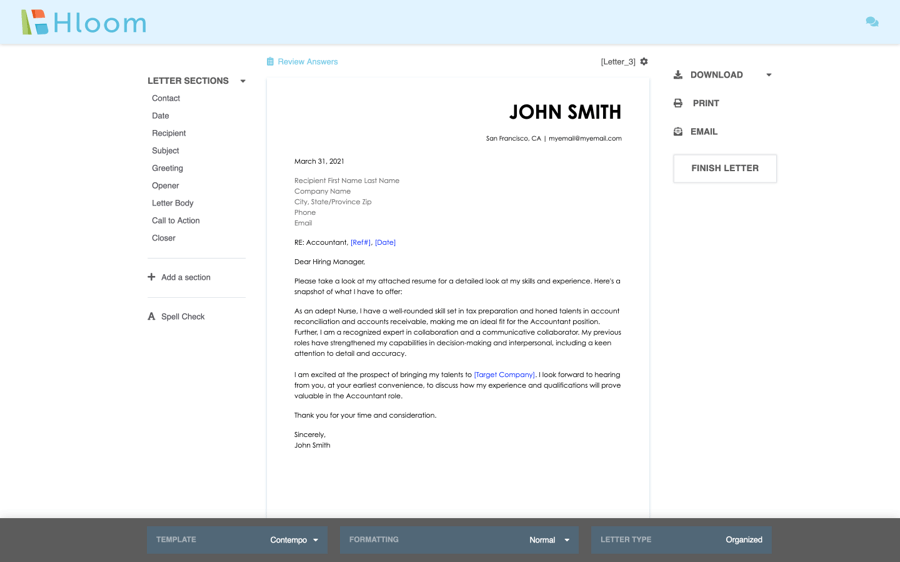 Try it Risk-free
We know you have options. If you're not happy with your final resume, let us know! Our customer service agents are happy to help.
Build a Resume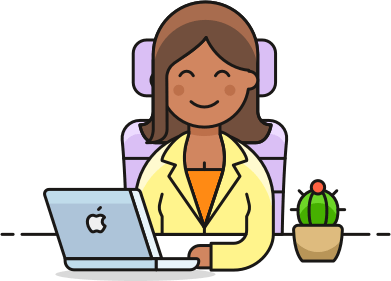 Build a Resume
Which Resume Builder is the Best in 2023?
Looking for the best online resume builders on the market? We'll make it easy — choose the resume writing features you want and we'll suggest the best online services to help you build a resume fast.
Site
Resume Import
Design Templates
Pre-Written Text
Writing Tips
Text Formatting
Online Storage and Access
Unlimited Downloads
Premium Features
Cover Letter Builder
Write a Better Resume with Zero Hassle
Ready to build your resume and kick off your job search? Pick one of our popular templates — you can always change the design later.
Resume Builder FAQs
Which is the best resume builder?
We truly believe our Resume Builder is the best resume builder on the market. Our online tool has the following features:
It's free to try and download a simple txt. resume.
An account unlocks a free txt. resume download.
Prewritten content based on your job history and current job trends.
Section-by-section writing tips and advice.
Prewritten resume sections that free up your time.
Free writing guides to help you write a resume without our builder.
And an online membership unlocks:
Our best resume templates.
Multiple downloads in your preferred file format.
Unlimited storage.
A matching cover letter builder.
We know that you have multiple options out there, and If you want to test-drive multiple free resume builders, look for the following features to make the most out of your valuable time.
Diverse resume templates.
Step-by-step instructions.
Additional resume writing guides.
Real-world examples.
Are these resumes ATS-friendly?
Every premium and free resume template is ATS-friendly. Although our builder lets you customize the placement of your resume sections, we strongly suggest that you follow one of these layouts to ensure that applicant tracking systems properly reads and grades your resume.
Contact information
Summary statement
Skills
Work experience
Education
OR
Contact information
Summary statement
Work experience
Skills
Education
Do I need to install anything on my computer?
You don't have to worry about computer storage or speed — our Resume Builder is fully online. You don't have to download or install any software on your computer.
Simply log into your Hloom account on any browser using any computer or mobile device, and start typing away.
What do employers look for on a resume?
Employers are interested in two things: are you qualified for the job and are you a good cultural fit?
Employers turn to your resume to answer that first question — are you qualified for the job? They'll look for the following information on your resume:
Do you have experience? For example, if you apply for a sales job, an employer wants to see proof of your people skills and customer service experience on your resume.
Are you reliable? It can take months to find the best-qualified candidate. That's why most hiring managers check your resume for long-term commitments to your previous jobs before they consider you.
Is your resume organized? None of the previous information matters if your resume is disorganized and difficult to understand. We auto-format every section of your resume so you can focus on how to find your next job.
Do I need a different resume for every different job application?
Absolutely! Every job is unique and requires a specific set of skills and experience. It is your job to craft a unique resume that matches your professional abilities and accomplishments to the needs of each job.
We help you build a resume that lines up with each job, suggesting hundreds of skills and accomplishments for you to customize to your work experience.
Do I need a cover letter for my resume?
While not every hiring manager will read your cover letter, those who do say that a well-written cover letter played a significant role in their hiring decision. A cover letter may increase your odds of landing a job because it gives you a chance to clarify and expand on the summarized accomplishments of your resume.
Learn how to write a successful cover letter or try our Cover Letter Builder.