5 Cover Letter Formatting Fundamentals
There are five formatting fundamentals that you need to follow to build an impeccable cover letter that's professional and visually pleasing.
Font: Use a 10- to 12-point font. Anything larger than that will look odd and take up space from your letter, and anything smaller will be too hard to read. We recommend easy-to-read fonts like Arial or Times New Roman. Eccentric fonts won't look professional and might not even be properly scanned by applicant tracking systems (ATS).
Margins: These should range between 1 to 1.5 inches. This margin width gives you ample space to write a long-form letter without your text looking cramped or cutting off when you print or download your letter.
Alignment: All your paragraphs should be aligned to the left since it allows for the most natural reading flow. Make sure to be consistent with indentations. If you indent the first sentence of one paragraph, follow through with the rest of them.
Length and spacing: Don't extend your cover letter past one page and avoid long, run-on sentences. For line spacing, between 1 to 1.5 spacing is ideal. To reduce length yet remain concise, you can also format the body paragraph using bullets.
File format: You won't need to send your letter through conventional mail. You're more likely to email it or attach it to an electronic job application form. To avoid malicious interference, you should try to use file formats that won't permit anyone else to easily edit it, such as PDF. With our Cover Letter Builder you can easily write your document and download it in multiple file formats like PDF, JPG, GSV, DOC and TXT.
How to Format Key Sections
Although business letters follow a strict, standard format, you can customize your cover letter's heading and body paragraphs using the following design tools. These customizable sections allow you to showcase your personal touch.
If you wish to create a more eye-catching cover letter, you can edit the heading based on your personal design style. As long as you include your name, address, the recipient's information and the relevant contact information, you can format it creatively.
Some design choices you can add are:
A pop of color to highlight your name
Larger or different fonts that stand out
Decorative elements like lines, figures and background colors that express your artistic side
Check out an example below!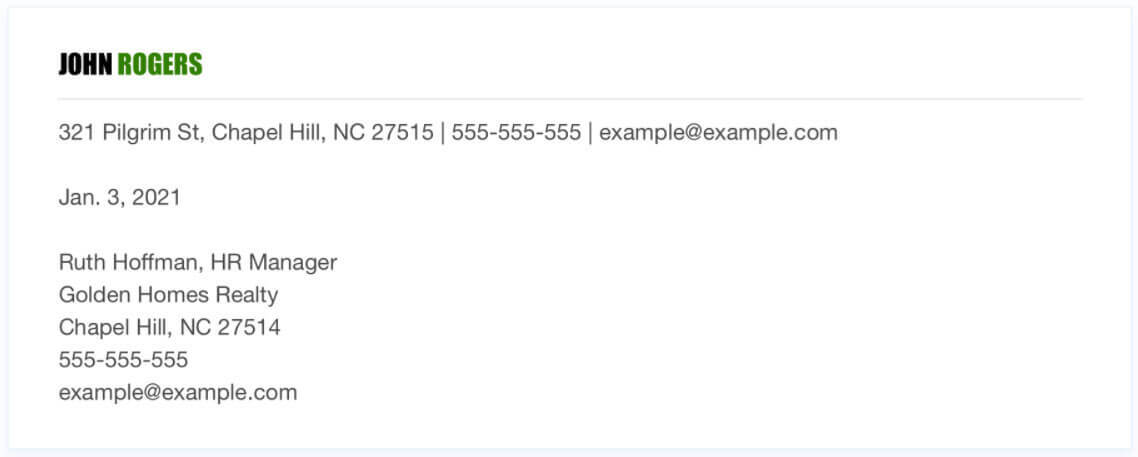 Always be mindful of the industry to which you're applying, as this will determine the amount of flourish you should include on your cover letter.
In the body paragraph of your cover letter, you should present your professional accomplishments and quantifiable achievements. You can write it as either a traditional paragraph, or present the information in bullet points or numbered lists.
Lists allow you to separate each accomplishment individually to bring equal attention to all of them. They are also easier to read, so if you already have a text-heavy introduction and closing, a bulleted list is an excellent formatting choice.
This is how a bulleted body paragraph can look for an administrative assistant:
Throughout my career as an administrative assistant in the real estate industry I have achieved many goals for my employers such as:
Creating an online marketing campaign that increased our client base by 30%
Improving our customer satisfaction ratings by 65% by providing concierge-level customer service
Establishing an interactive online calendar to reduce appointment incongruencies and optimizing realtor's schedules, increasing monthly viewings by more than 65 listings
Cover Letter Builder Carousel
Save yourself the trouble of figuring out how to write a perfect cover letter by using our Cover Letter Builder! Our builder offers perfectly designed templates, user-friendly customization tools and suggested paragraphs based on the type of job for which you are applying. We do the heavy lifting so you can get ready for an interview in no time.
The Right Cover Letter Template For You
Now that you understand how to format a cover letter, you can choose a template that fits your style and profession. Hloom has a wide range of cover letter templates, from traditional and serious styles to more contemporary and bold designs.
If you want to make sure you correctly apply the five fundamental principles to your cover letter, you can use our templates that already come pre-formatted to follow these guidelines.
Check them out and choose the one that suits you best!