Home »

Cover Letter Formats
Featured In:
Table of Contents
Here are more resources that can help you
Your cover letter follows a simple business letter format: headings, greeting, introduction, body paragraphs, closing statement and a signature.
We'll walk you through the anatomy of a cover letter and share our core formatting principles to help you tighten your message, strengthen your job application materials and create your most effective cover letter yet.
Format Your Cover Letter by Section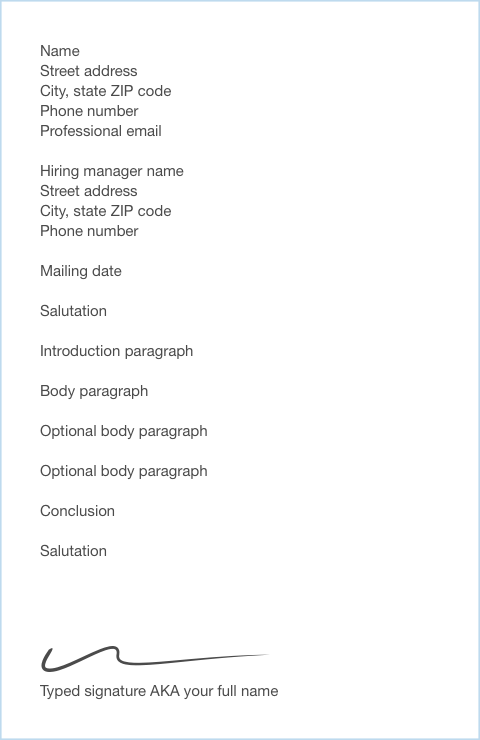 Format your name and information
Your cover letter header should include the same information found on a typical business letter. It will feature your:
Full name
Mailing address
City, state ZIP code
Phone number
Professional email address
Unlike the rest of your cover letter, which should be left-aligned to follow typical business letter layouts, your personal information can be left- or right-aligned.
Left-aligned information can create a uniform look throughout your cover letter, makes a neat, professional layout, and allows you to play up additional design details like larger font choices or alternate font colors.
Right-aligned information creates a visual break from the body of the cover letter and helps differentiate your name and contact information from the rest of your content.
Microsoft Office:
Click the Home button to open your text editing options.
Identify the alignment options under the bulleted/numbered list options.
Choose Left or Right alignment.
Google Docs:
Find and click Format in the top navigation menu.
Scroll down, find and click the Align and Indent Option.
Choose Left or Right alignment.
However, if you have a matching resume template that you're submitting alongside your cover letter, you can alter your cover letter's personal heading to align with your resume's contact information. This creates a uniform appearance throughout your application materials that will appeal to most hiring managers.
Format the hiring manager's information
Like the rest of your cover letter, the hiring manager's name and contact information should be left-aligned and flush to the margins. This contact header should contain the following information:
Hiring manager's name
OR
ATTN: Human Resources/Head of [Name of Hiring Department]
Company mailing address
Company city, state ZIP code
Company number and, if applicable, phone number.[Month Day, Year]Dear [Hiring Manager's Name]
OR
ATTN: Human Resources
OR
ATTN: Head of [Name of Hiring Department]
Introduction
Up until now, we've written about how to format the standard sections of your cover letter. Your introduction is the first portion of your document addressing your professional and personal strengths as a job candidate.
Consider your introduction as a lengthier, slightly more detailed version of your resume's summary statement. You'll introduce your reasons for applying for the job, how your professional background aligns with the job requirements, and present how you believe you're suited to the requirements and company culture. You can find additional writing advice and introduction examples in our cover letter writing guide.
You have two formatting options for this paragraph. You can follow a standard business letter format and write each paragraph without a paragraph indent. This creates a sleek, uniform look throughout your cover letter. For example:
As an experienced Sales Associate, Good Denim's open position for Lead Cashier sparked my interest. When reviewing the position requirements and your organization's website, I believe my rapid calculation skills, warm people skills, and years of personal shopping experience align with your store's needs.
You can also opt for an informal letter structure and include an indent with each paragraph. These indents create an additional visual guide to indicate new narratives in your letter. For example:
As an experienced Sales Associate, Good Denim's open position for Lead Cashier sparked my interest. When reviewing the position requirements and your organization's website, I believe my rapid calculation skills, warm people skills, and years of personal shopping experience align with your store's needs.
Both methods are acceptable on a cover letter. Be sure to maintain consistent indent treatment throughout your body and concluding paragraphs.
Body paragraphs
In the body paragraph of your cover letter, you should present your professional accomplishments and quantifiable achievements. You can write it as a traditional paragraph or explain the information in bullet points or numbered lists.
Lists allow you to separate each accomplishment individually to bring equal attention to all of them. They are also easier to read, so if you already have a text-heavy introduction and closing, a bulleted list is an excellent formatting choice.
This is how a bulleted body paragraph can look for an administrative assistant:
Throughout my career as an administrative assistant in the real estate industry, I have achieved many goals for my employers, such as:
Creating an online marketing campaign that increased our client base by 30%.
Improving our customer satisfaction ratings by 65% by providing concierge-level customer service.
Establishing an interactive online calendar to reduce appointment incongruencies and optimizing realtor's schedules, increasing monthly viewings by more than 65 listings.
Conclusion
Your conclusion will follow the same formatting structure as your resume and needs to convey the following information.
Recap why you're applying for the job.
Provide the hiring manager with your most reliable forms of communication.
Offer the hiring manager your contact schedule.
Explain that you look forward to hearing back from the team.
Our Favorite Free Basic Templates
When it comes to cover letters, a simple template is superior thanks to it's customizable options. You can keep your letter's design crisp, clean, and minimal or add additional design elements that reflect your creativity or the established branding of the company for which you apply.
We share additional free downloadable templates of various styles further down the page, but these are our most popular basic cover letter templates.
5 Cover Letter Formatting Fundamentals
You need to follow five formatting fundamentals to build an impeccable cover letter that's professional and visually pleasing.
Font: Use a 10- to 12-point font. Anything larger than that will look odd and take up space from your letter, and anything smaller will be too hard to read. We recommend easy-to-read fonts like Arial or Times New Roman. Eccentric fonts won't look professional and might not even be properly scanned by applicant tracking systems (ATS).
Margins: These should range between 1 to 1.5 inches. This margin width gives you ample space to write a long-form letter without your text looking cramped or cutting off when you print or download your letter.
Alignment: All your paragraphs should be aligned to the left since it allows for the most natural reading flow. Make sure to be consistent with indentations. If you indent the first sentence of one paragraph, follow through with the rest of them.
Length and spacing: Don't extend your cover letter past one page and avoid long, run-on sentences. For line spacing, between 1 to 1.5 spacing is ideal. To reduce length yet remain concise, you can also format the body paragraph using bullets.
File format: You won't need to send your letter through conventional mail. You're more likely to email it or attach it to an electronic job application form. To avoid malicious interference, you should try to use file formats that won't permit anyone else to easily edit it, such as PDF. With our Cover Letter Builder you can easily write your document and download it in multiple file formats like PDF, JPG, GSV, DOC and TXT.
Format Your Cover Letter for Email
We've written about how to format a cover letter document. This advice is helpful if you're uploading your resume, cover letter, and additional application materials through a company's online application system or a job board like Monster, Glassdoor, Workday or LinkedIn.
However, if you're applying to a smaller company or have a direct line to a hiring manager, send your cover letter directly via email. An email lets you do away with the formal sections of the cover letter (i.e., the contact headings and your electronic signature) in favor of the actual body of your letter.
You can copy and paste the introduction, body, and conclusion of your letter directly into the body of your email and upload your resume and application materials as email attachments. Most email servers offer the same general formatting options as most word processors, such as indents, bulleted and numbered lists, font treatments, and three standard font sizes.
Before hitting send, highlight your entire text and apply a standard font style and size to create a clean, uniform email.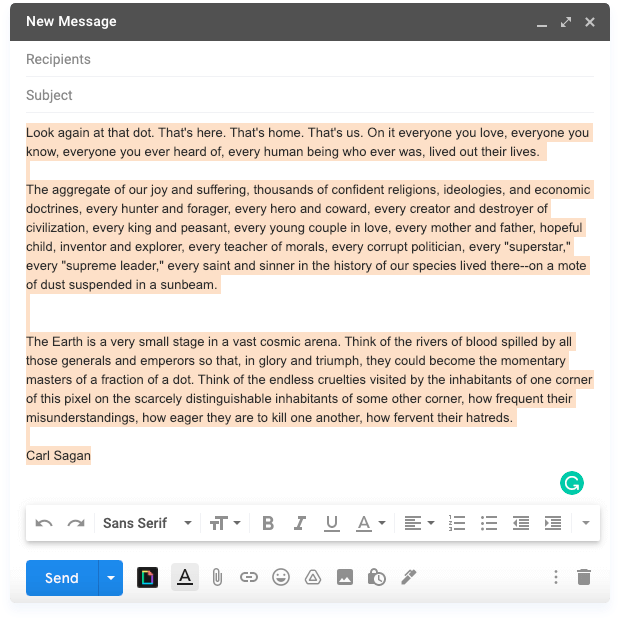 The Best Free Cover Letter Format Templates
You can choose a pre-formatted template that fits your style and profession. Hloom has a wide range of free cover letter templates, from severe and traditional styles to more contemporary and bold designs.
If you want to apply the five fundamental principles to your cover letter correctly, you can use our templates that already come pre-formatted to follow these guidelines.
Check them out and choose the one that suits you best!
Perfect Your Personal Letter with an Online Too
Save yourself time on writing and formatting the perfect cover letter by using our Cover Letter Builder! Our builder offers perfectly designed templates, user-friendly customization tools and suggested paragraphs based on the type of job for which you are applying. We do the heavy lifting so you can get ready for an interview in no time.
Cover Letter Format FAQ
How do I write a basic cover letter?
A basic cover letter should hit the following goals.
Introduce yourself.
Showcase one to three job-relevant skills with examples of how they directly relate to the open job position.
Invite the hiring manager to connect with you.
Our detailed
cover letter writing guide
delves into step-by-step advice on connecting with hiring managers, features real-world examples of effective cover letters, and access to free templates and additional resources.
How do you sell yourself in a cover letter with no experience?
A lack of formal experience shouldn't discourage you from writing a compelling cover letter. You can also impress hiring managers with your cover letter by highlighting the following:
Personal projects related to your industry or profession, i.e., creative content portfolios, hardware creations, software development or YouTube channels.
Hobbies, volunteer work or school club activities.
Relevant coursework or research projects.
Personal anecdotes that demonstrate your professional or leadership capabilities.
Establishing a strong introduction and closing statement that focuses on how you can positively impact the company is a sure way to impress a hiring manager and convince them that you're a serious candidate to consider.
What are employers looking for in a cover letter?
Clarification on your resume: Your resume is a one-page summary of your professional skills and accomplishments. The best cover letters hone in on select skills or achievements and flesh them out, providing quantifiable examples that a hire manager can analyze when considering your candidacy.
Culture fit:Since a resume follows a strict format and summarizes up to a decade of work, it can be difficult to gauge your personality and compatibility with an existing team. Your cover letter can help demonstrate your personality and professional interests, offering hiring managers a glimpse into your collaborative working style.
What are three things that you should definitely not do on your cover letter?
Although including a cover letter in your job application is the right choice, some mistakes could hurt your chances of impressing employers and hiring managers.
Three things you should never do on your cover letter are:
Repeat the same information on your resume. Instead, offer your perspective on the goals or challenges you've had throughout your job history and talk about experiences that have made you grow both professionally and personally.

This way, you'll create a cover letter that complements — not duplicates — your resume.
Write a generic cover letter. Do write a personalized cover letter for each job, so you can present yourself as the best candidate for that specific position. Showing you're a candidate who's invested in the job is a big plus for employers.
Ignore typos. They might seem like common mistakes, but in a tight pool of candidates, being the one with perfect grammar will give you bonus points. Turn on your spellcheck and have someone else proofread your cover letter just in case.