Best Cover Letter Formats
Your cover letter is one of the first documents a recruiter will read to determine your qualifications when you apply for a job. Making your letter clean and attractive is critical to getting a recruiter to continue reading. Whether you like a sleek and modern look or you lean toward a colorful and artistic layout, there's a professional design for every taste and style.
Keep your audience in mind. An applicant for a job in a conservative environment, such as a law firm or financial services company, will want to choose a simple, classic template. However, an applicant for a job in beauty, fashion, or a creative field might want something edgier.
If you aren't sure of which format is right for you, a basic template will work for everyone, regardless of the level of experience or industry. View our best cover letter examples below.
Basic and Simple
Hloom's basic and simple design will work for anyone in any industry. Clean, fuss-free designs keep the focus on the content. Whether you are a recent grad seeking your first job or an experienced professional looking to make your next big move, a basic and simple cover letter format will get the job done.

Basic and Simple
Clean
Our clean cover letter examples work across industries and experience levels. The designs are clean and straightforward, with a twist of personality, to keep the focus on the content while drawing the eye to your header with a pop of color.

Clean
Modern
Applying for work in a creative industry such as fashion, beauty, architecture, or editorial? You'll want to choose a format that not only gets your points across but also does so with flair. Choosing a modern template might be the right choice for you.

Modern
Contemporary
Our contemporary samples offer an eye-catching, modern look. Layouts in this category offer one- or two-column formats with the look and feel of a newsletter, complete with headlines (some even allow photographs).

Contemporary
Portfolio
Portfolio templates allow you to highlight creativity and accomplishments in a visual way, which is perfect for someone in a creative field. Artists, advertising executives, architects, and anyone who has visual samples of their work should check out these formats.

Portfolio

Build a Resume Now
Creative
You march to the beat of your own drum, and so should your cover letter. These visually appealing formats burst with creativity and interesting font choices. If you work in an industry that encourages bucking the norm, check out our creative templates.

Creative

Build a Resume Now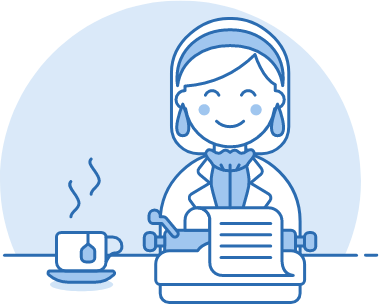 Cover Letter Format Tips by Section
Your cover letter is your chance to separate yourself from candidates who have similar credentials and experience. A good cover letter expands on the information listed in your resume but without rehashing it. A great cover letter does the same, plus it uses keywords and phrases pulled straight from the job ad to make the argument that you're a perfect candidate for the job.
Your cover letter should not be a repetition of your resume; rather, it should expand on the information your resume provides. To accomplish this, be sure you format your cover letter to include the following sections: a heading, a salutation, an introduction, a strong body, a conclusion and a sign off.
Review our cover letter examples to learn the best practices for formatting and best approaches to each of the five sections.
THE HEADING

Every cover letter should include a heading that contains your contact information. This includes your full name, phone number and email address. Since snail mail isn't used much in the hiring process today, some experts feel that it is unnecessary to add your street address to your heading. However, you should include your city and state. And don't forget to date the document.

Do your research to find the hiring manager's name rather than addressing the letter "To Whom It May Concern." It might take a little online legwork, but making this small effort shows that you are invested in the position. The person's name and title should be included in the letter when writing the employer's mailing address.
THE SALUTATION

Beginning your cover letter with the greeting "To Whom It May Concern" is one of the most common and easily avoided writing mistakes. Find the name of the hiring manager for the open position if it is not listed in the job ad. Search LinkedIn for the names of the company's recruiters or for the name of the person you would report to, should you get hired.

In a perfect world, you would find the name so you could address your cover letter with "Dr./Mr./Ms. Last Name." However, if you are not provided with the name of the hiring manager, and despite your best efforts you can't find a name, you can write, "Dear Hiring Manager" or "Dear Hiring Professional."

Don't use "To Whom It May Concern," which is too generic, or "Dear Sir or Madame," which sounds old-fashioned. The best greeting uses the recipient's name, such as, "Dear Ms. Johnson."
THE INTRODUCTION

The goal of this section is to reel in the reader and entice them to swallow your cover letter and resume – hook, line and sinker. Your introduction paragraph is, in essence, your mission statement. Here you outline why you want to work for the company, which position you are applying for, and, briefly, why you are qualified.

If you have a personal connection to the company, such as a referral, definitely mention it here. You might also add a line about what has motivated you to apply. For example, if you have been a long-time user of one of the company's products, this might be a motivator to bring you in as a candidate.

The introduction should be only a few lines, but it should pack a punch. Here are two examples of introductions that could get you to the next step in the hiring process.
"Please accept my resume as my application to the Marketing Associate position at Pottery Plus. Marketing Manager Joe Johnson suggested I apply for the position. He and I worked together for several years, and he believes that my five years of experience working in busy marketing departments and my proven track record of building and launching successful seasonal retail campaigns make me a great fit for the position."
"I am writing to apply for the Store Manager position at Green Apple Market. When I first moved to San Francisco, I lived near the market and shopped there regularly. Throughout my career, my experiences at Green Apple Market have stood out as some of the best customer service I have ever received. During my 10 years in the health food industry, I've striven to emulate the service I received at your store, which is why I am excited to learn about this opportunity."
Notice how the first example calls out the name and title of the employee who is making the referral, includes the title of the job being applied for, and highlights the proven experience that the job requires.
In the second example, the applicant states a personal connection to the company, briefly articulates related experience and why the applicant would like to join the team. Again, the letter includes the title of the job, the years of experience, and explains briefly why the applicant would be a good fit for the role. Including the name of the company instantly lets the hiring manager know that this is not a cookie-cutter cover letter.
THE BODY PARAGRAPHS

These paragraphs are all about what you have to offer the employer. Here, you should highlight examples of relevant work you've performed in the past and explain what results you achieved. It goes without saying that these examples should always be ones that reflect positively on your performance in past roles.

Use one or two examples of achievements that draw on some of the key competencies you have outlined in your resume. To identify these, refer to the job post and ask yourself, "What is the company trying to achieve with this hire?" and "What problem exists that this position will solve?" Once you have identified these, review your work history and find similar examples to include.

If you have several examples, using bullet points in this section is effective both to draw the reader's eye to your successes and to break up the text into digestible chunks.

Remember, writing a cover letter is all about calling attention to your achievements. To accomplish this, it is not enough just to state the achievement. Employers want to see quantifiable data that demonstrates the impact of your actions and your work ethic.

Still stuck on how to quantify your success? There are lots of ways to do this. Consider adding some of the following information to your cover letter:
An increase in sales volume.
The number of new contracts you won.
The increases in market share due to your work.
The increase in the number of customers served and retained during your tenure
The number of direct reports you managed.
The amount of money you saved the company.
The percentage by which efficiency improved due to your efforts.
The deadlines you metin an average week, month, and/or year.
The rank you attained in performance, especially if you were the No. 1 performer or were in the top 10 percent.
The professional awards you won.
The magazines or journals that published your work.
The amount of money raised due to your grant applications.
The improvements in employee engagement due to your initiatives.
The increase in website traffic or conversion rates.
Here is an example of an effective paragraph of body copy:
"As a customer service representative for Shoe World, I am responsible for answering up to 50 calls and 100 emails per week to assist customers with questions, complaints and concerns. Last quarter, 85 percent of the customers I assisted reported being satisfied with the resolution of their issue in online polling, which is 10 percent above the company's average satisfaction rate. In 2016, I was recognized for handling more calls than any other customer service rep in the company."
Or, this section could also be written as a bullet point list. Here is how you would make the information above into list form.
Body Paragraph Bullet Point Example
Responsible for answering up to 50 calls and 100 emails per week to assist customers with questions, complaints and concerns.
In Q4 of 2017, 85 percent of the customers I assisted reported being satisfied with the resolution of their issue in online polling, which is 10 percent above the company's average satisfaction rate.
In 2016, I was recognized for handling more calls than any other customer service rep in the company.
CLOSING AND SIGN OFF

Your conclusion is all about summarizing. At this point in your cover letter, your job is to sum up how your hard and soft skills come together to make you a good candidate for the job.

Don't be afraid to express enthusiasm for the position when you wrap up your cover letter. Mention a project or problem that you are excited to work on for the employer. Finally, say that you would love to have the opportunity to interview.

Be sure to include the best way to contact you (either phone or email). Last, but certainly not least, thank the recruiter or hiring manager for reviewing your application, and sign off with a professional signature such as "Sincerely" or "Respectfully yours."

Here are two examples of cover letter conclusions.
Closing and Sign-Off Examples
In addition to my marketing experience, my passion for fitness would be an asset in this role. I am excited by the possibility of applying my marketing skills to an area that holds so much personal importance to me, and World Fitness's mission is exactly one that I'd love to help promote.
Please see additional details of my relevant experience in my attached resume. I am available via phone or email to answer additional questions you might have about my background and to set up an interview.
Sincerely,
Kim Stevens
In addition to my educational background in early childhood development and my experience as a nanny, I find it gratifying to be around children. My past charges have taught me patience, empathy and humor in ways I could never have imagined. I would love the opportunity to meet your children and discuss this role with you further.
Thank you for reviewing my qualifications. Please contact me via telephone or email at your earliest convenience to set up a time to meet.
Respectfully yours,
Molly Fuller
4 Formatting Rules
Your cover letter format is important, but it's not the only consideration when thinking about the appearance of your cover letter. Keep the following cover letter best practices in mind when you sit down to write your cover letter.
Use 1" to 1.5" margins

– these look best on the page.

Use 10- to 12-point font.

Anything larger will look odd and anything smaller runs the risk of making your resume hard to read.
Make sure all of your paragraphs are

left-aligned.

Do not write in long paragraphs

to describe your skills and demonstrate your professional wins. Instead, consider using bullet points for easier reading.