Free Downloadable and Premium CV Templates
Below you'll find 40 CV templates to use on Word or on Hloom's Builder. Browse the different template styles and find the CV that fits your needs, whether you're going for a more creative look, a basic style and much more.
Professional

This CV template is ideal for jobs within the academia field. For example, roles involving research will benefit from this professional CV template by adding valuable sections like research experience, conference presentations and grants.

Executive

This CV template works well for executives through its simplified structure that highlights the key areas required for candidates like financial professionals. When using this template be sure to include multiple sections to emphasize your relevant skills for the role.

Whitespace

󠀰This template offers a visually balanced CV format that is simple and professional for any job seeker󠀲󠀦󠀢󠀣󠀠󠀣󠀳󠀰 by simply adding relevant sections.󠀲󠀦󠀢󠀣󠀠󠀤󠀳󠀰 For example, an attorney's CV can include professional affiliations, and any legal publications you've authored.
Build My CV
Six free downloadable Professional CV templates
Associate Professor in Physics

This traditional template can be used to include specific CV sections to highlight your teaching experience, talks and conference presentations which are must-haves for a professor's CV.

Politics and Communication Ph.D.

You can't go wrong with this professional CV featuring a centered layout and classic font. Ph.D. candidates can use this template to showcase their research skills, publications, conference presentations and talks.

Literature Ph.D.

A serif font and sleek line dividers are enough to give some flair to this resume.󠀲󠀦󠀢󠀣󠀣󠀡󠀳󠀰 If you're a Literature or Humanities Ph.D. candidate, make space in your CV to list any literary awards or honors, teaching experience and professional affiliations.

Medicinal Chemistry Research Associate

A sans serif font and simple underlined section headings make this a professional CV ideal for research associates. If that is your desired role, you can include a research skills section, research experience and a section for grants.

Neuroscience Ph.D.

󠀰This professional CV provides the right amount of whitespace, and with its classic Arial font, it's a can't-miss option.󠀲󠀦󠀢󠀣󠀤󠀩󠀳󠀰 Ph.D. candidates in neuroscience, for example, can use this to highlight lab experience and add sections for publications and research experience.

Physics Ph.D.

󠀰Doctors of Philosophy in Physics, for example, will like this no-fuss CV template.󠀲󠀦󠀢󠀣󠀥󠀨󠀳󠀰 Regardless of your major make sure you add appropriate sections for awards, publications, conferences and language skills.
Modern CV templates
Managerial

This template's two-columns visually balance the text with ample white space, while the large, navy blue header gives it a distinctly modern feel. A profession in copywriting or other modern roles would benefit from this sleek template, especially by incorporating various relevant skills sections for writing, SEO and client relations, and a section for a portfolio.

Accentuate

Bold section headings and an oversized font for your name characterize this modern template.󠀲󠀦󠀢󠀣󠀨󠀥󠀳󠀰 If your name is a big part of your brand — for instance, you are a chef or a career coach — opt for this CV template and include sections for grants, awards and additional relevant skills.

Insightful

This one-column template leans more toward the simple side, however, a bold underline (with the option to change the color) below your name draws enough attention for someone like a marketing manager. Don't forget to add sections for industry awards or conference attendance and presentations to show you're invested in your profession.
Build My CV
Six free downloadable Modern CV templates
Environmental Science and Politics

A dark gray header and a celeste blue background are a bold color combination for this CV template. For instance, an environmental and political scientist should focus their CV on core skills and publications sections — especially if you don't have extensive experience.

American History Ph.D.

A salmon-colored sidebar adds a touch of modernity to this otherwise minimalist template, ideal for an American History Ph.D. candidate or professor. An extensive education section and a section listing professional affiliations will make this a superb academic CV.

Psychology Student

This CV template grabs your eye with its bright blue and black color combo. If you're a psychology student, you may be drawn to this design. Consider opting for a research experience section, and sections for interests and achievements to provide insight into your personality.

Chemical Engineer

This beautifully designed CV template is in shades of olive green! A professional such as a chemical engineer could customize this template to highlight multiple skills sections and an extensive career history.

Philosophy Ph.D.

This template's geometric design and choice of navy blue and orange are a nod to midcentury modern styles. A Doctor in Philosophy can add a custom section to describe doctoral research, including multiple skills sections and an awards' section.

IT Graduate

A dark green header and light green section headings give this simple, one-column template a modern flair. Ideal for an IT graduate applying for an industry job. You can highlight multiple sections for your programming language, database management and software tool skills.
Creative CV templates
Original

This template has a unique checkered layout that you can customize with your favorite color. Creative professionals, such as actors, will do well to include a section for awards, and additional skills sections for your dancing, acting and theater skills.

Emphasized

With matching header and section headings in your preferred color, this eye-catching template is an attractive option for creatives like graphic designers. Remember to add additional skills sections for your Photoshop, Illustrator and VR animation skills.

Remarkable

󠀰With matching header and section headings in your preferred color, this eye-catching template is an attractive option for creatives like graphic designers.󠀲󠀦󠀢󠀤󠀧󠀨󠀳󠀰 Remember to add additional skills sections for your Photoshop, Illustrator and VR animation skills.
Build My CV
Six free downloadable Creative CV templates
Babysitter

With toddler-inspired illustrations, this unique template is the perfect choice for a committed babysitter. Child care professionals should boast their diverse skill set with additional sections for relevant and personal skills, and always add the vital references section.

Bright Blue - Graphic Designer

Circle backgrounds and a funky font make this template a stylish option for any creative professional. For instance, a graphic designer can include multiple skills sections for their design, analytical and technological skills.

Architecture Ph.D.

A light beige and gray color combination contrasts with striking visual details.󠀲󠀦󠀢󠀥󠀡󠀥󠀳󠀰 In addition to the primary sections, someone like an Architecture Ph.D. student should highlight research experience, conference presentations, and a section for grants and funding.

Biology Ph.D.

Royal and celeste blue are the standout colors of this creative template that differentiates sections with special graphic symbols. A Biology Ph.D. candidate may be drawn to this design and can include sections for publications and research experience.

Student Tutor

This creative template has it all — an eye-catching illustration, a visually striking color combo, and a unique multiple-column layout. A student tutor is an example of a professional who can leverage this CV template to showcase multiple skills sections, hobbies and references.

Physics Ph.D. Candidate

Bold red for the header, section headings and line dividers paired with an option for a profile photo make this a fun template. If you're using this template to perhaps write a Physics Ph.D. candidate's CV, include a section for publications and conference presentations.
Basic and Simple CV templates
Contempo

This black and white template is as simple as it can get, with the contact information on the top-right corner to draw the eye to it. Someone like an HR manager could go for this template to highlight their interpersonal and professional skills in multiple sections and add a conference attendance section to showcase continuing education.

Distinguished

A minimalist dotted line to separate the header from the rest of the CV sections is the only detail in this basic template. A registered nurse can opt for this design and integrate additional skills sections plus a community outreach section to stand out from the applicant pool.

Qualified

This one-column template has a minimal pop of color in the form of bullet points on the header. This sleek feel could work for an accountant, who might want to add various skills sections for bookkeeping and tax filing skills.
Build My CV
Six free downloadable Basic and simple CV templates
Europass

This template sparingly combines two accent shades of blue on its simple layout, making it a safe option for any role. A Europass CV, for instance, may use this template to highlight multiple skills sections for personal, language, communication, managerial and computer skills.

Fast-food Employee

Blue section headings and subtle yellow line divisions add some visual appeal to this otherwise basic template. A fast-food employee, for example, can include sections in their CV for job-specific skills and personal attributes since a friendly disposition is key to work in fast-food restaurants.

Math and Physics Undergraduate

This simple template opts for a minimalist look in both style and section length, making it perfect for an undergraduate just starting out on their academic journey. Essential sections to include would be research interests, honors and awards and conference presentations.

Teenager

A classic two-toned blue header and section headings give a touch of color to this simple one-column template. Great for a teenager looking for an entry-level job, consider including sections for volunteer work, extracurricular activities and references to make your CV more complete.

Music Ph.D.

A dark navy square frames this template's layout, and a light blue square background highlights the applicant's name. If you're a music Ph.D., you may want to choose this template's classy feel to highlight sections for publications, grants and conference attendance.

Lists Expertise

A light blue sidebar and green details bring life to this basic CV template. A marketing manager could opt for and customize this template with multiple sections to list their design, communication, analytical and teamwork skills.
CV Templates for Specific Scenarios
Although Curriculum Vitae (CVs) are less common in the U.S. job market, there are some career tracks where employers expect to see a curriculum vitae. A CV offers a deeper insight into your professional interests and strengths, which is crucial for certain professions. Check out these curriculum vitae templates for four specific career scenarios where you might need a CV:
Academic CV

Careers in traditional academic institutions such as four-year colleges often require a CV, especially if you're pursuing a competitive tenure-track position. The dedicated teaching experience section, conference presentations and attendance section and publications section provide more information about your academic credentials than a simple one-page resume.

Medical CV

Professionals in the medical field such as doctors, nurses, therapists and more usually boast an extensive education and experience. In a competitive job market, a resume with limited sections won't impact as much as a CV that highlights research experience, conference presentations, community outreach and professional affiliations.

Sciences CV

Scientific researchers should always opt for a CV as it's specifically tailored to showcase their employment history together with their research experience and research skills as well.

Federal CV

Unlike the previously mentioned career paths,

federal jobs

don't explicitly ask for a CV. These applications ask for

federal resumes

that share a similar format to a CV while requiring many of the same personal details you find on the Europass CV.
Tips for Using our CV Templates
Add custom sections: In addition to the standard CV sections, you must add custom sections to showcase all your relevant professional information. The CV is a document where you should let your personality and interests shine through. Take the liberty to mention special projects, volunteer work or even hobbies. Learn about all the potential CV sections you can include , with our CV writing guide.
Tailor it to your desired role: Despite a CV being more flexible regarding the amount and type of information you can share, you should always carefully choose the information to fit the desired job's requirements. Don't simply talk about yourself; study the job description and tailor your skills, achievements and other experiences to match the employer's needs for the role.
Diversify your skills: One of the benefits of using a CV is that you can have multiple skills sections to fully showcase your diverse skill set. Make sure you have a balanced mix of soft, hard and technical skills.
Include quantifiable achievements: When listing your work history, research experience or teaching experience, you should add a couple of bullet points per role that describe impressive accomplishments. Maximize this information by adding quantifiable metrics, such as percentage increases in team productivity, the number of colleagues managed, or the number of successful experiments.
Check for grammatical errors: A CV can be a lengthy document, and it's not uncommon to miss a typo or grammatical error. Use a spell-checker, like the one in our Builder, or have a professional copywriter revise your CV before you submit it.
CV Resources
We hand-picked our most popular cv templates because of their sleek designs, easy customization and versatility for any role or industry.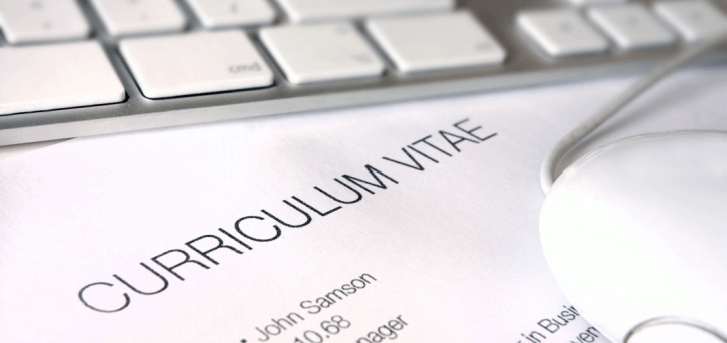 How to write a CV: Learn what is a CV (Curriculum Vitae) and how to write one with our simple guide and templates.
CV Examples: Browse our collection of over 100 curriculum vitae templates you can use for any role, international job opportunity, or academic position.
FAQ
Updated: March 22, 2023
The average length of a CV should be around two to three pages, although your document might be longer or shorter depending on your information. You might have a longer list of publications or more research experience, which would make your CV significantly longer. Unlike the resume, which should never exceed two pages unless you have more than 20 years of experience or are applying for an executive position, the CV doesn't have strict page requirements.
As you can see, the CV has far more specialized sections than a standard U.S. resume. However, you shouldn't include irrelevant information in your CV. Although a CV has additional sections dedicated to professional work, academic research, and teaching experience, this does not mean you should include every job or task you've held. Much like the resume, you should only include information relevant to a job's role and responsibilities.
Unlike a standard U.S. resume, a CV includes multiple sections that offer you more opportunities to shine. You should include the following skills in your CV sections.
Key skills: Include soft skills such as communication, negotiation, and organizational skills in this section, as well as hard skills related to your desired role.
Research skills: Include research project skills such as data collection, sample management or preservation, and observational skills.
Language skills: Include every language you're familiar with and rate your fluency based on your speaking, reading, and writing proficiency.
Digital skills: Include technical skills such as knowledge of HTML or programming languages, basic IT skills, or advanced certifications such as Kanban or Scrum.
Although CV and resume formats do share some similarities, they are drastically different. The resume is a shorter, compact document that is highly popular and widely used in the U.S. The CV is longer, more detailed, and is widely used in international job searches, with a few exceptions to some U.S.-based jobs in academia, medicine, and scientific research.