Lack of work experience won't stop you from writing a resume that will get you hired. Employers understand that not all job seekers have work experience — after all, everyone has to start somewhere. We'll teach you everything to know about writing an effective resume that focuses on your skills rather than non-existent work history.
The Best Format for No Work Experience
Show potential employers that you're qualified for the job by highlighting your skills using the ideal resume format for your situation. Use this guide to learn how to write a no-experience resume by maximizing each section to showcase your skills as much as possible.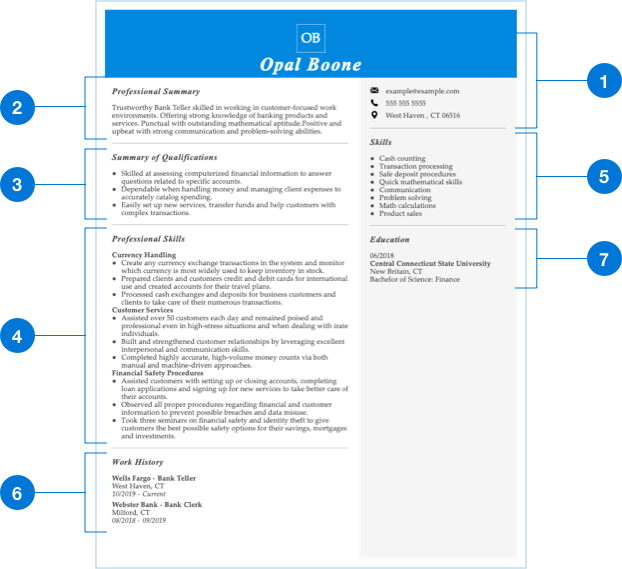 1. Name and contact information: This section is standard across all resumes and includes your full name, a professional email address, your phone number, and links to professional resources like an online portfolio or social media accounts.

2. Summary statement: This three-sentence elevator pitch summarizes how your skills and experience align with the open position. This introduction needs to compel a hiring manager enough to keep reading your resume.

3. Summary of qualification: This is the first skill section exclusive to functional resumes. This section helps you identify up to three of your strongest skills and share three specific examples within those skills sets.

4. Professional skills: This second skills section is similar to the standard skills section. Showcase six to eight different skills that directly relate to the needs of an open job position.

5. Relevant skills: This final skills section is a third opportunity to showcase an additional six to eight skills. You can showcase skills that are specifically requested but can smoothly transfer to the needs of the open job opportunity.

6. Work history: This pared-down section doesn't tie specific dates, roles or responsibilities to former job titles or volunteer work. You can add short-term volunteer work or part-time jobs along with the "employer" without explaining the brevity of the work.

7. Education: This section is standard across all resumes. Include the name of the degree you're working on or recently received, the name of the school, and dates of attendance to this section.
You can use our Resume Builder to fill in your information into this same resume template, download the document, and be on your way to ace your next interview.
Keep reading to learn how to perfect the different sections of your functional resume and make it work in your favor.
Essential Resume Sections

Summary statement/career objective

The summary statement is one of the first sections an employer or hiring manager will read, so you must be strategic with it. In this section, you'll inform the employer of your professional goals within the position and the skills you'll use to achieve them. To figure out the right wording for your career objective, you need to thoroughly read the job description, pinpoint the main needs of the employer, and determine how to fulfill them.

Here are some helpful examples of career objectives:
Cashier career objective
Reliable, professional offering excellent customer service and sales expertise. Dedicated to the most attentive customer care and maintaining a productive workflow. Looking for a cashier position where I can grow professionally.
Daycare worker career objective
Trustworthy child care worker with pedagogic training, CPR certification and skills creating safe environments for children to learn and express themselves. Ready to take on more responsibility and grow as a full-time daycare worker.
Sales associate career objective
Retail worker looking for a sales associate position in a high-volume store. Dedicated to maximizing efficiency and unparalleled customer care. Organized nature, punctual and motivated to work.
Summary of qualifications

Your summary of qualifications is where you'll include all the skills you have to offer your employer. To write this section, you will list your top-three most relevant skills for the job. These can be soft, hard or technical skills, and each skill category will have one entry followed by a description of the tasks and achievements that prove you're proficient in them.

Below, you'll see how various experienced job seekers use their personal and professional experience as evidence of their designated skills.

Teacher Skills Section:
Curriculum Design
Assisted in creating engaging lesson plans that involved interactive learning, fostered an open environment for student discussion and provided structure for students to succeed.
Planned and executed special scientific lesson plans aligned with the school's philosophy and goals.
Prepared and delivered lessons for elementary students on quantitative and qualitative observations, living and nonliving things, and earth and space science.
Student Motivation
Listened and communicated with students at their level and encouraged them to expand their line of thinking.
Fostered an environment of collaborative learning so students helped each other with class schoolwork.
Inspired academic success by expressing every child's ability to excel independent of background.
Skill Building
Incorporated further development of motor skills by implementing arts and crafts into their scientific experiments.
Taught students building blocks of mathematics and basic scientific method concepts.
Of course, a teacher would have years of academic experience, multiple collegiate degrees, or multiple educator certifications to reach that level. As an entry-level applicant, you'll want to focus on the organization skills you developed to keep your various class assignments and deadlines on track, and any leadership skills you developed on group projects or extracurricular activities such as debate club, drama club or student council.
For example, let's review this sales associate example. This is an entry-level field that relies on both organization skills, which you can develop in school, and strong people skills, which you can develop through normal interactions with your classmates and teachers.
Sales Associate Skills Section:
Organization
Diligently inspected deliveries, replenished shelves, and updated inventory.
Bagged merchandise efficiently and carefully to prevent damage of delicate items.
Kept record of all cash and credit sales in a fast-paced environment.
Customer Service
Greeted customers warmly and assisted with purchases.
Adeptly wrapped gift boxes and bags following the store aesthetic.
Discussed current promotions with customers and store passersby.
Teamwork
Trained fellow employees on new POS systems and digital purchase security.
Established monthly meetings to discuss OKRs.
Communicated daily tasks and distributed workload with colleagues.
Professional skills
Besides your summary of qualifications section, you can add other sections in your resume to highlight even more of your skills. For example, you can include a listed skills section, also known as a "Professional Skills" section, where you list the six-to-eight key skills most suitable to your desired position.
Sales Associate
Professional Skills
Well-versed in shelf replenishment and check-out management.
Performance-oriented and agile in efficiently completing diverse daily requirements.
Punctual and focused with physical strength to lift up to 70 pounds.
Professional Skill
Outstanding interpersonal, client and professional communication abilities.
Exceptional clerical knowledge and work ethic.
Punctual and capable of working with little to no supervision.
Relevant skills
When you have no experience, it's crucial to highlight your transferable skills. Transferable skills are any skills you can use in multiple jobs across different industries. For example, if you developed financial skills as class treasurer, you can transfer this knowledge to a cashier's job.
For example, you could highlight the accounting skills you developed as a class treasurer in the following ways.
Sales Associate
Cash handling skills
Quick arithmetic skills
Quarterly accounting skills
Receptionist
Invoice handling
Manage quarterly/semester budgets
Prioritize purchase of necessary supplies
Education
Your education section consists of your most recent academic endeavors. Each entry should include the degree name, the school, its location and the graduation date.
If you're a college graduate, you don't need to list your high school graduation since everyone understands you need a high school diploma or GED to complete a bachelor's degree.
On the other hand, high schoolers, students enrolled in college, and individuals with some college education but no degree should list their expected graduation date or the years spent studying.
These examples will help you visualize it:
Currently in School Education Section
High School Diploma; anticipated 06/2023
Washington High School
Fredericksburg, VA 22405
Recently Graduated High School
High School Diploma; 06/2021
Jefferson High School
Monticello, VA 22405
Recently Graduated College
Bachelor of Arts: Elementary Education; 06/2020
Andrews University
Berrien Springs, MI
Recently Graduated Trade School
Institute of Technology
Delta Springs, TX
How to Write a Light Work Experience
Up until now, we talked about how to highlight your skills and education. It's time to learn how to tackle a non-existent or informal work experience. There's a reason we recommended the functional format –– it features the shortest and less detailed version of a work history section.
This benefits you because it allows you to share short-term projects such as volunteer work, extracurricular activities or after-school jobs without sharing specific dates or responsibilities related to each entry.
How to play down your light work experience
Your limited work history will follow this simple structure:
Job Title or Volunteer Role, Name of Organization
City, State and ZIP Code
YYYY – YYYY
For example, an after-school babysitter could write their experience:
Babysitter, Adams Family
Quincy, MA 02169
2019 – 2019
A student aide could write their experience this way:
Student Aide –– Human Biology, Madison High School
Montpellier, VA 22957
Spring 2020
By writing the bare minimum, it enables you to showcase all of the skills and experience you do have without trying to demonstrate that you developed those skills during a short-term job or task like a four-month-long class.
How to add a volunteer or extracurricular experience
Informal jobs like babysitting, yard work or student tasks aren't the only ways you can demonstrate formal work experience. Extracurricular activities such as volunteer work, social activism and after-school activities can demonstrate your responsibility and formal engagements.
Volunteer work
Cashier, YWCA – New York Branch
New York City, NY 00123
Fall 2020
Extracurricular activities
Lighting Technician, Monroe High School Drama Club
New York City, NY 00123
2018 – 2019
How to share transferable skills from hobbies
Now that you know how to include your formal and informal work experience, how do you showcase the skills you learned in those jobs on your resume? For example, how do you explain your stage lighting skill for a job as a front-desk clerk?
These skills can be transferable skills. As a lighting technician for a drama club, you would have developed strong listening skills and problem-solving skills to accommodate the needs of the stage, your fellow drama club actors, and any on-stage shenanigans that required on-the-spot lighting adjustments. Showcasing those transferable skills in the previously mentioned skill sections would make you a valuable addition to a customer-service-facing role.
Resume with No Experience Examples
Although we shared helpful writing tips on how to showcase your skills and tackle your informal work experience, it helps to see real-world examples of how your fellow job seekers talk about their own hirable experience.
These examples break down how you can talk about your transferable skills in common entry-level job opportunities.
Receptionist Resume With No Experience

Sales Associate Resume With No Experience

Restaurant Server Resume With No Experience

Warehouse Worker Resume With No Experience

Bank Teller Resume With No Experience

Customer Service Representative Resume With No Experience
Need a Helping Hand With Your First Resume?
Your first attempt at writing a resume can be difficult and intimidating. Most successful resumes rely on internal shorthand to describe specific tasks. An experienced employee may know how to appeal to potential managers using that shorthand, but you may not know how to recognize or use that language. Our Resume Builder features pre-written resume suggestions based on the jobs you're interested in, giving you a slight advantage! Unlock these additional templates and resume advice.
Choose this Resume
FAQ
Do I need a resume for my first job?
Yes. Unless you're working at a family member's business, every employer will ask you for a resume. More importantly, a resume will always benefit you since it demonstrates you're serious about the position and shows your valuable professional skills and experience. Nonetheless, a lack of work experience shouldn't discourage you either — this page teaches you how to write a great no-experience resume based on your professional skills.
Does a teenager need a resume?
Even a teenager needs a resume if they want to get hired. Writing a high school resume comes with its own set of rules, but the key is to focus on a format that highlights your specific skills and experience. The information on this page or our high school resume guide will be helpful to determine how to write your resume for your particular situation.
What are soft and hard skills?
Soft skills are also known as social skills, core skills or interpersonal skills. These skills are formed and honed during daily interactions with friends, family and colleagues. The most common skills include communication, listening, time management, organizational and collaborative skills and are valuable in collaborative work environments.
Hard skills are experience and expertise in specific tasks or external tools and programs. These skills are developed through frequent use and familiarity with that task. The most common of these skills include computer skills, analytical skills, marketing skills and project management skills
What are transferable skills?
Transferable skills are any soft, hard or technical skills that allow you to perform different jobs in multiple industries.
For example, let's say you developed communication skills when you were a member of the debate team in school. You can highlight this transferable skill in your resume if you're applying for a receptionist job, even if you haven't worked in that position before.
Why? Because communication skills are useful when you're greeting clients, scheduling appointments, and relaying important messages. The importance of transferable skills lies in showcasing your ability to be an adaptable employee no matter the job you're doing
How do I write a cover letter without experience?
You can write an effective cover letter with no work experience by talking about academic or even personal experiences that have shaped you into a skillful professional.
A cover letter is a document that complements your resume by expanding on the experiences you mention in your resume. This document gives you more space to explain how you developed each skill beyond a simple list of phrases. That makes it an excellent choice for candidates with no experience since it gives you a chance to thoroughly communicate your achievements.