The Three Resume Formats: A Definitive Guide for 2022
Leave hiring managers with a great impression of you by choosing the ideal resume format for your experience. This guide explains the pros and cons of each resume format and demonstrates when to select each one.
Use This Template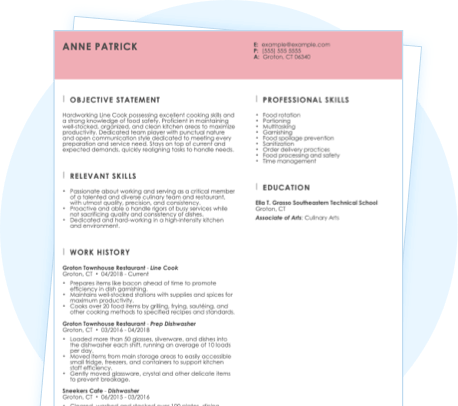 Featured In:
Table of Contents
Here are more resources that can help you
At a Glance: The Three Resume Format Comparisons
Meet the three resume formats: chronological, functional and combination. These resumes are designed to play up specific professional strengths and downplay potential weaknesses. We'll walk you through the pros and cons of each format and share detailed training guides for each.
Chronological
Best for:
10+ years of work experience.
Job seekers looking for jobs similar to their current role.
Avoid if:
Entry-level employees.
Job seekers with work gaps.
Functional
Best for:
Career changers.
Contract employees.
Job seekers with short work histories.
Job seekers with frequent work gaps.
Avoid if:
Entry-level workers.
10+ years of steady experience.
Combination
Best for:
Students and recent graduates.
Less than 10 years of employment.
Avoid if:
Workers with 10+ years of experience.
Job seekers with frequent work gaps.
What are the three main resume formats?
While there are no rules about which resume format you should use, be aware of these established guidelines to help make an informed decision:
The chronological format is best when applying to roles similar to your current or most recent one.
The functional format works well when pursuing a new type of position.
The combination resume is a marriage of the two previous formats and is typically used by job seekers with long and diverse work histories, targeting senior or specialized roles.
You'll decide which format is best for your particular situation. We'll talk about the pros and cons of each design, along with general best-writing practices.
Chronological resume format
The chronological, or reverse-chronological, resume is the most familiar format and the default layout used when writing resume advice, including our writing guide. This resume relies on the following structure:
Name and contact information: Include your full name, phone number, professional or application-dedicated email, and general location information. Most modern resumes avoid including your full mailing address since most of the hiring process takes place through email and phone calls.
Summary statement: Most introductory statements follow the same simple two to three-sentence structure. A chronological resume differs by the focus. Use this statement to highlight your lengthy work history or one career-defining skill related to the new job requirements.
Work history: The first detailed section and, true to name, presents your experience in chronological order. Your current or most recent position is listed first, followed by the role immediately prior, and so forth. Each job entry clearly shows both the title and length of time you held for each position.
Skills: our skills section will be a straightforward bulleted list that consists of six to eight skills. You'll want to choose original skills that relate directly to the open job and that you haven't featured under your summary statement or work history. These skills can vary from soft, hard, and technical skills.
Education: Your education will follow a simple structure simple to your work history. You'll include your degree information, school name and graduation date.
Optional sections: You can include additional sections with trade certifications, hobbies or publications related to the job requirements.
Our designated chronological resume format guide offers multiple resume templates and step-by-step advice for creating your chronological resume. You'll also find expert advice on what recruiters look for on a resume, free templates and resume-building tools for creating a compelling chronological document.
Chronological Pros and Cons
Format pros:
Emphasis is on steady employment history with more than 10+ years of continuous work.
Demonstrates career growth. Typically preferred by recruiters. Highlights well-known employers.
Format cons:
Downplays skills.
Highlights work gaps.
Highlights lack of experience.
Functional resume format
The functional resume focuses directly on relevant skills and career achievements, regardless of when they were gained. This format usually begins with an overview of the job seekers' skills and most relevant work experiences while listing the work history at the end of the resume. This resume relies on the following structure:
Name and contact information: This information is consistent throughout all our resume formats. Include your full name, general location, professional email and phone number.
Summary statement: Since a functional resume highlights skills and training while downplaying frequent job-hopping or lengthy work gaps, use your summary statement to address any employment breaks that might alarm employers. For example, you can address a lengthy maternity/paternity leave and focus on the transferable skills you acquired to benefit an open job.

Summary of qualifications/ general skills: A functional resume is known as a skills-based resume due to multiple skill-focused sections that follow various formatting rules. This first, and crucial section, features three job-relevant skills.

Give detailed descriptions of your past training and experience and list these three skills in order of priority according to how valuable they are to the open position or potential employer.

Relevant skills: This second skill-focused section groups additional skill sets under three essential umbrellas. For example, if you're pursuing a job in retail, you could organize and describe different skills under the following structure:

Customer Service

1st skill and quantifiable description or accomplishment.
2nd skill and quantifiable description or accomplishment.
3rd skill and quantifiable description or accomplishment.

Work history: Unlike the chronological resume above or the combined resume, functional resumes downplay your work history and share minimal information. This resume reduces the amount of data you share to emphasize your transferable skills and training, making it the ideal choice for highly trained workers with limited or sporadic work experience.

This parsed-down section will only list your former job titles, employers, and place of employment. Avoid adding any dates of employment or job-related descriptions.

Education: Like the contact section above, this section won't vary much between the different formats. Add all relevant information like your degree level, alma mater, and date of graduation.
Optional sections: If you have extensive, job-related skills or experience through trade certifications, hobbies or publications, create a dedicated section to this information. If not, fold them into your skills, education, and work history sections.
This resume format is also less common than the chronological resume and should be used with caution. Recruiters may review this resume with the assumption that you're trying to exclude unfavorable details of your employment history (e.g., job-hopping, performance-based termination, being a "late bloomer").
You'll find a comprehensive step-by-step guide to creating a functional resume that showcases your skills. You'll also find downloadable free templates and resume-building tools that can help put your skills at the center of the conversation with your next employer.
Functional Pros and Cons
Format pros:
Highlights skills and informal experience.
Downplays lack of traditional work experience.
Ideal for short-term workers.
Suitable for returning workers.
Ideal for career changers.
Combination resume format
The combination resume is so-named because it combines the strengths of the chronological and functional resumes –– it orients your skills higher on your resume while lending most of your resume's content on your work history.
This universal approach benefits most job titles because it allows you to showcase your transferable skill and detail your previous professional accomplishments. Our Resume Builder uses the combination resume as our default format because of this universal approach.
Name and contact information: Follow the same structure of the previous resumes. List your full name, general location, professional email and phone number at the top of your document.
Summary statement: A combination resume is suited for people with various experience levels, but it's ideally suited for entry-to-mid-level experience with steady employment. Your summary statement should focus on one transferable skill that you specialize in and directly relates to the open job opportunity you're pursuing.
Skills: This skills section includes the same formatting and number of skills as a chronological resume's skill section. However, it sits higher on the page and needs to be placed between your summary statement and work history sections.
Work history: Like the chronological resume, a combination's work history will list your previous employment, employers, dates, and former accomplishments or responsibilities in reverse-chronological order. However, this section will sit slightly lower on the page –– place this information between your skills and education section.
Education: Follow the same education structure as a chronological or functional resume –– share your degrees, name of institution, and date of graduation.
Optional sections: If you have extensive, job-related training through online certifications or through personal hobbies, you can craft additional sections to showcase them.
Combination Pros and Cons
Format pros:
Highlights skills first, followed by a detailed work history section.
Helps balance highly-trained skills with recent or informal work experience.
Ideal for recent graduates.
Ideal for job seekers with less than ten years experience.
Format cons:
It can be lengthy and redundant.
Can negatively emphasize work gaps.
Can negatively highlight short employment history.
How to Pick the Best Resume Format for You
To help you figure out which of the three main resume formats best suits your career search, we pulled together a sample of hypothetical job seekers and explain which formats would best highlight their employable strengths.
High school graduate
As a high school student or recent graduate, you may have some work experience in the form of part-time jobs, extracurricular activities, or volunteer work. A combination resume enables you to showcase the skills you've earned through school and after-school activities.
For example, you can dedicate your skills section to the time management, organizational, and research skills you developed. Use your work history section to demonstrate academic, volunteer or job-related accomplishments such as leading a debate team into regional or national competitions organizing group projects and assignments.
Recent college graduate
Depending on your field of study, a functional or combination resume might suit you best. If you pursued a degree in the humanities, use the combination resume to demonstrate your transferable academic skills as well as any relevant experience and accomplishments you earned through your studies and extracurricular activities.
If you earned a degree in science and pursue research opportunities, a functional resume will suit your post-collegiate needs. The functional resume will help you demonstrate all of your academic, research, and transferable skills.
Recent trade school graduate
Like a collegiate graduate, a functional and combination resume will help you demonstrate your practical and profitable skills. We recommend using the combination resume if you're using online job boards to find a job –– the familiar structure will ensure that your information is accurately shared with potential employers.
However, suppose you're dropping off a physical resume or apply to a small, family-owned business. In that case, the functional format can enable you to focus on the various skills and specialized training you acquired for the job.
Internship
An internship is ideal for entry-level employees looking to hone their professional skills in one career field. With your limited formal work experience, a combination resume can help you prioritize academic and social skills that align with the requirements of an internship.
Career change
If you have a considerable amount of work experience but are ready to challenge yourself and pursue a different career, a functional resume can help you prioritize your transferable skills and help you illustrate your suitability for new job responsibilities.
Work gap
Consider using the functional resume if your work history is marked by multiple work gaps or temporary employment bouts. This resume avoids using definitive dates and prioritizes your professional abilities and transferable skills. We suggest using the summary statement to add context to work gaps such as freelance work, short-term contracts or family obligations.
No work experience
Whether you are still in school or looking for your first job, you may have more experience than you believe. You can acquire professional skills through school work, volunteer work, chores, and hobbies that align with most entry-level job requirements. A functional resume helps you demonstrate these transferable skills.
Elevate your Resume with Our Helpful Tool
Now that you know more about resume formats, use our online Resume Builder to improve your resume. We feature professional templates with customizable options, job-related pre-written content, and unlimited storage for customized resumes.
Build a Resume
Resume Format FAQ
What is the best resume format for seasoned workers?
The chronological resume is the best format for you if you're a seasoned worker with more than 10 years of experience. This format prioritizes your work history and clearly outlines your career growth through each job title's responsibilities and accomplishments.
What is the best resume format for an entry-level worker?
The combination resume is the best resume format if you're an entry-level worker. This format prioritizes your skills but dedicates space to clearly outline your past jobs and demonstrate the growth of your responsibilities and experience. You can find dedicated entry-level resume templates here.
Can a resume be two pages?
A resume can be 2-pages long if you have more than 10 years of experience. The chronological resume works best for longer resumes, as it's designed to highlight more than 10 years of experience.
A general resume rule to follow is to dedicate one page for every 10 years of experience. You should use these one-page resumes if you have less than the recommended years of experience.
Which format works best for applicant tracking systems (ATS)?
Most ATS programs scan resumes for labeled summary statements, work history, skills, and education sections. Chronological and combination resumes are best for ATS programs because they feature those named sections. These resume templates are designed to accurately pass standard ATS programs.
What is the hybrid resume format?
The hybrid resume format is an alternate name for the combination resume. This format is called this because it is designed to highlight both your skills and work history and combines the best features of the chronological and functional resumes.