Featured In:

Table of Contents
Here are more resources that can help you
A powerfully written resume is your chance to impress a hiring manager and maybe land the job of your dreams. It's tempting to stretch the truth of your accomplishments or fudge a few of your employment details. If so, you're not alone — 58% of hiring managers report finding lies on applicants' resumes.
We asked 2,000 people in the U.S. to weigh in on the subject — and come clean about their resume fabrications. What causes people to fib? And who is most likely to lie, based on factors like gender, employment status, age and education level? Keep reading to decide if it's worth the risk.
Top 15 Resume Lies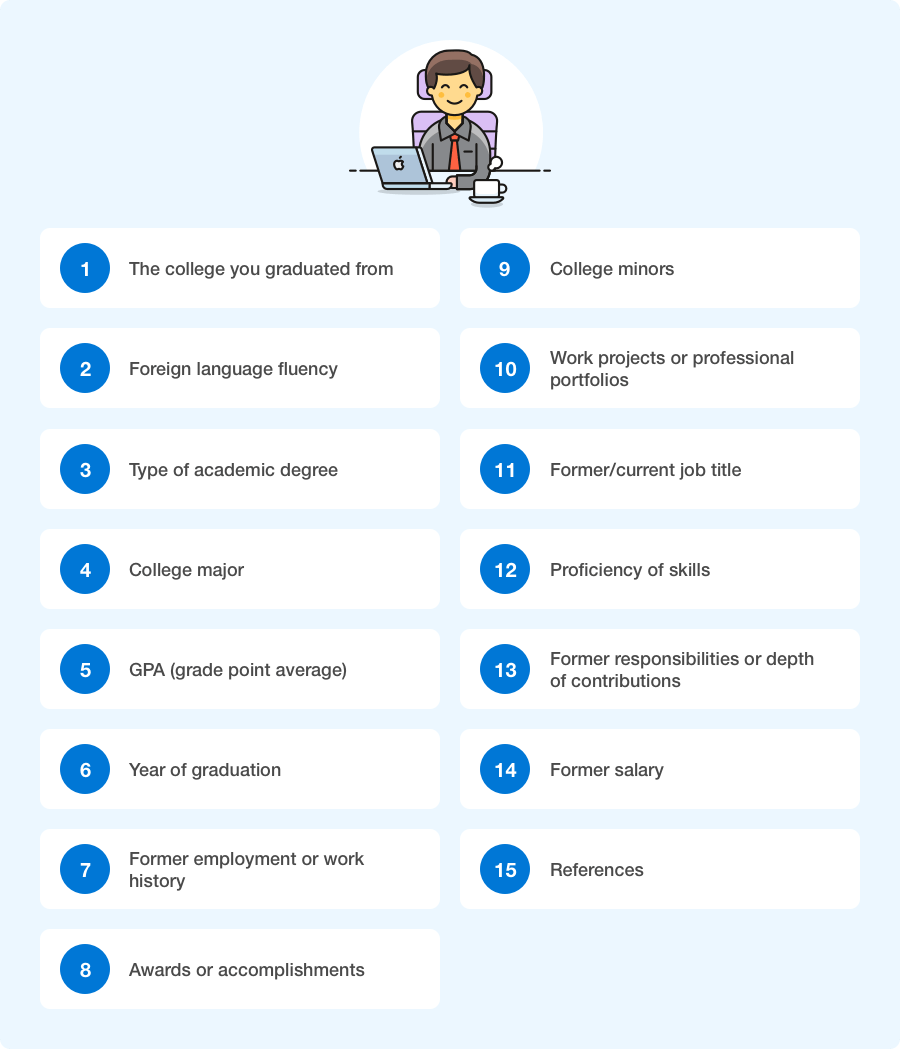 Who Lies on Their Resume?
We surveyed our readers, asking them what they're most likely to lie about on their job applications and why. What prompts people to fabricate, exaggerate and flat-out lie on resumes? By far, the top reason (given by 49.3% of people surveyed) is to appear a better fit for the position for which they're applying. The number two reason offered by 21.7% of respondents is to appear well-rounded or more experienced.
Factoring education level into the equation paints an intriguing picture of the likeliness of lying on a resume. By far, people with some high school, but no diploma, are likeliest to lie: approximately 36.8% admitting to lying on their resumes.
Nearly 9% of people say they wouldn't lie, while 7% say they have no reason to exaggerate their qualifications. Other responses include embarrassment about the truth, a desire to seem smarter, and the hope of sharing more common ground with an interviewer. Interestingly, fewer than 1% of respondents say they'd lie to avoid age discrimination. Perhaps this is why many omit or change their year of graduation?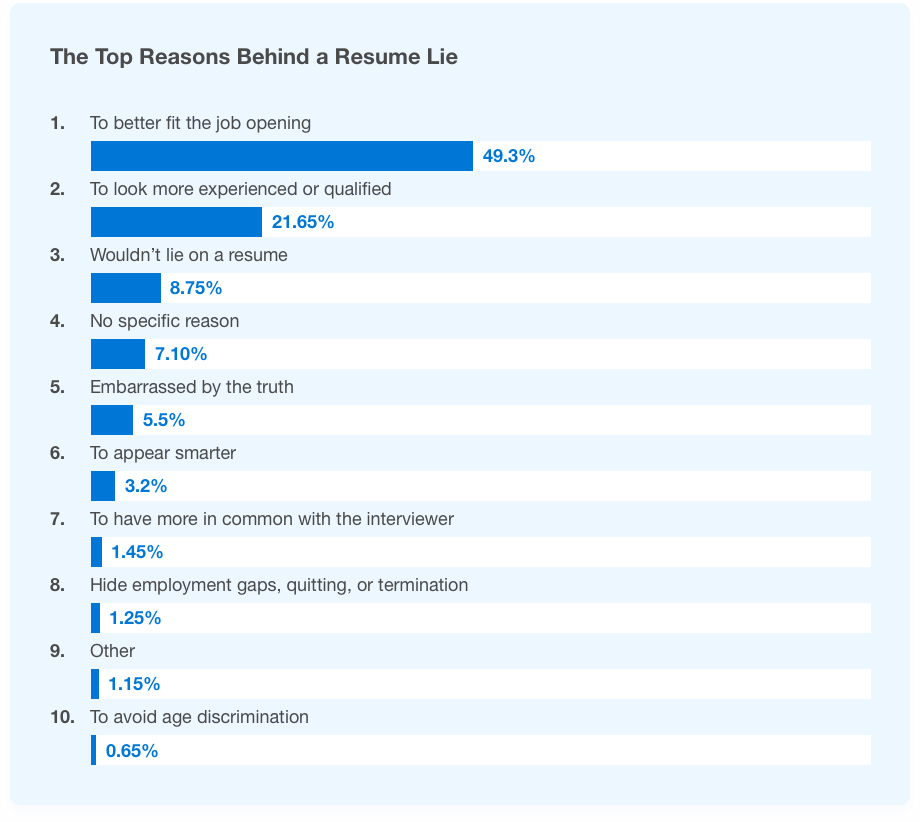 Job seekers are most likely to lie about the following:
The following job seekers are more likely to include these resume lies on their job applications.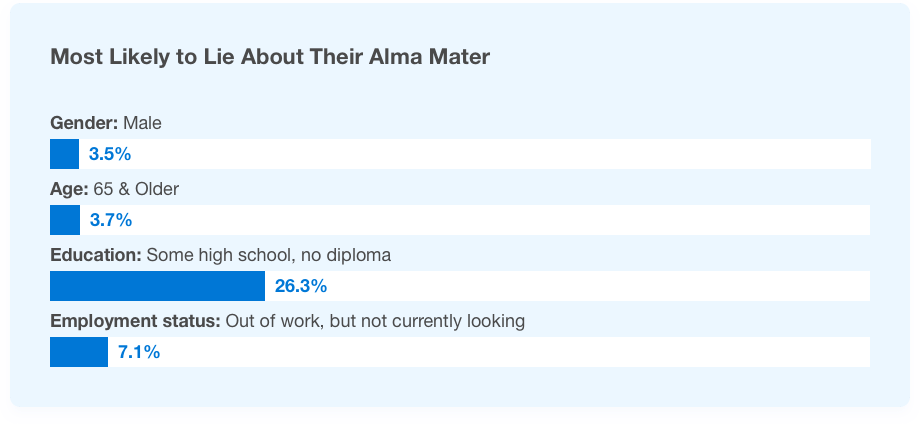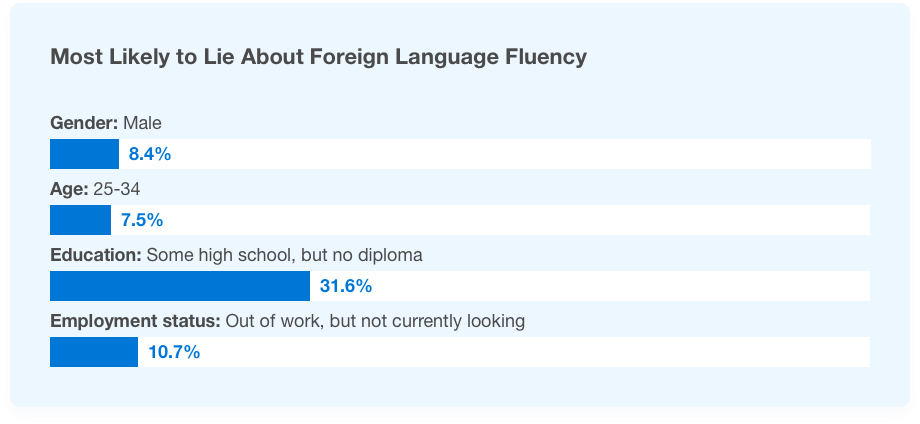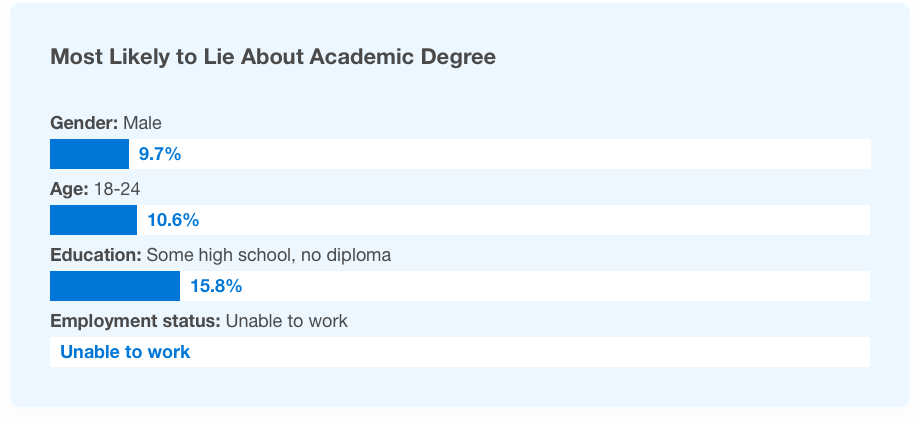 Breakdown by age
We sorted respondents by age group to see who's likeliest to tell resume lies.
Interestingly, although avoiding age discrimination wasn't cited as a top reason for lying, people aged 55 to 64 are likeliest to lie on their resumes. The second-place age group to share fibs are job seekers aged 25 to 34.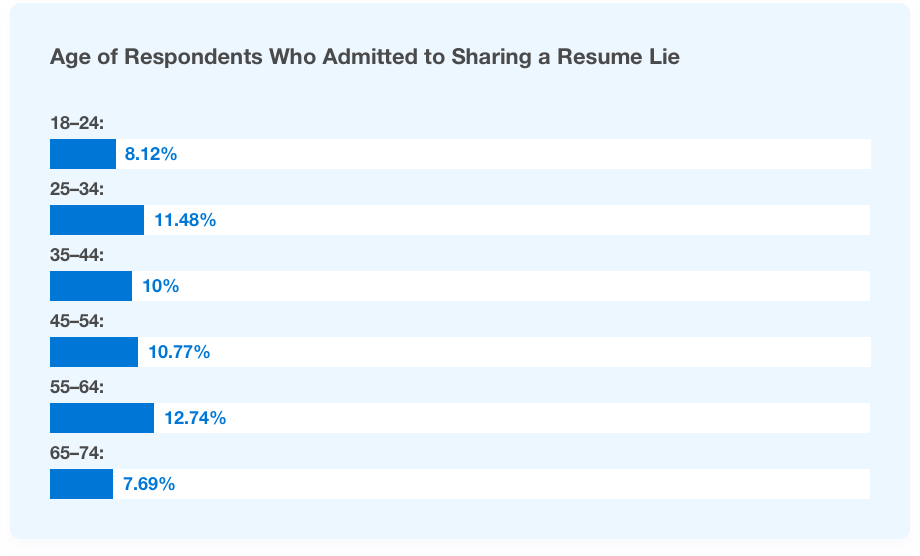 Breakdown by gender
Men are almost twice as likely as women to add resume lies to their applications: 6.8% of men versus 3.7% of women.
These aren't the only differences between men's and women's resumes: One study revealed that women's resumes are shorter and include more academic distinctions. Men's resumes are likelier to feature bulleted verb statements chronicling career achievements.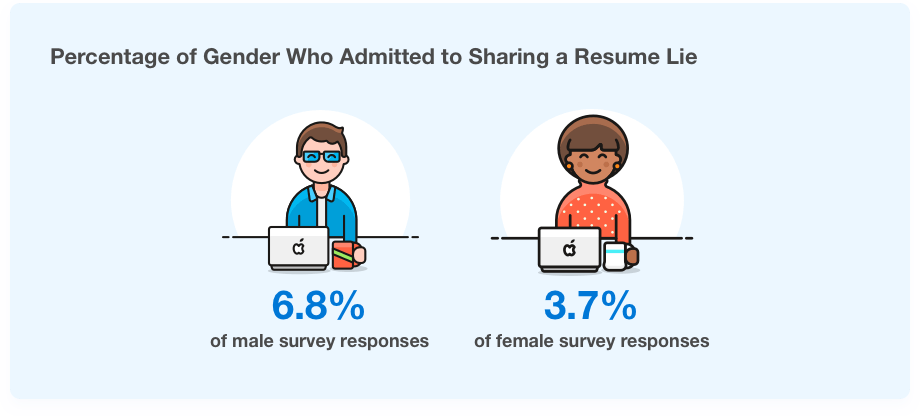 Breakdown by education level
People with some college credit (no degree), trade/technical/vocational training and high school diplomas vie for second place for resume lies. People with doctorate degrees, master's degrees and professional degrees are least likely to tell resume lies.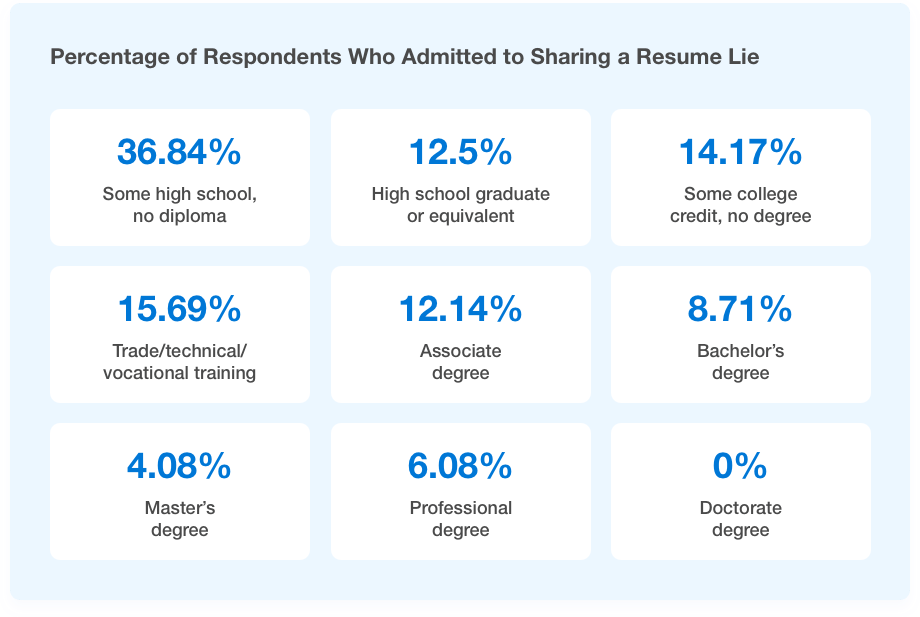 Breakdown by employment status
We asked respondents to come clean about whether they shared lies on a resume. Then we broke down the results by employment status. Unemployed people are likeliest to lie: 14.3% of those not seeking work have told resume lies, while 46.9% of those seeking work have told white lies, or small fibs related to the depths of their contributions or grade point averages (GPAs.)
Behind only unemployed individuals, self-employed people rank high for the likelihood of telling noticeable resume lies. Overall, military personnel are the least likely to tell lies on their resume, followed by people unable to work.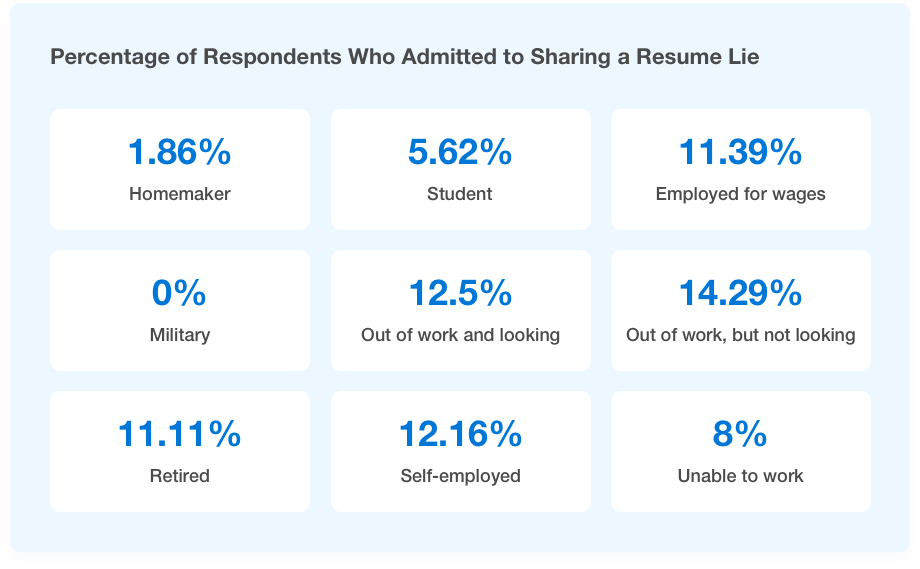 Can You Safely Fudge the Truth on a Resume?
So far, we've talked about the 2,000 job seekers surveyed for this information. But we haven't delved into whether you should or shouldn't lie on your resume. We strongly advise against adding lies to your resume, and we'll explain why in a bit.
Here are a few details about what information you can potentially fudge, but only if you meet specific criteria.
Potentially safe fibs:
1. Physical location: After 2020, many workplaces shifted to an entirely remote or hybrid model. However, suppose a job advertisement states explicitly that they're only looking for local, onsite candidates and are not willing to pay relocation costs. In that case, you may consider fibbing about your current address to get your foot in the door. You should only do this if you have friends or family with whom you can stay or have the financial means to relocate independently if you land the job.
2. Reasons for leaving a previous job: Here's where office politics come into play. Suppose you left a job abruptly due to a toxic work environment, a mass layoff or any professionally difficult reason. In that case, you may not want to share those reasons for fear of burning any professional bridges with former colleagues. Instead, you can write that you left to pursue independent projects, assist families or develop professional skills independently.
3. References: It can be tempting to list your friends or family members as references. You should only do this if you're applying to your first or second job and need to establish credibility with your hiring manager. However, you should never ask your connections to masquerade as former employers or colleagues –– this is a flat-out lie that can be easily disproved with a quick background check.
Never lie about the following:
1. Quantifiable metrics: These professional accomplishments establish your measurable growth at previous jobs and help hiring managers determine your potential value as an employee. It can be tempting to increase data numbers to make your accomplishments meaningful, but this can set you up for failure. You may need to meet impossibly high expectations that can damage your professional reputation.
2. Education: It's tempting to claim a degree level when you are a few credits away from graduating. You may believe that a Master's in Business Management looks more impressive than taking multiple courses in management. However, this lie is easily found out with a simple request for your college transcripts and degree. And the degree is not as important as the skills you developed –– you can still add relevant coursework to your resume's education section if it aligns with an open job's requirements.
3. Relevant experience: Don't claim to have previous experience, specifically required programs or job-oriented tasks. Lying about your proficiency only sets you up to fail if you're hired. Most hiring managers are willing to set aside time to properly train you in the necessary tools and techniques if they like your attitude and similar experience.
4. Previous job titles: Don't give yourself informal promotions or elevate your current job title. It may be tempting to write that you're a "senior editor" because you've been in that position for a long time, but if it's not your official job title, don't add it. Most HR departments contact your former employers and ask about your previous titles, making this an easy lie to uncover.
5. Skills: Lying about skills, especially skills required for an open job, sets you up for immediate failure. Claiming to be overly fluent in languages or digitally skilled in mandatory programs will only diminish your reputation once you need to use those skills, whether it's for an interview test or during the onboarding process. Most employers will distrust the rest of your resume if you're caught lying about the crucial job requirements.
Can Resume Lies Hurt Your Job Search?
Lying on your resume can hurt your job search, primarily if you lie about your skills and former experience. You may be able to get away with one or two small lies, but today's hiring managers have access to more resources and information than any other employment generation.
If you're caught lying enough times, you can ruin your professional reputation and damage your future job prospects. After all, it is much easier to connect with former employers through social media, email and phone to discover if you're a reliable candidate.
Is lying on your resume illegal?
It depends on the depth of the lie. While it is not illegal to lie on a resume, it is unlawful to falsify and submit documents to support a lie. These resume lies can dip you into illegal waters:
1. Education: Submitting a falsified diploma or transcripts
2. Right to work: Submitting a falsified visa or passport to indicate legal work status
3. Age: Submitting a falsified identity document to establish your age
There's also a growing issue with fraud –– if you're hired based on your resume lies, and a company finds out, there may be legal repercussions. Companies can pursue fines or lawsuits based on fraud.
Can it hurt your current job search?
Lying on your resume may not impact your current job search. Still, if you share large enough lies that hiring managers can verify, it may affect your reputation in the future and damage your professional network connections.
Can it affect future job searches?
Absolutely. With social media networks like LinkedIn or Glassdoor and an abundance of background search tools, it is easy to ruin your professional reputation and damage any chance to meaningful growth in your career.
Professional praise is everything in the business world, and if you develop a reputation for being untrustworthy, it will negatively impact your future job searches.
How Hard is it to Discover a Lie on Your Resume?
It's surprisingly easy to discover a lie on your resume using modern tools and online research. Most human resource professionals use the following tools to verify a job seeker's experience before extending an official offer letter:
1. Background search: Most HR departments run a background search on candidates before reaching out to references or providing a formal offer letter. These background searches can vary, but they often include your educational history, former employers, potential arrest records or current credit score.
2. Reference checks: In addition to calling your listed references, HR may contact your former employer's HR office and ask them to verify your job titles and dates of employment. If the information doesn't align with what you shared, this can harm you.
3. Basic skills tests: A growing number of interviews include an aptitude test. These can be assigned before a team interview is scheduled or happen without warning during an actual interview. The point of these tests is to analyze your skill level, which will hurt your job prospects if you exaggerate your experience level.
4. Vague details: Specificity is the soul of a narrative –– if you're unable to provide specific examples or descriptions for your past accomplishments, most hiring managers can immediately assume that you're lying or exaggerating your experience.
5. Nervous body language: Ninety percent of human communication is conveyed through body language. Although it is normal to feel anxious during an interview, it is usually easy to notice additional discomfort if you attempt to lie about your experience. Shifting in your seat, avoiding eye contact or clammy hands can indicate your dishonesty and alert an interviewer to your potential lies.
6. Simple online search: Many hiring managers will easily find information about your professional and personal life through social media accounts and search engine tools. It's easy to see proof of plagiarism, varying dates of employment or huge resume discrepancies using these tools.
CRAFTING AN IMPRESSIVE RESUME FREE OF LIES
It's tempting to exaggerate your contribution to a major project or boost your productivity statistics, but you risk creating an impossible measure of success to overcome. Let our Resume Builder help you write an impressive and honest resume that highlights your professional accomplishments. With pre-written resume sections and advice on how to describe your contributions in addition to exclusive top resume templates, you can impress future employers with your genuine skill.
Build a Resume
Resume Lies Methodology
We surveyed 2,000 people across the United States about their feelings and experiences with lying on their resumes. Seriousness, or severity, is measured on a scale of 1 to 5, with 1 being not at all and 5 being extremely serious.
Gabriela Barcenas
Gaby is Hloom's resident writer, a certified professional resume writer (CPRW), and a baking enthusiast. She likes to defend the use of the functional resume to her friends in HR. She graduated from the University of San Francisco with a B.A. in English and Creative Writing and wrote about career growth, tech startups, education, fashion, travel and lifestyle culture throughout her career.