Top 10 Resume Lies: Real vs. White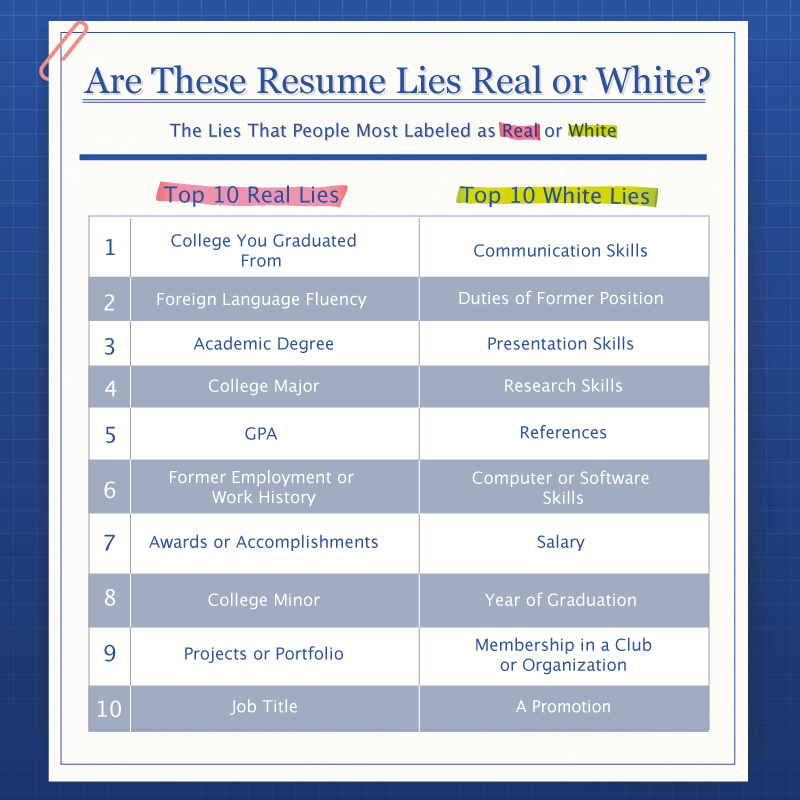 When it comes to resumes, where's the line between a harmless white lie and serious falsehood? We asked respondents to categorize common resume embellishments as real or white. Interestingly, 5 of the top 10 real lies relate to education: alma mater, academic degree, college major, GPA, and college minor. Other lies considered real include lying about foreign language fluency, employment history, job titles, and projects/portfolio.
On the other hand, lies that respondents deemed less serious tend to focus on skills and background. Among the least serious lies: fibbing about communication skills, presentation skills, research skills, and computer/software skills. Other white lies focus on the nitty-gritty of past positions: job duties, references, salary, and promotions. The only education-related lie respondents deemed harmless was year of graduation.
How Severe Are These Resume Lies?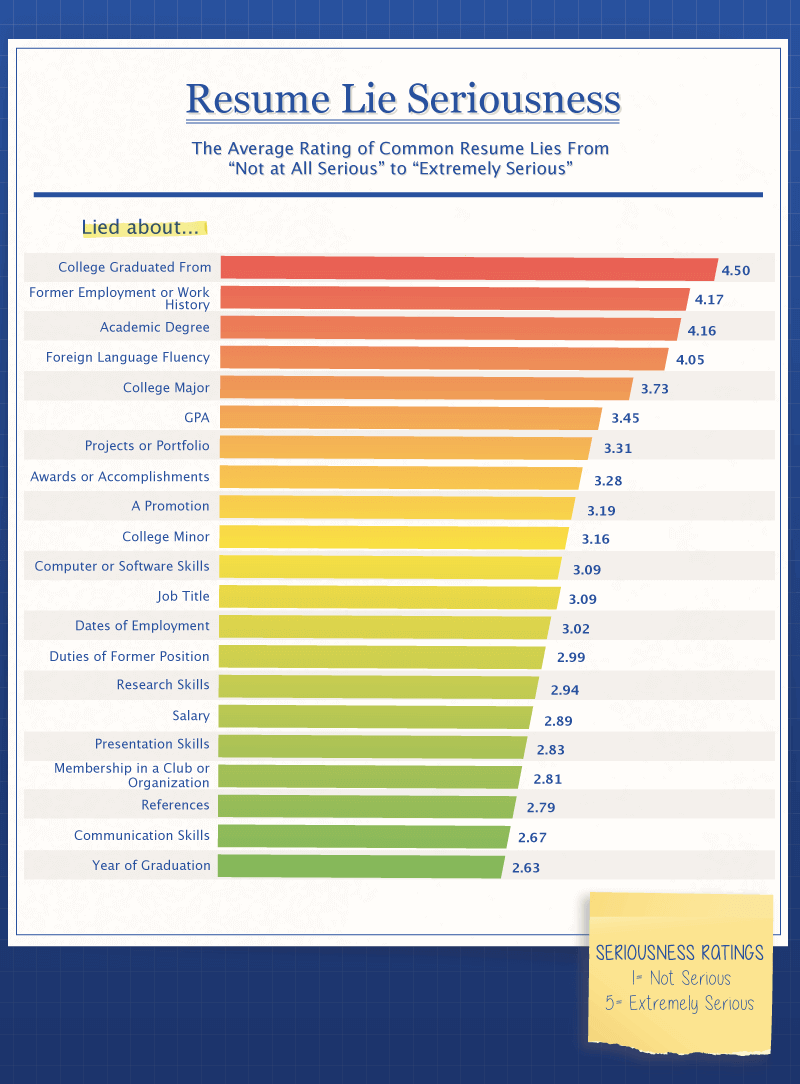 Next, respondents ranked the seriousness of common resume lies on a scale of 1 to 5. Lying about an alma mater took the top spot, with a score of 4.5. Close behind at 4.17 is lying about former employment. Fibbing about an academic degree, foreign language fluency, and a college major ranked next.
On the other end, giving the wrong graduation year ranked only 2.6 on the seriousness scale. Lies about communication skills, references, or membership in a club or organization drew similarly low ratings.
Why Do People Lie on Resumes?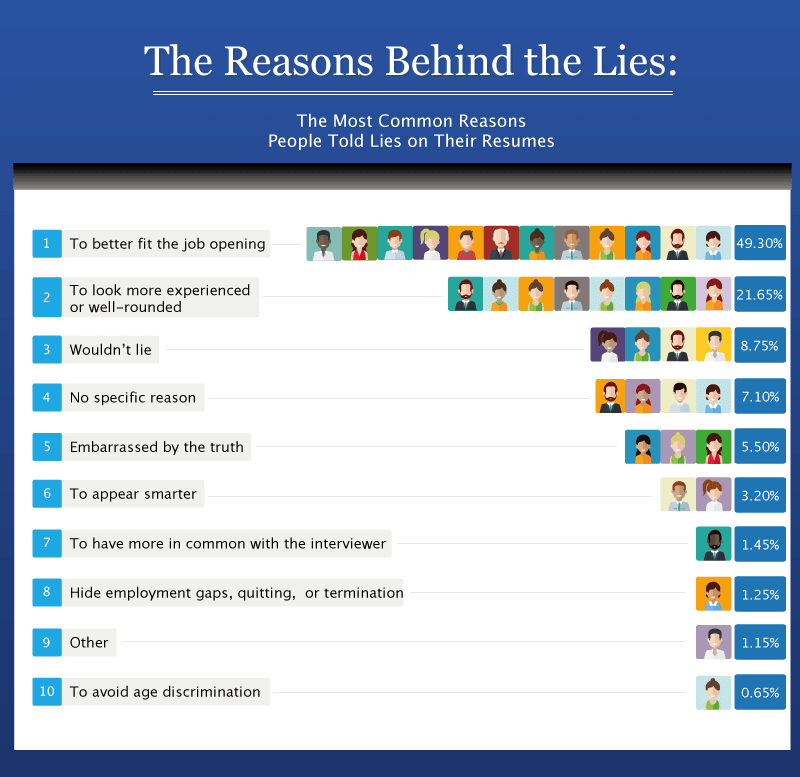 What prompts people to fabricate, exaggerate, and flat-out lie on resumes? By far, the top reason (given by 49.3% of people) is to appear a better fit for the position they're applying for. The No. 2 reason, offered by 21.7% of respondents, is to appear well-rounded or more experienced.
Nearly 9% of people say they wouldn't lie, while 7% say they have no reason. Other reasons include embarrassment about the truth, a desire to seem smarter, and the hope of sharing more common ground with an interviewer. Interestingly, fewer than 1% of people say they'd lie to avoid age discrimination. Perhaps this is why many omit or change their year of graduation?
Resume Lies: Employment Status Breakdown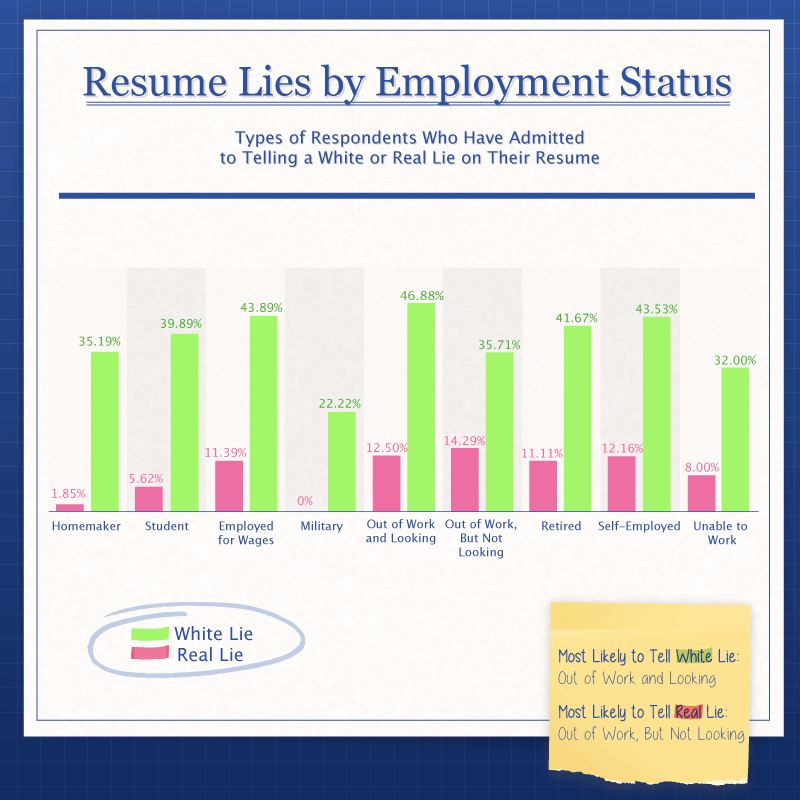 We asked respondents to come clean about whether they've told real and white lies on a resume. Then we broke down the results by employment status. Overall, people told far fewer real lies than white ones. Unemployed people are likeliest to lie: 46.9% of those seeking work have told white lies, while 14.3% of those not seeking work have told real lies.
Both people employed for wages and self-employed people told a surprising number of white lies. Behind only unemployed individuals, self-employed people rank high for likelihood of telling real lies. Overall, military personnel are least likely to tell lies (either real or white), followed by people unable to work.
Resume Lies: Age Breakdown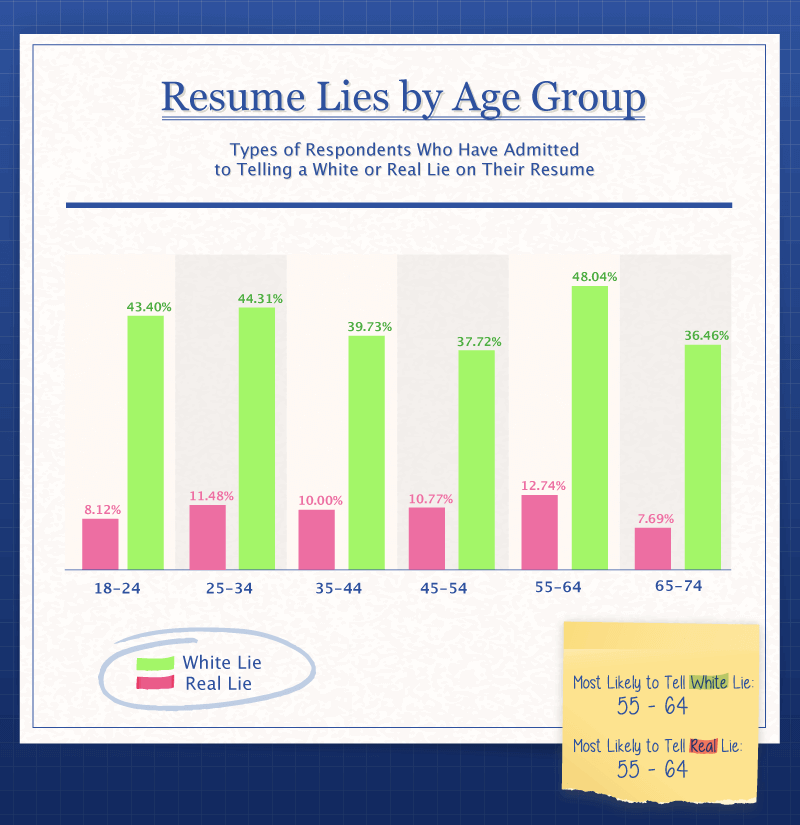 Next, we sorted respondents by age group to see who's likeliest to tell real and white lies.
Interestingly, although avoiding age discrimination wasn't cited as a top reason for lying, people aged 55 to 64 are likeliest to tell both real and white lies on resumes. The second-place age group for the propensity for telling both types of lies is 25 to 34. For white lies, 18- to 24-year-olds claim third place for likeliness to tell them. As for real lies, 45- to 54-year-olds come in third.
Resume Lies: Education Level Breakdown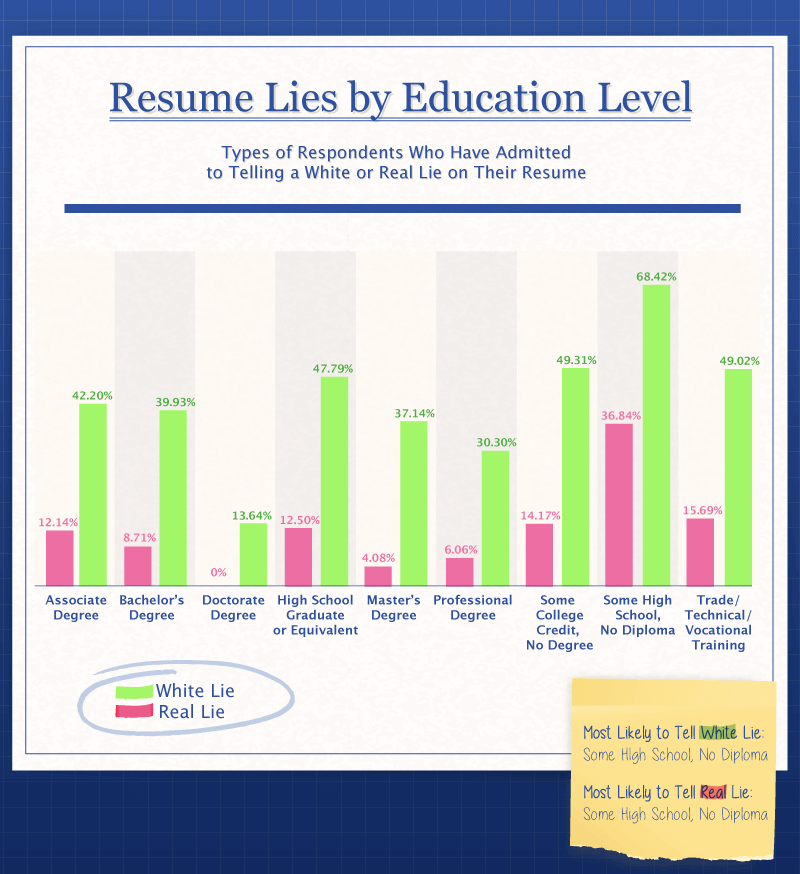 Factoring education level into the equation paints an intriguing picture of likeliness of lying on a resume. By far, people with some high school (no diploma) are likeliest to lie: 68.4% have told white lies, and 36.8% have told real ones.
People with some college credit (no degree), trade/technical/vocational training, and high school diplomas vie for second place for both real and white lies. People with doctorate degrees, Master's degrees, and professional degrees are least likely to tell real lies, but those with Master's degrees are surprisingly likely to tell white lies.
Resume Lies: Gender Breakdown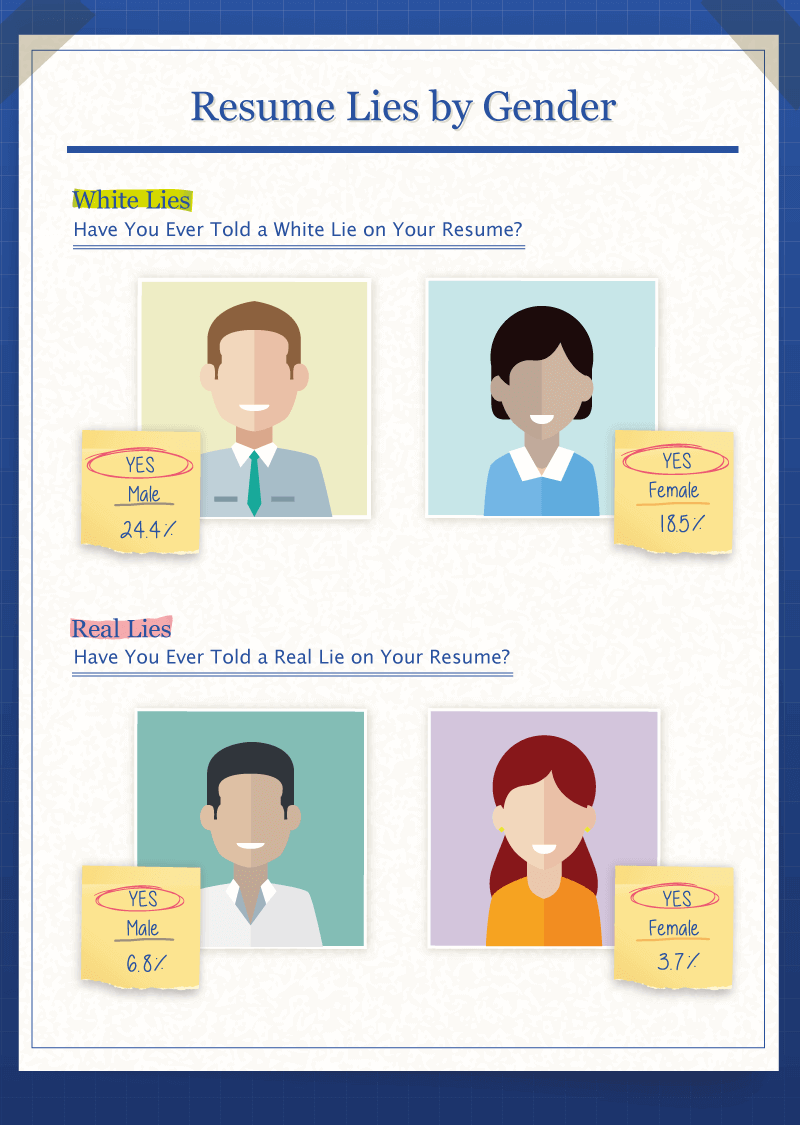 Nearly a quarter of men report they've told white lies on their resumes, while only 18.5% of women said the same. As for real lies, men are almost twice as likely to tell them: 6.8% of men vs. 3.7% of women. These aren't the only differences between men's and women's resumes: One recent study revealed that women's resumes are shorter and include a greater number of academic distinctions, and men's resumes are likelier to feature bulleted verb statements chronicling career achievements.
People Likely to Take Real Lies Lightly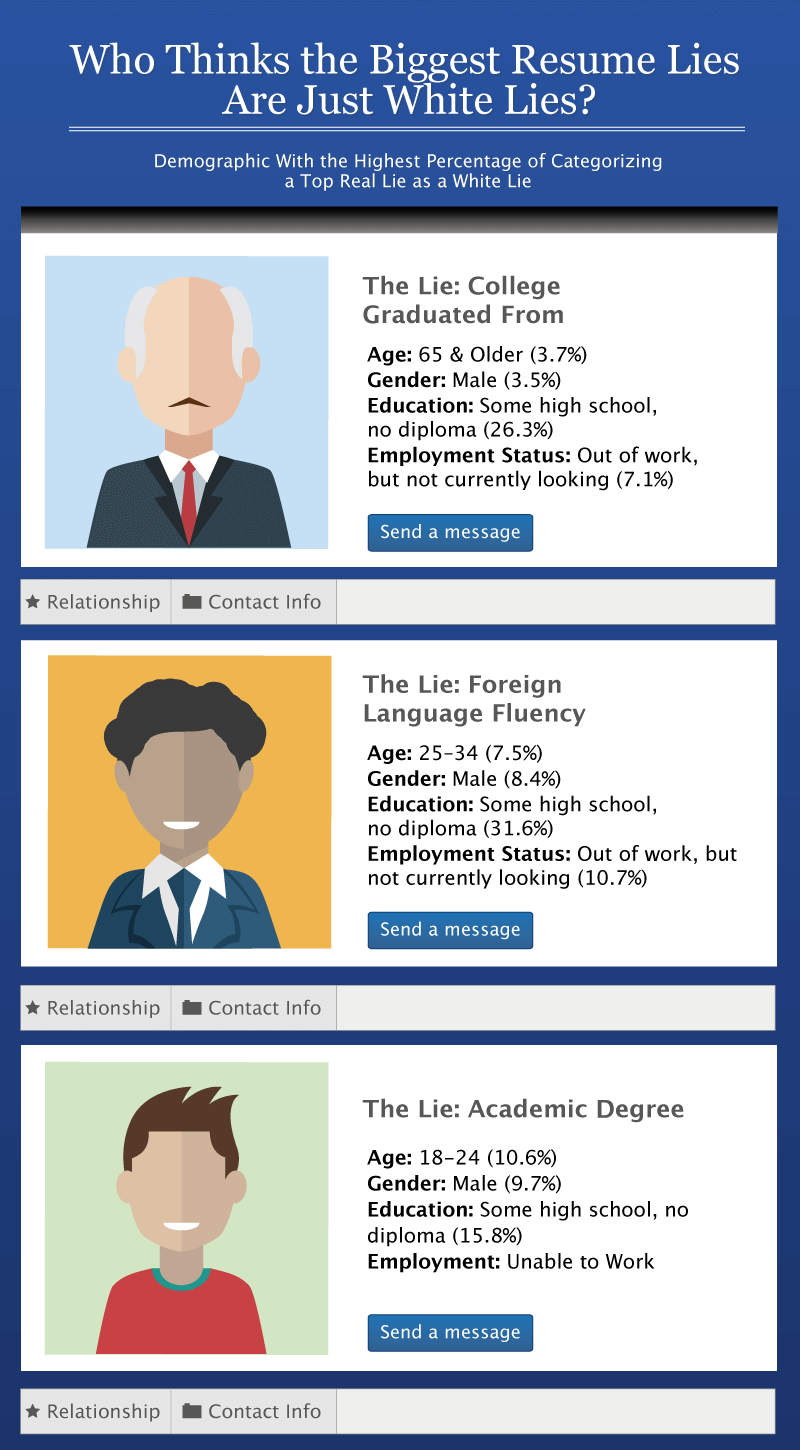 Many respondents deemed lying about the college you graduated from a serious lie. Who is more likely to think it's a white lie? A man, age 65-plus, who has no high school diploma and is unemployed but not looking for work. The likeliest to deem a foreign language fluency falsehood as harmless? A 25- to 34-year-old man with no high school diploma who is out of work but not looking.The person most likely to categorize claiming an academic degree as harmless is an 18- to 24-year-old man unable to work with no high school diploma.
Craft an Impressive Resume (No Lies Needed)
Our study reveals intriguing insights about people's feelings and habits regarding resume lies.
People find lies about education fairly serious, while fabrications about specific skills are deemed more harmless. The top reason for lying on a resume is to appear better suited to a desired position. Which demographics are likeliest to lie? Unemployed people, applicants aged 55 to 64, and people with no high school diploma. Men are more likely to lie than women.
Are you in the market for a new position? At www.hloom.com, we have over 800 professional resume templates you can download, customize, and print for free. Our top-quality offerings range from simple designs to industry-specific layouts, and we have plenty of tips to get you started and to learn how to write your resume. With an eye-catching resume that's sure to dazzle hiring managers, one thing is certain – there's no need to stretch the truth.
Methodology
We surveyed 2,000 people across the United States about their feelings and experiences with lying on their resume. Seriousness, or severity, is measured on a scale of 1 to 5 with 1 being not at all and 5 being extremely serious.
Fair Use Statement
We grant permission to share all the images on this page freely. When doing so, please credit back the authors by providing a link to this page so your readers can learn more about this project and the methodology.