The Ultimate Guide for Cover Letters in 2022
If you're applying for a job, you need to have a solid cover letter to help get you noticed. On this page, you're going to find the resources you need to create a great cover letter including examples, templates, and writing guides that will help you write a letter that impresses employers.
Learn straight from the pros at Hloom all you need to know about Cover Letters, and the tools you'll require to write one. Discover the advantages of using our builder to create your own powerful cover letter. Our ultimate guide will definitely put you on the right track and get you started.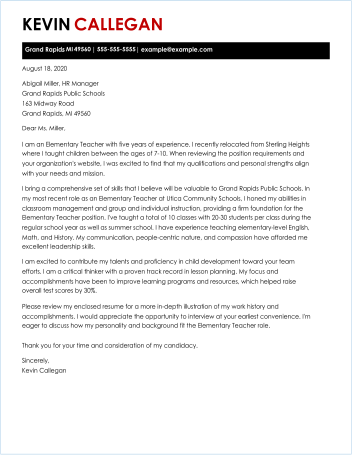 Use This Template
Rate this Template
Featured In:
Table of Contents
Here are more resources that can help you
What Is a Cover Letter?
A cover letter is a written document that you should submit to an employer whenever you send your resume. Today, most cover letters are submitted via email or as an attachment to an online employment application.
A cover letter should be brief and expand upon the information that you provide in your resume in a way that paints a picture of how you are as an employee.
It's standard practice that cover letters are kept to a single page in length and consist of your contact information, a salutation, a body consisting of three to four paragraphs, and a salutation and/or mention of any attachments.
Why You Need a Cover Letter
Even if an employer doesn't formally request a cover letter in the job posting, it's always a good idea to include one.

First of all, it's just expected. Cover letters are the business norm in most countries.

Better yet, a cover letter is a chance to show your personality and include more information about yourself than you have room to include in a resume alone.

A resume and cover letter work together as complementary documents to provide a more well-rounded account of who you are as a job candidate.

Why You Need a Cover Letter
While your resume provides essential information such as your work history dates and your primary skills, a cover letter provides a chance to tell a story about your skills and work experience.
So if you want to stand above the competition for a job, a cover letter is an effective tool to do so.
Cover Letter DIY Tools
At Hloom, our team of resume and career professionals have built up a database of hundreds of cover letter examples and high-quality cover letter templates.
Our Cover Letter Examples page provides well-written samples that you can use as a starting point to decide how you want your cover letter to look and what you want it to say.
It's good to look at cover letter examples so that you can see ways to discuss your own work experience. Identify elements in our professional cover letters that you see as effective and try to incorporate them into your own letter.
Whenever you are ready to start writing, Hloom also features 200+ Free Cover Letter Templates that take care of your cover letter's design elements so that you can focus on quality writing.
Templates handle the design element of your cover letter so that all you have to do is enter your own personal information. If you're not a design person, templates will make it a lot easier for you to craft an easy-to-read and stylish cover letter.
Expertly Curated Cover Letter Guides
If deciding how to format your cover letter is giving you trouble, check out Hloom's guide on Cover Letter Formats.
If you want to make sure that you're saying the right things in the best way on your cover letter, Hloom's How to Write a Cover Letter page will help you.
Our guides break down the essential structure of a cover letter and all the information you should include in each section.
It tells you what and how to write your cover letter, you just have to write it.
Hloom's Cover Letter Builder
Another fast and easy option to create a winning cover letter is to use a cover letter builder because it helps tailor your letter to the specific job applied for and gives you step-by-step guidance throughout the process.
It's only three steps:
Select a template from our library of professional designs.
Answer a few questions about your working background and style.
Review your letter, download it and you're ready to apply!
Creating a resume with the help of Hloom's Cover Letter Builder can save you loads of time and ensure that your cover letter is going to be top-notch.
Plus, the use of our cover letter builder comes with access to Hloom's Resume Builder as well.
Remember, if you're applying to more than one job, you should customize your resume and cover letter to each role.
Using our cover letter builder, you're able to save as many cover letters and resumes to make each application unique to help you stand out from the rest of the competition.