FREE PROFESSIONAL COVER LETTER SAMPLES
TO BUILD YOUR JOB APPLICATION
Cover Letter Examples for Every Industry, from Accounting to Real Estate

Creating a cover letter can be a daunting task, especially if you've never launched a professional job search before. 
But don't worry; you're not the first person in your industry to climb this mountain.

Before you begin, gather a few top-notch cover letter samples and read them over. This can help you gain a sense of what an appropriate tone and writing style might look and sound like, and it can also help you understand the kind of information that should – and shouldn't—appear on the page. The cover letter samples you use as guides should be well written, but they should also be tailored to the type of job you're pursuing within your target industry.

In this section, we offer a massive library of cover letter samples that span a wide range of industries and job types. Feel free to peruse the collection and review the on-page tips. When you're ready to get started, you'll find an easier path to your own specific job-search goals.
Create a Cover Letter in Minutes
Hloom won't just offer you a few cover letter samples and leave you on your own. Rather, we'll provide you with clear guidelines and tips on the drafting and editing process and a walk through of the three steps you'll need to complete in order to create your cover letter using our samples and templates.
1
Select a cover letter template that works for your job search.
Like our cover letter samples, our templates vary, so find the one that best meets your needs..
2
Choose one of our cover letter examples.
Read through the example carefully, allowing it to serve as a point of reference. Make a note of both the details included and the overall tone of the letter.
3
Customize your own letter to match the job ad.
Along the way, keep in mind that you'll want to tailor your cover letter to the company you'd like to work for and your own specific level of experience and qualifications. Our
Cover Letter Builder
can help you make this process quick and easy if you're not sure where to start.
Create My Cover Letter
Restaurant & Food Service Cover Letter Samples
If you're looking for work in the field of food service and prep, we've got you covered. Not all restaurant managers require cover letters, but since you can't be sure which ones will or won't, create a letter that's complete and ready to go whenever it's needed.

If you're looking for detail oriented or customer-facing work as a server, bartender, or fast food employee, use our polished, industry-specific cover letter samples as a reference. Impress employers with your ability to communicate clearly.
Retail & Customer Service Cover Letter Samples
Some customer service roles don't involve food, but they do involve exchanges of money or information that can be just as important. If you're searching for a position in retail or customer management as a call center rep, a sales associate, a retail manager, or a cashier, you'll use your cover letter to prove your skills and demonstrate your ability to connect with client.

Our cover letter samples can help you make your case. Follow our language and formatting guidelines and you'll set yourself apart in a 
competitive field.
Administrative Support Cover Letter Samples
Employers searching for office workers and administrative assistants look for a specific set of traits that often come through in a cover letter: attention to detail, writing skill, attention to language and tone, and a strong sense of organization and logic.

As an administrative assistant, office assistant, or receptionist, your employers will count on you to cross every T and make sure no critical detail falls through the cracks. You can start by using our cover letter samples to create a letter of your own that stands out and gets the job done.
Maintenance & Janitorial Cover Letter Samples
Maintenance and janitorial positions often take place through agencies, which means that if you're looking for work as a cleaning or housekeeping pro, you'll be hired by an independent firm or agency that will want to know every detail of your background and credentials.

You'll need a full resume and a complete well-written cover letter in order to get through the vetting process, and our cover letter samples can help. Take a look and use these models as your guide.
Nursing & Healthcare Cover Letter Samples
If you're a nurse practitioner, medical assistant, caregiver, or registered nurse, you'll absolutely need to write a winning cover letter that contextualizes your area of specialization and your relevant hard and soft skills.

The good news is that you can turn to our nursing and healthcare cover letter examples for reference; each and every document will show you how to shine a spotlight on your clinical experience and educational background, as well as how to tailor your document to align with a hospital or 
clinic's needs.
Marketing & Sales Cover Letter Samples
Marketing and sales jobs require plenty of energy, poise, and analytical skill, but they also require high levels of communication, both spoken and written. As part of your daily routine, you'll need to take complex ideas and package them in clear, simple, and appealing terms, and this starts with your cover letter.

If you're looking for work as a product manager, an account manager, a sales manager, or a sales rep, use these cover letter samples to draft a winning letter of your own.
Engineering Cover Letter Samples
It's a common misconception that engineering requires only analytic skill and minimal need to communicate with others. However, in order to be successful, engineers need to write and speak well, and they need to be able to prove it from the start. As a civil, electrical, or software engineer, you're ability to connect, explain, and target a message can mean the difference between landing the job and falling flat.

This set of cover letter samples can keep you on track to an interview.
Should I Use a Cover Letter Builder?
If writing a cover letter still feels more stress inducing than a killer clown movie, you can get the help you need from our Cover Letter Builder. The easy-to-use online tool allows you to create a professional, job-winning cover letter instantly and effortlessly.


Here are just a few of the features that make cover letter builders especially valuable resources:
1
Award-winning professional designs
Choose from professionally created, ready-made cover letter templates to guarantee that your document looks as good as it sounds
2
Text suggestions from the experts

Get the writing help you need and build your cover letter with sentences and phrases written and vetted by the pros
3
Proven cover letter writing tips
Polish your cover letter with the recommendations and the advice of industry experts
Ready to get started building your cover letter with our powerful solution? Click here to begin using our Cover Letter Builder.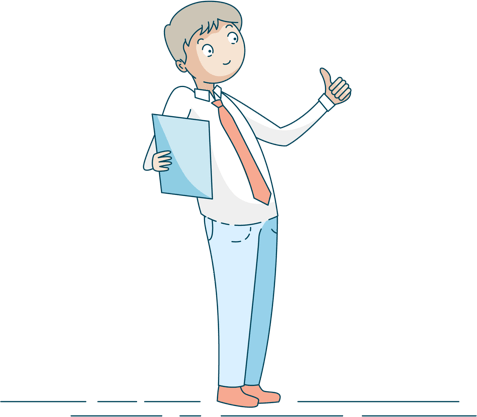 Education & Teaching Cover Letter Samples
If you're seeking work as a full-time, assistant, or substitute teacher, you'll need to show school administrators that you're ready for the challenges of the classroom, and you can start by creating an organized and beautifully written application.

No matter what subject you teach, you'll set an example for your students with everything you do, so use these cover letter samples and show off your writing and communication skills from the start.
Construction Cover Letter Samples
In the construction industry, employers and managers will look for evidence of experience and training, both on the job and in the classroom. And since you have that training and experience as a welder, laborer, or general contractor, you'll need to create an articulate and well organized cover letter that makes this clear.

Use these cover letter samples to better share a very quick overview of your most relevant skills and your areas of expertise.
Accounting & Finance Cover Letter Samples
As you submit applications for accounting and finance positions, you'll need to emphasize your sense of organization and your background in financial or data analysis.

But you can't just list your professional milestones and skill sets; you'll also have to demonstrate them in a cover letter that also proves you have strong communication and presentation chops. Our cover letter samples can help.