The Advantages of a Registered Nurse Cover Letter
An effective registered nurse cover letter piques an employer's interest, urging them to delve deeper into your resume and consider you for an interview.
It will add a personal dimension to your application, allowing you to express your enthusiasm, align your skills with the role, and exhibit your unwavering commitment to patient care. This helps you to stand out among other nursing candidates.
Our examples and comprehensive guide will demonstrate how to craft a professional quality cover letter for your upcoming RN job application. Explore our extensive collection of cover letter examples and easily downloadable templates for added assistance!
Registered Nurse (RN) Cover Letter: Why It Works
Explore this registered nurse cover letter example to see how you can successfully communicate your value to a potential employer.
Transparent Skills Display:

The cover letter effectively showcases the applicant's nursing skills, encompassing patient assessment, critical thinking, and medication administration.

Passionate Patient Care:

It exudes a genuine passion for patient care, emphasizing the aspiration to provide the highest healthcare quality.

Employer-Oriented Approach:

Specific references to the employer's values and mission demonstrate a thoughtful alignment with the organization's objectives.

Concise and Informative:

The letter is structured for conciseness, delivering essential information without overwhelming the reader.

Compelling Call to Action:

The cover letter concludes with a strong call to action, expressing a keen interest in discussing how the applicant can contribute to the healthcare team.

Professional Layout:

The cover letter maintains a professional appearance, featuring clear headings and consistent formatting throughout.

Error-Free Presentation:

It is free from spelling and grammatical errors, elevating its overall professionalism.

Font and Styling:

The use of professional font and styling choices contribute to the letter's readability and visual appeal.

Bullet Points for Clarity:

Appropriate utilization of bullet points makes it easy for the reader to identify key qualifications and achievements.

Engaging Opening:

The cover letter starts with an attention-grabbing paragraph immediately captures the reader's attention.
By analyzing this practical cover letter example, you can gain valuable insights into crafting your personalized RN cover letter that effectively conveys your qualifications and passion.
A Distinctive Instance: Why This RN Cover Letter Achieved Success
Take a look at this RN cover letter example that effectively showcases the candidate's value and grabs the attention of potential employers.
Effective Storytelling:

This cover letter engages the reader, weaving a compelling narrative showcasing the applicant's nursing journey and dedication.

Emphasis on Certifications and Achievements:

It underscores pertinent certifications, such as BLS and ACLS, and highlights notable nursing achievements, such as successfully leading a team during a critical situation.

Alignment with Job Requirements:

The cover letter aligns the applicant's skills and experiences with the specific job requirements, displaying a tailored fit for the position.

Personalized Addressing:

It goes the extra mile by addressing the hiring manager by name, introducing a personalized touch to the application.

Enthusiastic Closing Statement:

The letter wraps up with a resolute closing statement that radiates enthusiasm and leaves a lasting impression of a dedicated and motivated nurse.

Professional Typography:

Utilizing a professional, easily readable font enhances the cover letter's overall readability and visual appeal.

Balanced Formatting:

The letter judiciously uses white space and text to ensure it doesn't appear cluttered or overwhelming.

Meticulous Proofreading:

Attention to detail shines through as the cover letter contains no spelling or grammatical errors, reinforcing its professionalism.

Clear Contact Information:

Including contact information for easy follow-up ensures the applicant can be reached without hassle.

Polished Tone:

A polite and professional tone throughout the letter creates a favorable impression on potential employers.
This noteworthy cover letter is an excellent model for creating your RN cover letter, underlining the significance of effective storytelling, personalization, and professionalism throughout the process.
Save Time With Our Cover Letter Builder!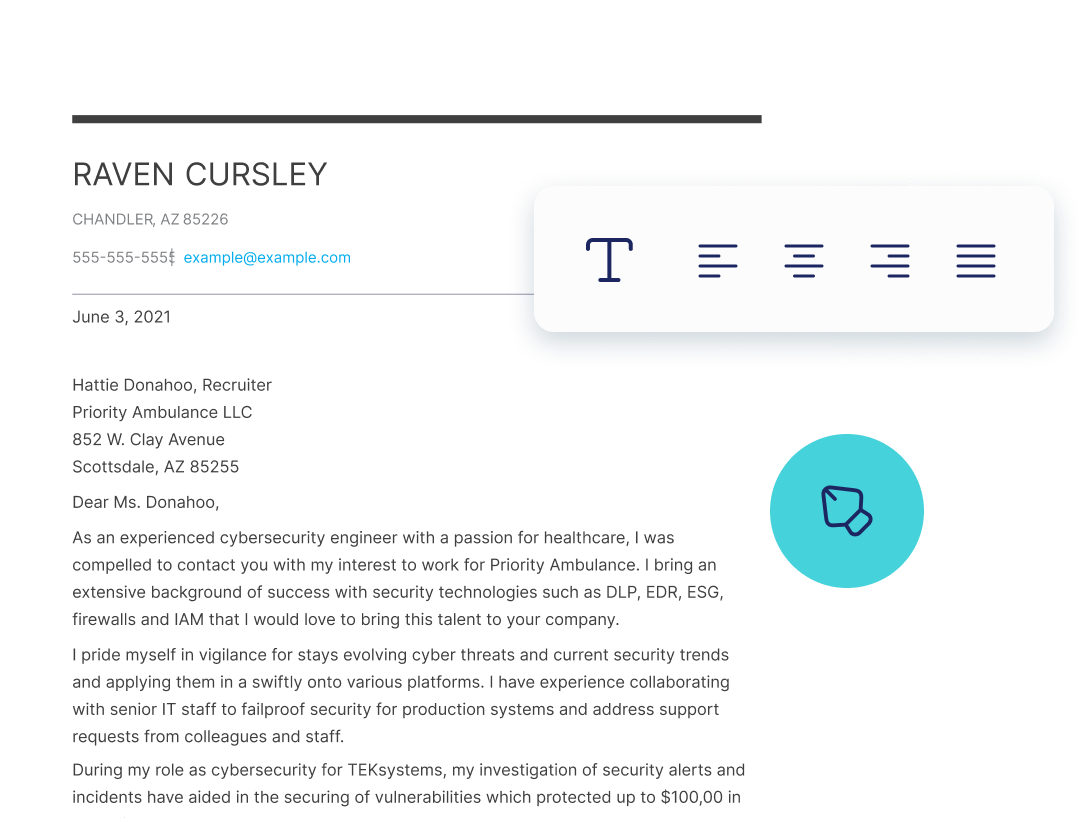 Tips for Writing A Registered Nurse Cover Letter
Writing an exceptional RN cover letter is essential for capturing the attention of healthcare employers. Use these tips to guide you in creating a compelling and effective cover letter that sets you apart in the competitive nursing field:
Customize for Each Application: Tailor your RN cover letter for each job application. Highlight the skills and experiences most relevant to the specific nursing position and institution you're applying to. Avoid sending generic cover letters, as customization demonstrates your genuine interest and suitability.

Craft a Narrative: Rather than simply rehashing your resume, look deeper into your qualifications by offering one or two detailed examples illuminating your abilities and accomplishments. Contemplate employing the STAR method for answering interview questions, providing the context of a Situation, your Task, the Action you took, and the Results of your efforts.

Address the Hiring Manager by Name: Address the hiring manager by name in your salutation whenever possible. Personalizing your cover letter adds a professional and thoughtful touch.

Be concise and to the point: Cover letters are typically between 300 and 400 words long. Use clear and straightforward language to convey your qualifications and enthusiasm without unnecessary verbosity.

Quantify Achievements: Use metrics or numbers to quantify your nursing achievements whenever possible. This provides concrete evidence of your impact and makes your value more distinct to the reader.

Remember Relevant Keywords: Address the specific requirements listed in the job posting and optimize your cover letter with keywords that applicant tracking systems (ATS) will recognize. Ensure your cover letter aligns with what the employer is seeking.
Applying these recommendations will equip you to craft an RN cover letter that meets healthcare employers' expectations and effectively showcases your qualifications and enthusiasm.
Use Our Resume Builder With Your Cover Letter!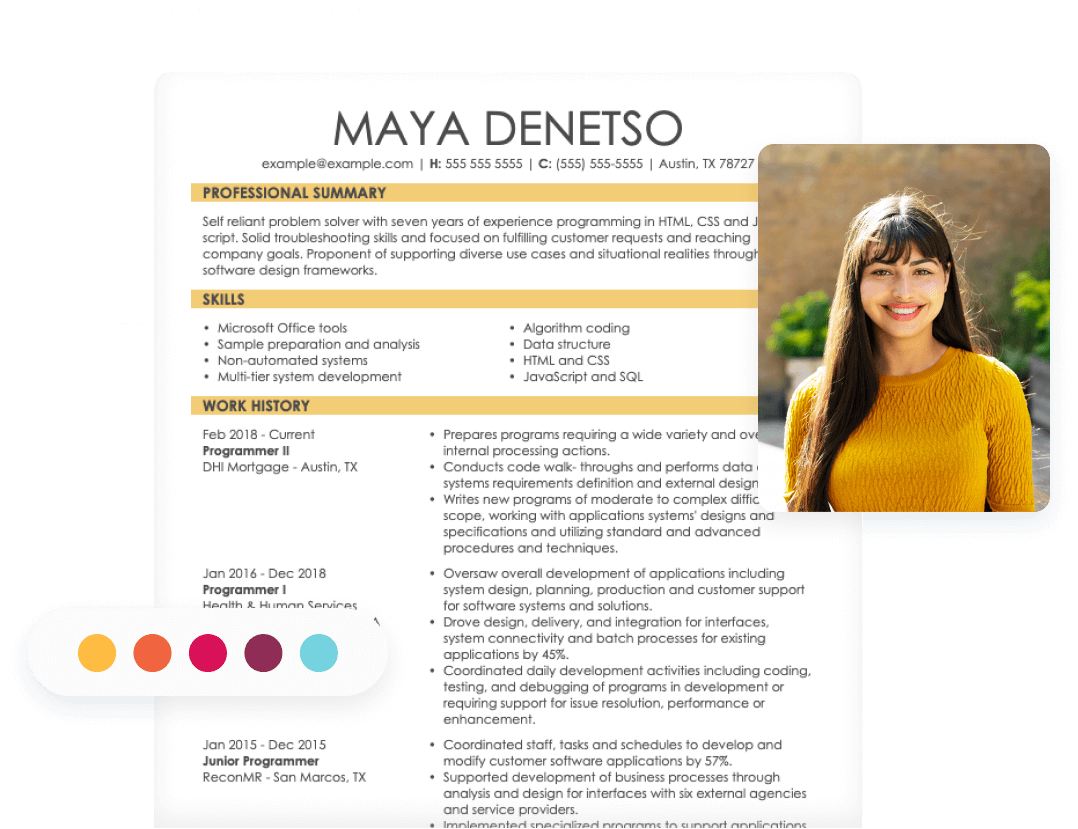 RN Cover Letter FAQs
Updated: November 07, 2023
Including a cover letter when applying for an RN position is advisable. While some employers may not explicitly require one, a well-crafted cover letter allows you to introduce yourself, highlight your qualifications, and express your enthusiasm for the role. It can set you apart from other applicants and demonstrate your commitment to the position.
If you don't have the hiring manager's name, you can use a generic salutation such as "Dear Hiring Manager" or "To The Hiring Team." However, it's always beneficial to do some research to try and find the name of the person responsible for hiring, as addressing them directly can make your cover letter more personalized and impactful.
A well-structured RN cover letter should typically be around one page in length, approximately 300 to 400 words. Be concise and highlight your most relevant qualifications and experiences without overwhelming the reader.
Using a template as a starting point for your RN cover letter is acceptable, but it's essential to customize it for each job application. Tailor the content to match the specific requirements and needs of the RN position and the healthcare institution you're applying to. Avoid sending generic, unchanged cover letters.
In your RN cover letter, emphasize your passion for patient care, alignment with the healthcare institution's values, and ability to meet the specific job requirements. Highlight key nursing skills, concrete examples of your achievements, and how you can contribute to the healthcare team. Personalize your cover letter to demonstrate your genuine interest in the role and the organization.
Citations
Bureau of Labor Statistics, Registered Nurses, Occupational Outlook Handbook, September 2023, https://www.bls.gov/ooh/healthcare/registered-nurses.htm.
Harvard University, "Resumes and Cover Letters: An Extension School Resource," July 2021, https://hwpi.harvard.edu/files/ocs/files/hes-resume-cover-letter-guide.pdf.
Olvia Crosby, "Resume, Applications, and Cover Letters," Occupational Outlook Quarterly, 2009, https://www.bls.gov/careeroutlook/2009/summer/art03.pdf.