30 Free Basic Resume Templates to Download in 2023
March 06, 2023
|
Gabriela Barcenas
|
Create Your Resume Now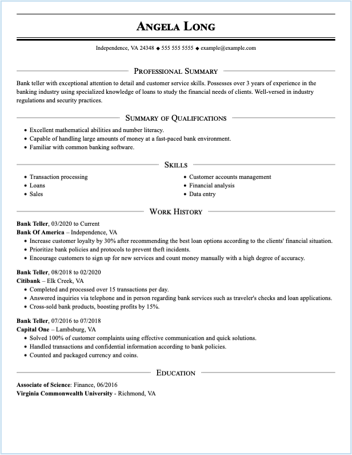 Featured In:
Traditional Elegance

Simple, clean and well-organized, this traditional resume template has a universal design. It is well-suited for virtually every industry and works well for entry- to executive-level positions. If you want to produce a professional chronological format resume, this one fits the bill.

Traditional

Diamond bullets, shading and bold headings give this chronological resume a distinctively conservative and traditional feel. Perfect for mid-career professionals as well as executives seeking a new position.

Proficient

This one-page resume features bold headings and distinctive square bullets to detail your experience and accomplishments per position. This resume emphasizes your work experience by placing it towards the top, but the skills section highlights what makes you perfect for the job.

Keep it Simple

Clean, simple and traditional, this functional resume template features bold headings, bulleted lists and ample space to highlight your experience, education, achievements, skills and interests.

Classic Plain

Easy to read and scan, this basic chronological resume has narrow margins, allowing plenty of room to describe your job history and experience. Mid-career professionals find the skills and professional membership sections helpful, so use these areas to promote yourself.

Exemplar

Blue section headers and divider lines with plus-sign bullets give this template a very polished look. Great for senior directors, bank managers and financial planners.

Star Showing

Lists draw the eye to your accomplishments, skills and experiences in this chronological resume layout. The thin margins allow for detailed descriptions without making the resume appear cluttered. This design is perfect for mid-career retail professionals and individuals within the health care industry.

Big and Bold

Make a statement with this chronological resume sample that puts your name prominently at the top. The font selections and bold lettering make an impact. This template is perfectly suited for designers and creative professionals.

Hard Worker

Conventional resume style with bold headings and dotted border lines on two pages. Bulleted lists for experiences and keyword cloud for strengths. Great sample for clerical, retail or service industry job seeker.

Time-Honored

Simple yet refined, this chronological resume features block sections with thin dividing lines. This universal layout is great when applying to large corporations and creative agencies, or in the manufacturing and industry sectors.

Performance

This elegant chronological resume template is perfect for performance artists, musicians, writers, visual artists, photographers and others with extensive careers, education and performances. Performing artists from TV to Broadway will find this format fits the bill.

Out of the Box

Traditional resume format with key titles in salmon and sky blue section lines add design touch. Thin margins allow ample room for all of your information. Corporate creative-thinker sample.

Clean Columns

This contemporary styled resume features multiple columns that allow you to highlight your work history, education, skills, accomplishments and services offered. This is perfect for freelance professionals; you can squeeze in a lot of information in an informative and organized template.

Centered Traditional

Smaller margins and bulleted points give you plenty of room to detail your qualifications and experiences. The dual arrows and dashed lines add a design touch without being flashy.

Essence

Elegant and distinctive, this functional resume template features content that is entirely centered. This design allows for ample white space, making it easy to read. Bold headings and titles allow hiring managers and recruiters to quickly identify if you have the skills, experience and education they desire.

Spotlight on Achievements

This resume template is designed for seasoned and accomplished professionals with ample awards, recognitions and expertise. The work history section takes a back seat so that your actual abilities garner the attention of hiring managers and committees.

Legal

Clean, crisp and all business, this functional resume is designed to ensure that hiring managers focus on your competencies and skills rather than your work history. The conventional layout, section dividing line, and bold headings impart confidence and professionalism –– it's a perfect choice for lawyers, health care professionals, and executive administrators.

Ready for More

This functional resume is clean, simple and easy to read. Designed to highlight your competencies first, it is perfect for individuals looking to transition to the next career. The ample text space lets you explain how you're ready to go from assistant manager to manager.

Plain Linear

Minimalistic and plain, the clear headings attract the eye without being overwhelming. This is a great black-and-white one-page resume that highlights work experience and skills.

Seasoned

Subtle gray shading and blue lines add a touch of character to this traditional combination resume. The two-page layout offers lots of space to detail your professional experience, skills, awards, education and accomplishments.

Economic

Traditionally styled template with bulleted lists and a distinguished three-column skills section. This template is perfect for investment bankers, financial planners, attorneys, professors and others with significant experience to showcase.

Goldfish Bowl

This simple and clear one-page combination resume allows you to highlight your skills above your work history using a two-column design. It's perfect for mid-career professionals with skills, awards and accomplishments, as well as ex-military veterans transitioning to civilian work.

Button-Down

This professional template features a traditional elegance. Designed as a combination resume, it provides ample room for highlighting your skills, accomplishments and work history. This free resume is an ideal choice for executives and senior staff with impressive career milestones.

Plain Divider

This minimalistic chronological resume format adds a touch of distinction with the vertical divider and offset detail. Bolding the titles of previous positions draws the attention away from the dates of the jobs, making this format ideal for those with gaps in employment or short tenures, and mid-career professionals with a history that indicates growth. Its simple black-and-white design, which will make it trouble-free to print, will also be appreciated.

Bare Bones Minimalistic

A traditionally styled chronological resume with plenty of white space that makes it easy to read. This clean resume is perfect for students, recent graduates and other entry-level individuals.

Font Appeal

This basic chronological resume sample is perfect for recent graduates, and entry-level and mid-career professionals. Designed with a creative mix of fonts that bring attention to the sections, this resume template provides plenty of room to detail your work experience, education and skills.

Sprouting

This chronological resume is perfect for recent graduates, entry-level personnel and individuals reentering the workforce. This elegant layout allows for multiple sections to detail your objectives, experience, education, accomplishments and volunteer activities. Straightforward and elegant, the dividing lines add a creative flare without making it fussy.

Headliner's List

This basic resume template was specifically designed for performers, celebrities, artists and writers to easily communicate performances and appearances. Simple and clean, it is the perfect choice for accomplished professionals with impressive exhibitions, performances and appearances.

Credited

This refined and elegant resume is designed to highlight your exhibitions, performances, lectures, accomplishments and awards. It's perfect for motivational speakers, performance artists, visual artists and photographers, and other professionals who have an extensive production background.

Ivy League

Ideal for master's and doctoral candidates, professors, engineers and other scientific professionals. The two-page chronological resume format allows for detailed descriptions of skills, research, publications and honors.
Basic Resume Template Pros and Cons
Basic Resume Pros
Universal appeal: Basic resumes typically have a very classic and traditional tone. While they may have touches of color to add emphasis, in general they are designed to have universal appeal. This is of great benefit when applying for multiple jobs with different types of organizations — any of the templates on this page are timeless.
Easy to read: A basic resume clearly communicates your job history, work experience, accomplishments and education — in the order you desire. We have free resume templates in the top three resume formats — chronological, functional and combination, to allow you to focus the reader's attention where you desire.
Easy to make: An easy resume layout means you won't be spending hours trying to figure out intermediate and advanced features of Microsoft Word. Basic layouts are very easy to edit, even if you have never made a resume before.
Printer-friendly: The clean layout and simple design of our basic resumes makes printing a breeze; if you are applying for jobs online, or submitting your resume via email, it's important that you know your resume will print without changing the formatting or length. Basic resumes are printer-friendly so that you don't have to worry about any unforeseen technical errors ruining your resume.
Basic Resume Cons
Can fail to impress: A basic resume is the ideal choice for a conventional job such as bank teller, administrative assistant, sales or paralegal. But if you're pursuing a job in a creative industry such as marketing, public relations or design, a basic resume strips you of a chance to showcase your creativity in the first stage of the application process. Your resume is a reflection of your job qualifications; a basic resume doesn't indicate what your personal or professional style is outside of your work history. Your job search would benefit more from using a creative or portfolio resume.
Makes errors noticeable: The simple design of a basic resume means there's nothing to distract the hiring manager from the document's content. If you carefully proofread your resume before submitting, this shouldn't be a problem. But if you miss a typo or use inconsistent formatting like alternating paragraph spacing or using an inconsistent font size/color on your document, a basic resume makes the error more visible and can negatively impact your job search.
DIY Tool for Your Basic Resume
Ready to kick off your resume but still feeling shaky? No worries –– try making a resume with our new Resume Builder. We feature a variety of templates that auto-format your information. Just fill in a brief form and your resume is done in minutes.
Build a Resume
Basic Resume FAQ
How do I write a basic resume?
A basic resume follows the same writing structure as most standard resumes. You'll need to include the following information for hiring managers to seriously consider your application:
Your contact information: A hiring manager needs to quickly locate your name and contact information for follow-up if they're impressed by your qualifications. Placing this information near the top guarantees that a hiring manager can easily contact you.
Your professional summary: Also known as a summary statement or professional profile, this two to three sentence summary introduces your key strengths as an employee and ties them to the specific needs of an open job opportunity.
Your work history: There are a few ways to structure this information based on the resume format you use. The most common method is to highlight your past job title and period of employment, name and location of your former employer, and list three accomplishments or responsibilities for each job.
Job-related skills: This layout depends on your resume format, but most resumes use a simple list structure where you share six to eight soft and hard skills. We compiled a list of hiring managers' most commonly requested skills to consider adding to your resume.
Education: This is the most formulaic section of your resume and includes a combination of formal degrees, job-training seminars and specialized certifications related to your work.
You can learn more about how to write each of these resume sections by reading our resume-writing guide.
Who needs a basic resume template?
The beauty of a basic resume template is that it's well-suited for most job seekers. However, you're well-suited for this simple template if you're looking for a job in the following industries because the minimal design focuses on your technical skills and professional accomplishments:
Banking
Finance
Administrative
Accounting
Research
Computer software
Health care support
Food service
Retail
Nursing
Statistics
Law
Safety and security
Inventory management
What are the basic categories or sections of a resume?
Both chronological and combination resumes include the following resume sections, although the structure may vary:
Contact information
Summary statement
Skills
Work history
Education
A functional resume includes variations of those sections, but expands its information by using a combination of the following sections.
Summary of qualifications
Experience and skills
Relevant skills
Additional skills
What should a basic resume look like?
A basic resume should look clean, standard and professional. The document design and construction follows the same conventional layout as academic assignments. A basic resume may include some, in not all, of the following design elements.
Standard 1-inch margins
Standard 1.5 or double line-spacing
Conventional fonts (Times New Roman or Arial)
Size 10-12 font on the main body
Size 14-16 font for section headers
Little to no added pops of color
Clear space or borders between resume sections
How to Make a Basic Resume?
While there isn't a road map that dictates the format of a basic resume, there are some unwritten design rules that most templates in this category will follow.
Sections: Vertical lines, different fonts and pops of color are commonly used to highlight sections.
White Space: Columns, tabs and plenty of white space to make it easy to read.
No Graphics or Photos: Void of photos and graphics, but some include simple skill meters.
Now that you're familiar with these three simple design elements that help build basic but effective resumes, you can determine if a chronological, functional or combination resume format is the best choice to apply these elements.
Our basic resume templates are available in all three formats; just take the time to find the one that best conveys your skills, talents, work experience, education and accomplishments in the best possible light.
Chronological resumes: If you want to present your job history as the primary focus, consider a chronological resume. If you decide to use this layout, be sure that you have a steady work history with little to no work gaps and that you spent at least one year at each of your previous roles. You'll also have one added benefit –– chronological resumes are the most familiar layout and therefore have more downloadable templates and advice articles around them. This is especially well-suited to you if you have over 10 years of experience
Functional resumes: If you want to highlight your professional achievements, abilities and work-related skills, you'll benefit from a functional resume. This layout uses multiple dedicated sections to build up your accomplishments and reduces your formal work history to a very simple timeline. This format is perfect for you if you took a work gap to focus on personal responsibilities such as family, education or wellness.
Combination resumes: If you'd like to focus on both your skills and formal work history, use the combination format. This resume is very similar to the chronological resume, except it flip-flops the skills and work experience sections to give your skills priority without stripping information from your previous employment. This is perfect if you have consistent work history, but have worked less than 10 years.
Gabriela Barcenas
Gaby is Hloom's resident writer, a certified professional resume writer (CPRW), and a baking enthusiast. She likes to defend the use of the functional resume to her friends in HR. She graduated from the University of San Francisco with a B.A. in English and Creative Writing and wrote about career growth, tech startups, education, fashion, travel and lifestyle culture throughout her career.