Portfolio Resumes
How to Make a Portfolio Resume + 10 Free Portfolio Templates
A portfolio resume is a
type of creative resume
that showcases examples of your work along with the
usual resume information
about your work experience. Best suited for creative fields like photography or graphic design, a portfolio resume is an excellent way to let potential employers take a look at your best projects. Resume portfolios can also work well for some other industries,
like teaching
, in which showing professional creativity and examples of your work is a bonus.
Many professionals will instead have a portfolio that is separate from their resume. This is more conventional, and is the best option if you're applying to a more conservative workplace that will still want to see work samples. However, a modern, creative employer may be impressed by your ability to combine your resume and portfolio into a single, eye-catching document. Let's take a look at some different ways to
make an exceptional resume portfolio
that will land you the interview.
Portfolio Resume Format
A portfolio resume is all about format and design. Our templates make it easy to create your own professional portfolio without having to come up with the design on your own. Also, there are some design and formatting techniques you can use to customize the template to target a particular job.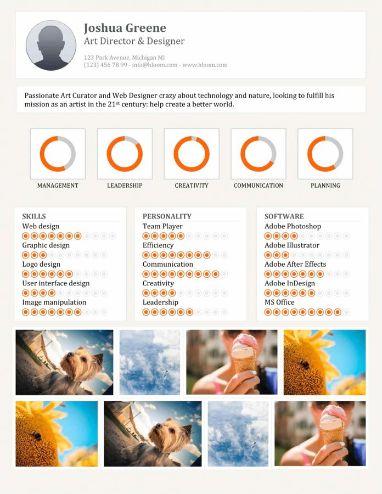 Size: 42 B
Downloads:

32793

Download: zip and docx
Uploaded: 2014-05-08 11:14:00 / 5878
Download
FEATURED TEMPLATE
Circles
Bright orange circle charts and graphs used to rank skills, experience, attributes. Display headshots, photos, artwork. Great imagery for artistic, creative, design job seekers.
Length
The most daring of resume portfolios need only be one page long. In fact, the one page length is a good choice for visual industries like graphic design and photography. It shows your ability to use images and design effectively with the added challenge of limited space. However, some resume portfolios should be longer. If you're applying to be a teacher, for example, it doesn't make sense to squeeze examples of your lesson plans and homework assignments onto a single page. Instead, make the first page of your resume portfolio stand alone, and follow it with other pages that show your accomplishments. Our professional portfolio templates provide space for images and graphics on the same page as your other resume information. You can use the template to create a one page portfolio, or use the template as the first page and add more pages of your work to create a longer portfolio.
Visuals
If you work in a visual industry, you'll need to have effective visuals on your portfolio resume. Make sure every image is of the highest quality possible, so it will look nice in any format it is viewed in. Multiple images can look busy if they aren't arranged well, so be sure to organize them so your resume does not appear overwhelming. Don't cram extra images onto the page–just choose a template that has space for the number of images you want. Even if you aren't making your portfolio for a visual industry, it is still good to have visuals in your portfolio resume. Multiple pages or blocks of text can be tiring to the eye. An
infographic
or some industry-specific icons can break up the text and draw the reader's eye to the most important information.
Color
Since resume portfolios are highly visual documents, use color where you can. Consider choosing images that have a cohesive color scheme for your portfolio. As you'll see in our template samples, having a similar color element in each image (like green in the "Creative Multi Colour Blocks" template) makes the page look organized. For example, you might choose images with mostly cool colors, like green, blue, and purple; or choose to have one color that is present in all the pictures on your portfolio. Once you've decided on a color scheme, you can enhance it with text and layout colors. Too many colors can be tiring to the eye, but picking one or two accent colors besides black is an effective way to add visual interest. Even if your portfolio resume does not use many images, color can highlight important information and be more eye-catching. Take inspiration from our
professional resume templates
below, and then use your own images and color choices to make your unique portfolio.
Career Portfolio
A
career portfolio
takes the portfolio resume concept one step further in a multiple-page document that thoroughly covers your career to date. What might a career portfolio contain?
Table of contents
Copy of standard resume
Education: degrees, certifications, etc.
Skills and achievements
Career goals
Mission statement or guiding principles
Professional summary
Work samples
Evaluations or recommendations
Publications and research
Volunteer work
Awards and acknowledgements
List of references
Your career portfolio will be longer and more detailed than a typical portfolio resume. You will want to keep this document in a professional three-ring binder and update it regularly. Organize your career portfolio into sections. Use page numbers and a table of contents to make the information easy to find, as well as tabs or dividers between sections. Even if the jobs you're applying for don't ask for a career portfolio, making one can still be useful for you. It's a way to organize everything about your career in one place, which can come in handy when you need to
update your resume
or prepare for an interview. Consider taking your career portfolio with you to your next interview – having physical examples of your career highlights is a good way to impress an interviewer.
Online Resume
Many modern job-seekers will make a digital portfolio resume, which may supplement an on-paper version in their job search. It's a good idea to always have a print resume, whether it's a portfolio or a standard one, however, you may also want to make an online version of it, or create a different online portfolio to supplement the print one. You can add your online portfolio link to your print resume, so that potential employers know where to learn more about projects you've done and skills you've acquired. Much of the same advice that applies to print resumes also applies to online portfolios. You'll want to make your site easy to navigate and read. Potential employers should be able to find important information about your abilities and experience quickly. Choose colors and fonts that are attractive, not overwhelming or distracting. The customization options for online portfolios can be nearly endless. If you want an elaborate web page with complete customization, the popular website builder
WordPress
is a very good choice. Presentation software
Prezi
provides a modern, interactive format. Other websites provide digital portfolio options for specific industries, such as
Contently
for writers. All of these options are free, and there are
many others
to choose from. Check out
this list
of creative online portfolios for more online portfolio inspiration.
Portfolio Special Cases
Certain careers require a specific and unique type of portfolio resume. These include acting, modeling, and visual arts.
Acting
Acting jobs will always require a facial photo, so be sure you have one in your acting resume. Aside from that, an actor's resume looks like a standard one. You'll need to list any roles you've had (that's your work history), and any relevant education and skills. However, for acting jobs, you also should make a reel. A reel is a form of video portfolio. It puts together clips in a compilation of your best work, so potential employers can see what you're capable of. Often called a "demo reel," this is an important step for getting an acting job. Your reel, not your resume, is likely what the final hiring decision will be based on. Reels are considered more professional than on-paper acting portfolios, since they contain real-time information about what you can do. To
make a quality demo reel
, gather footage of
your best work
to make a video. It should be about a minute to a minute and a half for beginning actors, and two to three minutes for those with more experience. Be selective–it's better to have a shorter video with your best work than a longer one with some mediocre work or low-quality clips thrown in. Put your basic contact information at the start and end of the reel, including a link to your email. Use
free video editing software
to make your reel professional and polished.
Modeling
A modeling portfolio needs to contain a selection of shots that show your abilities and versatility as a model.
This article
from The Balance lists some of the important shots your modeling portfolio should include. The list will differ slightly depending on your ideal modeling job: a commercial model will need different photos than a fashion model.
You'll want to include
about 6-12 photos if you're new to the industry, and 10-25 if you're more experienced. Your portfolio should also include a profile with details about your location, availability, and what you are willing to do as a model. List details about any tattoos or scars that a potential employer will want to know about. Remember to show your uniqueness
in your modeling portfolio
. Choose shots that show off your best features and abilities, and give potential employers a sense of your overall style with the images you choose. The visual possibilities of an online modeling portfolio can also help take your career to the next level. Consider making one in addition to your print portfolio–use
these examples
to get started.
Visual Art
Visual artists need professional portfolios to
showcase their work
, as well as their history and artistic vision. If you're submitting to galleries or
applying to art school
, your portfolio is key to gaining opportunities. An
artist portfolio
will typically be a type of career portfolio, with details about your experience, abilities, and mission as an artist, as well as samples of your work. You will want to include a copy of your standard resume, your artist's statement, your bio, and five to ten high-quality images of your best or most recent pieces. Also include details about the work you've included, such as the medium, dimension, and price of each piece. Double check any specific requirements the school, gallery, or employer has for what should be in your portfolio. Keep your artist portfolio organized in a three-ring binder with dividers or tabs for sections. Remember, even in the most creative industries, organization and attention to detail will put you a step above the competition.
Portfolio Resume Examples
Below, find our portfolio resume templates for you to download, customize, and print. Some are clearly suited for specific fields, like design or photography, but all of them can work for a variety of creative fields. Choose one and get started on showcasing your best work!
High Impact Multi Colour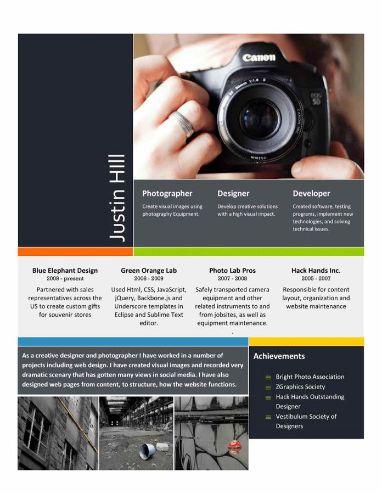 Lots of colour and images that will add an industrial edge to your resume. Customize with examples of your own work to create a great one-page portfolio.
Size: 183 B
Downloads:

32139

Filename: high-impact-multi-colour.docx
Uploaded: 2014-05-05 20:10:00 / 4901
Download
Film Strip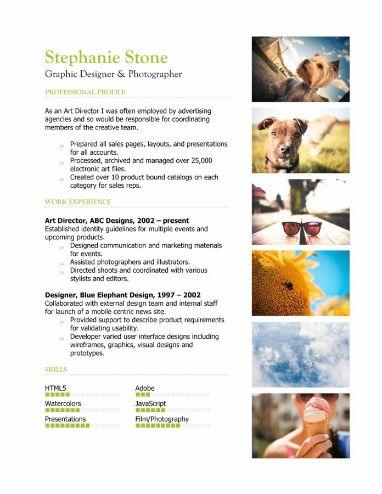 Photographers, artists, actors, and illustrators can showcase a mini portfolio with the side film strip while using the dotted bar graphs to promote skills and bulleted sections for work experience.
Size: 183 B
Downloads:

23323

Filename: film-strip.docx
Uploaded: 2014-05-07 20:08:00 / 5789
Download
Picture perfect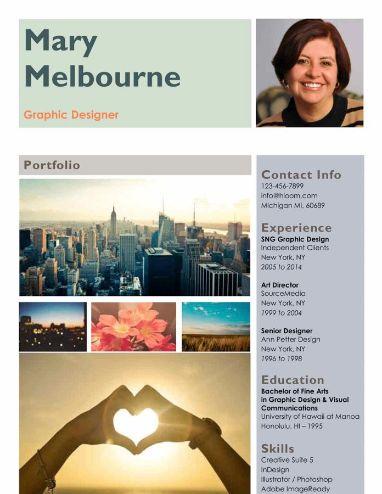 A visually appealing resume template that highlights photographic ability on a single page.
Size: 42 B
Downloads:

14081

Filename: 282-Picture-perfect.docx
Uploaded: 2015-10-10 08:24:00 / 8311
Download
Creative Multi Colour Blocks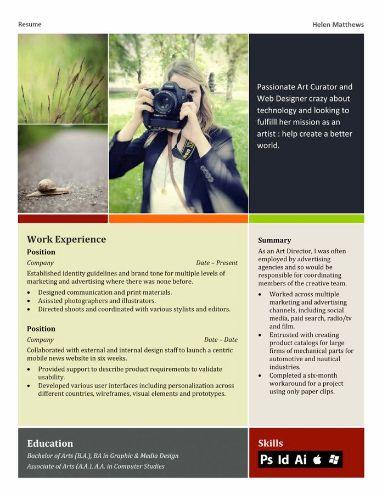 A trio of images and block colours give this resume a graphic, funky style. Easy to customize to showcase your own work.
Size: 183 B
Downloads:

11120

Filename: creative-multi-colour-blocks.docx
Uploaded: 2014-05-05 19:43:00 / 4898
Download
Creative Picture Column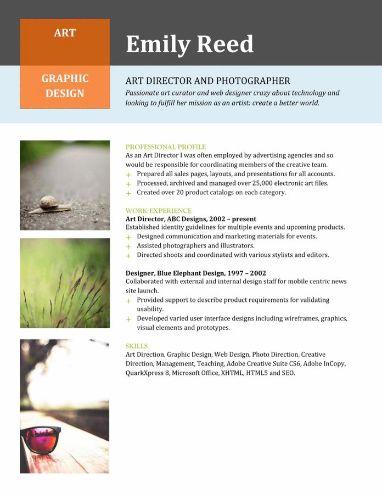 More colour and pictures suggests a greater degree of creativity. Use picture column to showcase your own work or show you at work.
Size: 183 B
Downloads:

10264

Filename: creative-picture-column.docx
Uploaded: 2014-05-06 17:24:00 / 5634
Download
Personal Endorsements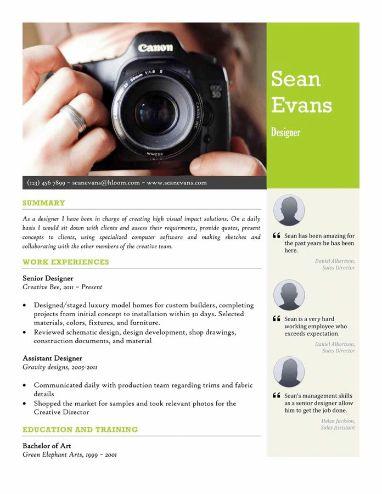 This resume stands out because of the highlighted column where you can add pictures of your satisfied customers, bosses or even co-workers. Don't be shy, quote the compliments and praise you have received for your work. This format is also a great way for school leavers to show what their teachers or classmates thought of them, or anyone else who can give you a good character reference.
Size: 183 B
Downloads:

8639

Filename: personal-endorsements.docx
Uploaded: 2014-05-06 11:28:00 / 4934
Download
Picture Timeline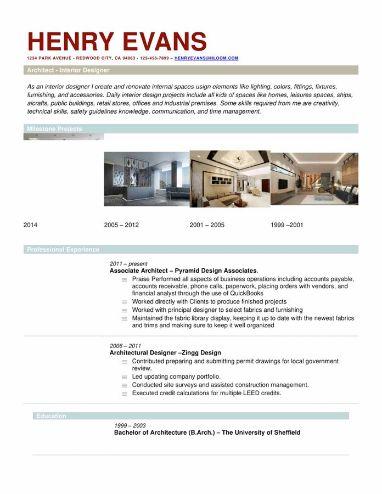 A great format for showcasing the projects you have been involved in over a period of time. This resume is set out so that each milestone can be summarized by an appropriate image alongside the corresponding text. Represent your achievements in a unique way by customizing the pictures that accompany them.
Size: 183 B
Downloads:

7715

Filename: picture-timeline.docx
Uploaded: 2014-05-06 11:26:00 / 4927
Download
Four Squares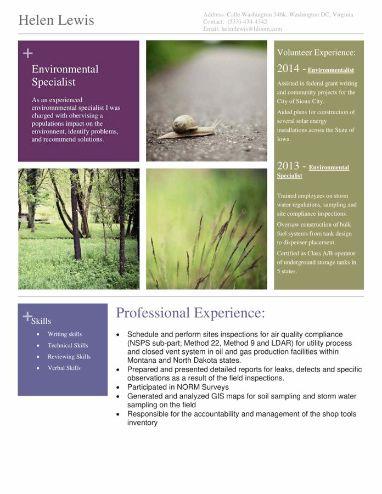 Perfect design for anyone who wants to show everyone what they are capable of. Plenty of space to showcase your best work, neatly divided zones for text and images.
Size: 183 B
Downloads:

6641

Filename: four-squares.docx
Uploaded: 2014-05-06 11:15:00 / 4921
Download