63 Modern Resume Templates for 2023 | Free Downloads and Writing Tips
If you're looking for an innovative job within the field of technology, research, education, construction, marketing or design, we have modern professional resumes that prioritize your professional accomplishments by order of importance, so you can save time agonizing over where to place your details and focus on your hirable information.

We have a library of premium or free modern resume templates in Word, PDF and simple text form to help give you a boost, along with our free do-it-yourself advice to write a modern resume.



May 22, 2023

|

Gabriela Barcenas

|

Create Your Resume Now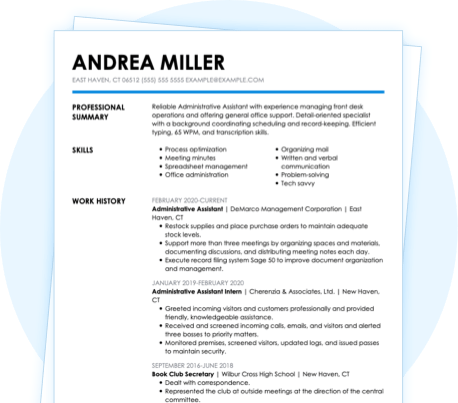 Featured In:
Professional Resume Template

This elegant template follows simple design and font elements to format your resume sections. This template is a perfect application choice if you're applying to open opportunities at 100+ companies or careers in finance, law, or education.

Knowledge Resume Template

This template elevates a standard resume layout with subtle borders that can help hiring managers easily skim and identify important sections of your resume. The customizable options make this perfect for applications to smaller companies, startups, and marketing agencies.

Accentuate Resume Template

This modern template uses color blocking, ample white space, and elevated fonts to create a fresh approach to resume writing. This template is suited to tech startups, sales, marketing, and engineering job opportunities.
24 Free Modern Resume Templates – Chronological Formats
These chronological modern resume designs are created for the experienced job seeker. Download and customize our modern resume templates for Word if you have more than 10 years of experience and are applying to a senior or management-level position.
Blue Side

Light-blue sidebar and dark-blue titles with thin section lines provide a well-structured, modern resume style.

Best for:

Executive assistants
Software developer
Creative director

Vibrant

Make all your great strengths pop with this professional resume template set in blue fonts, backgrounds and borderlines. A splash of red highlights the dates.

Best for:

Senior graphic designer
Art director
Marketing manager

Streamlined

Fading blue edge lines and backgrounds highlight each section down the template. One-column format with plus-sign bullets for job descriptions.

Best for:

Product manager
Brand manager
Sales manager

Personal Brand

Oversized initial crest with forest-green background. One-column format with green coloring for section borders and key titles.

Best for:

Business analyst
Social media manager
Account manager

Black and Orange

Deep black tones, subtle oranges and icons showcase your attributes in this modern resume template.

Best for:

Dental office assistants
Construction project developer
Property manager

Professional Orange

Not a color that you would expect to see on a resume template but it works. Very clean, professional layout with only a few color shapes to create a fresh, contemporary look.

Best for:

Assistant property manager
Case manager
Behavior technician

Marketed

Open, two-page format with dark and light-blue shading for section headers. Traditional bulleted lists and three-column format for key strengths impart a corporate feel.

Best for:

Paralegal
Pharmacy manager
Director of security

Grindstone

Steel-gray background for header with maroon and fading saffron colors make this resume template pop with a full-color profile picture and traditional bulleted list and paragraph descriptions.

Best for:

Scrum master
Inventory manager
Branch manager

Rosy Outlook

Shades of red-rose color used for fonts and backgrounds shape this modern resume template. The two-column work experience section offers lots of room for detailed job descriptions.

Best for:

Financial analyst
Supply chain manager
Research analyst

Hire Me

Original use of shapes, lines and color creates a unique design that will stand out from the rest without being over-the-top.

Best for:

Doctor
Network engineer
Salesforce administrator

No Fuss – Duo

Simple and elegant layout with a dash of complementary color, this modern professional resume gets straight down to business.

Best for:

Office manager
Teacher
High school teacher

VIP

Brightly highlighted main section set on light-colored, diagonal-lined page background. Olive-green shading for section titles completes this sharp, polished look.

Best for:

Teacher's aide
Editor
Software developer

Call Out

The off-center design of this modern resume template captures attention immediately. The use of rich green color around the name focuses a reader's eyes to the top left and gets it moving around the page.

Best for:

Editorial assistant
SQL developer
Retail manager

Schema

Map out your career path in this resume template with dashed lines flowing throughout the page, punctuated by blue-boxed headers.

Best for:

Java developer
Programmer
Network engineer

Corporate Lines

Subtle background, lines and waves add a lot of texture to this otherwise simple design. The use of bright colors causes the section divisions to pop.

Best for:

Sales representative
Operations analyst
Construction project manager

All Business

Gray tones and white fonts with bold titles and a profile photo give this modern day resume a corporate feel.

Best for:

UX designer
Programmer
Costume designer

Bold Typography

This modern resume relies on the power of typography and your words. Make sure you choose the right ones to make the most impact. Text size and styles play an important part in creating a powerful impression.

Best for:

Director
Food and beverage manager
Kitchen manager

Column Mix

Nice one- and three-column mix with a well-organized contemporary look. Paragraph headers serve as captions for three-column sections with blue-shaded titles. Full-page grid lines define the space with lots of room for your information.

Best for:

Nurse practitioner
Marketing account manager
Daycare worker

Overture

Fine arts feel with this resume template. Light green and gray colors, and a circular profile photo add an artistic touch. Section headers bordered with top and bottom grid lines.

Best for:

High school teacher
Phlebotomist
Video producer

Colorbricks

Thick, colored sidebars for each section in this resume template add a pop to the traditional resume layout. It's creative without overdoing it.

Best for:

Restaurant assistant manager
Certified nursing assistant
Marketing product manager

Great Experience

This modern resume jumps right into your experience and education. Shadowed section titles offset bold fonts for organization and job titles. Complementary turquoise footer draws attention to the design.

Best for:

Caregiver
Child care provider
Dental hygienist

Block Color

Classic goes modern with block color and different shapes. The ribbon forms in this resume also give the impression of awards and many accomplishments.

Best for:

Accountant
Leasing consultant
Lawyer

Tied Together

Compact rectangular style with multiple blue shades used for fonts and divider lines. Bulleted lists to highlight key areas and strengths.

Best for:

Carpenter
Statistician
Nanny

Page One

Banner footer with full-color profile photo, qualifications section and light-blue shading. Three-column modern resume design with bold headers and lines offers lots of space.

Best for:

Editor
Technical writer
Tutor
6 Free Modern Resume Templates – Functional Formats
These modern resume templates follow a functional format and are strategically designed to help recent graduates, job hoppers, contract workers and career changers showcase their job-specific and transferable skills.
Glimmer

Blue shades for backgrounds and section headers with a profile picture set on a light-gray backdrop. Star design element showcases your key skills.

Best for:

Java developer
Cinematographer
Director

Designer's Touch

Light-blue font for titles and arrow bullet points complement gray backgrounds and lines. Thin margins give the page lots of room for your information.

Best for:

Freelance writer
Bartender
Esthetician

Framed

The subtle banner at the top of the page and the color text help focus attention on your name and opening statement.

Best for:

Videographer
Animator
Creative director

Block Step

This attention-grabbing resume makes clever use of color and shapes to help the reader navigate the document. Three steps of block color lead down to the main resume where multiple colors divide the content sections.

Best for:

Disc jockey (DJ)
Web designer
Social media manager

Color Contrast

Contrasting colors help to separate and organize your information and headings. Experiment with different colors but remember that some colors will not print out the same as the onscreen version.

Best for:

Director
Creative director
Sous chef

Casual Blue

If safe and conservative white is not for you, this resume design will definitely help you stand out. This detailed background is only suitable if you're uploading and emailing your resume or if you plan to use a professional printing service.

Best for:

Caregiver
Medical assistant
Daycare assistant
30 Free Modern Resume Templates – Combination Formats
Combination resumes are the most flexible and forgiving of the three main resume formats. hese modern resumes are still ATS-friendly and give equal importance to your skills and formal work history.
Steely

Formal resume template with a corporate feel. Steel-gray, blue shading and a profile photo make it more business-like.

Best for:

Pediatrician
Geologist
Financial analyst

Career Pitch

Blue backgrounds offset bold, white section headers and orange titles with plus-sign bullet points catch the eye. Perfect for engineers, IT, data and communications specialists.

Best for:

Attorney
Clinical pharmacist
Produce

Organized

Organized tabular layout with vertical section headers containing all-caps, white titles and blue backgrounds. Light-gray shading for description areas and blue circle meters to promote your key skills.

Best for:

Security officer
Scrum master
IT project manager

Creative Formal

Two columns separated by white and gray backgrounds impart a creative yet formal feel. Icon images and blue fonts complete the modern resume template.

Best for:

Truck driver
Machine operator
Personal trainer

Show and Tell

Wonderful template for realtors, insurance agents, interior designers or home contractors. Full-color profile photo with blue background with strength graphs to spotlight your expertise.

Best for:

Optometrist
Yoga instructor
Operations analyst

Skillful

Showcase your key skills with olive-green and gray block graphs that complement the gray backgrounds and olive-green section divider lines. Excellent template when applying for a next-level position.

Lists of Expertises

Deep, forest greens and light blues offer a formal feel to this modern resume. Lots of bold sections with bulleted lists include all of your qualifications and expertise.

Best for:

Counselor
Hospital pharmacist
Security engineer

Formative Traditional

Blue and gray header shading with maroon titles adds a modern resume design touch to this traditional example. Skills section includes graphs to rank your strengths and thin margins to include all of your information.

Best for:

Legal secretary
Technical support
Inventory manager

One Two Three

Open black and red circles with inset numbers for bullet points, sequential section headings and light-gray backgrounds make this resume template pop. Round profile photo maintains an open look.

Best for:

Treasurer
School bus driver
Assembler

Score-Card

A centered modern resume template that places visual emphasis on key skills by means of a 10-point rating scale.

Best for:

Soccer coach
Dialysis technician
System administrator

Advertise

Put a color photo of yourself here to complement the blues and whites. Great template for realtors, insurance and advertising sales agents, and contractors.

Best for:

Real estate agent
Leasing agent
Inside sales representative

Springing

Light purples and greens create a spring feel here. Use a photo of yourself and the bar meters to showcase your many qualifications. Great for marketing, sales and hospitality professionals.

Best for:

Brand manager
Restaurant general manager
Executive chef

Fades of Green

White and bold font types set on green-fading backgrounds catch the eye. Large summary of qualifications area and many conventional sections in this modern resume template.

Best for:

Football coach
Pilates instructor
Dialysis technician

Bold Contrast

Strong use of contrasting colors makes this resume stand out. A simple layout, using block color to highlight your strengths. Make the most of positive feedback from customers or bosses by quoting what they've said about you.

Best for:

Nurse practitioner
Pastry chef
Retail sales associate

Foundation

Orange and gray titles add modern design to a classic black-and-white color scheme with a mix of one, two and three columns with thin divider lines in this resume template. Enlarged, italicized and objective footer gives creative appeal.

Best for:

Graphic designer
Cinematographer
Journalist

Spirited Professional

Large footer section with orange color scheme, bold white fonts and a full-color profile photo. Bold headers and maroon titles give a creative feel to this modern resume design.

Best for:

Elementary teacher
Office manager
Personal assistant

Positive Showing

Orange plus signs and headers with a thin border line define each section. Gray and black squares with an inner dot showcase personal strengths. Plenty of space for those with a lot of experience and accomplishments.

Best for:

Medical receptionist
Web designer
Baker

Refined

Designed for professionals seeking to highlight their key strengths, this template has a refined and professional format, with just a touch of light blue, gray shading and dotted lines that add a contemporary vibe. This two-column design provides plenty of room for midcareer professionals to highlight their skills, work history, education and objectives.

Best for:

Kitchen manager
Certified nursing assistant
Child care provider

Prelude

A modern resume template that uses gray-shaded squares next to work experience descriptions provides room for more detail and a designer's touch. Light yellows highlight your titles and sections.

Best for:

Sales engineer
Statistician
Carpenter

Present Yourself

Dashed yellow-green page border with section borderlines in a dashed light gray. Circle graphics set in olive green and dark blue to rank your key expertise.

Best for:

Orthodontic assistant
Staff accountant
Leasing consultant

Check Box

A colored background highlights the section headings and the font colors for the titles complement the backgrounds. Use the checkboxes and lines to bullet-list all that you have to offer.

Best for:

Video editor
Animator
Personal banker

Front and Center

A modern resume that uses a boxed-in contact section to present yourself. Gray vertical and horizontal lines draw focus to the section headings, and the centered descriptions and keywords keep the reader scanning the page.

Best for:

Stocker
Forklift operator
Dietitian

What People Say

Jump straight into what people say about you. Show off your best achievements through the words of others.

Best for:

Swim coach
Tennis coach
Teacher's aide

Functional Showcase

Multi-column layout with thin, section-divider lines. Work history section and a bar graph to rate your skills. Excellent format for administrative, service industry and labor professionals.

Best for:

Office assistant
Administrative assistant
Bartender

Logos

Entrepreneurs, travel, sales and branding professionals use this modern resume design to feature company logos with a shaded, bulleted key skills section.

Best for:

Art director
Web designer
Brand manager

Testimonials

Summarize your skill set succinctly at the start of your resume and have the people that matter endorse you.

Best for:

Software developer
Home health aide
Machinist

Open

Open-ended block sections with thin and thick deep-brown-shaded grid outlines. Arrows used for bulleted lists, and italic fonts for margin headings and titles.

Best for:

Solutions architect
Oral surgery assistant
Store manager

Blocks

Thick, bold outlines define each block section. Limited use of shading adds a sleek design touch. Traditional information with a creative layout.

Best for:

Yoga instructor
Economist
Speech language pathologist

Salmon

Lots of color looks distinctive and this color scheme will make your resume stand out. The checkmark is a very positive image to use instead of a standard bullet point.

Best for:

Patient coordinator
Middle school teacher
Office manager

Qualified

White fonts set on green and deep-gray backgrounds for headers. Combination of two and three columns for skills lists and qualifications.

Best for:

Secretary
Copywriter
Epidemiologist
Should You Use a Modern Resume Template?
Not all job seekers may benefit from the traditional resumes we suggested above. A modern resume may be a better design choice than a traditional format if you work in a creative industry, plan to change careers, or develop higher-than-average proficiencies in career-specific skills.
Modern Resume Tips
Use a modern resume if you work in a creative industry, plan to change careers or develop higher-than-average proficiencies in career-specific skills.
However, if you fall outside of these job-seeking scenarios, we offer a diverse range of free downloadable resume templates for Word and popular word processors.
Basic resumes: Tried and true resume templates that follow traditional resume writing rules. Perfect for every job seeker. Use this if you're a first-time job seeker or an accomplished job seeker who's work history speaks for itself.
Simple resumes: Perfect for most jobs, this simple resume style takes a basic resume template and adds minimal design elements to help highlight key skills and work experience.
Creative resume: These playful resume designs are perfect for recent high school and college graduates or job seekers in innovative industries such as tech start-ups, advertising, marketing or public relations.
Additional resume styles:
If a modern resume is right for you, let's cover how to create or customize these templates to meet your needs!
Choose the right font
Fonts are important to modern resumes. There's a growing library of downloadable fonts that can boost your resume design but a good rule of thumb is to pick a screen-friendly sans serif font. We scrubbed the internet to suggest our favorite, screen-friendly fonts for you.
Do use these modern fonts:
Georgia: Georgia is a particularly good choice as it was designed to be easily read on a screen. This is a simple serif font that relies on round letters and generous spacing to make it highly readable on paper, too.
Helvetica Neue: This minimal sans serif font reworks the beloved Helvetica font. The letters are redesigned with a uniformed height and width, making it a bold, but safe, choice for modern job seekers.
Garamond: This serif font was influenced by the handwritten fonts of the late Middle Ages and early Renaissance –– it was designed to be timeless. Garamond is easy to read and looks like an elevated Times New Roman font.
Verdana: This elegant sans serif font is easy to read as a small print. Verdana is ideal for onscreen resumes, especially if your resume falls on the longer side and needs to fit into a one-page document.
Avoid these commonly used fonts:
Times New Roman: Historically, Times New Roman was the default choice for resumes. On a modern resume though, this old-fashioned font can be seen as outdated, even boring.
Arial: Like its serif cousin above, Arial should be avoided on your modern template. The font isn't a dealbreaker –– Arial avoids decorative details and is screen-friendly. But it's an overused font and can make your resume look generic.
Calibri: Again, this is a fine font choice if you're playing it safe. Calibri is an appealing and screen-friendly sans serif font but as the default font on many word processors, including Microsoft Word and Google Docs, it may seem like an automatic choice.
Use simple and legible colors

Color is a good way to make your modern resume shine. Now that resumes are often sent to employers online, you get to avoid the cost of color printing.

Use simple colors: Keep your color palette professional but minimal. A general rule of website design is to limit yourself to three to five colors, including black and white. Follow the same design rule on your resume and cover letter.
Use colors as accents: You can limit color to your section headers to make them pop, or you can choose a template with a colored design from our options above.
Use legible colors: Always use colors that are easy to see. Darker colors, like navy and burgundy, will look best for text, especially against a white background. Light colors, like yellow, are too difficult to read against standard white backgrounds, they can strain the readers' eye and can look unprofessional.

Keep your resume brief and skimmable

With a competitive job market, a hiring manager probably won't read your full resume until after you make it through the first selection process. They often make the first decisions in a matter of seconds, to improve your chances to showcase crucial information with skimmability in mind.

Highlight key information: Help guide recruiters and hiring managers through your resumes –– use bold font or strategically-placed colors to highlight your major achievements.
White space: Use one-inch margins and white space to create clear breaks between your modern day resume sections. Clear breaks helps readers skim, don't sacrifice this necessary space to stuff your resume with information.
Use bullet points: You want to mark each new accomplishment or responsibility with bullet points. This adds extra emphasis to the information while allowing the hiring manager to easily skim and find these professional details.
Use industry shorthand: If there's a common acronym or abbreviation for a term in your industry, be sure to spell it out at least once in your resume before using the insider term, in case the person reading your resume is not familiar with the abbreviation.
Key or core qualifications: A modern professional resume relies heavily on distinct sections and columns. This design choice can let you create an additional skills section that focuses on your core competencies and grants you an additional opportunity to impress hiring managers.
Experience timelines: This design element can help hiring managers understand how your professional career has unfurled over the last few years.

Should your modern resume be one page?

It's important that everything on your resume is essential. Two pages of job-specific information is great; two pages of unrelated filler is not. You want one page of your resume for every ten years of work experience.

One-page resume: One page resumes are great but the strategic use of columns, skills rating graphs and borders can make modern resumes longer than one page. If you're using this layout, your resume will be one page if you have less than 10 years of experience.
Two-page resume: This resume length is appropriate if you have a lot of work experience. Employers would rather read a multi-page professional resume than a one-page resume that's crammed with information in a tiny font.

Your Modern Resume Breakdown

A modern resume relies heavily on distinct sections and columns. With this design, you can create an additional skills section that focuses on your core competencies and grants you an additional opportunity to impress hiring managers.

01

Modernize your contact information: In addition to standardized information like your full name, professional email address, phone number and general location, update your contact information with relevant online content. Include professional social media accounts like Linkedin. If your job relates to social media, add professional handles and hyperlinks to your Twitter, Instagram, TikTok or related social platforms. Just be sure to review them for inappropriate content before you submit your resume.

02

Prioritize your summary statement: Your professional summary is a synopsis of your job history and can include your years of experience, job history highlights or major accomplishments, especially if the accomplishments are similar to the stated responsibilities of an open job position.

03

Backup your work history with evidence: Add your achievements to demonstrate how highly skilled you are in job-related tasks, rather than just trained. Work your successes into your Experience or Work History section. Tell recruiters about things you accomplished or skills you mastered at each past job. If you can include specifics or numbers, that's even better.

04

Demonstrate skills and achievements: Consider rating your skills based on the strength of your knowledge or familiarity with core tasks. A few of our modern resumes use numerical scales to help communicate your familiarity with hard and technical skills.
Modern Resume Pros and Cons
All job seekers are uniquely qualified — some of you may benefit from using a modern resume template and some might severely damage their job search prospects. We'll break down the pros and cons of using a modern resume layout. If the cons far outweigh the pros, you can also try our Resume Builder for step-by-step advice on how to build your own resume!
Pros
Skimmable: The use of columns, colors and distinct borders around each section makes it very easy for hiring managers to quickly scan and find your professional information.
Screen-friendly: Each of our modern templates was carefully designed for technology. The use of screen-friendly fonts makes these resumes easy to read on both a monitor or hard-copy format.
Attractive design: Modern templates borrow a lot of design elements from traditional newspaper formats. Bold borders, complementary color schemes and careful use of spacing help these designs stand out against basic resumes.
Cons
Length: The use of columns, infographics and borders cuts both ways. Although these modern design resumes make it easy to skim through your information, they also take up space. While some managers prefer longer resumes, this design is risky because it takes twice as much space to share the same information as a simple one-page resume.
ATS-risky: Aapplicant tracking systems (ATS) come standard with most online application portals and job boards but it's a flawed and finicky tool. These systems can only scan and parse information from recognizable chronological and combination resumes. Modern resume's heavy use of columns can confuse these programs into misreading your resume and eliminating your application before a human eye can review your materials.
Where can I make a modern resume?
Did you like the elegant designs of our free templates, but want to make a modern resume with online support, job-specific advice and matching cover letter templates? Try our new Resume Builder. This online tool features exclusive templates, fill-in-the-blank copy based on your past jobs, easy customization features and unlimited online storage with a subscription.
Build a Resume
Modern Resume FAQ
Is it unprofessional to use a modern template?
No. A modern template is professional when designed and written correctly. Our templates may use creative color palettes or playful design elements but we designed them with your career goals in mind. To help you make a positive, professional impression on a potential employer. As long as you stick to facts and share quantifiable metrics alongside your employment history, you'll have an employer-friendly and professional document.
Is a modern resume template better than a traditional one?
Asking if a modern resume is better than a traditional template is like comparing apples to oranges. They're both great job-seeking tools but they use different design strategies to summarize your career.
Our modern resumes are designed to showcase strong skill sets and successful metrics. It's perfect for highly skilled job seekers who may not have a lot of formal work experience. If you'd like to try a different design, we share some of our favorite and successful options below.
What is the best resume template for 2023?
Not all job seekers have the same experience or hiring strength — a resume template that benefits your friend may not be the best resume template for you. There are a variety of reasons why a modern template may not work for you: short work history, beginner-level comfort with your skills, lengthy gaps of time between jobs.
If you'd like to see additional options, we broke down our favorite resume templates into specific writing guides with the hopes of helping you find your next job.
1. Chronological resumes: This is the most commonly used resume format that is perfect for candidates with over ten years of steady work experience, no work gaps and trackable career growth.
2. Functional resumes: The least common format, the functional resume showcases acquired skills instead of the work history. This format dedicates multiple sections to elaborating on learned skills and techniques in order to highlight qualifications. It's perfect for job seekers who are changing careers or have needed to take long breaks between employment positions.
3. Combination resumes: This format is perfect for recent graduates, entry-level job seekers or career changers. The combination resume borrows strengths from both the chronological and functional resume to lend equal weight and importance to your learned skills and your formal work experience.
What should a modern resume include?
A modern resume will follow one of three formats. Each resume will include the following standard sections.
Modern Chronological Resume: The most standard and familiar format includes the following section in this order.
Modern Combination Resume: The second most popular format includes most of the same sections as a chronological resume but switches up the placement.
Modern Functional Resume: A modern functional resume has added sections highlighting specific skills essential to the job. It is necessary to elaborate on your soft skills, talk about your hard skills and be able to showcase how you have used your technical skills.
3.
Summary of Qualifications
What kind of resume do employers prefer?
The success of a resume depends on each unique employer but most hiring managers prefer sleek, informative resumes. We compiled a list of our best resumes for both online job portals and prospective employers.
1. ATS-friendly resumes: These are your best options if you're only applying through online job boards. Most ATS can only read and parse your resume information from formulaic layouts — each of these ATS resume templates carefully notes where to include your professional experience to increase your chances of an interview.
2. Simple and clean resumes: Simple doesn't always have to mean basic. If you're uncomfortable with using colors and images to tell your professional story, you can still impress hiring managers by using one of these simple but elegant designs. They are designed to focus on your qualifications.
3. Hloom's best resumes: We like to identify and highlight our top downloaded resumes for a reason –– these elegant designs showcase your work and play up your strengths while keeping employers in mind.
How do you write a CV for a modern resume?
A CV, or curriculum vitae, is far more detailed and customizable than a standard resume. Most resumes include five or six sections but a CV can include anything from 5-20 sections, depending on the information you want to share.
However, you can use one of these modern resume templates as a base and add additional sections to fit your unique needs. Here are the few sections we recommend you start with:
6.
Samples of Work or Publications
You can learn more about the additional sections that you can add in our detailed CV writing guide .
Gabriela Barcenas
Gaby is Hloom's resident writer, a certified professional resume writer (CPRW), and a baking enthusiast. She likes to defend the use of the functional resume to her friends in HR. She graduated from the University of San Francisco with a B.A. in English and Creative Writing and wrote about career growth, tech startups, education, fashion, travel and lifestyle culture throughout her career.