Combination Resume Format: Free Templates and Guide
A well-written combination resume can be a powerful tool for promoting a professional image and getting a job interview. In this article, you will find an extensive guide to building a combination resume. Use our free resume samples and templates, or our Resume Builder, to help you create a compelling document.
Use This Template
Featured In:
Table of Contents
Here are more resources that can help you
What is a Combination Resume?
A combination resume is a format that marries the best aspects of a chronological resume format and a functional resume format. A chronological resume focuses on the candidate's work experience; a functional resume on skills. A combination resume uses both work history and skills to capture the employer's attention.
Your combination resume will follow this layout:
1
2
3
4
5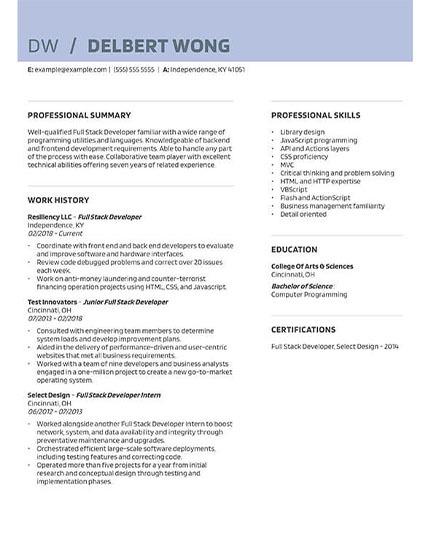 Combination Resume Examples
Entry-Level Marketing Associate

This hybrid resume blends highly developed skills and a public-relations education with a limited experience timeline. This style works best for new job seekers looking for entry-level positions. The work history timeline isn't hidden, but sits under the other sections to highlight abilities.. Listing multiple activities from the same year gives the impression of a longer work timeline and can demonstrate self-motivation.

Sales and Marketing

This transferable skills resume focuses on sets of abilities gained through similar job types. The expertise listed, which focuses on sales, marketing and communication, showcases a broad knowledge of the field. Listed qualifications are thematic and tell potential employers that she has had past success working with the public, and wants to continue to do so.

Entry-Level Accounting

This resume gives equal measure to education, job history and professional skills. The document is organized to show how all three qualifications relate to the accounting profession.

The limited work experience is fleshed out with descriptions of extra duties which are both relevant to the field and show that this applicant is motivated to move up in a company. Showcasing the applicant's recently earned degree and experience as an accountant's assistant can help earn a job with a company that offers growth opportunities.

Skills-Focused

This combination resume is a smart presentation for a nursing applicant with a career-appropriate education and only entry-level experience. By top-loading education and giving roughly equal weight to capabilities and experience, the applicant can present a document that is well-rounded even when their experience is limited. This structure favors entry-level job seekers or journeymen in trades that involve apprenticeships.

Customer Service

This minimally styled template is perfect for someone not looking for part-time work over a full-time career. By first listing their limited availability, the applicant shows that they're applying to a part-time or supplemental job. This document showcases relevant skills and experiences while not coming on too strong and being labeled as over-qualified. Experience is given in a manner that will show knowledge in the field of customer service, without giving a full work history.
Combination Resume Pros and Cons
The combination resume has plenty of benefits, especially if you're a recent graduate or an entry-level job seeker looking to develop their career. However, this format can also have its pratfalls. We've broken down the pros and cons of using a combination resume below.
Combination Resume Pros
Combination resumes work well for job seekers with a significant amount of job history, and who also have strong abilities and accomplishments. Recruiters welcome the combination resume format for senior executive positions that require highly specialized skills. It is easy to identify these skills while also confirming that the candidate has the required work experience for the job at hand.
This format is suitable for job seekers who want to change careers and have worked for well-known companies. It can be used to showcase transferable skills and emphasize outstanding employment history.
When a candidate has worked for the same employer or held the same position for a long time, the combination format will highlight the candidate's expertise and achievements.
Combination Resume Cons
Combination resumes can become longer than other formats. The goal of this format is to highlight both your skills and your work history, rather than prioritizing one over the other. This may result in a longer document. Repetition may be another issue if you feature the same skills in your skills and work history sections.
Career changes, job hopping and employment gaps are noticeable in the work history section.
Combination Resume-Writing Guide

The tools you have gained at this point will help you create a compelling combination resume. Here's how to properly write a combination resume before you kick off your job search.
Prepare your resume materials.
The process of writing your combination resume will be easier if you know beforehand what information you will include. Most of the document will be based on your skills and employment history, so let's start from there.
Go back to the job description and identify what expertise is important for the position. List your abilities and accomplishments using the same keywords used in the description. Keep your list relevant to the position. Ask yourself the following questions to get ideas for the relevant skills section:
Did I get an award or recognition for my results?
Have I improved any procedure to make it more effective or faster?
Did I save money for the company?
Have I helped my subordinates or teammates develop new talents?
Did I get a promotion or take on bigger responsibilities?
Did I prevent a problem from happening?
Did I gain new clients or projects for my company?
For the work experience section, think about the activities you have done that apply to the position you want. To help you identify these elements, ask yourself the following questions:
Who did I interact with? Were they customers, managers or suppliers?
What kind of products did I produce? Were they tangible products, applications or analytical reports?
In what projects was I involved and what was the goal of those projects?
What tools or software did I use?
Which environments am I familiar with at work? Have I worked at a multicultural company, out of the office visiting clients or alone?
Once you finish, make sure you're using the same keywords you saw in the job ad. For example, if you wrote "implemented workshops to strengthen leadership," but the job ad says "training on soft skills, such as leadership," add the terms "training" and "soft skills." The message might be the same, but remember that your document may be filtered initially by an applicant tracking system (ATS). Using the same keywords as the job description will help get your resume past this stage. Later, we will revisit the know-how and work history you listed in this step.
Contact Information
Only include essential information: your complete name, address, email and phone number.
Make your name visible: Your name should be visible at a quick glance. You can ensure this by centering it at the top of the document and placing it in a larger font size
Prioritize your phone number: It is important to provide a mobile number. This way recruiters will be able to contact you faster. Use an email address that has your first and last names, not nicknames.
Don't focus on your physical location. Use a general location, like the name of your city. Avoid a complete address as some recruiters will reject your resume if they consider you too far away to commute. You can add "Willing to relocate" if the position requires moving to another city.
Keep the design simple. There is no need to add a subheading. You can add the address of your professional website, portfolio or LinkedIn profile if you have them.
Summary statement
A summary statement is a two- to three-sentence paragraph that provides a quick account of your professional background, relevant abilities and achievements. Its main goal is to grab the reader's attention by portraying you as the kind of professional the position requires.
Keep your statement brief: The summary statement should be a short paragraph of around 50 words, and it should usually begin with your degree or job title and the number of years' experience you have in the field.
Quantify your strengths: Mention your most relevant skills and support them with achievements. You can list certificates, recognition or accomplishments with quantified information.
To illustrate this, let's look at two summary statements. The first one is not well-written and the second one is. This is the summary statement of a credit analyst:
A poor example: "Professional credit risk analyst with six years of experience in banking environments. Rigorous data analysis, excellent time and organizational skills."
Some of the information is subjective. There is nothing that tells the recruiter this description is accurate.
In contrast, the following professional profile gives more valuable information:
"Professional credit risk analyst with six years of experience in banking environments. Implemented efficiency programs which reduced the time of risk-analysis process by 25%. Managed a highly motivated team of five analysts who won the company's Excellence Award in 2016."
Both profiles belong to the same professional, but the second one will grab the recruiter's attention more effectively because it includes quantified information and objective facts, such as a performance indicator and an award.
Knowing about your accomplishments will help the recruiter picture you doing the same for their company.
Skills
Here you will use the list of abilities and accomplishments you wrote before starting the resume. It will be easier to understand what you can bring to the table if you classify your expertise into categories.
Skills can belong to one of three categories:
Job-related skills: These are technical skills, usually learned at work or through academic training. For example, for a web developer, job-related expertise might be HTML5, MySQL and Ruby.
Transferable skills: Also known as hard skills, these kinds of skills are your best allies for a career change. While working in a certain position, you might have developed abilities you can apply to another field. For example, as a product developer, you might have coordinated a sales staff. This experience can be used to apply for a sales management position.
Adaptive or personal skills: Also known as soft skills, these are the personal characteristics that help you do your job. These may seem subjective, so it is important to support them with achievements. For example, you can support leadership abilities by mentioning that a team you led received a company award for high performance.
Arrange your own prowess in categories of four or five subsections and list them in order of relevance. The most important skill for the job you are applying to should go first.
Use action-oriented verbs that highlight measured information to define the accomplishments and projects you have been involved with. If you're not sure where to start, we compiled a list of the most sought-after skills and broke them down to career industries and categories.
A straightforward way to write down your achievements is to use this formula: Your action + Who benefitted + Measured result. For example, "Designed a program for retention of talent when onboarding employees, which resulted in a 30% decrease in turnover after three months."
It is preferable to list your skills and achievements in bullet points. This keeps the sections brief and easy to read.
Work Experience
This section is for listing your job positions and main duties. To create this section, use the list of activities you compiled before starting the resume. It is not necessary to mention your achievements in each position. In a combination format, achievements go in the relevant skills section.
For each position, indicate the employer, job title, duties and dates. Generally, you should only include paid jobs. However, if you don't have enough experience, you can add volunteer work or university internships. Adding unpaid work can also help if the activities relate to the job you want.
Your current or latest job should be listed first. Continue in reverse-chronological order. Recent roles should be described in detail. It is more important for recruiters to know what you can do now. Older roles can be summarized.
Describe the daily tasks and general goals of each position. For example, a sales executive may have the daily task of cold-calling potential clients and a goal to grow the number of clients in a specific market. Adapt these items according to the responsibilities listed in the job ad and the keywords used.
Also, remember to organize your duties so the most relevant to the job position appears first. You may need to tailor the order in which you list activities for each job application so your resume is appealing to your target employer.
If you held more than one position for the same employer, make sure to list each position separately so your career growth is more noticeable.
Education
If your career history is not as strong as your skills, you can use the education section to give extra support to those skills. Just remember to keep it relevant and brief.
You should include the name and location of your university or educational institution, your major and the type of degree obtained. If you recently graduated, you can add your GPA if it is 3.5 or above.
Include relevant seminars, workshops and courses if they validate a skill.
Normally, you should include dates in this section, but it is not mandatory. You can leave them out if ageism is a concern.
If your resume is longer than two pages, go through it and see what you can cut out. Look for repetition or long sentences. Editing your layout might help you optimize space, but be sure to keep the document as uncluttered as possible.
Wrap up your resume
A combination resume has the strong advantage of showing the best of your skills and work experience. When written the right way, it can be an effective tool for landing an interview for your desired job.
Let's revisit the most important steps for writing a compelling combination resume:
List your abilities, achievements and job duties, and use the same keywords as in the job ad when they apply to skills you possess.
Quantify your accomplishments, and include measured information in your professional profile and in the relevant skills section.
Organize your expertise and job activities in order of relevance.
Be concise, and use a professionally styled template. For more ideas, see our Resume Builder for customizable layouts.
Use the free samples we shared above as starting guides to help make the resume-writing process easier.
Use our Resume Builder tool for help creating your resume in minutes!
Combination Resume Versus Other Formats
Make sure you consider the two other resume formats to determine if a combination resume best suits your needs. As previously mentioned, the combination format serves a dual purpose of showcasing both your skills and job history. Read on to find out how the other resume formats differ and if they are more appropriate for you.
1. Chronological or reverse-chronological
Chronological resume considerations
A chronological format emphasizes the work experience and duties of each position, the same as a combination resume format does, except the latter also underlines skills. Learn what to consider beforehand in order to choose the resume format that will work for you.
Focal point: Since the combination resume focuses on your skills and formal experience, it has a wider focal point than other resume formats. Think about how your work history resembles the job to which you are applying. If you want to start working in a somewhat different career field, it is a good idea to also emphasize your skills. In that case, a combination resume would be best for you.
Hierarchy of position: If you want to apply to a higher position, a chronological resume might give the impression of insufficient experience if you worked less than ten years or have gaps in employment. On the other hand, a combination resume will mention proficiency and accomplishments over length of employment, which will make your document more appealing.
Repetition: A common mistake in combination resumes is to list your skills and then list them again in the employment history section. Keep this in mind as you arrange your information.
Functional resume considerations
The functional format focuses on skills but de-emphasizes work history. The combination format has equal emphasis on skills and professional experience. The following differences will help you decide whether a combination or a functional resume is best for you:
Focal point: Since both formats mention your skills, the deciding factor is your work history. If your job duties and achievements are relevant to the job you are applying for, use a combination format. If you are making a radical career change, a functional format will work better.
Senior position: A senior executive position has more specific requirements. Therefore, recruiters are often more thorough when selecting candidates for this kind of position. If this is the type of job you are applying to, use a combination format.
Build a Winning Combination Resume
We know how complicated it can feel to put your career accomplishments into words, especially when marketing yourself as a potential job candidate. Make this task easier with our Resume Builder –– we feature customizable templates and pre-written resume sections based on real-life job candidates. Personalize a resume to suit your needs.
Build a Resume
Combination Resume FAQ
Updated: January 20, 2023
Who should use a combination resume?
Although this format is well-suited for most job candidates, you should use a combination resume if you fall into any of the following categories:
1.
Recent graduate: Congrats on graduation! As a recent grad, you probably have plenty of academic and technical knowledge of the job, but your practical knowledge is likely limited to internships, research labs and classroom practicals. This resume prioritizes your technical skills near the top of the resume, while leaving space for you to highlight your informal, but valid, experience in your work history section.
2.
Entry-level employee: Entry-level is a bit of a misnomer. Most entry-level jobs ask for three- to five-years of experience, most of which you probably have from informal experience attached to volunteering, apprenticeships, internships or academic training. The focus on both skills and work history lets you highlight your expanse of knowledge.
3.
Intern to full-time: As we mentioned previously, internships may read as informal work experience, but you gain plenty of hands-on experience from an academic and professional perspective. This resume prioritizes the skills you earn from class and your internships but slots your internship experience into your work history as a support to your skills.
4.
Professional with less than ten years of experience: Although you have more experience than an entry-level employee, a combination resume helps you showcase your professional abilities more than the common chronological resume. A chronological resume highlights seniority, decades of accomplishments and mid-level promotions, whereas a combination resume focuses on technical abilities and lets you grow into your professional achievements.
Do recruiters like the combination resume format?
Although they're more familiar with the chronological resume, recruiters do appreciate and like the combination resume. Recruiters prefer resumes that can establish clear timelines between jobs, and can demonstrate clear responsibilities and professional growth as candidates advance.
Although these two formats flip-flop their skills and work history sections, the combination resume still dedicates a section to your work history and requires a detailed timeline and description of each role. It satisfies the recruiter's curiosity while prioritizing your technical abilities in your skills sections.
What does a combination resume focus on?
A combination resume focuses on two things –– your formal work history and the professional skills that you've gained in formal and informal settings. This format prioritizes the skills section in order to let entry- and mid-level employees professionally compete against their more formally experienced colleagues, but it also values your work history and all of your professional accomplishments, including promotions or successful career campaigns.