Professional Resume Templates: Writing Guide and Tips
If you want to showcase your professionalism above everything else, we've got the template collection for you. Pick your favorite out of these 30+ professional resume templates, and head over to our guide on how to write a professional resume that highlights your best features.
Create Your Resume Now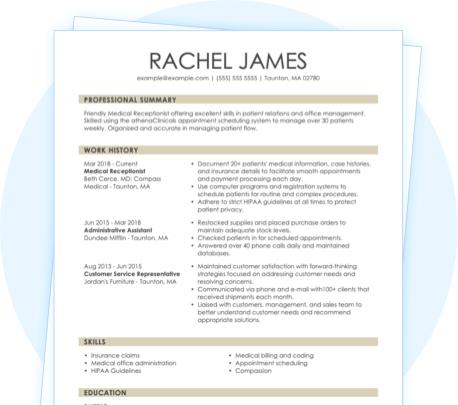 Featured In:
Premium Professional Resume Templates
Chronological

Functional

Combination
Professional Chronological Resume Templates
These chronological resume templates are the ideal choice for an experienced job seeker. You should use these templates if you have over 10 years of experience and want to demonstrate steady career advancement.
Academia

Accomplished

Black and Orange

Blue Pop Bold

Blue Side

Broad Appeal

Cascade

Cosmopolitan

Formative Traditional

Mono Shading

Point

Simple Red

Subtle Creativity

Tidy

Traditional Elegance

Upfront

Vibrant
Professional Functional Resume Templates
The functional resume is ideal for job seekers with plenty of skills and little to no work experience. These templates focus on your skills section, making it a great choice for recently graduated candidates, applicants with career gaps, or even freelancers.
Professional Combination Resume Templates
The combination resume, also known as the hybrid resume, combines the strengths of the chronological and functional resumes to let you highlight both your skills and work experience. These combination resume templates are a great choice for career changers, candidates aiming for a promotion, or just anyone who wants to showcase a strong, balanced career profile.
Who needs a professional resume template?
Professional resume templates can be used by anyone who wants to convey seriousness and professionalism rather than display their personality with bold designs, such as with creative and contemporary templates.
Candidates who need a professional resume template work in traditional fields like business administration, banking, human resources, law, and health care. Executive assistants, attorneys, HR managers, IT project managers, bank branch managers, hospital administrators, and medical assistants are some specific job titles that would pair well with a professional resume template.
How to write a Professional Resume
Learn how to format and write every section of your professional resume straight from the experts. Our guide will provide tips and examples to help your resume look like it was written by a certified resume writer.
1. Select the appropriate format
Choosing the right resume format helps you identify the information that should go on your resume and how to organize it. You can choose from resume formats: chronological, functional, and combination.
The chronological format highlights your work experience, making this format ideal for candidates with long and consistent careers. It's also the most commonly used format, so applicant tracking systems (ATS) and hiring managers find it very easy to read. If you want a traditional, professional look and have the experience to back it up, this format is a great choice.
While less common, the functional format makes you seem fully able to carry out job duties, even if you don't have any previous experience. The skills section takes center stage in functional formats and minimizes the work experience section. If you want your resume to convey that you have a lot of professional skills despite your lack of experience, the functional format is the one for you.
The combination format is best suited for candidates with some limited experience that can balance it out with a strong skill set. The work experience and skills sections are front and center with this type of resume. Applicants vying for a promotion and career changers do exceptionally well with this format.
2. Include your key sections
All professionally-made resumes must include the five basic sections: contact information, professional summary, experience, skills, and education. Let's review some tips to help you maximize each of these sections.
Professional Summary: The professional summary is your formal introduction to your employer. It consists of two to three sentences that summarize your professional background. You should include your most impressive features, such as your years of experience, top skills, and notable professional achievements. Get an idea of which features to include by checking out your desired role's job description and searching for the skills and requirements they are specifically looking for.
Work Experience: Your work experience section lists your previous jobs organized in reverse-chronological order. Start with your most recent role and work backward. Instead of noting generic tasks and responsibilities in your work experience, maximize this section's content by adding three to four bullet points with quantifiable achievements and detailed accomplishments that make you stand out. For example, try writing something like "Created strategies to expand product sales to existing customers, resulting in a 40% increase in annual revenue."
In the case of functional resumes, the work experience is minimal and would not include an outlined description of your achievements in each job
Skills: Your skills section should include six to eight skills in various categories: soft, hard, and technical.
Soft skills describe the way you perform your tasks or interact with coworkers. They demonstrate that, besides knowing how to do your job, you can do it efficiently. Some examples of soft skills are negotiation, problem-solving, leadership, and time management.
Hard skills are learned through education or practical experience. They relate more closely to your specific job's tasks. A few examples of hard skills are computer programming, proficiency in a foreign language, sales skills, copywriting, or data analysis.
Technical skills refer to your grasp of technological and digital tools such as MS Office programs, mass mailing systems, and software programs. Some specific technical skills can be expertise in Adobe Photoshop, advanced knowledge of QuickBooks, or proficiency in Javascript.
Education: Your education section generally includes your degree, the institution you attended, and the graduation date or dates of attendance. If you graduated high school or completed a GED, we recommend keeping the name of your school and your diploma.
Custom sections: Although you can have a compelling resume with just these five sections, you can share more important information by adding custom sections. If you have any certifications like Certified Business Analyst Professional (CBAP), Certified Supply Chain Professional (CSCP), or Project Management Professional (PMP), you can list them in a separate "Certifications" section. Professionals needing licenses to practice, like teachers, engineers, or real estate agents, should also include a "Licenses" section.
Resume Do's and Don'ts
Do
Employ professional language and the appropriate lingo
Write your resume content in the first person
Have a professional proofread your resume
Use a template designed by professionals
Add hyperlinks to attach your portfolio or samples of work
Keep your font simple and between a 10 to 12-point size
Be concise with your content, so it's easy to skim
Include repeated keywords from the job ad
Don't
Include unnecessary pronouns and articles in your resume content
Use pushy or boastful languag
Include the phrase "references available upon request"
Copy and paste the exact job description on your resume
Add your high school diploma if you have higher educatio
Opt for eccentric design features
Use more than two different fonts
Include a profile picture in your resume when applying to U.S. jobs
Build a Resume Just Like Professionals Do!
Our Resume Builder is a fast, easy-to-use tool that simplifies the resume writing process. Our Builder offers job-specific content written by professionals to paste onto your resume's sections. Paired with an integrated spell-checker, professionally-designed resume templates, and a user-friendly interface, Hloom's Resume Builder is your best choice for crafting an impeccable document.
Build a Resume
FAQ
What is the best resume template for a professional?
You can find the best resume template for any professional on this page. Characterized by their put-together designs and balanced layouts, these professional templates are what you need to show employers you mean business, no matter your desired job or industry.
Is it unprofessional to use a resume template?
Not at all! On the contrary, a template adds organization and design to your resume, elevating it beyond a simple handmade document. Using a resume template shows you gave a lot of thought into crafting this document, highlighting your attention to detail.
Where do I add publications in a professional resume template?
If you want to add your publications to your resume, you can create a custom section specifically for those. You will list the titles of your publications, where you published them, and the publication dates. You can also add a link that redirects the employer to a portfolio of your work. You can create these portfolios on websites like WordPress, Behance, Wix, and Adobe Portfolio.
For academic resumes, you might want to consider writing a CV instead, also known as 'curriculum vitae.' CVs are specifically designed for academics, professors, and researchers.
Gabriela Barcenas
Gaby is Hloom's resident writer, a certified professional resume writer (CPRW), and a baking enthusiast. She likes to defend the use of the functional resume to her friends in HR. She graduated from the University of San Francisco with a B.A. in English and Creative Writing and wrote about career growth, tech startups, education, fashion, travel and lifestyle culture throughout her career.