Google Docs Resume
How to Create a Google Docs Resume and 19 Free Google Doc Resume Templates
Having your resume at hand is crucial when you apply for jobs. There will be times when you need to make a quick edit, save it in a different format, or share it with a potential employer, and to do any of these things quickly you'll need to have access to your resume file. Google Docs offers several features, including a resume builder and cover letters, that make it easy to create a professional resume. This guide provides you with the basics of creating a Google Docs resume and 19 free Google Docs resume templates to get you started.
Google Docs is a free web-based app which allows you to create, edit, and store documents online. The app is becoming more preferable over other word processors for its many features that allow for convenience, shareability, and easy collaboration. Google Docs even has a free resume builder that will match your information to one of its creative Google Docs resume templates.With convenient cloud storage, you can access your Google Docs resume online from any device with an Internet connection. You can start working on it from one computer and pick up editing from another. Its automatic-save feature ensures that you don't lose your work.
FEATURED TEMPLATE
Boast Gdoc
Stylized two-column template that rolls together work experience and education; ideal for self-educated creative professionals. Bold section headers draw the attention of the recruiter or hiring manager to the candidate's skills.
Google Docs exports documents in multiple formats, making it easy to submit the correct file type to a hiring manager. The app's sharing features allow you to quickly share your resume online with employers and recruiters. To remove any concerns that the recipient may not be able to view your resume, you can choose to generate a link that can be included in an email.
Google Docs Resume Builder
Whether you choose to create a Google Docs resume from scratch, use Google Docs Resume Builder, or go with a resume template, you first need to sign up with a Google Drive account. If you do not have a Google acount, you can create one here: https://docs.google.com/. Creating a Google account is free and takes only a few seconds.
Google offers a resume-builder tool that you can use to create a professional resume. No matter your skill with technology or graphic design, Google's Resume Builder is easy to use and a great tool to take advantage of.
Access Google's Resume Builder here. You'll be prompted to sign into your Google Drive account, then enter the appropriate information to access your Google Docs resume. Google's Resume Builder also offers a selection of resume templates to choose from and populates your information right into the template.
Google Resume Builder is connected to your Google Drive account and will automatically save your resume there. You can then easily find your resume and edit or share it at anytime from any device with an Internet connection.
Google Docs Resume Formatting and Features
Among Google Docs' features is the ability to format your resume appearance to best highlight your work experience and skills. If you're not familiar with using Google Docs, the formatting features are simple to use. Here are a few tips for formatting your Google Docs resume.
Clear Formatting – If you're transferring text over from a previous resume, the Clear Formatting button will be your friend. Simply copy the text from your previous resume and paste it into your Google Docs resume template. Highlight the text, right-click, then click Clear Formatting. This formatting button will match all of your text to the default style in your resume, saving you time from manually changing the font, size, and color to fit with the rest.
Copy format – You may choose to copy the format of a line of text in your Google Docs resume. To do this, simply click the Paint Format icon on the left-hand side of the tool bar. Highlight the text you'd like to apply the formatting to. Double-clicking the icon locks the format into place, so every piece of text you click will change to the new format.
Tab stops – Google Docs allows you to easily control spacing and text placement on your resume with tab stops. Resume layouts often incorporate tab stops to present important information in a neat way. For example, you may choose to left-align important dates on your resume by adding a left tab stop, so your dates are all aligned with each other.
Revision History – The Google Docs Revision History feature is useful for job seekers because it allows you to see any previous changes that have been made to your Google Docs resume. You can see what has changed in a file and restore your resume to a previous version, making it easy to clear up any mistakes.
To check your revision history, at the top, click File > See revision history. Then click a timestamp in the right panel to see a previous version of your resume. If you like, you can restore your resume by clicking Restore this revision > Restore.
Restoring your resume to a previous version does not erase any other versions of your document. This version will move to the top of your revision history. All previous versions, including the current version, will still be available.
If you've been doing a lot of editing on your Google docs resume or sharing it with others for their feedback, the Revision History feature will be helpful for you to keep track of any changes made. With the Revision History, you can see the people who edited the file and the changes they made in the color next to their name.
Online Resume
Employers can even discover your resume online if you choose to make it public. Google will automatically index your resume to be included in its search results, allowing potential employers to find your information. Make sure to restrict access to the document to "view only" before making it public so that only you are able to make edits to your resume.
Several companies are now conducting their job searches online to save costs. Many industries and government organizations even ask job seekers to post their resumes online in a specific format. Since companies are looking to hire quickly, having your Google Docs resume online and set to public makes it easier for them to find you and can help you in your job search.
Google Docs Resume Examples
Take advantage of our free Google Doc resume templates to start creating your professional resume. Our template gallery has 19 professional designs to choose from with various resume formats and styles.





Keep in mind that you do not receive editing or ownership rights for these resume templates. Our free resumes will open in "view only" mode. In order to make changes to the resume templates, you first need to create a copy.
Simply select File > Make a copy > OK. The template copy will be saved to your Google Drive. You can then make any changes you want to this copy.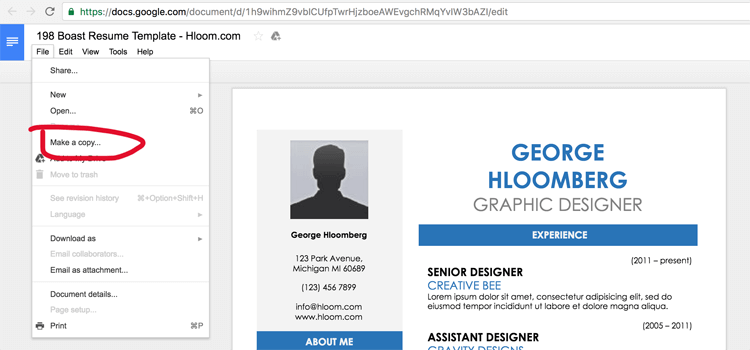 Substantial Gdoc
Sequences Gdoc
Blue Side Gdoc
Lists of Expertise Gdoc
Ardent Gdoc
Talented Gdoc
Glimmer Gdoc
Circles Gdoc
All the Information Gdoc
Organized Gdoc
Goldfish Bowl Gdoc
Traditional Elegance Gdoc
Artistic Flyer Gdoc
Technical Special Gdoc
Steely Gdoc
Upfront Gdoc
Streamlined Gdoc
Button-Down Gdoc