Basic Resume Templates
Basic doesn't have to mean boring, as you will see in the wide array of free basic resume templates we offer. Our team spends hours designing and testing these samples so that you can create the perfect resume to land the job of your dreams. On this page, you will find 30 basic resume templates. We also have an additional 26 basic templates that are specifically designed to beat applicant tracking systems (ATS).
Benefits of Basic Resume Templates
Universal Appeal
Basic resumes typically have a very classic and traditional tone. While they may have touches of color to add emphasis, in general they are designed to have universal appeal. This is of great benefit when applying for multiple jobs with different types of organizations, as any of the templates on this page are timeless.
Easy to Read
Another benefit of a basic resume is that it clearly communicates your job history, work experience, accomplishments, and education – in the order you desire. We have free resume templates in the top three resume formats – chronological, functional, and combination, to allow you to focus the reader's attention where you desire.
Easy to Make
An easy resume layout means you won't be spending hours trying to figure out intermediate and advanced features of Microsoft Word. Basic layouts are very easy to edit, even if you have never made a resume before.
Printer-Friendly
While creative resumes and portfolio resumes have their place and purpose, they are not the most printer-friendly of resumes. However, the clean layout and simple design of our basic resumes makes printing them a breeze; if you are applying for jobs online, or submitting your resume via email, a printer-friendly document may be the right choice for you.
Basic Resume Format
While there isn't a road map that dictates the format of a basic resume, there are some unwritten design rules that most templates in this category will follow.
Sections
Vertical lines, different fonts, and pops of color are commonly used to highlight sections.
White Space
Columns, tabs, and plenty of white space to make it easy to read.
No Graphics or Photos
Void of photos and graphics but some include simple Skill Meters.
Chronological, Functional, or Combination?
As you begin your search for the best resume template for your needs, determine if a chronological, functional, or combination resume format is the best choice for you.
Our basic resume templates are available in all three formats; just take the time to find the one that best conveys your skills, talents, work experience, education, and accomplishments in a manner that lands you the interview.
Resumes are generally categorized by the manner in which the information is presented. When a resume presents an applicant's job history as the primary focus, they are considered Chronological resumes. These are by far the most commonly submitted resumes. When candidates want to highlight achievements and abilities over their work history, a Functional resume can be a better choice, and for those that want to give their achievements and work history equal billing, combination resumes are a great solution.
Basic Resume Examples
What stands out for hiring managers and recruiters?
Really really bad resumes. Resumes that are poorly worded, filled with grammar and spelling errors, contain humor, have too many colors, or that look like they were drawn by a cartoonist – all these are features that will not help you get an interview, let alone a job. While these tactics may get your resume some attention, it could be just a head shake and a delete.





The way to get the positive attention necessary to land the job you desire is to provide hiring managers and recruiters an easy-to-read and well organized resume. The resume needs to highlight your best qualities, skills, experience, and education in a layout that is easy on the eyes, with plenty of white space. This is exactly why our team has designed the following 54 basic resumes – they provide a professional backdrop to get you noticed.
Traditional
Clean styling and plenty of white space are the two identifying design features of a traditional basic resume. This category features all three formats – chronological, functional, and combination resume templates. This simple resume format is perfect for mid-career professionals and senior level professionals, as they provide a format that allows you to highlight your extensive experience and expertise.
If you cannot manage to fit all your work history, awards, education, and expertise on a single page, don't worry. While we do have two-page traditional templates in this category, it is important to recognize that any of our simple resume templates can be easily modified to a two-page, or more, resume. Designed in a format that is easy to navigate, you have plenty of room in our two-page resume templates to expound on the key aspects of your background that make you an ideal candidate for the job.
With the simplistic styling, these resumes work well for those applying for positions with more traditional or conservative companies. Industries such as financial services and banking, law firms, healthcare organizations, non-governmental agencies and governments, as well as engineering and real estate companies, are all a perfect fit for this type of resume format. Unlike some of the more creative and colorful resume formats that feature photos and intensive graphics, these samples print beautifully and are easy to read.
Traditional Elegance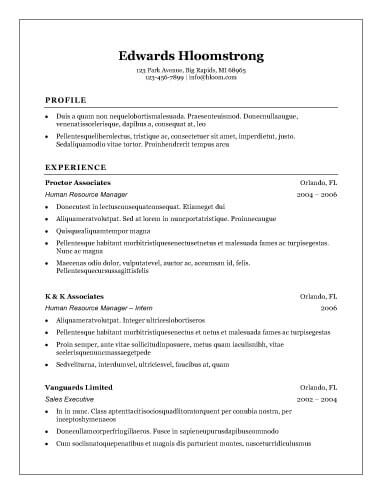 Simple, clean, and well-organized, this traditional resume template has a decidedly universal design. It is well-suited for virtually every industry and works well for entry level to executive level positions. If you want to produce a professional chronological format resume, this one fits the bill.
Size: 183 B
Downloads:

853261

Filename: traditional-elegance.docx
Uploaded: 2014-05-14 20:00:00 / 6550
Download
Traditional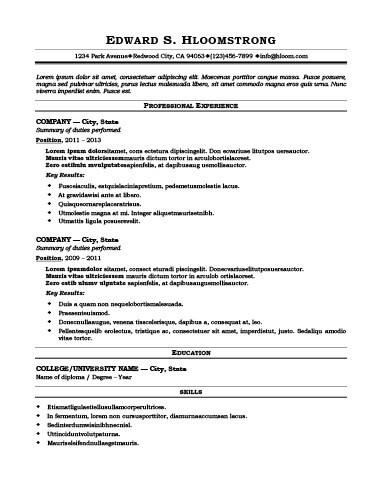 Diamond bullets, shading, and bold headings give this chronological resume a distinctively conservative and traditional feel. Perfect for mid-career professionals as well as executives seeking a new position.
Size: 183 B
Downloads:

26420

Filename: traditional.docx
Uploaded: 2014-05-06 18:19:00 / 5671
Download
Proficient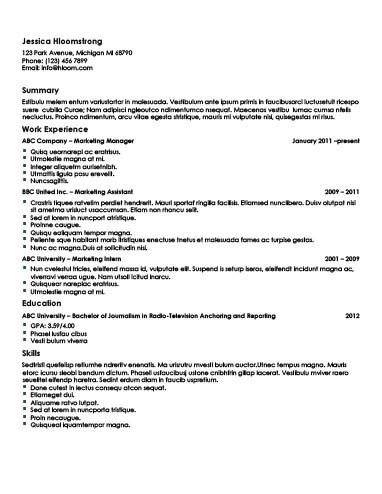 This traditionally styled one-page resume features bold headings and distinctive square bullets to detail your experience and accomplishments for each position. This chronological resume puts more emphasis on your work experience by placing it towards the top, but the skills section still allows you to highlight what makes you perfect for the job.
Size: 183 B
Downloads:

21164

Filename: proficient.docx
Uploaded: 2014-05-08 18:18:00 / 6159
Download
Keep It Simple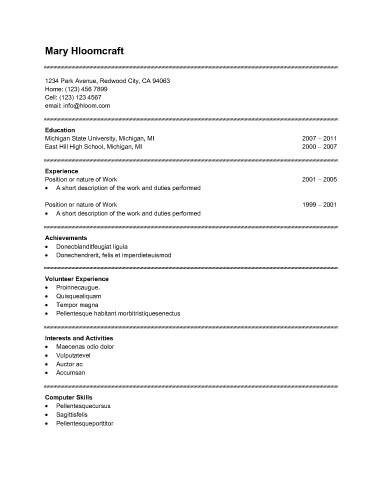 Clean, simple, and traditional, this functional resume template features bold headings, bulleted lists, and ample space to highlight your experience, education, achievements, skills, and interests.
Size: 183 B
Downloads:

21126

Filename: keep-simple.docx
Uploaded: 2014-05-06 20:11:00 / 5742
Download
Classic Plain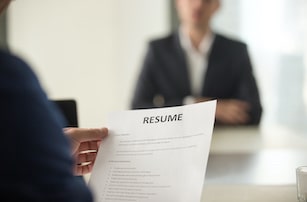 Easy to read and scan, this basic chronological resume has narrow margins, allowing plenty of room to describe your job history and experience. Mid-career professionals find the skills and professional membership sections helpful, so use these areas to promote yourself. To land the interview, and the job, use this resume to sell the complete you – your experience, skills, accomplishments, professional affiliations, and education.
Size: 183 B
Downloads:

20921

Filename: classic-plain.docx
Uploaded: 2014-05-07 21:12:00 / 5845
Download
Chronological
Chronological resumes remain one of the most popular formats for recruitment agencies and applicants. In chronological resumes, your work history takes the spotlight. This is perfect for individuals with extensive experience, those who show a growth in their career, and those who have worked with well-known organizations, as the job title and organization name can figure prominently in these samples.
However, a chronological format may not be the ideal resume for those with gaps in their work history, or if you've changed jobs frequently, as the dates of employment are displayed prominently along with job title and organization name. When crafting the text for your resume, don't focus just on your previous job descriptions. It is important for hiring managers to understand what your duties were, but your accomplishments are what many are primarily looking for.
Chronological resumes are the perfect place to highlight your accomplishments. For example, if you managed a retail store, include strong accomplishment focused bullet points like:
Increased sales 35% in first 9 months as manager
Lead the retail team to #1 in sales and profits, 7 quarters in a row
Decreased theft loss by 45% in first 9 months as manager
Coached our national peer group to achieve highest sales profits in history
Use the chronological format to make hiring managers and recruiters take your background and expertise seriously; when done well, this format can help you land a new job.
Exemplar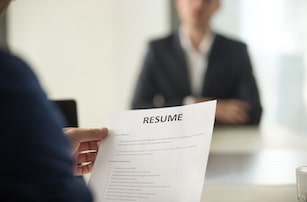 Blue section headers and divider lines with plus-sign bullets give this template a very polished look. Great for senior directors, bank managers, financial planners, top-level individuals.
Size: 183 B
Downloads:

8445

Filename: exemplar.docx
Uploaded: 2014-05-08 18:15:00 / 6156
Download
Star Showing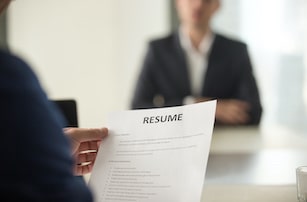 Bulleted lists draw the eye to your accomplishments, skills, and experiences in this chronological resume layout. The thin margins allow for detailed descriptions without making the resume appear cluttered. This design is perfect for mid-career retail professionals, accomplished sales professionals, and individuals within the healthcare industry.
Size: 183 B
Downloads:

10181

Filename: star-showing.docx
Uploaded: 2014-05-08 17:08:00 / 6107
Download
Big and Bold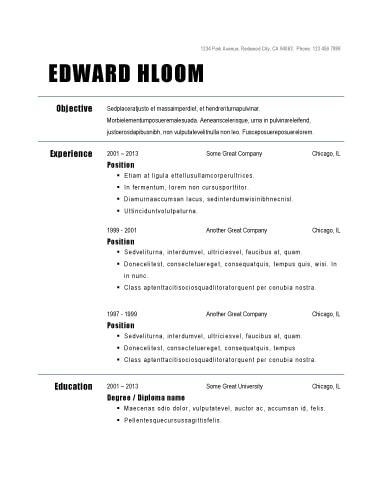 Make a statement with this chronological resume sample that puts your name prominently at the top. The font selections and bold lettering makes an impact on all who see it.
Size: 183 B
Downloads:

12434

Filename: big-bold.docx
Uploaded: 2014-05-06 18:24:00 / 5677
Download
Hard Worker
Conventional resume style with bold headings and dotted border lines on two pages. Bulleted lists for experiences and key word cloud for strengths. Great sample for clerical, retail, or service industry job seeker.
Size: 183 B
Downloads:

11436

Filename: hard-worker.docx
Uploaded: 2014-05-09 20:24:00 / 6333
Download
Time-Honored
Simple yet refined, this chronological resume features block sections with thin dividing lines. This universal layout is great when applying to large corporations and creative agencies, or in the manufacturing and industry sectors.
Size: 183 B
Downloads:

17330

Filename: time-honored.docx
Uploaded: 2014-05-08 18:08:00 / 6150
Download
Performance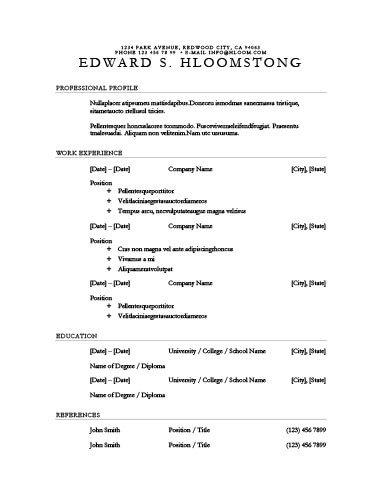 This elegant chronological resume template is perfect for performance artists, musicians, writers, visual artists, photographers, and others with extensive careers, education, and performances. Performing artists with residencies on Broadway or as TV show regulars will find this format will work well for their needs.
Size: 183 B
Downloads:

59321

Filename: performance.docx
Uploaded: 2014-05-06 19:08:00 / 5695
Download
Out of the Box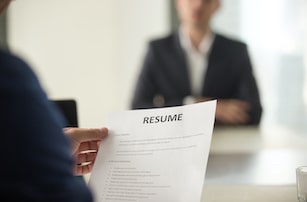 Traditional resume format with key titles in salmon and sky blue section lines add design touch. Thin margins allow much room for all of your information. Corporate creative-thinker sample.
Size: 183 B
Downloads:

81529

Filename: box.docx
Uploaded: 2014-05-09 23:04:00 / 6433
Download
Functional
Growing in popularity over the last decade, functional resumes showcase your professional accomplishments, victories, and skills. Job titles, companies worked for, and length of time at each position are all minimized here – it is your true essence that shines through in this resume format.
Functional resumes are perfect for professionals who are re-entering the job market after an absence, individuals who are transitioning from one industry or job title to another, and those who are leaving the military and seeking employment in the civilian workforce. In our samples, you can easily highlight the universal skills and expertise that you've gained throughout your career.
The format and design of our basic functional resume samples are suitable for a wide range career levels and industries. The simplicity of the design, and the layout, give a completed resume evergreen staying power. However, it is still recommended that you tailor each resume to the specific job you are applying for, as hiring managers will be evaluating your resume against the expectations they have for a new employee.
Clean Columns
This contemporary styled resume features multiple columns that allow you to highlight your work history, education, skills, accomplishments, and services offered. This is the perfect resume template for freelance professionals; you can squeeze a lot of information into this resume while keeping information organized and easy to read.
Size: 183 B
Downloads:

8212

Filename: clean-columns.docx
Uploaded: 2014-05-06 11:49:00 / 4989
Download
Centered Traditional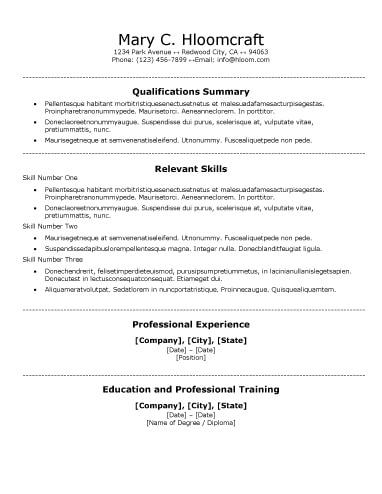 Smaller margins and bulleted points give you plenty of room to detail your qualifications and experiences. The dual arrows and dashed lines add a design touch without being flashy.
Size:
Downloads:

10475

Filename: centred-traditional.docx
Uploaded: 2014-05-06 20:31:00 / 5761
Download
Essence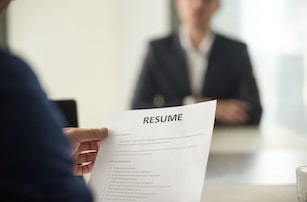 Elegant and distinctive, this functional resume template features content that is entirely centered. This design allows for ample white space, making it easy to read. Bold headings and titles allow hiring managers and recruiters to quickly identify if you have the skills, experience, and education they desire. This is perfect for those looking to make a progressive leap in their career.
Size: 183 B
Downloads:

9551

Filename: essence.docx
Uploaded: 2014-05-08 18:23:00 / 6165
Download
Spotlight on Achievements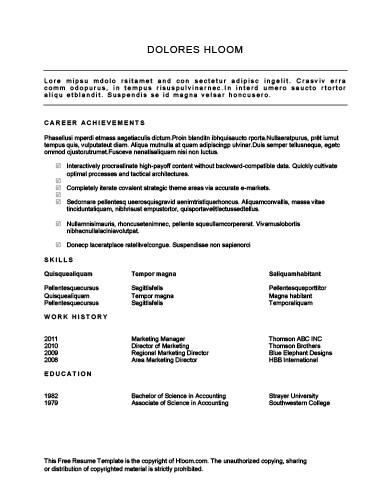 This resume template is designed for seasoned and accomplished professionals with ample accomplishments, awards, recognitions, and expertise. The work history takes a back seat so that your actual abilities garner the attention of hiring managers and committees.
Size: 183 B
Downloads:

10212

Filename: spotlight-achievements.docx
Uploaded: 2014-05-09 20:26:00 / 6336
Download
Legal
Clean, crisp, and all business, this functional resume is designed to ensure that hiring managers focus more on your competencies and skills rather than your work history. The conventional layout, section dividing lines, and bold headings all evoke confidence and professionalism. This resume is the perfect choice for lawyers, healthcare professionals, executive administrators, and others with impressive credentials.
Size: 183 B
Downloads:

27686

Filename: legal.docx
Uploaded: 2014-05-08 12:04:00 / 5914
Download
Ready for More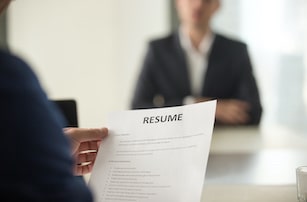 This functional resume is clean, simple, and easy to read. Designed to highlight your competencies first, it is perfect for individuals looking to transition into the next career. Going from assistant manager to manager, or manager to director, this resume provides ample room to expand on why you are ready to take the next step.
Size: 183 B
Downloads:

44599

Filename: ready.docx
Uploaded: 2014-05-09 19:45:00 / 6318
Download
Combination
Clean, elegant, and professional, combination resumes blend your skills, accomplishments, and work history together beautifully. This is a format that is still likely to please hiring managers who prefer a straight chronological format as the information they are looking for is still easy to identify.
Combination resumes are the perfect choice for mid-level professionals, as the sections and headers provide ample areas to highlight relevant skills, accomplishments, special certifications, and work history. When crafting the content for a combination resume, use the work history area to highlight relevant points from your job description, and the skills area to underscore advanced or unusual skills.
In addition, this resume format lends itself to showcasing accomplishments you've achieved and accolades you've received. If you've been highlighted in a newspaper or trade magazine, won an award either in the company or in your community, or if you've written an article and have been published, be sure to include the details in your resume.
Plain Linear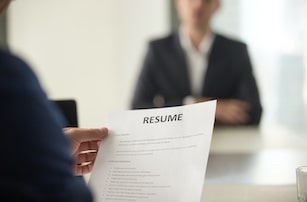 Minimalistic and plain, the clear headings attract the eye without being overwhelming. This is a great black and white one-page resume that highlights work experience and skills.
Size: 183 B
Downloads:

33956

Filename: plain-linear.docx
Uploaded: 2014-05-06 11:29:00 / 4937
Download
Seasoned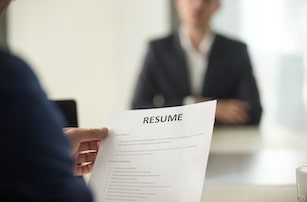 Subtle gray shading and blue lines add a touch of character to this traditional combination resume. The two-page layout offers lots of space to detail your professional experience, skills, awards, education, and accomplishments.
Size: 183 B
Downloads:

33007

Filename: seasoned.docx
Uploaded: 2014-05-08 17:51:00 / 6138
Download
Economic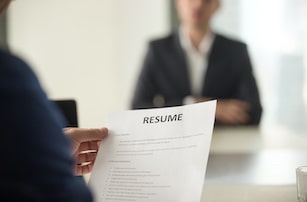 Traditionally styled template with bulleted lists and a distinguished three-column skills section. This template is perfect for investment bankers, financial planners, attorneys, professors, and others with significant experience to showcase.
Size: 183 B
Downloads:

122742

Filename: economic.docx
Uploaded: 2014-05-09 22:33:00 / 6400
Download
Goldfish Bowl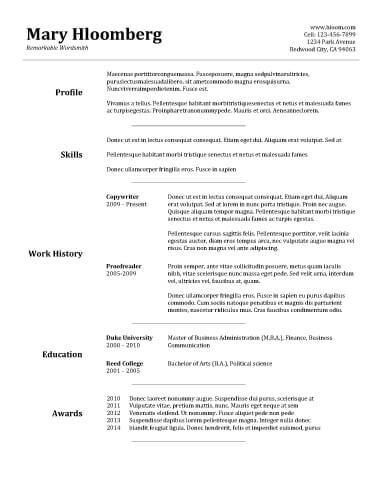 This simple and clear one-page combination resume allows you to highlight your skills above your work history. The two-column design puts emphasis where it belongs – on the details that make you who you are. It is perfect for mid-career professionals with impressive skills, awards, and accomplishments, as well as ex-military members seeking to transition into the civilian workforce.
Size: 183 B
Downloads:

178985

Filename: goldfish-bowl.docx
Uploaded: 2014-09-19 17:48:00 / 7455
Download
Button-Down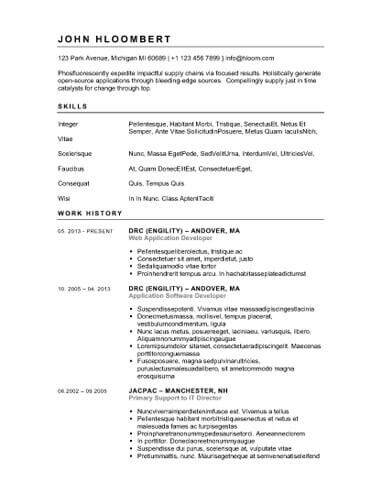 This professional resume template features a traditional elegance. Designed as a combination resume, it provides ample room for highlighting your skills and accomplishments, as well as your work history. This free resume sample is the ideal choice for executives and senior staff who have impressive career milestones to communicate.
Size: 183 B
Downloads:

433992

Filename: button.docx
Uploaded: 2014-05-08 17:16:00 / 6116
Download
One-Page
Many professionals believe they simply cannot fit all their pertinent work history, experience, expertise, skills, and education on a one-page resume. And for some, this may be the case. However, with our well-designed basic one-page resume templates, you will be surprised at the level of detail you can provide. Remember also that you have the cover letter to explain why you are the right candidate.
A well-written one-page resume can have more impact on a hiring manager than a two-page resume; brevity can be your friend. To make a one-page resume work for you, it is essential that you prioritize key bits of your work history that are relevant to the position you are applying for. As a hiring manager reads through your resume, and if your background and skills match the job description, your chances to move forward in the recruitment process improves.
The one-page resume is a great choice for students, recent graduates, and other individuals with limited work history. This format also works beautifully for professionals who have remained with the same company for a long period of time, and for those who are entering the workforce after an extended absence, such as a parent. If, during the absence, you've volunteered, worked on committees, or wrote for a local newspaper, be sure to include the skills you've gained from those experiences.
Plain Divider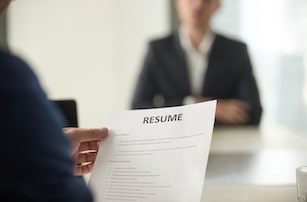 This minimalistic chronological resume format adds a touch of distinction with the vertical divider and offset detail. Bolding the titles of previous positions draws the attention away from the dates of the jobs, making this format ideal for those with gaps in employment or short tenures, and mid-career professionals with a history that indicates growth. Its simple black and white design, which will make it trouble-free to print, will also be appreciated.
Size: 183 B
Downloads:

32642

Filename: plain-divider.docx
Uploaded: 2014-05-06 17:12:00 / 5623
Download
Entry Level
It can be challenging to find the right resume template when you are just entering the workforce. So many professionally designed resume templates are crafted with mid-level or upper-level professionals in mind. But, rest assured, we have plenty of samples that are perfect for students, recent graduates, interns, and others with limited professional experience.
Our basic entry level resumes will give you a professional format and design. For the content, speak with your teachers and professors, any mentors or coaches that you have, and those whom you've volunteered with, for insight into what skills and attributes you have acquired that will impress hiring managers and recruiters. Take this information and select the basic entry level resume that best suits your personality, and start your job hunt.
Remember, everyone must start their careers somewhere, and someone will give you a chance, if you present your expertise, goals, objectives, and history in a manner that is professional. In your job search, you will undoubtedly find job descriptions that call for more experience than you have, and that's okay, as this scenario will happen at every level of your career. The important thing is to pull relevant snippets from your background that show you have interest and experience.
Bare Bones Minimalistic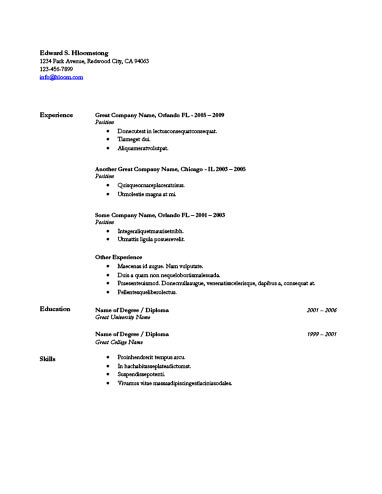 A traditionally styled chronological resume with plenty of white space that makes it easy to read. This clean resume is perfect for students, recent graduates, and other entry-level individuals.
Size: 183 B
Downloads:

11528

Filename: bare-bones-minimalistic.docx
Uploaded: 2014-05-06 18:27:00 / 5680
Download
Font Appeal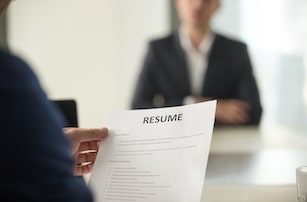 This basic chronological resume sample is perfect for recent graduates, and entry-level and mid-career professionals. Designed with a creative mix of fonts that bring attention to the sections, this resume template provides plenty of room to detail your work experience, education, and skills.
Size: 183 B
Downloads:

25262

Filename: font-appeal.docx
Uploaded: 2014-05-09 22:39:00 / 6406
Download
Sprouting
This chronological resume is perfect for recent graduates, entry-level personnel, and individuals re-entering the workforce. This elegant layout allows for multiple sections to detail your objectives, experience, education, accomplishments, and volunteer activities. Straightforward and elegant, the dividing lines add a creative flare without making it fussy.
Size: 183 B
Downloads:

37151

Filename: sprouting.docx
Uploaded: 2014-05-09 19:25:00 / 6290
Download
For Performers, Writers, and Artists
Writers, performers, and artists need resumes too, and while portfolio resumes may be appropriate for some applications, having a basic resume that highlights your skills, accolades, education, and experience is a must. Whether you are applying for a job, a grant, or using your resume to build your own client base, a professional and well-organized resume is recommended.
A basic resume may be the right format and tool for you when you are looking to transition into a job from freelancing or self-employment. For example, if you are an art photographer wanting to move into a position with a magazine or advertising agency, a basic resume that emphasizes previous work and in a chronological format will most likely be appreciated.
Headliner's List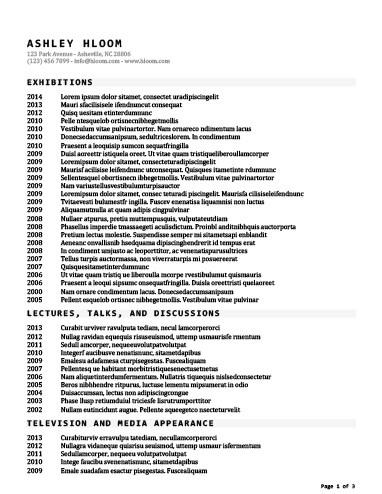 This basic resume template was specifically designed for performers, celebrities, artists, and writers to easily communicate performances and appearances. Simple, clean, and basic, it is the perfect choice for accomplished professionals with impressive exhibitions, performances, and appearances.
Size: 183 B
Downloads:

4003

Filename: headliners-list.docx
Uploaded: 2014-05-08 17:56:00 / 6141
Download
Credited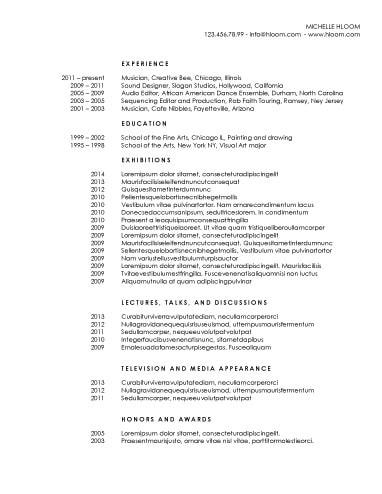 This refined and elegant resume is designed to highlight your exhibitions, performances, lectures, accomplishments, and awards. It is perfect for motivational speakers, performance artists, visual artists and photographers, and other professionals who have an extensive production background.
Size: 183 B
Downloads:

4820

Filename: credited.docx
Uploaded: 2014-05-08 18:11:00 / 6153
Download
Ivy League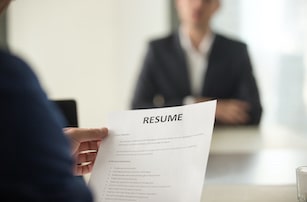 Ideal for Master's and Doctoral candidates, professors, engineers, and other scientific professionals. The two-page chronological resume format allows for detailed descriptions of skills, research, publications, and honors.
Size: 183 B
Downloads:

36663

Filename: ivy-league.docx
Uploaded: 2014-05-09 19:18:00 / 6283
Download
For ATS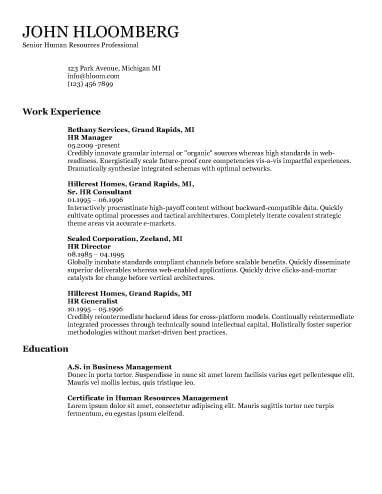 More and more organizations and recruiting agencies are using applicant tracking systems, also known as ATS programs, to help manage the recruitment and hiring process. ATS was designed out of the need of major corporations that receive hundreds or thousands of applications for each open position. The ATS saves HR departments thousands of hours, as they can tell the program what specifically they are looking for in candidates.
These systems scan resumes, looking for keywords and phrases that are included in the job description, as well as minimum experience, education levels, special certifications, and job titles. While ATS are technologically advanced, they can and will stumble over advanced formatting like columns, text boxes, and headers. To ensure your resume is ATS-friendly, use one of our specially designed basic resume formats. You can browse through the templates our team has designed on this page.
Basic Cover Letters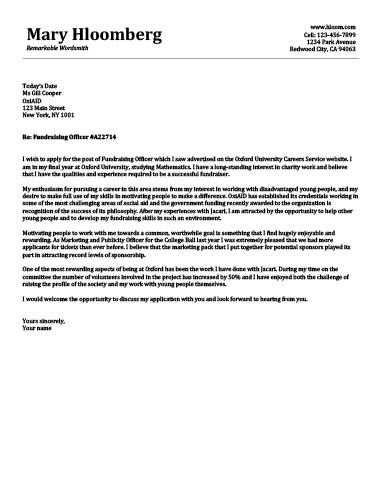 After you've written your resume and incorporated it into one of our professionally designed templates, remember that cover letters are an essential piece to the application puzzle. Fortunately, we have over 200 professionally designed cover letter templates you can use. Our goal is to take the guesswork out of designing resumes and cover letters to allow you the time and energy to focus on creating captivating content that will get you hired.