Creative Resume Templates
Unique and Creative non-traditional designs
Resumes are often thought of as simple documents. Keeping resumes straightforward is the right approach for many fields, however there are some cases where a creative resume is warranted.
When to Use a Creative Resume Format
A creative resume is the exception, not the rule. The times you should use a creative resume are fewer than when you should use a formal resume.
Still, it's a good idea to make your resume reflect your ideal work environment. If your dream job is creative, then you may want a creative resume to match it.
As professional resume designer, Rick Mundon told Business Insider, "In a creative business, it's almost standard to have a creative resume." You might use a creative resume when applying to a very innovative company, like Google, or when your future employer values creativity.
A creative resume allows you to showcase your creative talent and skills on the resume itself. If you're applying in marketing for example, a creative resume can show off your ability to sell something: in this case, yourself. If you want to be a graphic designer, you can show off your graphic design skills.
Of course, even in creative fields, some companies will place more value on the traditional resume. So, it's a good idea to have both a creative resume and a standard resume.
Following are some fields in which a creative resume can be a good fit:
Advertising/sales
Marketing/communications
Graphic design/web design
Visual arts
Acting/theater
Fashion
Startups/innovative new companies
Always pay close attention to any guidelines the company posts regarding resumes. If they request a Word document in standard 12-point font, they probably aren't looking for a modern resume. If they use an applicant tracking system (ATS), some creative designs might not be read accurately by the software, so a simple layout may be a better choice.
It's also a good idea to find out who will be reading your resume, if possible. If you're applying to a creative job but your resume will be read by recruiters who do not work in your field, the creative elements of your resume may be lost to them.
Think a creative resume is right for you? Let's find out what goes into producing one.
Creative Resume Design
With a creative resume, the sky's the limit on what design elements you can play with. However, there are several tried-and-true ideas to get you started. Here are a few of the possibilities you can work with:
Color
You can use color in more playful ways on a creative resume than on traditional or modern ones. It's okay to use bold, bright, and multiple colors. Just make sure it's still easy to read no matter what colors you choose.
If the company you're applying to has a corporate color scheme (check their logo, website, or offices for ideas), you might want to reflect that in your design. This is a good way to subtly signal that you will fit into their work environment well.
Graphics
A creative resume might contain symbols or graphics that are related to your industry. You can use a different icon for each section, or have a single graphic related to your field featured prominently on your resume.
No matter what graphic you choose, make sure that it is of high quality and that it fits with the content of your resume. Several of our creative resume templates below have excellent built-in graphics.
Professional Photo
Maybe you're applying to work for a quirky local business where personality is a bonus. Or maybe your field is in direct sales or marketing, where you will be interacting face-to-face and forming business relationships with new clients.
In any field where your personality or professional appearance is a key component of the job, a photo is a good way to show that off. Including a professional photo of yourself is a great idea for creative resumes.
Make sure your photo is professional. A silly, heavily edited, or unconventional photo is a distraction. It doesn't provide potential employers with helpful information about you and might hurt your chances of getting a job interview.
Unique Layout
Creative resumes have been made to look like everything from movie posters to subway maps.
You don't want to copy another candidate's unique design, but you can use designs like these as inspiration, then use one of our templates to make your own attractive resume.
Get creative with your own resume layout, if it's appropriate for the job you're applying for. What documents are relevant to your field, and how might you model your resume after them? For example, a resume that looks like a playbill might be an interesting concept for a job at a theater. A resume that's modeled after a popular social media site could work well for a social media marketing position.
Unique Format
Video or Online Resume. Some people may opt to make a creative resume in an exclusively online format. Some job seekers have created resumes using the presentation software Prezi. Others have made short videos that tell the story of their achievements and work experience. Several websites exist specifically to help you make an attractive visual resume. These can be viewed online or saved as an image to send to potential employers.Making an online-only resume is a risky choice that's best for highly creative fields. However, some employers will be very impressed that you took that risk. If you think an online or video resume will help you stand out from the competition, go for it–just make sure you have a paper version handy.
Infographic Resume. The infographic resume uses a visual format to provide information about you and your experience. It might include a graph, a pie chart, or another visual way of presenting this information. Or, the entire resume might be modeled as an infographic.Creating a good infographic resume from scratch can be difficult and time-consuming. There's more to it than just making a simple table or chart. Instead of doing it all on your own, check out our infographic resume guide and templates to make the job easy for you.
Creative Resume Content
Whichever creative resume design you choose, the content must be easy to find and logically organized. Think of a resume as a document that tells a story about you and your experience. Is the story arranged in a way that makes sense?
Don't waste a hiring manager's time by including unnecessary information or making critical information difficult to find. Make sure your contact information is clear, prominent, and easy to read. Include all the necessary information about your professional experience and education.
You can still use a chronological, functional, or combination resume format with your creative resume design. Whether you arrange it in reverse chronological order or not, be sure that key information like dates of employment is clearly displayed.
If you go with a creative format, it's still important that your resume is free of grammar and spelling errors. A creative design won't hide sloppy proofreading; in fact, it may call attention to it. Although it takes a different approach to presenting information, your creative resume should be just as professional and polished as a formal resume.
A good creative resume design will enhance and highlight your content, not obscure or distract from it. No matter how creative or unique your resume design is, it's still the content that will get you the job.
Creative Resume Examples
Here, you'll find creative resume templates that range from relatively simple to very artistic. Consider your desired job and choose the template that fits best. We've organized our resume library by design or what field they're suited for, but most of them work well for a variety of creative industries.





For Graphic and Web Designers
Use one of these creative resume samples to show that you know great visual design. They can also be edited and customized to further show off your design skills.
Social Media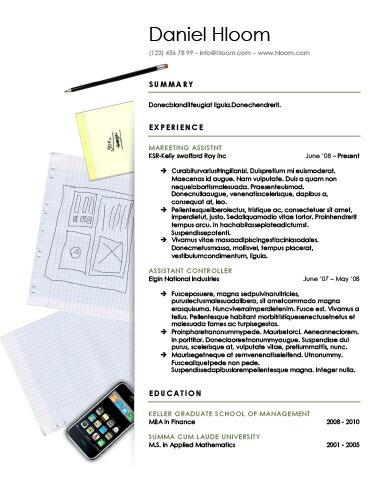 Mix of object photos, including pencil, cell phone, doodles, make a creative sample. Olive green section divider lines and arrow bullet points for descriptions. Social media expert, writer, communicator, or technical sales template.
Size: 183 B
Downloads:

50230

Filename: social-media.docx
Uploaded: 2014-05-09 23:02:00 / 6430
Download
Blue Pop Bold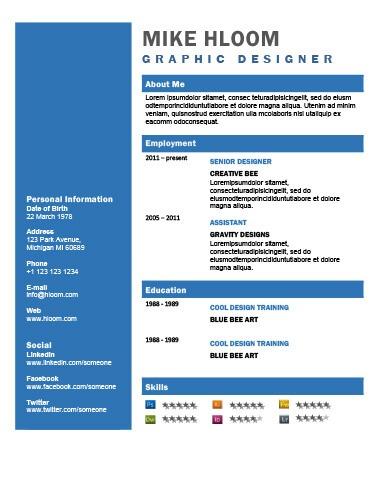 Colourful icons and shadowed stars make your key strengths stand out with light blue backgrounds and bold, white fonts completing the creative look. Marketing, public relations, or publisher sample.
Size: 183 B
Downloads:

47755

Filename: blue-pop-bold.docx
Uploaded: 2014-05-08 16:11:00 / 6059
Download
Banner Day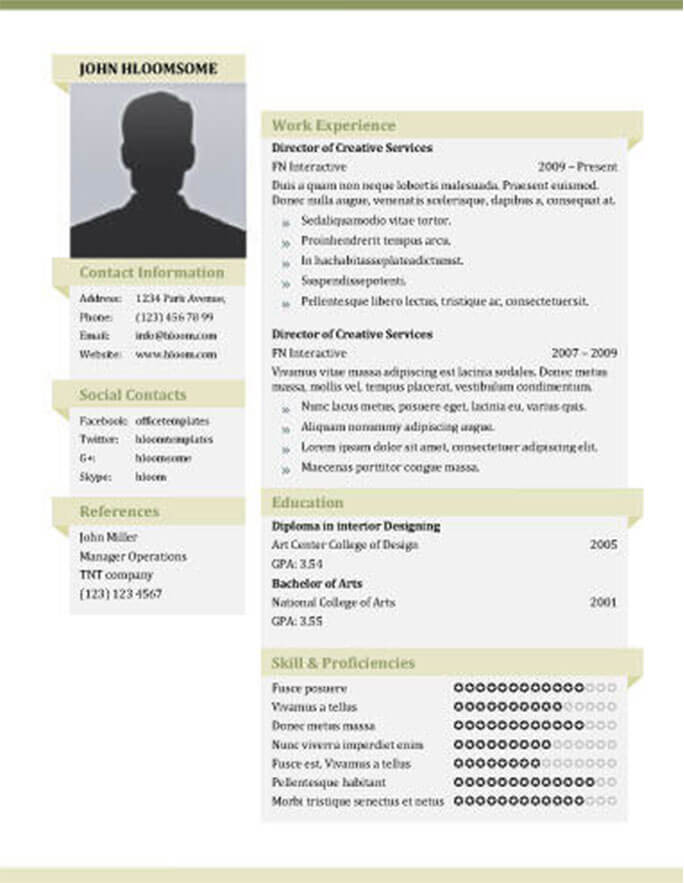 Gray, three-dimensional banner headings add depth to this one. The lightly gray-shaded columns surrounded by the white space catch the eye. Use the circles with stars to highlight your key strengths.
Size: 183 B
Downloads:

38884

Filename: banner-day.docx
Uploaded: 2014-05-08 13:34:00 / 5990
Download
Graphic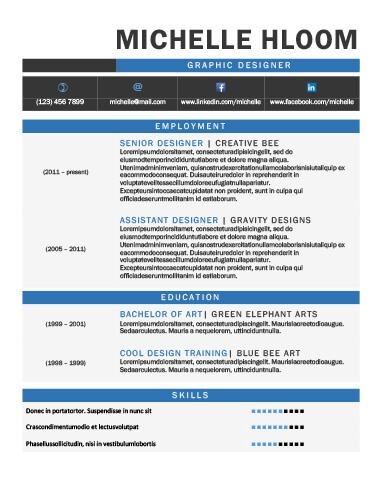 Black and blue backgrounds and header shadings with graphic icons make this free resume template pop. Skills section includes meter to rank your expertize. Great resume for communication, creative, and design professionals.
Size: 183 B
Downloads:

19085

Filename: graphic.docx
Uploaded: 2014-05-08 16:05:00 / 6053
Download
Bubbly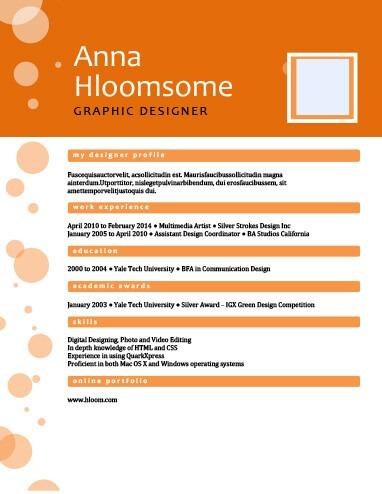 Dark and light orange backgrounds with orange bubbles inset with grid lines. Bordered profile picture and lowercase section titles complete this artsy template. Creative, graphic, and hospitality resume that blossoms.
Size: 183 B
Downloads:

17142

Filename: bubbly.docx
Uploaded: 2014-05-08 16:30:00 / 6071
Download
Hi! I am
Conversational and whimsy style. Tones of purple with a little brown and black. Alternating paragraph shading for sections. Great designer resume for creative professionals.
Size: 183 B
Downloads:

18682

Filename: hi.docx
Uploaded: 2014-05-07 20:56:00 / 5827
Download
Background Shadow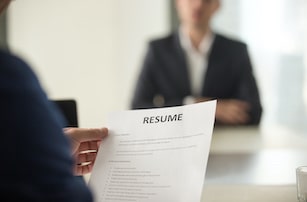 Thick, shadowed section lines and gray backgrounds add subtle creative touch. Add a profile picture and use stars to rank your expertise to add imagery. Creative professional, marketing, and public relations sample.
Size: 183 B
Downloads:

16540

Filename: background-shadow.docx
Uploaded: 2014-05-08 11:33:00 / 5893
Download
Bright Blue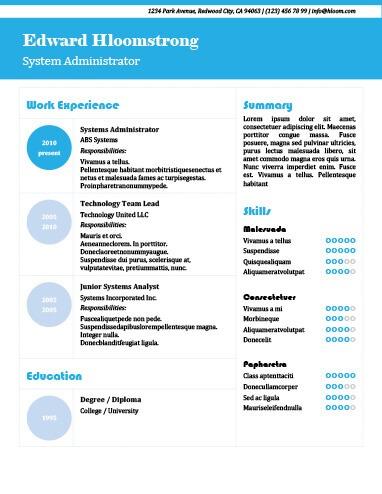 Lots of white space offset with light blues for backgrounds and font types. Circle bar meters rate your attributes. Broadway-style font titles and circle backgrounds for date catch the eye.
Size: 183 B
Downloads:

11737

Filename: bright-blue.docx
Uploaded: 2014-05-08 13:20:00 / 5975
Download
For Sales and Marketing
These resume templates highlight your sales and marketing abilities using creative ways to display professional achievements.
Info-pop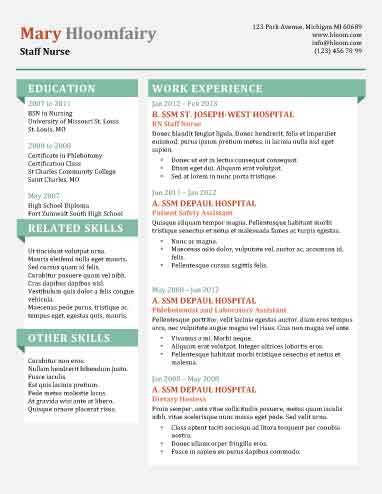 The optimal utilization of space and clearly highlighted sections, allows this template to portray all the relevant information needed.
Size: 42 B
Downloads:

61060

Filename: 281-Info-pop.docx
Uploaded: 2015-10-10 08:22:00 / 8307
Download
Urban Development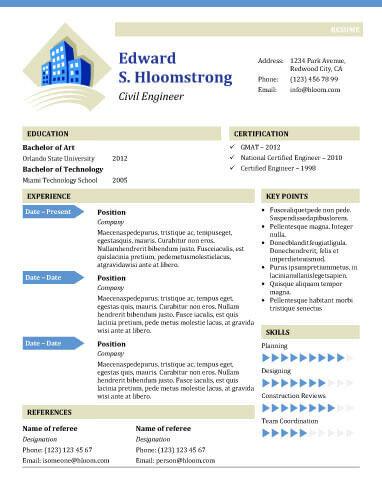 Eye-catching skyscraper icon for the engineer, planner, or contractor. Soft gray header backgrounds and light blue fonts and arrows add to the sophisticated, city feel of this template.
Size: 183 B
Downloads:

46756

Filename: urban-development.docx
Uploaded: 2014-05-08 13:22:00 / 5978
Download
Orange Chevron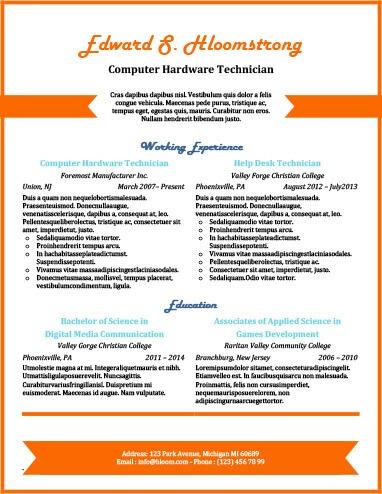 Bright orange and blues make this sample pop along with the chevron-style banners. Open circles used for bulleted lists. Great style for teachers, service industry, and technicians.
Size: 183 B
Downloads:

15391

Filename: orange-chevron.docx
Uploaded: 2014-05-08 13:51:00 / 6008
Download
Skills Highlight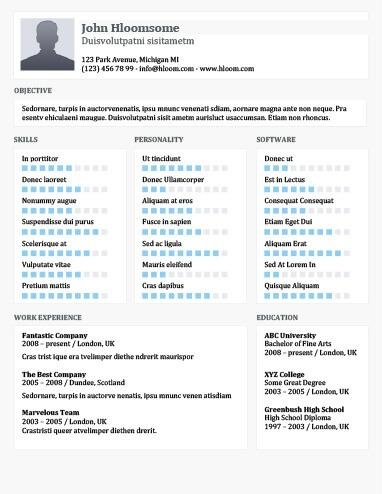 Impressive resume for job seekers with impressive skills. Use the square callout sections with dashed bar graphs to showcase your abilities. Full page gray background makes the white sections pop. IT managers, programmers, and specialists sample.
Size: 183 B
Downloads:

13689

Filename: skills-highlight.docx
Uploaded: 2014-05-07 21:05:00 / 5839
Download
Award Winning
Large Awards section for with ribbon-type graphics for all your sales, teaching, or service honours. Blue shading and white fonts add appeal with section for a profile picture.
Size: 183 B
Downloads:

8313

Filename: award-winning.docx
Uploaded: 2014-05-08 13:00:00 / 5954
Download
With Professional Portraits
A creative resume featuring your professional portrait is great for everything from sales positions to acting jobs.
Ardent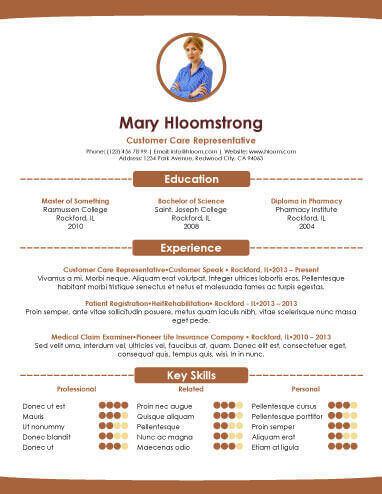 Russet borders, section backgrounds and lines, and titles give a warm feeling with this sample. Medium-sized profile picture outlined with russet circle. Three-column key skills area with filled-in circles to rate your expertises.
Size: 183 B
Downloads:

188091

Filename: ardent.docx
Uploaded: 2014-05-09 21:09:00 / 6363
Download
Out Front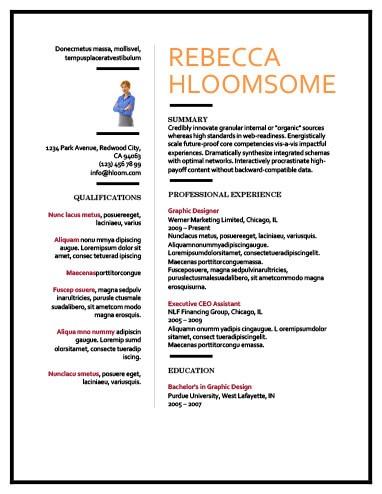 Thick page border and section lines with a small, full frontal profile photo capture the attention. Maroon colouring highlights key titles and strengths. Public speakers, proposal specialists, and sales managers shine in this sample.
Size: 183 B
Downloads:

29477

Filename: front.docx
Uploaded: 2014-05-09 19:32:00 / 6300
Download
Expressive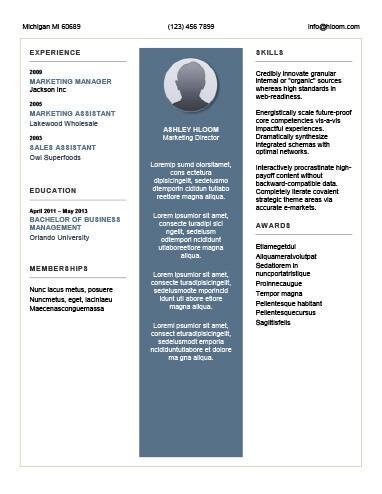 Highlighted column in blue bell background, round profile photo, and bold white fonts. Spotlight key titles and descriptions with the blue bell font colour. Creative and expressive example for designers and social media experts.
Size: 183 B
Downloads:

21439

Filename: expressive.docx
Uploaded: 2014-05-09 22:54:00 / 6421
Download
Profile Picture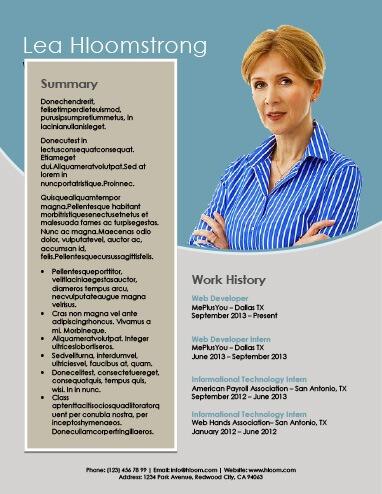 Large profile picture set in swooping blue background. Perfect template for realtor, branding specialist, interior designer, or entertainment professional.
Size: 183 B
Downloads:

19811

Filename: profile-picture.docx
Uploaded: 2014-05-09 23:00:00 / 6427
Download
Orange Blossom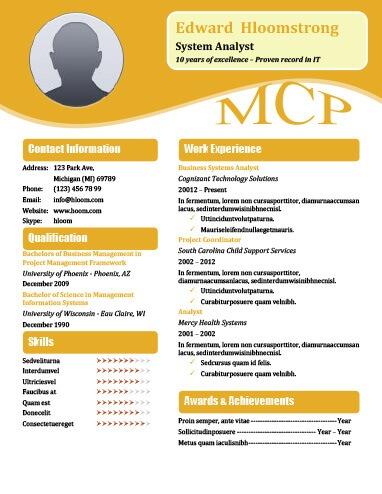 Orange colours brighten up this example. Bold, white section titles make each area stand out along with the red and white arrow graphs ranking your skills. Health care, public relations, and event planners stand out here.
Size: 183 B
Downloads:

18290

Filename: orange-blossom.docx
Uploaded: 2014-05-08 13:45:00 / 6002
Download
Personal Touch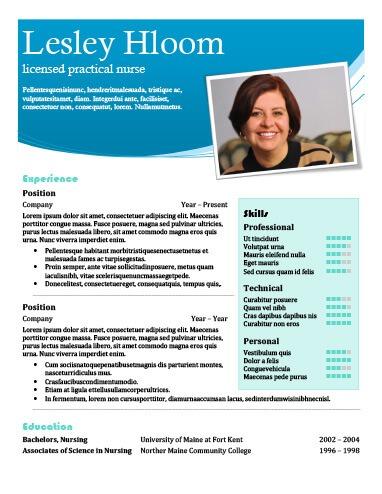 Single colour header with your image prominently displayed. The slight angle of your picture adding a touch of informality to give this resume a friendlier feel.
Size: 183 B
Downloads:

17352

Filename: personal-touch.docx
Uploaded: 2014-05-06 11:52:00 / 4911
Download
Portrait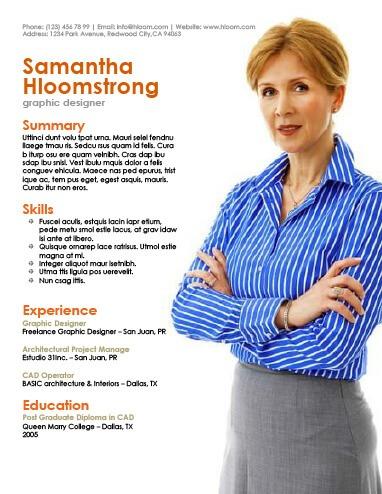 Full-length profile photo with orange headings and light gray titles. Functional-style resume for key competencies and qualifications. Perfect template for sales, marketing, health care, or fine arts.
Size: 183 B
Downloads:

10445

Filename: portrait.docx
Uploaded: 2014-05-09 21:22:00 / 6366
Download
Promote Yourself
Large, full-colour profile picture to feature yourself with light-blue meters to showcase your strengths. Three-column format offers plenty of room for detailed accomplishments. Icon images complete this exceptional sample.
Size: 183 B
Downloads:

10184

Filename: promote.docx
Uploaded: 2014-05-09 19:39:00 / 6312
Download
Headshot
Interior designer, sales executive, realtor template. Large headshot with pink banner job title. Oversized skills area with bar meters separates the conventional information.
Size: 183 B
Downloads:

10130

Filename: headshot.docx
Uploaded: 2014-05-08 11:46:00 / 5902
Download
Transatlantic – America – New York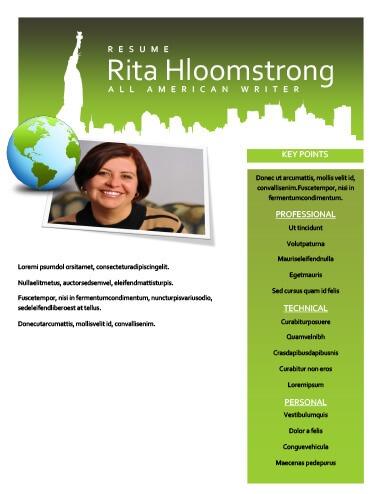 This modern resume template has a decidedly American theme. Featuring the Statue of Liberty set against the iconic New York City skyline, this template is suited for professionals seeking extra attention for their location. While New York City is highlighted here, you can change the skyline to create a different resume theme. In this three-column format, you can highlight your work experience, skills, and accomplishments.
Size: 183 B
Downloads:

8225

Filename: transatlantic-america-new-york.docx
Uploaded: 2014-05-06 10:57:00 / 4913
Download
One-Page
When applying for entry-level positions or changing careers, it is best to limit your resume to one page. Creative layouts in this category are designed to be presented on a single page.
Icon Fun
Timeline
Tablet
Ribbon
Front Page
Bold Chevrons
Fun Mum
Creative Bricks
Black Tie
Career Diagram
Shades of Blue
Concrete
Starry
Sky's the Limit
Wrap Around
Grid
Great Blue Divide
Circle Timeline
Confident
Headlines
Shadows
Pasture
About Me
Refined Columns