Resume Outline
Free Resume Outline Templates for Job Seekers
Structuring a professional resume can be intimidating. When the pressure is on to present yourself to a prospective employer as the best job candidate, you can't leave out important details. However, it's not always easy to know what information to include, leave out, or focus on. The good news is you don't have to start with a blank canvas.
This resume outline guide provides you with everything you need to best showcase your skills and experience, as well as free outline templates and worksheets in a variety of formats.
How to Use a Resume Outline
Use an outline as a template to determine what information to include on your professional resume. Fill in the sections of the outline with your work experiences and credentials. Once you have all of your information laid out in front of you, you can easily change the wording or rearrange, add, or delete sections to match the job you're applying for.
Here is a simple process to follow when using a resume outline:
Brainstorm to collect information – Before opening a blank resume template, take a few moments to reflect on what makes you a desirable job candidate to a potential employer. Write down previous work experience, volunteer services, skills, achievements, and programs you've participated in. You won't necessarily be using everything you write down, but this gives you a bank of material to work with when filling in your resume outline.
Choose a resume format – Decide which resume format is most appropriate for your career—some formats are better suited for certain career phases and situations. For example, if you have a solid work history that shows an upward trajectory in your career, the chronological resume format is likely your best bet. But if you are a recent graduate, have gaps in your work history, or are changing careers, a skills-based resume format may be more beneficial. If you're in the creative field, you could try a functional resume format, for example one of our infographic resumes.
Choose a resume style – Resume styles and formats are two separate pieces of the resume puzzle, and you'll need to consider both. Determine whether a traditional, modern, or creative resume style suits your job search best. The category you choose will help you decide on various elements of your resume design such as using a minimalist or traditional style, color or black and white fonts, and a one- or two-page resume.
Plug in your information – Fill in the basic fields listed on the blank resume template.
Customize the outline – To show you meet the prerequisites for the job you're applying for, you can customize your resume by adding or deleting sections. You should also reorganize sections to best reflect your qualities. For example, if you're a recent graduate without significant work experience but with relevant education, you may see a benefit in moving the education section above your work experience.
Proofread – Take the time to proofread the finished document, making sure it's a great resume before you send it off to a prospective employer. Have a friend look it over as well.
With these guidelines in mind, let's go over what information a professional resume typically includes.
Resume Sections
The most common sections you'll see on a resume include:
Contact information – Include the following details:

First and last name
Phone number
Mailing address
Email address
Professional website or LinkedIn URL (if applicable)

Objective – A brief statement explaining your job-seeking goals:

With a particular company
For a specific job
In a specific industry or field

Summary Statement – Best used in a skills resume format, this short summary lists job-specific:

Achievements
Awards
Publications
Skills

Work Experience – Enter your relevant work history, including:

Company name
Location (city and state)
Dates of employment

Education – Include name, location, and dates attended for relevant educational experiences, possibly including:

College
Trade school
High school
Relevant coursework
Internships
Continuing education
Advanced career training

Skills and Qualifications – Include skills or traits that qualify you for the job, including:

Office
Software
Technical
Organizational
Managerial
Leadership
Sales
Licenses and certifications

Activities – Round out your professional side with personal and social details, such as:

Volunteer experience
Community service
Memberships
Affiliations
Remember, not all sections will be necessary for every job seeker or job title. Whether a section is required or optional depends on the industry and which resume format you choose. Customize your professional resume to match your work experience and career field.
Free Resume Outline Templates
Simplify the process of applying to jobs by using our free customizable resume outline templates. The templates we offer below make it easy for you to rearrange and adjust sections of your resume to fit the position you're applying for. Use any of these worksheets and templates as aides to help you create a great resume.





Chronological Resume Outline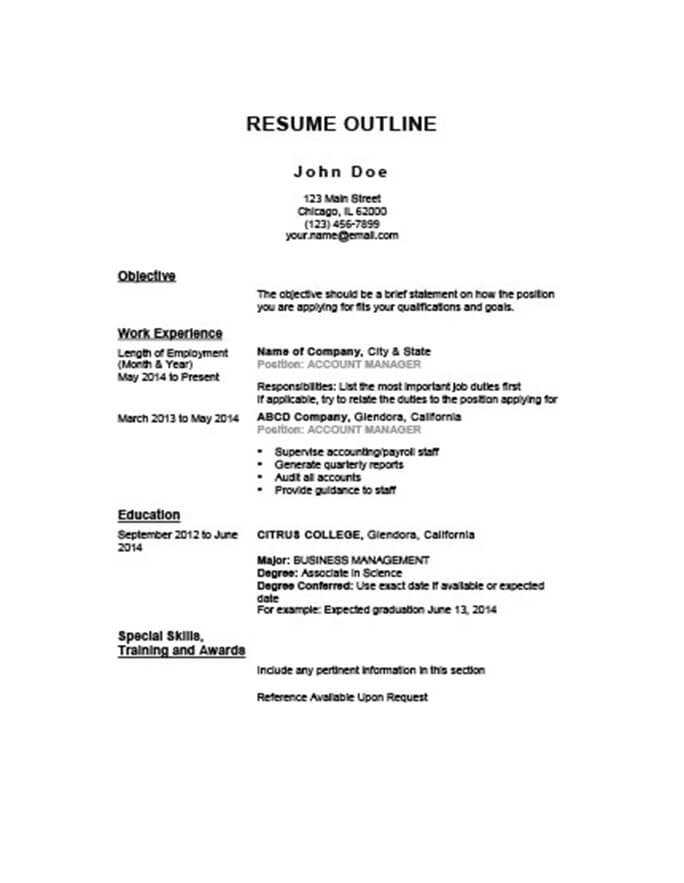 Our chronological resume outline template reflects a consistent work history, as this section is placed near the top. Use this resume outline to showcase an upward trajectory in your career, listing your work experience in reverse chronological order.
Size: 183 B
Downloads:

1368

Filename: chronological-resume-outline.docx
Uploaded: 2017-08-01 13:51:00 / 91924
Download
Functional Resume Outline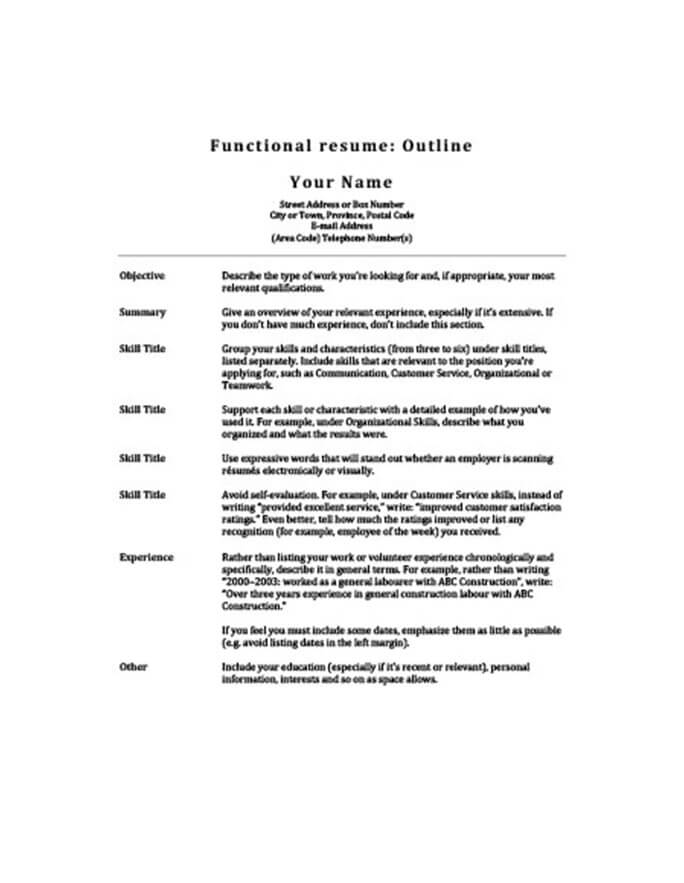 Use this outline format to help you create a skills-based resume. With the skills section taking up the majority of the template, the functional resume outline emphasizes your qualifying skills rather than work history. A skills-based resume might be for you if you're new to the field and looking for an entry-level job or if you have gaps in your employment history.
Size: 183 B
Downloads:

774

Filename: functional-resume-outline.docx
Uploaded: 2017-08-01 13:55:00 / 91930
Download
Resume Outline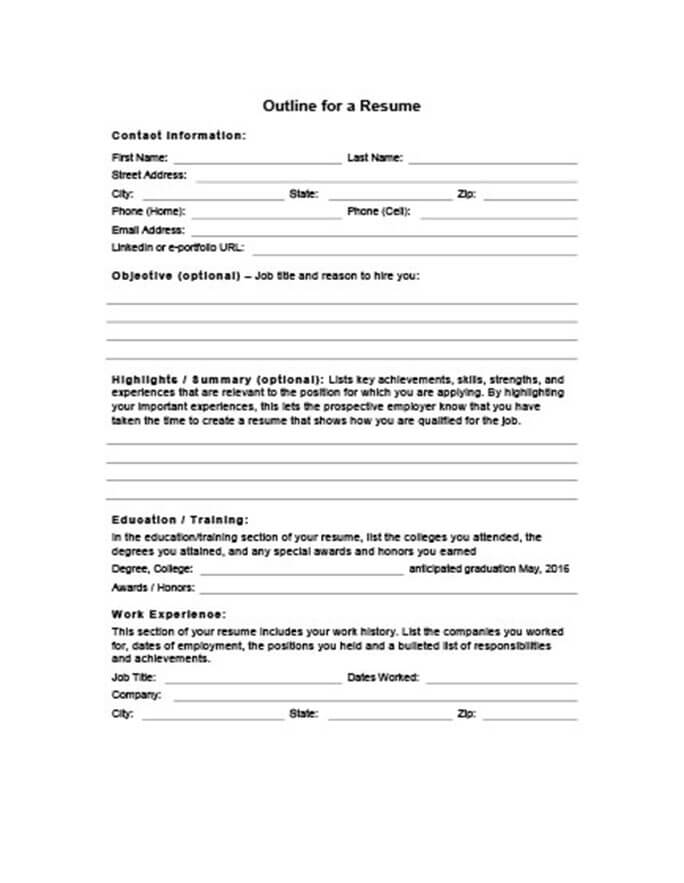 This resume outline template covers the basic information needed on every resume. Use this as your brainstorming worksheet and edit or delete sections to best match the resume format you wish to use.
Size: 183 B
Downloads:

765

Filename: Resume-Outline.docx
Uploaded: 2017-08-01 13:57:00 / 91939
Download
Resume Outline Worksheet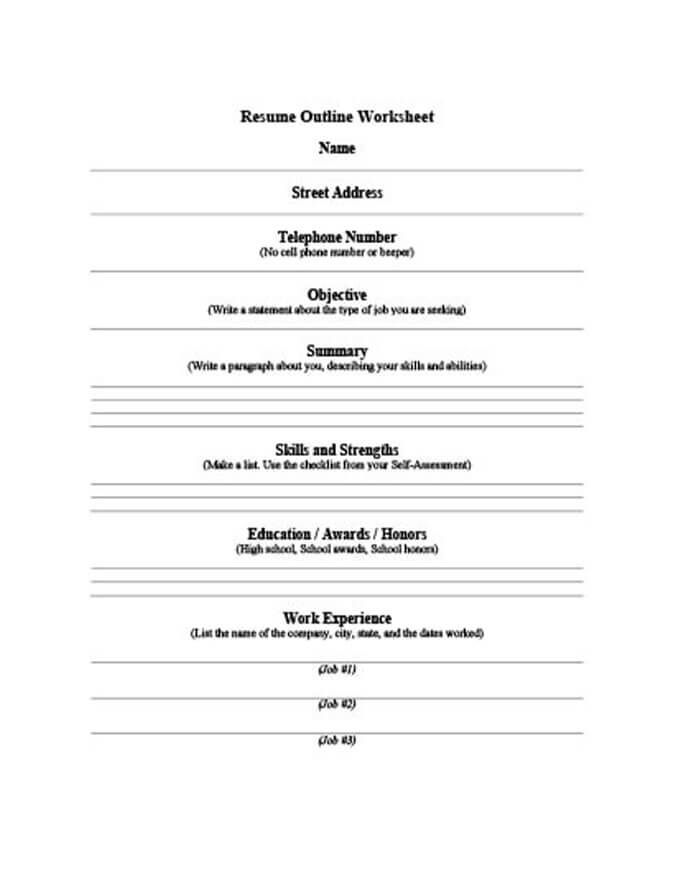 Use the resume outline worksheet to brainstorm all of your skills, work history, education, and community involvement that make you a qualified candidate. This worksheet is a great start to collect information for any resume format.
Size: 42 B
Downloads:

672

Filename: Resume-Outline-Worksheet.docx
Uploaded: 2017-08-01 13:58:00 / 91945
Download
Sample Resume Outline: Graduate Student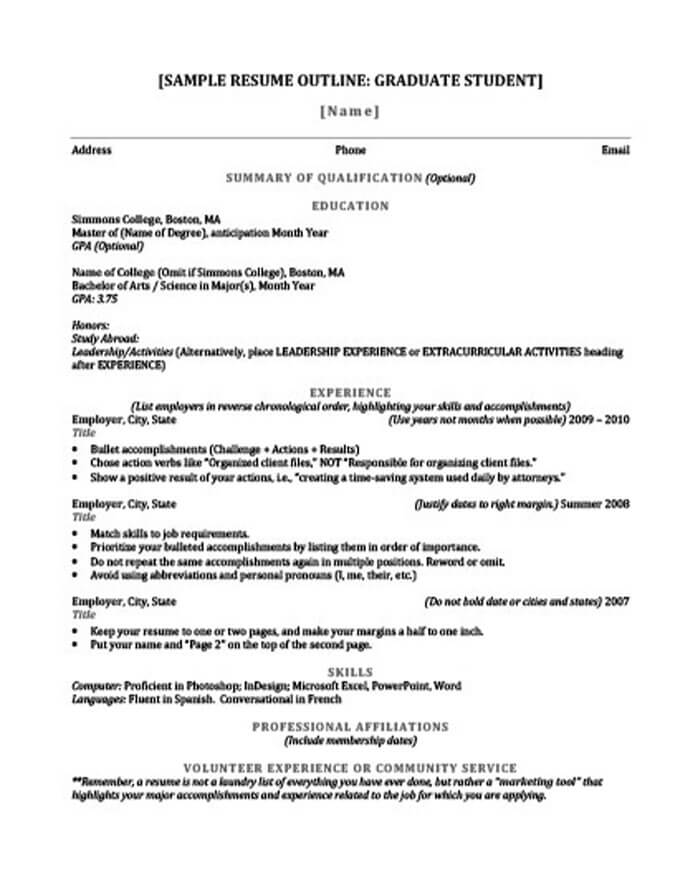 Perfect for the recent grad, this free blank resume outline emphasizes education. The degree you earn (associate, bachelor's, or master's) and GPA is listed first to reflect your qualities and achievements as a student.
Size: 42 B
Downloads:

751

Filename: Sample-Resume-Outline-Graduate-Student.docx
Uploaded: 2017-08-01 13:59:00 / 91951
Download