Entry-Level Resumes: Overview
Landing your first job or transitioning into a new career can be an exciting journey, and your entry-level resume plays a pivotal role in making it happen.
Within the realm of entry-level positions, you'll find a wide range of job titles, each offering a unique set of responsibilities and opportunities for growth, such as:
Administrative Assistant
Business Analyst
Human Resources Coordinator
Customer Service Representative
Retail Sales Associate
For entry-level job seekers, showcasing essential skills and qualifications is crucial. Emphasizing your adaptability, willingness to learn, and transferable skills can help you stand out in a competitive job market.
Whether you're crafting your first resume or making a transition, our collection of entry-level resume examples and downloadable resume templates provides valuable resources to help you succeed!
Entry-Level Resume Example: QA Tester
Use this entry-level resume example to exemplify excellence and take advantage of its valuable insights to write your resume.
Visually Appealing Design:

The resume employs an aesthetically pleasing design that captures attention while maintaining readability through an effective combination of color shading and rectangular divisions.

Engaging Career Summary:

The resume starts with a captivating career summary that succinctly conveys the candidate's qualifications and aspirations.

Quantified Qualifications:

This resume ties the qualifications to quantifiable metrics which help provide context and make the resume more unique.

Effective Visual Hierarchy:

The resume skillfully uses visual cues to guide the reader's focus toward critical sections.
Entry-Level Resume Example: Student
This student resume is an excellent entry-level example for several compelling reasons, making it an ideal template to kickstart your career journey.
Consistent Formatting:

Consistency in font size and style throughout the resume contributes to a polished and professional presentation.

Transferable Skills Showcase:

A dedicated skills section effectively lists crucial skills such as teamwork and problem-solving, demonstrating the candidate's readiness for the job.

Thoughtful Font Selection:

A well-chosen font enhances the resume's overall professionalism and legibility.

Engaging Career Summary:

The resume starts with a captivating career summary that succinctly conveys the candidate's qualifications and aspirations.
How to Write an Entry-Level Resume: A Step-by-Step Guide
Crafting an effective entry-level resume is a crucial step in launching your career. Whether you're a recent graduate or transitioning to a new field, a well-structured resume can open doors to exciting opportunities. Follow this comprehensive step-by-step guide to create a standout entry-level resume that impresses employers.
Contact Information:

Start with your contact details at the top of your resume. Include your full name, phone number, professional email address, and location (city and state). Ensure your contact information is accurate and up-to-date to facilitate easy communication with potential employers.

Resume Summary or Objective:

Compose a compelling resume summary or objective statement that provides a snapshot of your qualifications and career aspirations. A resume summary typically highlights your professional experience, skills, and accomplishments, making it suitable for those with relevant work history. In contrast, a resume objective is ideal for recent graduates or career changers, focusing on your career goals and how they align with the job you're applying for.

Work History (if applicable):

Detail any relevant work experience in reverse chronological order, starting with your most recent job or internship. Include the job title, company name, dates of employment, and a list of key responsibilities and achievements for each role. Emphasize how your previous roles prepared you for the job you seek, even if they were not directly related.

Summary of Qualifications (optional):

If writing a functional resume, you can include a summary of qualifications that highlights your most relevant skills. This is a great way to focus the reader on your skills and away from your lack of experience.

Education:

Highlight your educational background, starting with your highest level of education. Include the institution's name, degree earned, major (if applicable), and graduation date. Mention any relevant coursework or academic achievements, especially if they demonstrate your skills and knowledge in the field.

Skills:

Create a dedicated skills section to showcase your entry-level skills. Include hard skills, such as software proficiency or programming languages, and soft skills, like communication, teamwork, and problem-solving. Use bullet points for clarity and provide examples of how you've applied these skills in your coursework, projects, or internships.

Additional Sections:

Depending on your unique qualifications and experiences, consider adding additional sections to enhance your resume's appeal. These could include certifications, awards, and volunteer experience.
Key Skills and Certifications For Entry-Level Resumes
In the competitive job market for entry-level positions, possessing the right skills and, in some cases, certifications can significantly enhance your chances of standing out to employers. Here, we outline the essential hard skills and soft skills, along with valuable certifications that can elevate your entry-level resume.
Top 5 Hard Skills for Entry-Level Resumes:
Technical Proficiency: Depending on your field, proficiency in specific software, tools, or programming languages can be a valuable asset. Highlight any technical skills that align with the job you're applying for.
Data Analysis: Analyzing data and drawing meaningful insights is increasingly important across various industries. If you have experience with data analysis, include it as a skill, especially if it's relevant to the role.
Digital Marketing Skills: In the digital age, businesses value candidates with skills in digital marketing, including social media management, search engine optimization (SEO), and email marketing. Mention these skills if you possess them.
Customer Service: Strong customer service skills are highly regarded even in non-customer service roles. Highlight your ability to communicate effectively, empathize with others, and resolve issues professionally.
Language Proficiency: Fluency in multiple languages is valuable, particularly in international or multicultural workplaces. If you are multilingual, mention your language skills and proficiency level.
Top 5 Soft Skills for Entry-Level Resumes:
Communication: Effective verbal and written communication skills are crucial in any role. Showcase your ability to convey ideas clearly and collaborate with colleagues.
Adaptability: Employers appreciate candidates who can adapt to new situations and challenges. Emphasize your flexibility and willingness to learn.
Problem-Solving: Demonstrate your problem-solving skills by highlighting situations where you successfully addressed challenges or found innovative solutions.
Teamwork: Collaboration is often essential in the workplace. Mention experiences where you worked effectively in a team and contributed to collective goals.
Time Management: Efficient time management is valuable for meeting deadlines and staying organized. Provide examples of how you've effectively managed your time in the past.
Valuable Certifications for Entry-Level Resumes:
Google Analytics Certification: Ideal for those interested in digital marketing or analytics roles, this certification demonstrates your proficiency in using Google Analytics to analyze website data.
Microsoft Office Specialist (MOS): If you're proficient in Microsoft Office applications like Word, Excel, and PowerPoint, consider obtaining MOS certification to validate your skills.
Project Management Institute (PMI) Certified Associate in Project Management (CAPM): This certification suits those looking to enter project management or related fields, showcasing your knowledge of project management principles.
Certified ScrumMaster (CSM): If you're interested in a career in software development or agile project management, CSM certification can demonstrate your understanding of Scrum practices.
First Aid and CPR Certification: Particularly valuable for roles in healthcare, childcare, or safety-related fields, these certifications highlight your ability to respond to emergencies.
Including relevant skills and certifications on your entry-level resume demonstrates your qualifications and shows potential employers that you're committed to professional development and ready to contribute effectively from day one.
Here's What People Are Saying About Us
12 Tips For Writing An Entry-Level Resume
Crafting an effective entry-level resume is your first step toward securing that crucial first job in your chosen field. Follow these essential tips to ensure your resume stands out in the competitive job market:
Start with a Strong Objective: Begin your resume with a clear and concise objective statement. This statement should briefly summarize your career goals, the type of role you seek, and what you can bring. Make it specific to the job you're applying for.
Tailor Your Resume: Customize your resume for each job application. Highlight the skills, experiences, and qualifications that are most relevant to the specific role you're pursuing. Research the company and its needs to align your resume with their expectations.
Emphasize Relevant Experience: While you may not have extensive work experience, focus on relevant internships, part-time jobs, volunteer work, or class projects demonstrating your skills and capabilities. Use action verbs to describe your accomplishments.
Highlight Transferable Skills: Entry-level candidates often possess transferable skills gained through education, extracurricular activities, or internships. These can include communication, problem-solving, teamwork, and adaptability. Showcase these skills prominently.
Quantify Achievements: Use numbers and metrics to quantify your achievements. For example, mention how you contributed to a project's success, increased efficiency, or improved customer satisfaction. Quantifiable achievements make your impact tangible.
Include Relevant Coursework: If you lack extensive work experience, consider adding a section for relevant coursework or projects. This can give employers insights into your academic strengths and how they relate to the job.
Use a Clean, Organized Format: Maintain a clean and organized layout with clear headings and bullet points to enhance readability. Choose a professional font, and ensure consistent formatting throughout your resume.
Proofread Thoroughly: Avoid errors by proofreading your resume carefully. Typos and grammatical mistakes can detract from your professionalism. Consider asking a friend or professor to review it as well.
Include Extracurricular Activities: Mention involvement in clubs, organizations, or leadership roles demonstrating your leadership, teamwork, or relevant skills. These activities can provide a more well-rounded picture of your abilities.
Show Enthusiasm and Ambition: Conclude your resume with a statement expressing your enthusiasm for the position and eagerness to contribute to the company's success. Showcase your willingness to learn and grow in your career.
Consider a Functional or Combination Format: A functional resume or combination resume format may be more effective if your work history is limited. These resume formats allow you to focus on skills and qualifications while downplaying the chronological aspect.
Use a Professional Email Address: Ensure your contact information includes a professional email address. Avoid using email addresses with nicknames or unprofessional language.
By following these tips and tailoring your entry-level resume to the specific job you're pursuing, you can create a compelling document that effectively communicates your skills, potential, and enthusiasm to potential employers, increasing your chances of landing your desired role.
View More Resume Examples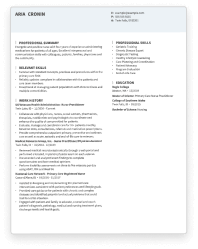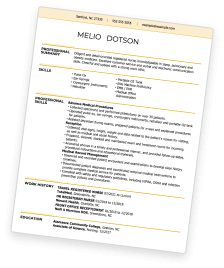 Save Time With Our Resume Builder
Key Takeaways
Tailor your resume for each job application by emphasizing relevant skills and experiences that match the specific role and company.

Use quantifiable metrics to demonstrate your accomplishments, making your impact tangible to potential employers.

Highlight transferable skills gained through education, internships, or extracurricular activities, such as communication, problem-solving, and teamwork.

If your work experience is limited, consider including a section for relevant coursework or academic projects that showcase your knowledge and skills.

Explore functional or combination resume formats to emphasize skills and qualifications over a limited work experience.
Save Time With Our Cover Letter Builder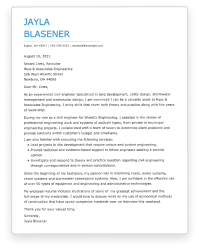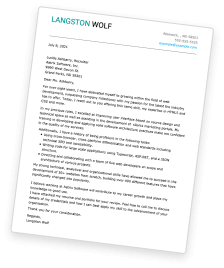 Entry-Level Resume FAQ
Updated: September 12, 2023
If you have limited work experience, highlight your education, relevant coursework or projects, internships, volunteer work, and any transferable skills. Emphasize your passion for the field and your eagerness to learn.
Generally, an entry-level resume should be one page in length. Keep it concise and relevant. If you have significant accomplishments or relevant experience, a maximum of two pages can be acceptable but strive for clarity and conciseness.
Including an objective statement is often more effective for entry-level resumes. This statement briefly outlines your career goals and how they align with the job you're applying for. It helps employers understand your intentions and suitability.
It's generally not necessary to include references on your resume. Instead, you can write "References available upon request." Focus on showcasing your skills and qualifications. Be prepared to provide references separately if requested during the hiring process.
If you have employment gaps, briefly explain them in your resume. For example, if you took time off for further education or a personal project, mention it briefly and emphasize the skills or experiences gained during that time. Be honest and concise.
Yes, you can include relevant non-professional experiences such as student organizations, club memberships, or personal projects demonstrating skills applicable to the job. Highlight achievements and skills gained in these roles.
To stand out, tailor your resume for each job application, emphasizing skills and experiences that match the specific job requirements. Highlight any relevant internships, volunteer work, or coursework. Use keywords from the job description.
Including your GPA is optional, and whether you should do so depends on your GPA's strength and the employer's expectations. If your GPA is above 3.5 or particularly relevant to the job, you can include it. Otherwise, focus on showcasing your skills and experiences.