Nursing Assistant Resume Format
Creating your resume to attract jobs in the nursing field can be a tedious affair if you don't know where to start. We crafted a few writing tips and paired them with resume examples to help you personalize your nursing assistant resume to each job. You'll learn which resume sections to add, how to format your document, and where to customize each section to match an open job's requirements.
Here are a few must-haves for the ideal resume:
Contact information: Your contact information is a must. Specify your name, phone number, professional email and current location.
Resume profile: Start your resume by introducing yourself either with a professional summary or a career objective. Don't go beyond two or three sentences to describe your skills, work history and goals.
Work experience: If you have work experience, then mention it on your resume. List all the tasks, accomplishments and duties you performed during your tenure.
Education: Adding your educational qualifications will help the prospective employer realize your skills and depth of understanding. You should be a nursing assistant diploma or degree holder to qualify for this position.
Skills: Add a skills section to showcase your top qualifications for the position.
License and certifications: If you are licensed or certified in other job-specific areas, you can mention them to add some brownie points.
Nursing Assistant Resume Example
This is a perfect resume example for any current or aspiring nursing assistant. Take a look at all of its amazing features to see how you can showcase your skills and experience.
Clarity:

This template presents information in a straightforward manner, making it an effective resume for a nursing assistant to organize their qualifications.

Bold:

The use of thick borders, bold text, and a bit a of color allows this resume to stand out and make an impact on the reader.

Easy to edit:

With a resume template like this, you can easily make the necessary changes to fit your specific needs when looking for jobs as a nursing assistant.

Professional:

The intentional format choices of this template create aesthetic that ensures a sense of professionalism in any environment.
Nursing Assistant Resume Example
With a little more whitespace, this resume template helps draw the attention of the reader to all your important qualifications as a nursing assistant.
Whitespace:

The dividing aspect of this resume creates whitespace that works to your advantage by placing an emphasis on the text.

Clean:

This resume does not try to be fancy, instead its simple approach keeps your resume organized and accessible.

Helpful:

By clearly labeling and organizing the different sections of the resume, this template helps the reader find answers faster.

Impactful:

The dividing format of this resume, along with its bold headings, allows the template to jump off the page and make a great impression.
More Nursing Assistant Resume Examples
Here are a couple of more sample resumes for nursing assistants that you can use to help you get your next job!
Here's What People Are Saying About Us
Nursing Assistant Resume Tips
Consider the following tips when crafting your resume for a nursing assistant position.
Ask yourself the right questions. What do employers look for in a nursing assistant? What are some of the qualities and skills indispensable for the role? Scan each resume to take careful note of any duties, responsibilities or skills that are repeated, bolded or highlighted. This information will play an integral part in customizing your resume.
Try to identify skills and assets that you believe will suit the job description. If you have good collaboration skills, jot down accomplishments or previous experience related to that skill.
Add all relevant skills. If you have expanded medical skills or knowledge besides the core requirements listed on the job posting, carefully mention them. You want to prioritize the medical training requested in a job posting, but additional nursing knowledge will boost your nursing assistant resume.
Tailor to the job description. Use industry phrases and key terms to help set you apart from other job seekers. Prioritize one or two relevant skills that relate to the main responsibilities described in the job advertisement.
Be measurable with your achievements. Add quantifiable numbers or information to help a potential employer judge your ability. For example, explain how many patients you oversee, how many appointments you help set up and prepare for an examination, or which clinical procedures you assist.
Pick the right resume format. Choosing the format for your resume is very important. It helps define the layout and presentation of your content. These resume examples can help you identify the format that best defines your purpose.
Be ATS-friendly. Many employers have started using an applicant tracking system to screen resumes and accept/reject them. Your resume should be scannable for manual as well as automated systems. ATS programs rate your resume based on how your resume sections are structured and labeled and how grammatically similar your phrasing and tense are to the job posting.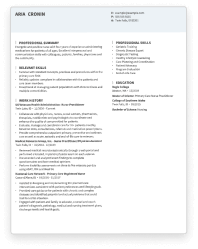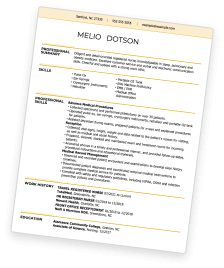 Save Time With Our Resume Builder
Key Takeaways
Keep your resume relevant and targeted by tailoring it to the job description.

Use quantifiable achievements in your experience section to demonstrate your skills.

An example resume is a great template to help you apply for nursing assistant roles.
Save Time With Our Cover Letter Builder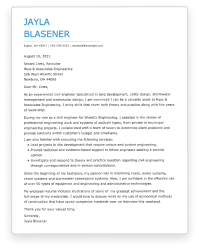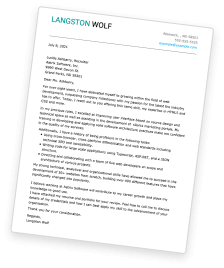 Nursing Assistant FAQ
Updated: November 14, 2023
The nursing assistant helps the patients manage personal hygiene by giving them a bath, grooming and dressing them and offering bladder care. They are responsible for continuously checking the patient's vitals and monitoring them. The nursing assistant's responsibility is to help the surgeon prepare for the surgery. They also take care of the diet and other aspects of the patient.
Good nursing assistant skills include good communication skills, excellent patient care and strong listening skills. If they are well-versed in advanced medical knowledge such as CPR, first aid, or emergency triage, these technical skills can elevate you to the top of the candidate pile.
The nursing assistant should be compassionate, have patience and empathy, and pay attention to detail.