Director Resumes: Overview
As a director, your role is pivotal in shaping the narrative and visual elements of various projects, whether in the film, television, or video industries.
Work environments for directors include:
Film Industry
Television
Theater
Advertising
Creative Agencies
Directors need a blend of artistic vision and organizational skills, such as effective communication, leadership, creativity, and the ability to handle high-pressure situations. Such skills and experience must be effectively showcased on a director's resume.
With our examples, you can make sure you create the best resume possible. For more help, explore our entire collection of customizable resume examples and downloadable templates to help you make your directing dreams a reality!
Entertainment Director Resume Example:
This director resume example shows how to list your qualifications in the entertainment industry successfully so that you engage your audience.
Effective Use of Color:

A simple, yet effective, use of turquoise color in the header, broken up with bold and dotted lines, gives this director's resume a unique flourish.

Quantifiable Achievements:

The work history provides measurable accomplishments about the candidate's career, using phrases such as "prepare a design budget of $250,000 annually", which demonstrates their specific value as an employee.

Consistent Formatting:

The entire resume example for this director remains consistent in its use of font, headings, and other format options, which gives it an important professional quality.

Engaging Summary:

The resume starts off with a brief overview of the candidate's relevant director qualifications that engages the reader to learn more.
Director Resume Sample
Here we have another exceptional director resume example that could be used for a variety of entertainment professions, such as in film or TV.
Clean and Professional:

This director resume example uses a traditional format that keeps information organized and easy to read, which demonstrates a serious sense of professionalism.

Relevant Skills:

A dedicated skills section provides relevant qualifications for the director position, such as "Avid and Final Cut proficiency", that help the resume stand out, especially with applicant tracking systems (ATS).

Robust Work History:

This resume example provides a diverse collection of experience in directing creative projects, which speaks to the excellent potential of this candidate.

Useful Education:

The education section provides insight into the background of the candidate, implying a deep sense of understanding the creative and professional needs of directing in entertainment.
How to Write a Director Resume: A Step-by-Step Guide
Knowing how to write an effective resume is a key first step to getting a director job in entertainment. With our guide, you can figure out just what you need to include to make an impact.
Choose a Format:

When crafting your resume, you've got various options to consider. Check out the different resume formats available and select the one that suits you best for your director position. The chronological resume format is the most commonly used choice, centering on your job history.

On the flip side, the functional resume format offers an alternative approach. While it's not as prevalent and may not be as ATS-friendly, it can be a solid pick, particularly for individuals with limited experience. Recent high school graduates, for instance, can benefit from its focus on transferable skills. Lastly, there's the combination resume format, blending elements from both the chronological and functional methods.

Contact Information:

Your contact information should be clear and up to date. Include your name, phone number, email, and optionally, a link to your LinkedIn profile or personal website that highlights your directing skills for added professionalism.

Summary or Objective:

Give your resume some energy with an introduction that explains why you are a worthy and valuable candidate. A resume summary, typically comprised of 2-3 sentences, spotlights your relevant background, proficiencies, and the value you bring to the role as a director.

An objective statement meanwhile is better if you lack relevant experience, but have the passion for the position. Select the one that aligns with your circumstances and tailor it for each job application.

Work History:

In this section, provide a detailed account of your experience as a director. Emphasize your involvement in various projects, including films, TV series, or any relevant directing roles. If you're transitioning from a related field, highlight transferable skills and experiences that make you a strong candidate for directing roles. Quantify your achievements so that you provide unique value about yourself.

Skills:

List your key skills as a director, such as leadership, project management, script analysis, storytelling, team collaboration, and proficiency in relevant editing software or film equipment. This helps your resume stand out with applicant tracking systems (ATS).

Education:

Detail your academic background, including degrees, certifications, and any training in directing or the film industry. Highlight any coursework or projects that showcase your expertise.

Additional Sections (optional):

Consider adding sections like portfolios that showcase your work through visuals, links to projects, or references to specific productions, awards and achievements, or any industry-related memberships or affiliations that demonstrate your commitment to your craft.
Key Skills and Certifications For Director Resumes
Directors must possess a unique blend of hard skills and soft skills, along with certifications that validate their expertise on their resume. Here are some key skills and certifications that can make your director resume stand out:
Top 5 Hard Skills for Director Resumes
Technical Proficiency: Mastery of film equipment, editing software, and other technical skills is essential for executing your vision effectively.
Script Analysis: The ability to dissect scripts, understand character dynamics, and visualize scenes is crucial for translating a storyline to the screen.
Project Management: Directors oversee the entire production process, so strong project management skills are a must to ensure projects stay on track and within budget.
Cinematography Knowledge: Understanding camera angles, lighting, and shot composition is vital for creating visually compelling scenes.
Sound Editing and Design: Proficiency in sound editing and design is crucial for enhancing the auditory experience of your productions.
Top 5 Soft Skills for Director Resumes
Leadership: The capacity to guide a team, offer creative direction, and inspire actors and crew members is essential for successful directing.
Effective Communication: Directors must convey their vision to the team, ensuring everyone is on the same page.
Problem-Solving: The ability to think on your feet and find solutions to unexpected challenges during production is a valuable skill.
Creativity: A Director's creativity brings a script to life and distinguishes their work.
Time Management: Meeting deadlines and keeping production on schedule is a vital soft skill for Directors.
Top 5 Certifications for Director Resumes
Directing Workshops: Certifications from renowned directing workshops or academies demonstrate your commitment to honing your skills.
Film School Diplomas: A diploma or degree from a reputable film school is a significant certification in the film industry.
Cinematography Courses: Certificates from courses focused on cinematography can bolster your resume.
Leadership Training: Leadership and team management certifications can validate your ability to lead a production.
Film Festivals Awards: Awards or recognitions from film festivals can serve as an informal certification of your work's quality.
Incorporating these skills, especially relevant computer skills, and certifications, into your director resume will impress potential employers and demonstrate your readiness to take on directing roles confidently and competently.
Here's What People Are Saying About Us
8 Tips For Writing a Film and TV Director Resume
Tailor Your Resume: Customize your resume for each application to highlight your director skills and experiences that match the specific job description.
Showcase Your Projects: Create a portfolio or provide links to your work, allowing employers to see your directing style and creativity.
Highlight Achievements: Instead of just listing job duties, focus on specific accomplishments like successful film festival entries, high TV ratings, or awards.
Quantify Your Achievements: Whenever possible, include numbers and statistics to quantify the impact of your work, such as budgets managed, films directed, or audiences reached.
Emphasize Soft Skills: Directors need strong leadership, communication, and problem-solving skills. Highlight these traits in your resume.
Include Industry Keywords: Incorporate industry-specific keywords like "storyboarding," "cinematography," and "post-production" to make your resume more search-engine-friendly.
Stay Current: Update your resume regularly to reflect your most recent work and certifications, ensuring it's always up to date.
Consider a Visual Resume: Depending on your style and industry, you might consider a visually engaging resume, especially if your work is highly visual.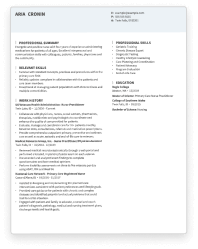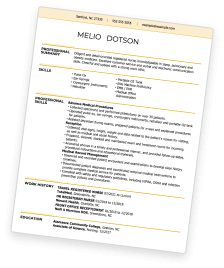 Save Time With Hloom's Resume Builder
Key Takeaways
Crafting a Director resume requires a balance of creative and technical elements, showcasing your expertise in film and television.

The visual appeal of your resume is critical, so choose a design that aligns with your personal style while remaining professional.

Highlight your experience, skills, and qualifications with a focus on achievements, certifications, and specific projects.

Directors should exhibit a mix of hard and soft skills, coupled with relevant certifications, to demonstrate their competence in guiding productions from concept to completion.

Customizing your resume for each application, quantifying achievements, and showcasing soft skills like leadership and problem-solving can set you on the path to a successful directing career.
Save Time With Hloom's Cover Letter Builder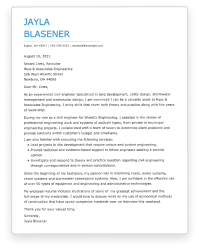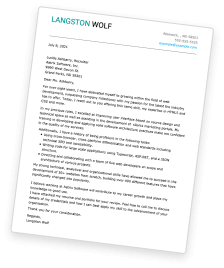 Director Resume FAQ
Updated: October 19, 2023
To make your Director resume stand out, focus on showcasing your unique projects, accomplishments, and your creative style in film, TV, and video media. Create a visual portfolio or add links to your work to give employers a real sense of your directorial talent and what you bring to any project.
A portfolio is highly important for a Director's resume. It allows you to visually showcase your work, providing employers with a tangible understanding of your style, creativity, and the quality of your past projects in film. Make sure your portfolio highlights your most relevant skills to whatever directing position you are applying for.
Include certifications from well-regarded directing workshops or academies, film school diplomas, courses in cinematography, leadership training, and awards or recognitions from film festivals. These certifications validate your expertise.
To emphasize soft skills, provide examples in your work history section where you demonstrated leadership, effective communication, creative problem-solving, and time management. These practical experiences will substantiate your skills to potential employers and build trust for your future success.