DJ Resumes: Overview
DJs curate a musical journey that resonates with audiences, blending beats, genres, and moods seamlessly for any environment, including:
Nightclubs
Festivals
Private Events
Restaurants
Conventions
The most sought-after DJs possess exceptional music knowledge, an innate sense of timing, and the ability to read and connect with a diverse audience.
Get your next job by exploring our DJ resume examples and templates. Plus, you can check out our online resume builder for personalized guidance and support and get access to our entire collection of professional resume examples and downloadable templates, bringing your career to new disc jockey opportunities!
DJ Resume Example
Take a look at this exceptional DJ resume example that contains both style and substance to make it the perfect template for your next job opportunity!
Clean and Simple:

Don't underestimate this modern design that keeps this DJ resume easy to read thanks to its effective organization and use of whitespace.

Engaging Summary:

The resume begins with a professional summary that succinctly explains the candidate's most important qualifications and experience as a disc jockey, enticing the reader to learn more.

Subtle Use of Color:

The light touch of color for the headings gives this otherwise professional looking resume a dash of creativity that helps it stand out as unique among the competition.

Relevant Experience:

This DJ resume example uses the chronological format which places a focuses on work history. In this case, past jobs demonstrate important relevant skills and achievements to underscore the qualifying experience.
DJ Resume Template
Here, we have another DJ resume sample that does a great job balancing creative expression with qualifying information to make it a top-notch example.
Engaging Design:

Breaking the resume up into four sections of different shades of color, along with a creative approach to organization, lets this example pop off the page and be memorable.

Use of Keywords:

The professional summary, work history, and skills sections all make use of relevant keywords that tailors this DJ resume example to a specific job, making it stand out with readers and applicant tracking systems (ATS).

Easy to Read:

This resume contains a lot of information, but keeps things organized and avoids clutter which helps make it an easy reading experience.

Informative Experience:

The work history section provides an effective overview of responsibilities and achievements to give the reader a good idea about the qualifications and experience of the candidate.
How to Write a DJ Resume: A Step-by-Step Guide
Writing an effective resume is a key part of getting a job as a DJ. Check out this guide to help you craft the best resume possible for your next gig.
Choose a Format:

There are three types of resume formats, and you should pick the one that best fits your needs. The chronological resume format is the most common and focuses on job history.

The functional resume format is less common and not as ATS-friendly, however, it is good for those with less experience, like recent high school graduates, because it focuses on transferable skills. Finally, there is the combination resume format, which uses elements from both the chronological and functional approaches.

Contact Information:

Begin with your contact information at the top of your resume. Include your full name, phone number, professional email address, and location (city and state). Consider including a link to your LinkedIn or a professional website if applicable.

Summary or Objective:

At the top of your resume, craft a three- to four-sentence professional summary or objective statement that gives potential employers a clear sense your DJ qualifications and intentions. If you have relevant work experience, write a resume summary and focus it on your key qualifications, skills, and accomplishments that are specifically relevant to your DJ job opportunity.

Alternatively, opt for an objective statement if you've recently graduated or are shifting your career focus. Here, briefly describe your professional goals as a DJ and draw parallels between your aspirations and the open position.

Work History:

In the work history section, outline your relevant DJ experience. Highlight your DJ roles, residencies, and gigs at various venues. Emphasize your accomplishments, such as successful theme nights, crowd sizes, and any notable collaborations, and quantify them when possible. If you have transferable skills or experience from other roles, be sure to mention those too, as they can add depth to your DJ resume.

Skills:

Your skills section is a crucial component. List your technical skills, such as beatmatching, mixing, and equipment proficiency. Include any software or hardware you're proficient in. Additionally, highlight soft skills like crowd engagement, adaptability, and creativity - qualities that can make a significant difference in the DJing world.

Education:

Briefly mention your educational background in this section. Include any relevant courses or certifications related to music production or DJing. While formal education is important, in the DJing world, hands-on experience and skills often carry more weight.

Additional Sections (optional):

Consider adding extra sections to your DJ resume to make it stand out. These can include awards or recognitions, affiliations with industry organizations, or your online presence on platforms like Spotify, SoundCloud, or MixCloud. These additional sections provide a more comprehensive view of your DJing career.
Skills For DJ Resumes
Mastering the art of DJing goes beyond selecting tracks and mixing beats. To make your DJ resume shine, it's vital to highlight both your technical expertise and soft skills to show you have what it takes to put on excellent performances.
Top 5 Hard Skills for DJ Resumes
Beatmatching: The ability to synchronize beats and maintain a seamless flow of music is a fundamental DJ skill.
Mixing Techniques: Proficiency in blending tracks, transitioning between genres, and creating unique sounds.
Equipment Mastery: Competence with DJ hardware and software, including turntables, controllers, and digital mixing software.
Sound Engineering: Understanding sound systems and acoustics for optimal audio quality.
Music Production: Basic knowledge of music production software like Ableton Live or Logic Pro can be a valuable computer skill for creating custom tracks.
Top 5 Soft Skills for DJ Resumes
Adaptability: The ability to read the crowd and adjust your playlist to maintain the energy on the dance floor.
Crowd Engagement: Creating a connection with the audience through song selection and interaction.
Creativity: Innovating and experimenting with music to set yourself apart as a unique DJ.
Time Management: Efficiently managing your set time and ensuring smooth transitions.
Networking: Building connections within the music industry and collaborating with other artists.
These skills, especially the hard skills, can be very helpful in uplifting your resume. However, always make sure to tailor your resume to the specific job in question and pick the appropriate skills to highlight.
Certifications For DJ Resumes
A certification on your DJ resume can further enhance your credibility, so consider adding them if they are relevant. Here are some of the most popular:
Top 5 Certifications for DJ Resumes
Digital DJing Certification: Offered by various DJ schools and institutions, this certification validates your digital DJ skills.
Music Production Courses: Certificates from courses on music production software like Ableton or FL Studio can enhance your resume.
DJ Equipment Manufacturer Certifications: Certifications from leading equipment manufacturers like Pioneer or Serato showcase your equipment proficiency.
Audio Engineering Courses: These certifications demonstrate a deep understanding of sound systems and acoustics.
Music Theory and Composition Courses: Knowledge in music theory and composition can add depth to your DJing skills.
Here's What People Are Saying About Us
8 Tips For Writing A DJ Resume
Know Your Audience: Tailor your resume to the specific audience you want to reach, whether it's a nightclub manager, event organizer, or festival coordinator.
Highlight Achievements: Showcase your most significant achievements, such as successful events, headlining performances, or notable collaborations.
Showcase Versatility: Highlight your ability to DJ in various environments, from nightclubs to private events, demonstrating your adaptability.
Incorporate Technology: Mention your proficiency with DJ software, equipment, and any other tech-related skills.
Network and Collaborate: Highlight any collaborations with other artists, producers, or event organizers, showcasing your ability to work in a team.
Online Presence: Include links to your professional profiles on platforms like SoundCloud, MixCloud, or personal websites to give employers easy access to your work.
Be Prepared: Ensure your contact information is up to date, and you're readily available for bookings or inquiries. Make it easy for potential employers to reach out.
Stay Updated: As the industry evolves, so should your resume. Regularly update it with new achievements and experiences.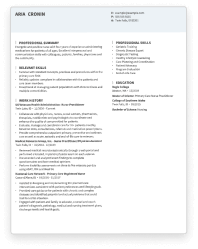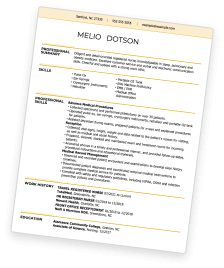 Save Time With Hloom's Resume Builder
Key Takeaways
Your DJ resume should perfectly blend visual aesthetics and well-structured content, creating a visually appealing and informative document.

Showcase your unique DJing skills and notable achievements to set yourself apart in the competitive world of music and entertainment.

It's essential to highlight your technical skills, adaptability, crowd engagement, creativity, and networking abilities to present a well-rounded profile.

Relevant certifications can bolster your resume, demonstrating your commitment to professional growth and expertise in the DJing field.
Save Time With Hloom's Cover Letter Builder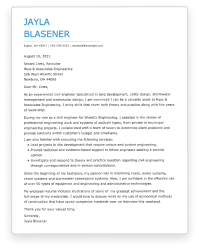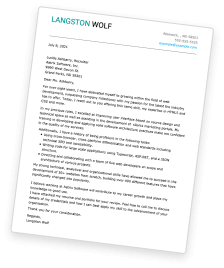 DJ Resume FAQ
Updated: October 25, 2023
The ideal length for a DJ resume is typically one page. Keep it concise and focused on highlighting your most relevant experiences and skills. If you have extensive experience, you can extend it to two pages, but ensure every detail is relevant.
Highlight experiences in different DJing environments, such as nightclubs, private events, and festivals. Mention any genre versatility or the ability to adapt to different crowds and atmospheres. This would also be a great place to
use a cover letter
to expand your soft skills as a DJ further.
If you're a new DJ, emphasize your training, technical skills, and any relevant coursework or certifications. Highlight any gigs, even small ones, and describe your approach and style. Consider adding a portfolio of your best work, either live or in studio, to give your audience a better idea of what you provide.
Your resume is not the place for your entire playlist. Instead, mention your ability to curate playlists and read the crowd. You can include a link to your online portfolio if you have a mix or playlist you like to share. Also consider adding videos of your live performances to give more context.