Sales Resume Template And Examples
Sales encompasses a wide range of industries. From retail to finance, food service to entertainment, technology to manufacturing, there is always potential for a sales professional to be involved.
Some specific sales roles include:
Sales associate
Sales manager
Inside sales representative
Outside sales representative
B2B sales consultant
Any good sales professional, regardless of their industry, will have a robust collection of hard and soft skills that make them the most competitive job candidate.
Check out our high-quality examples below to see how you can write the best resume for your next sales position.
Sales Representative Resume Example
A sales representative promotes the goods or services on behalf of their employer or client and comes with entry-level, mid-level and senior-level positions. This example of a sales resume is great for many reasons including:
Versatile:

This resume showcases each step of the sales representative career path, which means that you could use this resume for almost any related position.

Quantifiable:

This resume is the perfect example of how you should use measurable data in your work history to solidify your skills in sales.

Clarity:

The right amount of white space, coloring, and text creates a resume that is easy to read and understand.

Specific:

Along with the quantifiable work history, this resume provides specific skills that fit perfectly for any position that requires them.
Sales Manager Resume Example
Applying to a sales manager position requires you to demonstrate that you have the skills and experience to lead a sales team to success. As this excellent example shows, your qualifications can come to life in your resume:
Intriguing:

The colorful header helps this resume stand out right away, while the borders around each section heading guide the reader to the most important information.

Quantitative:

This is another great example of how to back up your experience in sales with metrics that provide unique context and underscore your value as an employee.

Organized:

The borders around each section heading, along with the bulleted column on the right-hand side of the page prevents clutter and adds logical structure to the resume.

Relevant:

Every bit of information found on this resume relates in one way or another to a sales manager position, giving the reader exactly what they need to know.
Use This Template
How To Write A Sales Resume
Writing a sales resume will help you decide which example or template suits your needs. Like most resumes, this means you will need to fill in the following:
Contact Information:

Found at the top of your resume, this information should not take up too much space. However, still make sure your name impacts the reader so that they remember who you are. The contact information section will contain: - Full name - Phone number - Email address (professional) - Location (city and state) - LinkedIn or other relevant social media (optional)

Resume Profile:

In a brief one to three-sentence introduction, convince the reader to learn more about your qualifications and interest in the position. There are two types of resume profiles to help the reader learn more about you: - Resume summary: This is an overview of your most relevant qualifications demonstrating your dedication as a sales professional. - Objective statement: This is a good choice for candidates who lack experience because it focuses on why you want the job and how you have the skills and ambition to succeed.

Work Experience:

Provide evidence of how your skills have been successfully used in previous positions, showcasing your value as a sales professional. Each entry in the work experience section should contain: - Job Title - Name of employer - Length of employment (as mm/yyyy or "[month] [year]") - Location (city and state) - Three to five bullet points that demonstrate role, responsibilities, achievements and impact. It is especially important to use quantifiable data in your work experience section. This provides crucial context for the reader that makes you unique and lets them measure you against other applicants.

Skills:

In this section, you will highlight six to ten key skills the employer seeks. Use the job description to tailor your resume to the position's needs. Additionally, make sure to provide a balance between: - Hard skills. These skills require a specific level of knowledge and some form of training, which means they are measurable and can be very technical in nature. - Soft skills: These skills reflect your work personality, especially your interpersonal skills. Although they are harder to measure, soft skills are just as important for sales professionals to succeed at their jobs.

Education:

In this section, you will want to provide your most recent and relevant educational experiences. Make sure to list: - Name of institution - Degree obtained - Location - Honors (optional) - Year attended/graduated (optional)

Additional Information:

Many sales positions benefit from some form of certification, so it is a good idea to provide that information in an additional section. You can also include other information such as: - Volunteer work - Awards - Professional affiliations - Trainings
Skills For A Sales Resume
Consider the following relevant skills found for almost any role in sales to help increase the chances of your resume being considered.
Top 10 Soft Skills For A Sales Resume
The skills that extend to your work ethic and team collaboration efforts are called soft skills. The following are the top soft skills required for a sales job:
Communication skills
Empathy
Listening skills
Adaptability
Public speaking and presentations
Flexibility
Time management
Organizational skills
Relationship building
Critical thinking
Top 10 Hard Skills For A Sales Resume
Hard skills are job-specific and include the tasks that are required by the position. These skills are usually learned during your degree or through training. The hard skills required from a sales professional are:
Generating sales leads
Negotiating client contracts
Data analysis
Scheduling
Creating expense reports
Developing sales strategies
Zoho CRM
Salesforce
PandaDoc
Google Workspace
Here's What People Are Saying About Us
Resume Tips For Sales Positions
Tailor to the job description: Use keywords found in the job description set you apart from other job seekers. Prioritize one or two relevant skills that relate to the main responsibilities described in the job advertisement.
Add measurable achievements: Quantifiable numbers or information help a potential employer judge your ability better. For example, discuss how many sales you closed in a given time frame or what kind of revenue growth resulted from your actions.
Be ATS-friendly: Your resume should be scannable applicant tracking systems (ATS) that scan your resume for certain qualifications, such as roles, responsibilities, and achievements that reflect your ability to perform as a sales professional.
Pick the right resume format: Choosing the format for your resume is very important. It helps define the layout and presentation of your content. The three resume formats are:

Reverse chronological: Also known as the chronological resume, this format provides detailed information about responsibilities and achievements from past job positions.
Functional: Also known as the skills-based resume, this format includes an additional section that provides in-depth information on your top three to five most relevant abilities.
Combination: Also known as the hybrid resume, this format balances the focus between job experience and skills.

The reverse chronological format is the most popular and ATS-friendly format since it showcases work experience which is highly valued in job applications. However, if you have no experience, you can consider the combination or functional resume formats, but be aware you still need to validate your qualifications.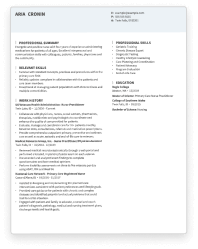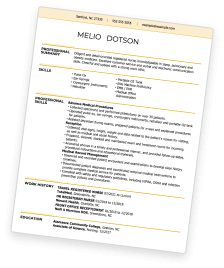 Save Time With Our Resume Builder
Key Takeaways
Sales positions are found in a wide range of industries which means your qualifications are versatile.

Tailor your resume to the job you are applying for so that the recruiter or hiring manager can quickly understand why you should be considered for the position.

Use quantifiable data in your resume to validate your skills and experience.
Save Time With Our Cover Letter Builder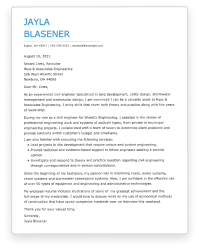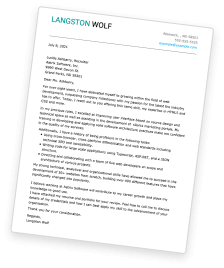 Sales Resume FAQ
Updated: November 14, 2023
Every sales job requires a specific skill set. However, the top three standard skills a sales professional should have are:
Communication skills

Listening skills

Empathy
A professional summary statement is a quick introduction of who you are as a professional. It should mention one of your key achievements, two to three of your best skills and your years of experience. A summary statement to attract recruiters should also include:
Essential tasks accomplished in previous employment with quantifiable figures.

A statement explaining how your expertise makes you the right person to help the employer in your new role.

Skills and keywords picked out from job postings online.
The standard duties of a sales job are as follows:
Generate sales leads.

Maintain inventory levels.

Provide customer service.

Maintain and update client records.

Answer product-related questions.
Your sales resume should include relevant qualifications to the job you are applying for so that you stand out as a desirable candidate. This can include providing information such as:
Product knowledge

Data analysis of sales

Time management

Achievements

Client acquisition and retention
Use quantifiable data about your responsibilities and achievements to describe your sales experience. You want to show what type of value you provided to past employers. The recruiter or hiring manager will use this to gauge what type of value you can bring to your potential future position.