Production Resumes: Overview
Production professionals play a vital role in various industries, from manufacturing to quality control, to creating, assembling, and testing parts and products, possibly as part of an assembly line in a manufacturing facility.
Some production job positions include:
Production Manager
Manufacturing Engineer
Quality Control Inspector
Production Coordinator
Machine Operator
These production job require certain skills and qualifications, such as attention to detail, problem-solving abilities, and technical expertise, which means they need to be effectively showcased on a resume.
Use our production resume examples to help you with your next application or explore our online resume builder to save yourself more time. Get access to our entire collection of downloadable resume templates and customizable examples today!
Production Resume Example: Machine Operator
This machine operator resume template is an excellent example of a resume for a production role, thanks to its design and content choices.
Visual Appeal:

The clean, well-organized design is attractive, professional, and easy to read. This functional-style resume utilizes clear section headers and bullet points to highlight the applicant's skills and abilities.

Quantifiable Metrics:

This resume example includes numbers and quantities to demonstrate achievements, like "implemented machine learning applications to solve business problems affecting 1.1 million users" which demonstrate value for the production job.

Action Verbs:

Using action verbs creates a compelling resume that will stand out to recruiters. Notice how the bullets in the Professional Skills section each start with a strong action verb like "created," "researched," and "calibrated".

Career Objective:

This production resume template includes a clear and concise career objective at the top of the document, highlighting experience, skills and the desired machine operator position.
Production Resume Example: Maintenance Supervisor
This sample is for a maintenance supervisor, and it provides a great example of how you can construct an engaging and impactful resume with the right choices.
Modern Design:

This resume layout combines a professional touch with visual appeal thanks to the use of color and unique section heading borders.

Relevant Skills:

On your production resume, you will want to provide skills relevant to the job, similar how ones such as "codes compliance" "electrical certification" are listed here.

Effective Summary:

A well-written resume summary highlights knowledge, skills and experience at the top of the document to immediately catch the hiring manager's eye. This production resume example features a concise and persuasive summary at the top of the page to make a great first impression.

Use of Keywords:

Effective use of production industry-specific terminology demonstrates expertise and helps pass initial screening by Applicant Tracking Systems (ATS).
How to Write a Production Resume: A Step-by-Step Guide
A well-structured resume is essential for successful employment at any production job. Creating a compelling production resume involves several key steps you must be mindful of when applying for jobs.
Choose a Format:

When building your production resume, you've got a range of options at your disposal. Explore the various resume formats available and choose the one that aligns best with your requirements. The chronological resume format stands as the most prevalent choice, with its primary focus on your work history.

On the other hand, the functional resume format provides an alternative strategy. Although it's less common and may not be as ATS-friendly, it can be an excellent option, especially for those with limited experience. Recent high school graduates, for instance, can capitalize on its emphasis on transferable skills. Lastly, there's the combination resume format, incorporating elements from both the chronological and functional approaches.

Contact Information:

Your contact information should be located at the top of the page, where it is easy to find. Always include accurate, up-to-date contact information, including your full name, telephone number, email address and LinkedIn profile if you have one.

Summary or Objective:

Make your resume unique with a compelling opening statement or a purposeful introduction. A resume summary, typically consisting of 2-3 sentences, shines a spotlight on your relevant background, skillset, and what you bring to the position.

An objective statement outlines your career aspirations and how they align with your pursuit of the role. Choose the one that best fits your situation and personalize it for each specific job application.

Work History:

Highlight your relevant work experience, emphasizing accomplishments and responsibilities. Quantify your accomplishments whenever possible by using numbers and percentages. For example, "Reduced scrap to budget by $17K" or "Oversaw 36 employees and implemented production schedules across three shifts."

Skills:

Showcase your key skills and competencies. Be sure to tailor your list of skills to the job you are applying for. Include technical skills needed for the job you are applying for, such as equipment monitoring, power and hand tools, or machine calibration. However, a great production resume should also include soft skills like problem-solving, teamwork, and communication.

Education:

Detail your educational background and any coursework relevant to the production job. Include the name of the institution, degree obtained, and the location.

Additional Sections:

Include any additional sections relevant to your career, like certifications, languages, or awards. If you have specific certifications required (or preferred) for the job, list them under a section labeled "Certifications."
Key Skills and Certifications For Production Resumes
To create a standout resume for a job in the production industry, highlighting specific skills and certifications is crucial to getting recognized for your qualifications. This is especially true when it comes to finding a balance between your hard skills and soft skills.
Top 5 Hard Skills for Production
Quality Control: Quality control is crucial in ensuring that products meet industry standards and customer expectations. Including this skill on your production resume demonstrates your ability to maintain high-quality standards in the production process.
Lean Manufacturing: Lean manufacturing techniques focus on eliminating waste and optimizing processes. Demonstrating expertise in lean manufacturing shows that you can contribute to increased efficiency and cost savings in production.
Machine Operation: Proficiency in machine operation is fundamental in many production roles. Include this skill on your resume to highlight your technical competence and your ability to operate machinery effectively and safely.
Inventory Management: Managing inventory efficiently is essential to prevent production delays and minimize costs. Including this skill showcases your ability to maintain a well-organized production process.
Production Planning: Production planning involves coordinating various aspects of the production process. Highlighting this skill demonstrates your capability to organize and manage resources effectively, ensuring smooth production operations.
Top 5 Soft Skills for Production
Problem-solving: In production, unexpected challenges often arise. Highlighting your problem-solving skills on your resume shows potential employers that you can identify and address issues promptly to keep production on track.
Communication: Effective communication is critical in coordinating with team members, supervisors, and other departments. Including this skill indicates your ability to convey information clearly and collaborate effectively in a production environment.
Teamwork: Production typically involves working closely with others. Showcasing your teamwork skills on your resume underscores your ability to collaborate harmoniously with colleagues to achieve production goals.
Time Management: Efficient time management is essential to meet production deadlines. Including this skill demonstrates your capacity to prioritize tasks, meet schedules, and ensure timely production.
Attention to Detail: Precision is vital in production to maintain product quality and safety. Featuring attention to detail on your resume emphasizes your commitment to accuracy and quality in every aspect of the production process.
Top 5 Certifications for Production
Certified Production and Inventory Management (CPIM): CPIM certification signifies your production and inventory management expertise, making you a valuable asset in managing supply chains and production processes.
Lean Six Sigma Green Belt: This certification showcases your proficiency in lean principles and Six Sigma methodologies, indicating your ability to improve efficiency and reduce waste in production.
Certified Quality Technician (CQT): CQT certification demonstrates your knowledge of quality control and assurance, which is critical in maintaining product quality standards in production.
Project Management Professional (PMP): PMP certification highlights your project management skills, which are valuable for overseeing complex production projects and ensuring they are completed on time and within budget.
Occupational Safety and Health Administration (OSHA) Certification: OSHA certification underscores your commitment to safety in the workplace, a critical aspect of production environments to prevent accidents and injuries.
Your resume showcases your qualifications and helps potential employers understand how you can contribute to their production operations. Remember always to pick skills and certifications relevant to the job you're applying for, such as skills for a job that requires computer use.
Here's What People Are Saying About Us
10 Tips For Writing A Production Resume
Customize Your Resume: Tailor your resume for each job application, highlighting experience and skills relevant to the job description. Using keywords from the job posting demonstrates alignment with the role.
Include Quantifiable Achievements: Include numbers and examples to quantify your experience and accomplishments. For example, don't just say you monitored machines to detect malfunctions. Instead, say you monitored 20+ machines to detect malfunctions or excessive vibration and adjust them to eliminate problems.
Use Industry-Specific Keywords: Use terminology specific to the industry and your desired job role. This will catch the eye of potential employers and help you pass initial screening by applicant tracking systems (ATS).
Highlight Relevant Skills and Certifications: Choose a well-organized resume format to highlight your skills and credentials. These sections should be clearly labeled, and your skills should be listed in bullet points.
Be Concise: A resume should ideally be just one page long. Use brief statements and only include relevant information. Stay focused on skills and experience demonstrating your fit for the production industry job.
Include a Professional Summary: Write a brief paragraph highlighting your experience, skills and goals at the top of your resume. Use action verbs and descriptive language to make a persuasive statement that will get the attention of potential employers.
Emphasize Problem-Solving Abilities: Problem-solving skills are needed in every production job role. Showcase your ability to solve problems with relevant examples. For example, "managed employee schedules to cover absences and avoid a production slowdown."
Showcase your attention to detail: Attention to detail is crucial to manufacturing jobs. You can demonstrate this ability in several ways. For example, "initiated more frequent preventative maintenance on the process line to reduce instances of production problems and minimize downtimes."
Include Relevant Technical Skills: Always highlight your technical skills, such as experience with specific equipment, production processes or software related to the role you are applying for.
Proofread Your Resume: Always carefully review your resume for typos or other errors. Even a tiny mistake can make the wrong impression. Asking a friend or colleague to check it is also a good idea.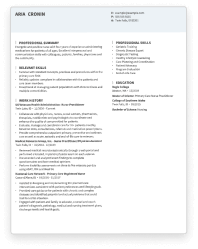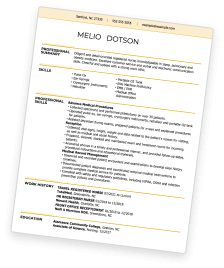 Save Time With Hloom's Resume Builder!
Key Takeaways
A well-crafted production resume is essential for your job search success.

Highlight industry-specific skills and certifications to stand out.

Quantifiable achievements and effective design choices enhance your resume's impact.

Customization and attention to detail are crucial in resume writing.

Use keywords from the job description to pass initial screening by hiring managers and applicant tracking systems.
Save Time With Hloom's Cover Letter Builder!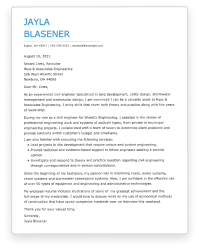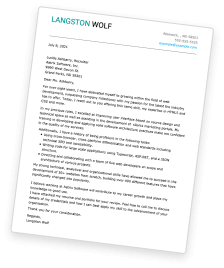 Production Resume FAQ
Updated: October 13, 2023
To tailor your production resume for a specific job, customize your skills, experiences, and keywords to align with the job description. Highlight any qualifications that directly relate to the job requirements, such as inventory management or relevant OSHA certifications.
In your work history, include job titles, dates of employment, company names, and key accomplishments. Focus on achievements that demonstrate your impact in previous production roles. When possible, quantify those accomplishments with numbers or percentages.
Yes, include your educational background, even if it's not directly related. It showcases your commitment to learning and can demonstrate transferable skills such as problem-solving or communication.
No, it's not necessary to include references on your resume. You can provide references separately if requested by the employer. Use the resume space for more valuable content.
To stand out, focus on quantifiable achievements, use industry-specific keywords, and highlight relevant certifications and skills. It is also helpful to tailor your resume for each application to match job requirements and demonstrate your interest in the position. Finally, choosing a visually appealing resume template can make a great first impression.
In most cases, aim for a one-page resume. However, if you have extensive experience, a two-page resume is acceptable. Use the space on the page to focus on relevant skills and experience that make you uniquely qualified for the job you are seeking.