Retail Resumes: Overview
Retail professionals play a crucial role in ensuring customer satisfaction and business success. Positions can vary widely, some common retail job roles include:
Sales Associate
Store Manager
Cashier
Visual Merchandiser
Retail Supervisor
To excel in the retail industry, retail professionals should possess excellent communication, customer service, and problem-solving skills.
Our retail resume examples will help you highlight these skills effectively. For additional support, explore our full collection of downloadable resume examples and downloadable resume templates to create a winning resume that impresses employers.
Retail Resume Example: Retail Manager
This retail resume example efficiently uses design to highlight five years of professional experience by detailing accomplishments and achievements relevant to a retail management position.
Professional Design:

The layout and design are visually appealing and easy to read, making valuable retail qualifications stand out for employers to see.

Quantifiable Achievements:

This retail resume example contaisn specific metrics and achievements, such as "maintained 90% of customer satisfaction", demonstrating their value and their impact on previous employers.

Effective Color:

The use of color in the header and headings helps make the resume look for unique, providing a more memorable experience for retailers.

Engaging Summary:

The resume includes a compelling professional summary at the top of the page, highlighting key retail skills and experience.
Retail Resume Example: Store Manager
Take a look at this retail resume sample for a store manager and see how you can use it to format your next job application. Pay attention to its effective combination of aesthetics and content to showcase retail industry qualifications.
Efficient Whitespace:

This retail resume example has a design that is well-balanced and uncluttered thanks to its use of whitespace. The result is a resume that is easy to read and visually appealing.

Relevant Qualifications:

With past experiences such as applying performance data and inventory control, this retail candidate provides the qualifications of a store manager which helps stand out with employers and applicant tracking systems (ATS).

Engaging Divisions:

The use of color with each header section helps divide this resume into an organized document that easily draws the attention of the reader to important sections.

Relevant Educations and Certfication:

A degree in management and a Certified Sales Professional (CSP) certification add important credentials that enhance the candidate's value.
How to Write a Retail Resume: A Step-by-Step Guide
Do you need help figuring out where to start when creating your retail resume? Our step-by-step guide will walk you through the process, ensuring your resume captures the attention of hiring managers and gets you the interview.
Choose a Format:

There are three different resume formats to choose from and the right one for you will depend on your needs, professional goals, and experience level. The chronological format is ideal for retail professionals with an extensive work history as it highlights work experience and career progression.

A combination resume gives equal importance to skills and work history. It is best for slightly less experienced candidates or career changers who want to show they have the required skills and knowledge. Finally, the functional format is a good option for entry-level professionals with zero experience or those with employment gaps as it focuses heavily on skills and achievements, shifting attention away from a sparse work history section.

Contact Information:

Provide contact information so that employers know how to get a hold of you. Make sure to include your full name, phone number, professional email address, and location (city and state). You can include a LinkedIn, if you have one, as well.

Summary or Objective:

Make your retail job application unique with a compelling opening statement. A resume summary, typically consisting of 2-3 sentences, shines a spotlight on your relevant background, skillset, and what you bring to the position.

An objective statement outlines your career aspirations and how they align with your pursuit of a retail role. Choose the one that best fits your situation and personalize it for each specific job application.

Work History:

Provide information about past work experience in reverse chronological order, including job titles, name of employer, dates employed, and location. List relevant job titles that provide responsibilities and achievements that demonstrate your value, preferably in a quantified manner.

Skills:

Create a section that highlights your essential skills, including customer service, communication, and problem-solving, so that your resume stands out.

Education:

Detail your educational background, including degrees and certifications to show your level of experience.

Additional Sections (optional):

Add relevant sections, such as awards, volunteer work, or professional affiliations that help build your case as a qualified retail professional.
Key Skills and Certifications For Retail Resumes
There are a variety of valuable skills and certifications that can help improve your retail resume. If you are looking for examples of what skills to put on a retail resume, here's a breakdown of the hard skills, soft skills, and certifications that will help you stand out!
Top 5 Hard Skills for Retail Resumes
Sales Techniques: Proficiency in effective methods and strategies for selling products or services to customers.
Inventory Management: The ability to oversee and control the stock of products, ensuring accurate tracking and efficient restocking.
Point of Sale (POS) Systems: Familiarity with software and hardware for processing sales transactions and managing customer information is an important computer skill for any successful retail employee.
Visual Merchandising: The skill of creating appealing in-store displays and layouts to attract customers and boost sales.
Product Knowledge: A deep understanding of the products or services the retailer offers, including features, benefits, and usage.
Top 5 Soft Skills for Retail Resumes
Customer Service: The ability to provide exceptional service to customers, addressing their needs and concerns.
Communication: Effective verbal and written communication skills for interacting with customers, colleagues, and superiors.
Adaptability: Flexibility in adapting to changing situations, customer preferences, and retail environments.
Problem-Solving: The capacity to identify and resolve issues or challenges in a retail setting.
Teamwork: The ability to collaborate and work effectively with colleagues and team members to achieve common goals.
Top 5 Certifications for Retail Resumes
Certified Retail Professional (CRP): A certification that validates expertise in various aspects of retail management and operations.
National Retail Federation (NRF) Certification: A recognized credential demonstrating proficiency in retail industry standards and best practices.
Certified Store Manager (CSM): Certification for individuals who have demonstrated their ability to effectively manage and lead retail stores.
ServSafe Food Handler Certification: A certification verifying knowledge and practices related to safe food handling and sanitation in retail, particularly in food service.
Retail Loss Prevention Certification: A professional credential focused on preventing theft and minimizing losses in a retail environment through security and risk management techniques.
As you can see, a combination of interpersonal skills, technical skills, and accreditation can go a long way. Enhance your retail resume by showcasing these valuable skills and certifications to potential employers for your next job.
Here's What People Are Saying About Us
7 Tips For Writing A Retail Resume
Tailor Your Resume: Customize your resume for each job application to match the specific requirements of the retail position.
Highlight Achievements: Use quantifiable metrics to showcase your accomplishments and contributions that demonstrate your value as a retail employee.
Emphasize Customer Service: Retail is a customer-centric industry, so highlight your exceptional customer service skills.
Showcase Leadership: If you've held leadership roles, emphasize your ability to manage teams and drive results.
Keep it Concise: Aim for a one-page resume unless you have extensive relevant retail experience.
Use Action Verbs: Start bullet points with strong action verbs to make your accomplishments more impactful.
Proofread Carefully: To present a polished document, always proofread to eliminate errors and typos.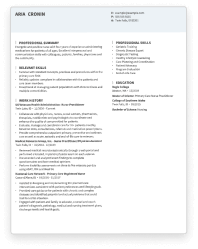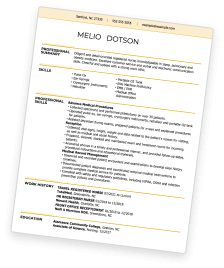 Save Time With Hloom's Resume Builder
Key Takeaways
Retail resumes require unique skills and qualifications related to customer service and product management.

Highlight quantifiable achievements, skills, and certifications relevant to the retail industry.

Tailor your resume for each job application and follow best practices for an effective document.
Save Time With Hloom's Cover Letter Builder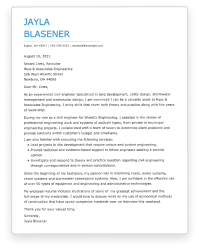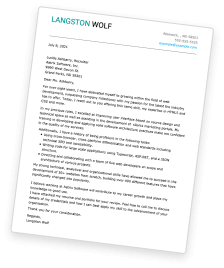 Retail Resume FAQ
Updated: October 06, 2023
To stand out with your retail resume, showcase your achievements, relevant skills, and certifications. Do your best to quantify any achievements that demonstrate your value. Also, make sure to tailor your resume to each job application so that you target their needs.
A retail professional should aim for a one-page resume, but if you have extensive experience, it's acceptable to go to two pages. However, make sure all information is relevant and avoid clutter.
Customer service is paramount in retail. Highlight your customer service skills and experiences in your resume with proven experience that is relevant to the job application.
Certified Retail Professional (CRP) and National Retail Federation (NRF) Certifications can enhance your retail resume. Use these certifications to show that you are a trusted employee invested in their professional development.