Salesforce Administrator Resumes: Overview
Salesforce administrators are responsible for configuring and maintaining Salesforce tools, ensuring data integrity and security, and enabling efficient utilization of this customer relationship management (CRM) platform.
Salesforce administrators can be found in various environments, including:
Corporate offices
Non-profit organizations
Small businesses
Consulting firms
Educational institutions
To be a successful Salesforce admin, you will need to be proficient in database management to meet organizational needs and expertise in ensuring data security and compliance with relevant regulations.
With our help, building your resume for your next Salesforce admin position will showcase your best qualifications. Explore our entire collection of professional resume examples and downloadable templates to help stand out today!
Salesforce Administrator Resume Example
Here we have a perfect example of what is possible with your Salesforce admin resume, thanks to certain design and content features.
Clean Design:

The chronological format is perfect for a candidate with several years of experience. The attractive layout of this Salesforce administrator resume is visually appealing and easy to read, making it stand out. It also uses a nice balance of text and whitespace.

Relevant Skills:

It showcases skills directly related to administering Salesforce software solutions—for example, systems administration, database development, and compiling data.

Professional Summary:

This resume template features a professional summary highlighting job experience and both hard and soft skills related to the Salesforce position.

Well-Organized:

This resume example uses clearly labeled sections and headings, making it easy for any hiring manager to find your most relevant qualifications.
Salesforce Administrator Resume Sample
This additional resume example for a Salesforce administrator position provides a different template for you to showcase your skills and experience effectively.
Professional Layout:

The design exudes professionalism and organization with a stylish but straightforward design. The initials in the top left corner add a personal touch to make the resume stand out from the competition.

Detailed Work History:

A combination resume format allows you to highlight skills and showcase job experience. This Salesforce administrator example resume includes detailed bullets demonstrating job duties, skills and technical knowledge.

Certifications:

This resume template includes a section for certifications to emphasize the candidate's qualifications and know-how.

Use of Whitespace:

The balance of text and whitespace in this Salesforce administrator resume template makes it attractive and easy to read.
How to Write a Salesforce Administrator Resume: A Step-by-Step Guide
Writing an effective resume is essential to finding your ideal Salesforce administrator position. Use our step-by-step guide to get yourself started:
Choose a Format:

There are three different resume formats to choose from, and the right one for you will depend on your needs, professional goals, and experience level. The chronological format is ideal for professionals with an extensive work history as it highlights work experience and career progression.

A combination resume gives equal importance to skills and work history. It is best for slightly less experienced candidates or career changers who want to show they have the required skills and knowledge. Finally, the functional format is a good option for entry-level professionals with zero experience or those with employment gaps as it focuses heavily on skills and achievements, shifting attention away from a sparse work history section.

Contact Information:

No matter which resume format you use, remember to include accurate and complete contact information. Be sure to include your name, phone number, email, and LinkedIn profile (if applicable).

Summary or Objective:

Write a concise and impactful professional summary or objective statement at the top of your resume that captures what makes you a standout candidate. If you have relevant work experience, opt for a resume summary that succinctly outlines your qualifications as a Salesforce admin, including work history and level of experience.

If you're changing careers or just starting out in the industry, consider using an objective statement instead to highlight your career aspirations and align them with the specific Salesforce role.

Work History:

Detail your relevant work experience, highlighting achievements and responsibilities that apply to the job you are looking for. Use quantifiable metrics whenever possible—for example, "coordinated with a team of database developers to ensure a 99.99% uptime for all users."

Skills:

Showcase your key skills and certifications. Skills like SQL proficiency, database management, and creating and monitoring database security protocols are all relevant to a Salesforce administrator position.

Education:

Mention your educational background, degrees, and relevant coursework. Data systems and Salesforce administrators typically need a bachelor's degree in computer and information technology or a related field with courses in systems analysis, server operating systems, and principles of IT security.

Additional Sections (optional);

As space allows, include any relevant extra sections like certifications in Salesforce administration or other data systems, languages spoken, or relevant awards to further underscore your abilities.
Key Skills and Certifications For Salesforce Administrator Resumes
To excel in Salesforce administration, you need a combination of hard skills, soft skills, and certifications. Pick the most relevant ones when creating your resume.
Top 5 Hard Skills for Salesforce Administrator Resumes
Data Management: Salesforce administrators must efficiently organize, store, and maintain data to ensure its accuracy and accessibility.
Salesforce Proficiency: Proficiency in Salesforce Customer Relationship Management (CRM) platforms is a fundamental requirement for this job.
Database Maintenance: Database maintenance involves ensuring databases' reliability, performance, and security. This skill is vital for managing large datasets prevalent in data systems administration.
SQL Proficiency: A highly sought-after technical skill, SQL (Structured Query Language) proficiency is crucial for querying, retrieving, and manipulating database data.
Security Protocols: Knowledge of security protocols is essential to protect sensitive data from breaches and unauthorized access.
Top 5 Soft Skills for Salesforce Administrator Resumes
Problem-Solving: Problem-solving skills are vital for efficiently identifying and resolving technical issues. Troubleshooting and finding solutions are invaluable in maintaining Salesforce data systems.
Attention to Detail: Attention to detail ensures data accuracy and prevents errors that could impact decision-making. Precision is essential when handling critical data and configuring Salesforce and other data systems.
Communication: Communication skills are crucial for conveying technical information to non-technical stakeholders. Strong communication skills also enable collaboration and ensure all team members are on the same page.
Team Collaboration: Collaboration skills facilitate working with cross-functional teams to implement data solutions. Salesforce admins collaborate closely with other departments in many organizations, making teamwork essential.
Time Management: Time management skills help prioritize tasks and meet deadlines for data-related projects. Efficiently managing your workload is crucial in delivering results on time.
Top 5 Certifications for Salesforce Administrator Resumes
Salesforce Certified Administrator: This certification demonstrates your foundational knowledge, including configuration, security, and automation.
Salesforce Certified Advanced Administrator: This advanced-level certification goes beyond the basics and delves into advanced topics, such as data management, process automation, and security, making you a valuable asset in customizing and optimizing Salesforce for an organization.
Salesforce Certified Platform App Builder: This certification focuses on app and data modeling, user interface design, and automation.
Salesforce Certified Sales Cloud Consultant: This certification is geared toward Salesforce Administrators specializing in sales and marketing functionalities, including lead management, opportunity management, and sales automation.
Salesforce Certified Service Cloud Consultant: This certifies your ability to configure and enhance the Salesforce Service Cloud, showcasing your capability to provide excellent customer support and streamline service operations.
Such capabilities, especially robust computer skills, are important in making your Salesforce resume the best it can be. You are likely going to see such skills in various job descriptions. However, remember to tailor your resume to the specific job in question.
Here's What People Are Saying About Us
9 Tips For Writing A Salesforce Administrator Resume
Tailor your resume for each job application: Customize your resume to align with the specific Salesforce admin position requirements and company culture to increase your chances of being noticed by recruiters.
Highlight your technical expertise: Emphasize your proficiency in data systems administration and Salesforce by showcasing relevant skills and experiences.
Use action verbs to describe your achievements: Start bullet points with dynamic verbs like "implemented," "optimized," or "managed" to convey your proactive contributions.
Quantify your accomplishments with metrics: Provide concrete numbers and statistics to demonstrate the impact of your work, such as "increased database efficiency by 30%."
Include keywords from the job description: Incorporate relevant keywords and phrases from the job posting to pass through applicant tracking systems (ATS) and demonstrate alignment with the role.
Focus on relevant experience: Prioritize experiences and achievements directly related to data systems administration and Salesforce, ensuring your resume stays focused and impactful.
Keep your resume concise: Aim for a one-page resume to maintain the recruiter's attention and provide only essential information. If you have an extensive work history related to the position, it is fine to take up two pages.
Proofread for errors: Attention to detail is essential for data systems management, so presenting a resume with errors can give the wrong impression.
Showcase your certifications prominently: Highlight your relevant Salesforce certifications early in your resume to establish your qualifications and credentials to potential employers quickly.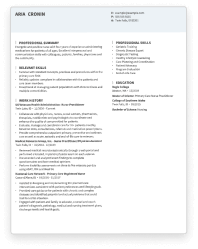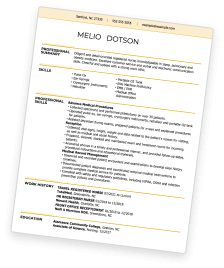 Save Time With Hloom's Resume Builder
Key Takeaways
Salesforce administrator resumes should include a balance of technical skills and soft skills.

Use specific metrics to quantify your accomplishments to make your contributions more tangible.

Certifications, such as the Salesforce Administrator Certification, will validate your expertise and dedication to developing the skills needed for the job.

Align your resume to each job description. Tailoring your resume by incorporating words and phrases from the job posting will ensure you pass the initial applicant screening.

A professional and visually appealing resume design will make you stand out from other applicants.
Save Time With Hloom's Cover Letter Builder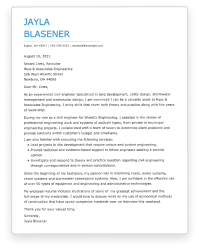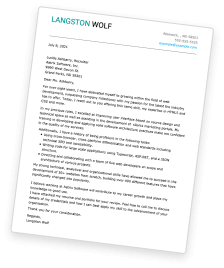 Salesforce Admin Resume FAQ
Updated: October 17, 2023
A Salesforce administrator resume should typically be one to two pages in length. Keep your resume concise and focused on presenting the most relevant information to the potential employer. Recruiters often have limited time to review each resume. A shorter resume is more likely to capture their attention and make a positive impression quickly.
Certifications, especially Salesforce Administrator Certification, can significantly boost your credibility. Including these certifications on your Salesforce administrator resume validates your skills and indicates to employers that you have the knowledge and expertise needed to manage and customize Salesforce for their organization effectively.
Yes, including a cover letter to introduce yourself and explain your qualifications is a good idea because it provides an opportunity to explain the value you can bring to an employer in more detail. Additionally it demonstrates your genuine interest in the position and the organization.
Create a separate "Skills" section and list your technical skills. Be sure to feature any skills listed in the job description prominently. You can also highlight technical skills when describing your job experience. For example, you use a bullet in your work history to say, "Designed and developed SQL and analytical data structures."
Though you should prioritize Salesforce-related experience, including non-Salesforce work experience can help if it demonstrates transferable skills such as project management, teamwork, or leadership. However, only include it if there is enough space in your resume.