Free Christmas Gift Certificates
Free printable editable Christmas Certificates in Word
Christmas season is the most awaited time of year by many people in the world. It is celebrated in many countries in a number of ways and traditions – vibrant, forgiving, heartrending and compassionate. It is customary in many countries to give gifts for either Christmas or Christmas Eve. Many people want to make this day truly memorable by giving the people that are important to them (spouse, dad, mom, sister, brother, uncle, aunt, cousin, best friend, boss or colleague) something they will remember for a long time.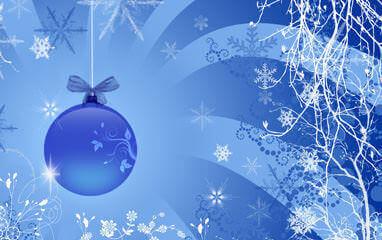 Do you find it difficult to come up with an idea for a present? Are you too busy to spend hours shopping around for a gift? This is where Christmas Gift Certificates may help you.
When can you use these templates?
Imagine you have shopped online for a gift which did not arrive in time for the holiday or you bought a present like an electronic ticket (flight, concert), or a software, or something else that is either intangible or does not look very presentable. How do you give such gift with grace? Easy! You make a beautiful certificate and give that as a present.
But what if you did not have time to purchase any present at all? You can write somethig like "Christmas rain check for one day at spa", and simply arrange for the gift to be paid by you at a later time.
Make your own one-of-a-kind DIY gift certificate in three easy steps:
Download
Edit
Print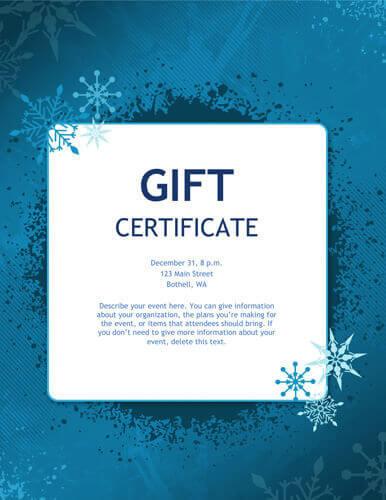 Description:

Gorgeous winter theme with full-page background image and space for message.

Size:
275 kB
Format:
doc
License:
Creative Commons
Downloads:
2,347
Type:
Free Download
Uploaded:
2009-12-23 13:23:00 / 2269
Gift certificate templates below are compatible with MS word, OpenOffice and Mac Pages and can be customized to suit your needs. Printing the certificate on a glossy photo paper will give it a more professional and elegant look. You can use our templates for any Christmas event (Christmas Eve, Christmas), or any event that happens during winter holidays (New Year, birthday, or a corporate party). We also created a page with free invitation templates that can be easily used as gift certificates. For example, free office invitations can be easily converted into business gift certificate, kids party invitations can be used as a perfect gift certificate for children, and free party invitation templates can be recycled for pretty much anything!
Santa Claus Ho-Ho-Ho gift certificate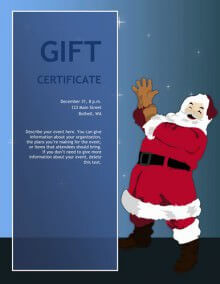 Printable and customizable Christmas gift certificate with Santa Claus background image.
Red Christmas tree gift certificate template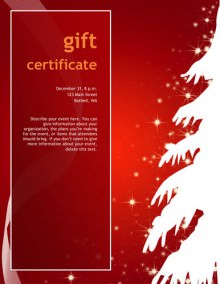 Add a personal touch to your gift – make a one-of-a-kind personalized gift certificate. Red theme with image of a Christmas tree and a message box.
Red Christmas decoration gift certificate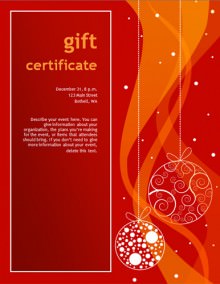 Red holiday theme with image of Christmas decoration and a message box.
Red and yellow stars holiday certificate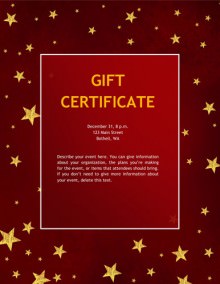 Holiday theme with red background, yellow stars, and a message box.
Green Christmas tree gift certificate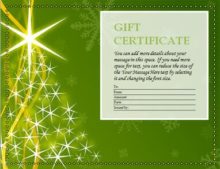 Holiday theme with underlined text for certificate details.
Gray Christmas gift certificate template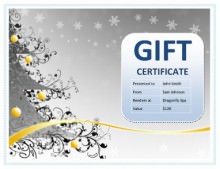 Gift certificate to use by itself or in place of a gift you did not buy, gray winter theme.
Christmas snow gift certificate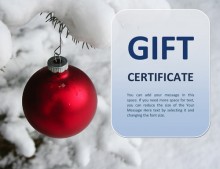 Simple template with full-page image and a text box where you can write your wishes, add your name, and other info about your gift.
Old paper Christmas gift certificate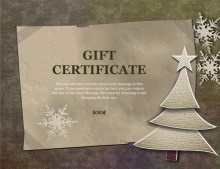 Simple elegant retro-looking design with image of old paper as a background for a message box.
Snowman sample gift certificate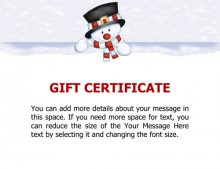 Simple gift certificate template for winter time and winter holidays.