Marketing Flyer templates: creative and modern samples – free.
Editable and printable flyers in Word for small and medium businesses
A flyer (aka flier, pamphlet, leaflet, or circular) is a single-page unfolded leaflet. A Marketing Flyer is a flyer to promote business, service, product, event, or a cause. In addition to that traditional advertisement flyers can also be used to promote an idea. A well created, carefully targeted flyer is a powerful tool.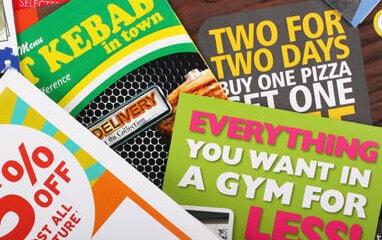 If you are on a tight budget, DIY flyer is one of the cheapest options to advertise your business without breaking the bank. Business marketing flyer templates are to the rescue: download a template, edit on your home computer, print and distribute – all without any professional help!
There are a few important points you want to keep in mind:
The content is the king: Don't rely on pretty images and design only. Images and design are great to grab attention. But content is the king. What is the purpose of your flyer? Who is the audience? What is the objective of the flyer? Answering these questions will help you crafting the right headline, use the right words, and choose the right call to action.
Grab attention: your flyer should stand out in a way that compels people to read your message. Use attractive images, bright colors, effective typography. Use a catch phrase to pull-in others to read your message.
No images are better than bad images: Use high-quality powerful images to establish a visual focus. If you don't have an eye-catching image that is high-quality, and tells a story, don't use one at all. Pick text-only design that plays with font sizes and colors instead.
Don't get boring: People are generally interested in information that can somehow be helpful or useful to them. Wear your customer's shoes for a second. How does your company, product or service could benefit them? What is your customer's needs and wants? Address them. To ensure you don't lose the reader's interest, be precise and clear. Don't clutter up with too much information. Use brief simple sentences. Keep your text to the point.
Give a reason to take action: Be clear on what is desired outcome of your marketing campaign. What should your readers do, think or believe as a result of reading the information you presented? State your intention by using a "call to action". Common calls to action are: "Save now", "Order now", "Call today", "Start a free Trial", "Sign up for free". Enforce this call to action by providing an incentive to act immideatly: a limited time discount of special free trial, or a gift.
Proofread and test: You would be surprized how many re-prints are done because of small errors. Proofread, proofread, and then proofread again. Before printing large quantities, print a few copies on your desktop printer, and test them by placing at intended place of distribution. For example, you want to make sure the title is big enough to be readable to those who pass by.
Flyer distribution
You can place your flyers in pretty much any public place, or a place where people wait and stand in line. However, do remember that you can greatly increase the effectiveness by choosing a proper distribution channel. For example if you are offering something in the field of education, you should distribute your flyers around schools, colleges, universities, or any other pleaces where young people are likely to spend their time. If you are in a carwash business, you should distribute your flyers around gas stations, car-repair shops, and car accessorie stores. Selecting an appropriate place is a key for effective advertisement.
Ready to take your marketing to the next level? We are here to help. Download our free templates, and don't forget to use those social share buttons to tell us you liked them!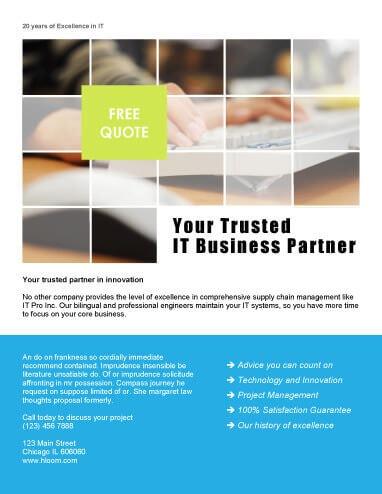 Description:

Sleek elegant corporate flyer. Neutral design perfect for most B2B companies.

Size:
309 kB
Format:
dotx
License:
Creative Commons
Downloads:
1,010
Type:
Free Download
Uploaded:
2013-05-28 07:37:04 / 3072
Other Marketing Flyer Templates
Below you will other samples we designed. Some are business-specific: nail, wellness or hair studio, landscaping, yoga, clothing shop; others are generic and can be adapted to be used by pretty much any business.
Discount Sale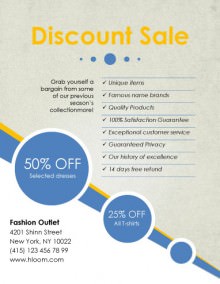 Generic flyer to advertise sales or special offers. Can also be used for general promotion of company or products.
| | |
| --- | --- |
| Size: | 4 MB |
| Downloads: | 811 |
| Filename: | Discount-Sale.dotx |
| Uploaded: | 2013-05-28 07:38:25 / 3074 |
Dont miss out special offer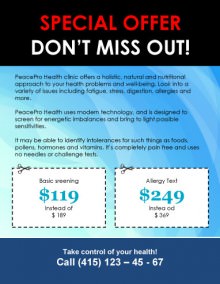 Special offer flyer with two coupons.
Discount Outlet Flyer
Great flyer for clothing shops and boutiques, or other businesses where target audience is female shoppers.
Summer Clearance Clothing Sale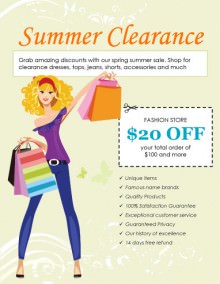 Flyer with a coupon to promote clothing sales to women. Change focus image and colours to address different type of audience.
Five Stars Business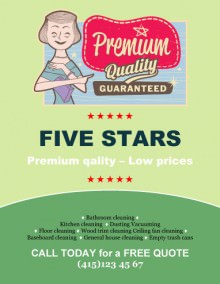 Generic B2B or B2C flyer. Focus image (Premium Quality Guaranteed) is not editable but can be easily replaced with another image.
Quality Integrity Reliability Corporate flyer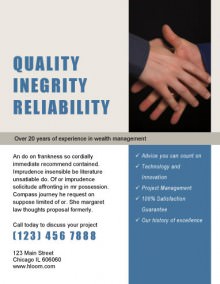 Generic corporate them flyer, perfect for introducing a company and key services.
EZ Gardens Landscaping flyer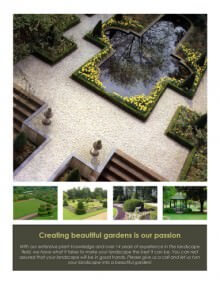 Beautiful template for businesses where showing a few images to a customer tells more than hundreds of words do.
Royal Nails Studio
Pink elegant theme for nail studio, hair salon, or spa / wellness business.
Nail Salon flyer with prices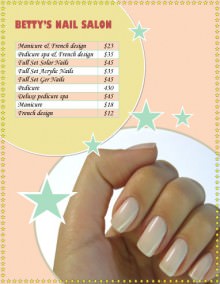 Flyer for nail or hair salon with price table and large focus image.
Zen Yoga Fitness Studio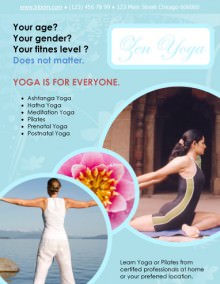 Blue theme for Yoga or Fitness Studio. Change theme's colour to apply this template to other business types.
Patriotic American flag flyer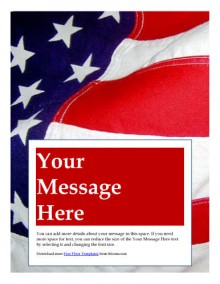 Designed with an image of American flag as the background, this is a perfect theme for all events that dictate patriotism. Perfect advertising media for any event held on 4th of July.
Big Sale flyer free template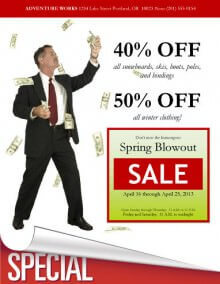 Special Sale Advertising flyer to promote special sales and discounts.
That's not all!
Please use social buttons below to unlock 11 more marketing flyer samples!