Freelance Invoice Templates
Free Invoice Template for Freelancers, Artists, Writers, Photographers
FREELANCE INVOICE is a service invoice for people providing freelancer work, for example web and graphic design, photography, copywriting, computer programming, website development, consulting, video production, translation.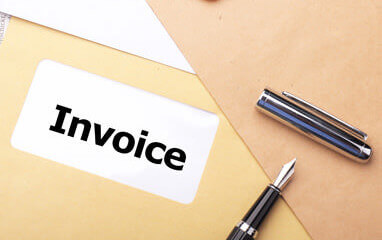 Most freelancer projects can be invoiced with either a standard service invoice where total due is calculated by multiplying a number of hours by a price per hour or with a fixed rate invoice. There are some jobs however where hourly service invoice does not do the job because different values are used to arrive to the price of a project. For example, article writers and translators will often use number of words to price their services.
Below please find one of our most popular service templates for freelancers.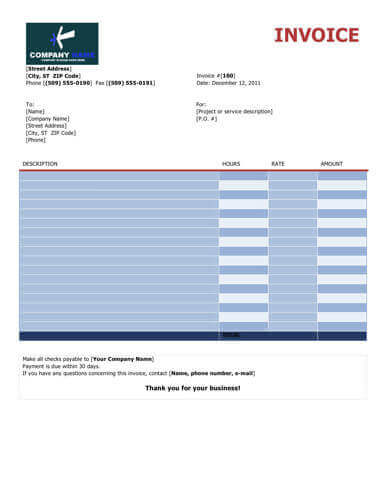 Description:

Sample for hourly billing with attractive bright design. Customize by entering company info, description, price, hours, rate and payment info.

Size:
54 kB
Format:
doc
License:
Creative Commons
Downloads:
4,555
Type:
Free Download
Uploaded:
2009-12-17 13:23:00 / 2336
Other formats
Service Invoice for article writers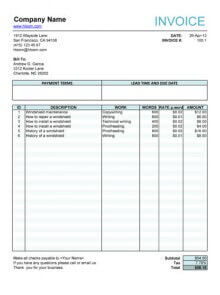 We created this invoice specifically for content writers. It includes all the important elements of a standard invoice, but it's also made in a way to make the invoicing easy. You can enter names of articles, specify what type of work had been done (this is useful if you charge different rate for different writing or provide additional services such as proofreading or translation), and price per word. Total due is then calculated automatically.
Service Invoice Template for Freelancers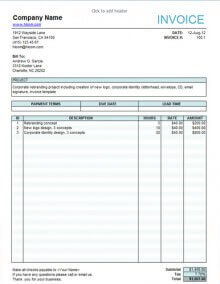 Simple and easy-to-use format for freelancers. Describe your project, enter payment terms, due date, and lead time. Break down project into smaller projects and list each service along with description, number of hours, and rate per hour. Enter tax rate into provided field. Each line's total, subtotal and total due is calculated automatically from the data entered.
Sample Service Invoice spreadsheet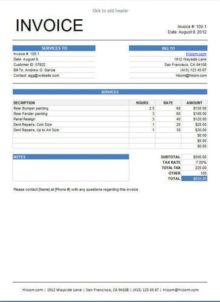 Enter description, hours billed, and rater per hour. The spreadsheet calculates each line's total, subtotal before tax, total tax and total due. You can add additional misc charges into "other" field.
Basic service invoice template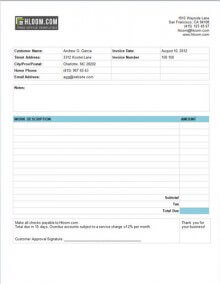 This template is a very basic service invoice format where all you need to enter is a description of work and amount billed. You have to manually add lines and tax to calculate total.
Basic format with optional tax and marketing banner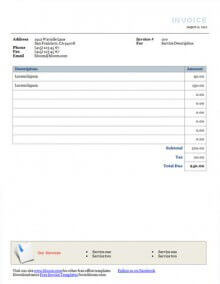 Another basic format where all you need to enter is a description of work and amount billed. You have to manually add lines and tax to calculate total. Marketing banner in the footer of this invoice allows you to advertise other services your company provides.
Basic format for billing hourly with banner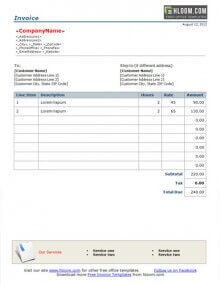 Format which provides a table for outlining line item number, description of work provided, hours, rate, amount, subtotal, tax, and total due. Marketing banner on the bottom of the page can be used to advertise products and services.
Invoice for hourly rate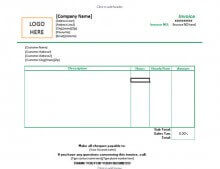 Perfect errorless calculations within seconds with this invoice template Excel. Enter the hours worked on project, the rate charged per hour, and the tax rate to be applied. The sub total and total due will be calculated automatically.